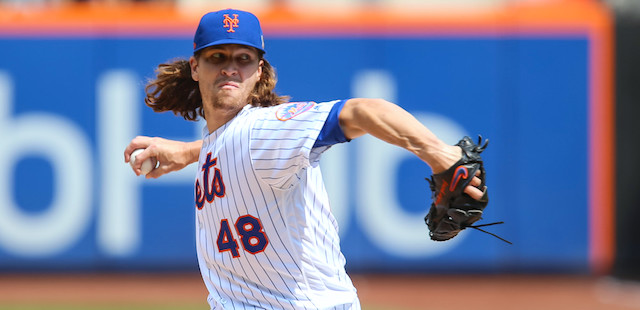 Fantasy experts are placing a bigger emphasis on drafting elite starters early this year. It is apparent this strategy is making its way across the fantasy community, as the high-end starters are being valued higher than before. In points leagues, this is a wise methodology, as an ace can serve as the backbone of a fantasy team. Seven different SPs tallied over 600 points in standard formats, whereas only six hitters reached that mark. Even Mike Trout failed to reach that level of production thanks to a reduced at-bat total. Picking the right starter can put you ahead of the game early on. For that reason, we're going to share our early version of points league rankings for points leagues.
These rankings for points league and head-to-head (H2H) formats come courtesy of our lead analysts: JB Branson, Nick Mariano, and Bill Dubiel (a.k.a. the fourth-most accurate MLB expert for 2017 on FantasyPros). We've broken them down into tiers, for your viewing pleasure. As you may know, in this format, pitchers get a bigger boost for wins and complete games (what are those?), while they are penalized for losses and total bases allowed.
In case you missed it, check out our analysis on catcher, first base, second base, third base, and outfield. Now, let's take a look at the 2019 starting pitcher points league rankings.
Featured Promo: Want a free RotoBaller Premium Pass? Check out these sports betting promo offers from the top sportsbooks! All new sign-ups get a free bonus offer on their first deposit, and a free year of RotoBaller's Premium Pass for all sports ($450 value)!
Sign Up Now!
2019 Points League Rankings: Starting Pitcher
Starting Pitcher Rankings: Upper Tiers
Tier One
Max Scherzer stands as the obvious top pick on this list. Like a fine wine, Scherzer is getting better with age in all the best ways. He has raised his strikeout rate five straight years incredibly, up to 12.24 K/9 in 2018. He's thrown at least 200 innings for six straight years and at least 170 innings for nine seasons. Then there are the 15+ wins in seven of the last eight seasons, the fact he's kept his walk rate under league average since 2011. Yeah, he's the best pitcher around and worth a top-five pick easily.
Between Jacob deGrom and Chris Sale, Bill is the only of our experts who prefers the reigning NL Cy Young winner. The only possible concern with Sale is health-related, as his 158 IP led to an overall SP14 finish in points leagues. Sale led all starters in WHIP (0.86) and strikeout rate (13.5 K/9), so the upside is definitely worth a first-round pick. After his career year, deGrom finished fourth in points scored thanks to a 1.70 ERA, 0.91 WHIP and 269 strikeouts, all of which ranked top-five in the majors. There almost certainly will be some regression in store, as deGrom allowed a whopping 28 home runs in 2017 before dropping that total to 10 HR last year. On the other hand, he's got to win more than 10 games this year. This is the Mets we're talking about, not the Knicks.
Justin Verlander ranks fourth among our experts, although he actually finished second in total points last year. He posted his best ERA since 2011 and the lowest walk rate of his entire career (4.4%) last season. At 35 years of age, just one more than Scherzer, Verlander is as solid a pick as you can get. If he slips into the second round for some reason, there is zero reason to hesitate before pouncing on him.
Tier Two
All three of our analysts put Aaron Nola ahead of Gerrit Cole, even though Cole racked up 52 more strikeouts in his first year as an Astro. The main reason - Nola's ERA was a half-run lower thanks to an 82.5% strand rate that ranked fifth among qualified starters. Cole wasn't far behind at 77.9% LOB% but that number could go up if his ground ball rate regresses closer to his career average. In his first year in the American League, Cole's 36% GB% was 10 full points lower than the previous year, probably in exchange for a more aggressive approach that led to the spike in strikeouts. Nola has youth on his side but it's not a given that he will outproduce Cole this season.
Blake Snell came away with fancy hardware to show he was the American League's best pitcher last year, but he comes in at number eight in our points league rankings. Aside from the fact his 9.1% walk rate was slightly higher than some of his counterparts, he outperformed a few of his expected stats such as his .246 WOBA which came in 26 points lower than his xWOBA. Wins are also somewhat volatile and it's hard to see Snell winning 21 games again for Tampa.
Clayton Kershaw barely hangs in as a top-10 SP, mainly because his body is starting to betray him. Kershaw has only cracked the 200-inning mark once in the last five years with a variety of injuries. When he's on the mound at anything close to 100%, he's still the same ace though. 20 of his 26 starts went for quality starts and his uncharacteristically high 3.45 SIERA was still good for 15th among starters with at least 150 IP. Kershaw saw his strikeout rate decline to the lowest point since his rookie year but his command isn't leaving him, as a 4.5% BB% shows. Again, it all boils down to health. If Kershaw can stay fresh with the occasional missed turn in the rotation and avoid any flareups in his knee, shoulder, or anywhere else for that matter, he could still be good for a top-10 SP finish.
Starting Pitcher Rankings: Middle Tiers
Tier Three
A move to Washington may not be as helpful to Patrick Corbin as expected. Once hitter-friendly Chase Field got the humidor treatment last year and saw it's Park Factors drop to 11th for runs and 19th for home runs. By contrast, National Park was third for runs and fifth for home runs. Then again, Corbin pitched better away from home, posting a 2.80 ERA on the road. His 2.91 SIERA and jump to a 15.6% swinging strike rate (third behind only Scherzer and Sale) show that he pitched like an ace last season and could be undervalued. Seeing as how the Diamondbacks and Nationals finished with the exact same record, it's hard to suggest he'll win more games, especially if Bryce Harper skips town. Corbin could still be a pitcher to target in the first three rounds if you go SP-heavy.
Another top pitcher who switched teams, James Paxton undeniably has a better team context in 2019. Back to Park Factors, he goes from a stadium in Seattle that was 15th for HR to slugger-friendly Yankee Stadium, which saw the sixth-highest rating. For a pitcher that allowed more fly balls than grounders last year, it could be a concern. It also should be noted that his 160.1 IP last year were the most of his career. There are certainly safer picks in this format, such as Zack Greinke and Noah Syndergaard who came in at the bottom of this tier.
Walker Buehler made quite the splash in last year's postseason, striking out 29 batters in 23 2/3 innings while posting a 0.84 WHIP. This shouldn't be surprising, as it followed up a stellar rookie year in which he would have finished eighth in ERA (2.62) and came away with a .315 xWOBACON that was in the top six percent of the league. Buehler induced grounders half the time and his strikeout rate got better in September and October. If not for his relative lack of experience, the numbers say Buehler should easily be a top-10 fantasy starter.
Tier Four
St. Louis starters Jack Flaherty and Miles Mikolas both make appearances in the fourth tier, with Flaherty nearly 20 spots higher in our overall rankings. But why? Mikolas' 1.3 BB/9 was the lowest among all starters who threw as many as 120 innings, while his 9.2% HR/FB% registered in the top 10. He also posted an excellent 18-4 record and reached the 200-inning mark. The one thing missing was an elite strikeout rate. Mikolas prefers to induce soft contact, whiffing just 6.55 batters per nine. The younger Flaherty had very different results, striking out 10.85 per nine IP and walking more than twice as many batters on average. He also finished with a losing record of 8-9. The upside is there with Flaherty but Mikolas seems built for points leagues as an innings-eater who will rarely make a bad start.
It appears Bill is as enamored with the talent of Jose Berrios as I am, putting him a full 20 spots higher than both Nick and JB. Berrios was a mild disappointment in 2018, failing to take that next step forward to become a frontline starter worthy of his ADP. He did improve to a 3.31 K/BB and lower his BAA to .220. As one of just eight pitchers to register multiple complete games, he should be appreciated a bit more in points leagues. The Twins may not be significantly better than last year but a modest improvement in their offense with some more refinement in Berrios' command could lead to 15 wins, 200+ IP, and a top-20 SP finish.
Charlie Morton parlayed his success in Houston to the first fat contract of his career by signing a two-year, $30 million deal with Tampa. There's definitely some risk here: Morton is now 35 years old, has a TJ surgery on his resume, and is leaving one of the best pitching staffs and lineups in baseball. Oh, and now he gets to face the Yankees and Red Sox a bunch more times. It feels as if Morton's value may have peaked, with little chance he'll repeat his 15-3 record. He's kept a sub-4.00 SIERA each of the last six years and his strikeout rate keeps trending upwards. On paper, there is little reason to doubt his performance, but a few intangibles would make me a bit hesitant to take him before Madison Bumgarner or Masahiro Tanaka.
Tier Five
Let's talk about MadBum now, shall we? There are some who feel Bumgarner is no longer among the fantasy elite. We would all heartily agree. Bumgarner hasn't been the same since his fateful dirt bike accident. His swinging strike rate has dropped to 9.2%, the lowest since 2012. He allowed 89% contact inside the zone last year, two points above league average. Worst of all, he's only won 10 games the last two years after winning 18, 18, and 15 the three previous seasons. He's been the subject of trade talks in the offseason but no real offers have materialized. If he does move to a contending team, he'll certainly have a better lineup around him but it won't make him the same pitcher from before.
Luis Castillo and Nick Pivetta are popular sleepers that will probably be selected higher than the 120-130 range we've assigned them. Castillo was a flop last year, finished as the SP57 in standard points leagues. He only registered 11 quality starts in 31 attempts. Most alarming was a line drive rate that skyrocketed from 12.2% to 21.8% and a ground ball rate that fell from 58.8% to 45.9%. Those figures are more in line with what we should expect from him but the good news is that he improved his control with a 3.37 K/BB that outdid his rookie year. There could have been some bad luck at play, as his 3.69 xFIP was lower than his 4.32 FIP and a strand rate of 71.2% may go up.
Pivetta had even worse fortune, posting nine quality starts out of 32. He fell to 7-14 on the year, often hurting his owners with subpar performances. Like Castillo, he actually had a solid 3.42 xFIP and an extremely low 69% LOB%. With some small strides and some better luck, he could see his win totals rise, especially if the Phillies land a big fish like Harper to accompany Cutch.
Starting Pitcher Rankings: Lower Tiers
Tier Six
Once again, Mr. Bill makes some bold calls with Jon Gray and Carlos Martinez ranked much higher than his colleagues. I can't say I disagree. Gray was perhaps the unluckiest pitcher of 2018, posting a 5.12 ERA despite a solid 3.68 SIERA that ranked 17th-best among qualified starters! He's in the prime of his career at 27 years old, with a one-year deal to serve as motivation. He strikes out just over a batter per inning and simply has to see positive regression in that 18.1% HR/FB.
CarMart had some off-the-field distractions, bounced between the rotation and the bullpen, and never really got into a groove last year. He's expected to rejoin the rotation and also could be primed for a bounce back season, assuming he cuts down that 11.5% walk rate down to previous levels.
Robbie Ray never seems to get enough respect, despite being the strikeout machine he is. Ray is another 27-year-old on a one-year deal that could pay huge dividends in the middle portion of a draft. His walk rate was admittedly terrible but injuries wiped out part of his season and can be blamed for his erratic control, at least more than usual. The main reason Ray takes a big dive in the points league rankings is the fact he's never reached 175 innings pitched in a season. Peg him for a spot as your fourth or fifth starter.
Tier Seven
The biggest discrepancy of any pitcher on our rankings comes courtesy of Yu Darvish. With a high of 149 and a low of 207, it seems JB has him closer to the eighth tier while Bill is betting on a comeback. The ADP drop has been drastic - he was 30th overall in 2018 drafts but is available at 157 at the moment. If all systems are go entering Spring Training, this could be a steal.
Collin McHugh also has some wide gaps in opinion, with Nick being the most bullish this time. As of this writing, McHugh will be afforded an opportunity to take back the rotation spot that was his before the Astros became World Champions. He was highly effective out of the pen last year, holding a 1.99 ERA and striking out 11.7 batters per nine. His career numbers as a starter are somewhat mediocre though. There isn't a lot of risk taking McHugh outside the top 200, just don't reach expecting a breakthrough season at age 31.
Jon Lester is an unexciting name at the bottom of this group that can be a reliable source of innings; he's tossed at least 180 for 11 seasons in a row. It was an interesting turn in his profile, as his ground ball rate dropped by 8.5%, his hard hit rate was at its highest over any full season, his strikeout rate fell below 20%, yet his strand rate climbed by 11.6% and his ERA improved to 3.32. He somehow parlayed this luck into 18 wins too, while nearly every other Cubs starter scuffled at times in 2018. Even at the latter stages of a draft, Lester seems like a risky pick if the wins aren't there and the strikeouts don't come back.
Tier Eight and Higher
Jake Arrieta's ERA has risen for three straight seasons while his strikeout rate has declined for four straight, down to 19.1%. It doesn't look like his velocity is coming back any time soon, so don't be surprised if he slips another notch this year.
Giants starter Dereck Rodriguez may be the face of the rotation if the team moves Bumgarner and goes full-blown rebuild. The former Twins prospect had a nice rookie year with a 2.81 ERA and 1.13 WHIP over 19 starts. He can't be ranked much higher unless he strikes out more than 6.7 per nine though.
Tyler Glasnow has no problem putting batters away with his heater but he has been known to give up more than the occasional free pass. Upon moving to Tampa last year at the trade deadline, he suddenly had a home run problem too. Glasnow could continue to harness his control and become a reliable starter but it's a bit premature to label him the next Blake Snell. Keep him in mind as a late-round flier.
Kevin Gausman is another starter who switched teams midway through last season, this time to far superior results. Gausman saw his ERA drop to 2.87 over 10 starts in Atlanta and now has a good shot to actually post a winning record for the first time in his career. He's never been a strikeout artist, however, so he'll need the help of his lineup to provide some offense in order to gain a boost in points.
Trevor Williams is a similar pitcher who will never have fans lining up K cards in the stands a la Randy Johnson in his heyday. He does limit hard contact and rarely gives up the long ball, making him a solid performer in this format if he can sustain his second-half success. Williams finished as the SP32 in points leagues last year, outscoring Noah Syndergaard despite pitching only 16 more innings.
Some undervalued players in tier nine and above include: Steven Matz, Joey Lucchesi, Jimmy Nelson, Yusei Kikuchi, Seth Lugo, Mike Fiers, and Mike Leake.
More Fantasy Baseball Rankings Analysis