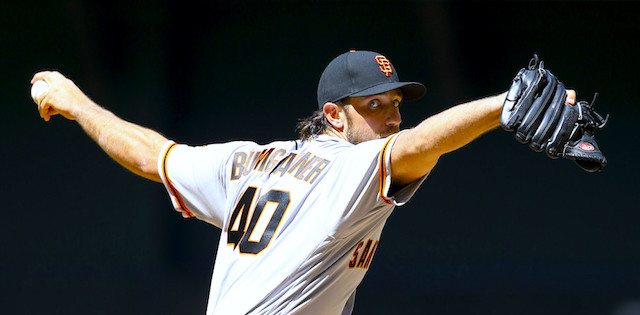 The San Fransisco Giants have benefitted from the spoils that come with having, arguably, the best pitcher of this decade. Since Madison Bumgarner's rookie season in 2010, the Giants were a dominant team for the majority of his first seven seasons. Backed by Bumgarner's clutch postseason play, the Giants won three World Series in 2010,'12, and '14. These accomplishments put fear into the eyes of every other major league team whenever the calendar flipped to an even year.
Often called as one of the first few pitching names off the board during this span, Bumgarner supported his fantasy managers with magnificent results. He was elected to four straight All-Star games and had two top-four Cy Young Award finishes as he looked like a potential Hall of Famer accomplishing all of this at age-27.
Entering the 2017 season, MadBum was ready to build on an already decorated career when his infamous dirt bike accident occurred at the end of April. Missing over half of the season with bruised ribs and a sprained throwing shoulder, he also suffered a metacarpal injury that derailed the start of his 2018 season. After another partial season last year, Bumgarner's 2017 and 2018 numbers haven't resembled the elite ace that we've been accustomed to in the first half of this decade. It's more than just the surface numbers that paint the picture of Bumgarner's diminishing value. There is a lot to uncover to see if he will be able to return to his All-Star caliber seasons. Let's take a look below.
Editor's Note: Get any full-season MLB Premium Pass for 50% off, with exclusive access to our season-long articles, 15 in-season lineup tools and over 200 days of expert DFS research/tools.
Sign Up Now!
2010-2016 Stardom
First, we should take a peek at Bumgarner's stat line from his June 2010 debut to the end of the 2016 season.
Accumulating 100 wins in six and a half seasons, he pitched to a 3.00 ERA, 1.10 WHIP, 8.89 K/9, and 2.07 BB/9. These are superior numbers, but remember these are only his averages. He took it to another level from 2013-16 illustrated in the chart below:
| | | | | | |
| --- | --- | --- | --- | --- | --- |
| | Wins | ERA | WHIP | K/9 | BB/9 |
| 2013 | 13 | 2.77 | 1.03 | 8.9 | 2.8 |
| 2014 | 18 | 2.98 | 1.09 | 9.1 | 1.8 |
| 2015 | 18 | 2.92 | 1.01 | 9.7 | 1.6 |
| 2016 | 15 | 2.74 | 1.02 | 10.0 | 2.1 |
If it weren't for a man named Clayton Kershaw, Bumgarner would have led baseball in most of these categories during this stretch.
Since his call-up at age 20, Bumgarner was as durable of an arm you could find in baseball. He averaged over 212 innings pitched from 2011-16, and that's not including the innings that he threw in three playoff years. This workload was a remarkable feat because in 2018 there were only five pitchers with more than 212 IP and in 2017 there was only one. A workhorse pitcher like Bumgarner was and still is hard to come by.
2017-2018 Postpartum
Bumgarner has only been able to throw just over 240 IP over the last two seasons. With the lack of innings, the lack of elite numbers has coat-tailed on this fact as well. Since his return from his shoulder injury in July of 2017, he has posted a 3.33 ERA, 1.18 WHIP, 7.67 K/9, and 2.49 BB/9. These are still pretty decent numbers in the grand scheme of it all, and most major leaguers would be content putting up this kind of line during a season. For Bumgarner, however, these numbers are unsatisfying, and it's his underlying stats that are more concerning.
MadBum had a FIP of 4.15 and an xFIP of 4.30 in these previous two years combined, suggesting his 3.33 ERA should be almost a full run higher than what it was. His .270 BABIP was somehow lower than his 2013-16 mark of .274 despite some weaker metrics. His LD/GB/FB is relatively close to his standard rate, but it's still trending in the wrong direction as his 2018 LD% reached 22.4%, compared to his 2013-2016 average mark of 19.9%.
The southpaw's Hard% is the most worrying stat. Since 2015 it has risen every year, starting at 25.8% in that season, it reached 35.0% in 2017 and 41.6% in 2018. This increase is partially due to batters getting the barrel on the baseball, as it's no coincidence its also risen every year since 2015. Peaking at an 8.4% Barrel% last season, it's a significant climb from his 4.7% mark he established in 2015.
With the rise in hard-hit balls, an inevitable climb in home runs has also ensued. A pre-injury 0.89 HR/9 has catapulted to a 1.22 HR/9 post-injury. His HR/FB also seen a jump from 10.0% to 12.1% because of the hard contact, not a dramatic leap but there's still some cause for uneasiness.
Strikeout Boredom
Directly associated with the decline in batted ball metrics is Bumgarner's lack of deception and swing-and-miss ability that he possessed before his dirt bike accident. He's never been a flame-thrower, but he's lost almost two MPH off his fastball since 2015. Clocking in at an average of 91.4 MPH in the combined 2017-18 seasons, this dip in velocity has resulted in a decline of his two best pitches: his fastball, and his curve.
| | | | | | | |
| --- | --- | --- | --- | --- | --- | --- |
| | FB Whiff | Swing FB BAA   | FB SLG | Crv Whiff | Swing Crv BAA  | Crv SLG |
| 2013-2016 | 24.7% | .220 | .371 | 39.2% | .163 | .236 |
| 2017-2018 | 14.5% | .277 | .527 | 31.0% | .193 | .296 |
Although he still gets batters out at a stable rate with his curveball, the whiffs have gone down substantially. His fastball wasn't fooling anyone either as it got crushed in these last two shortened seasons. His 9.2% SwStr% and 7.57 K/9 in 2018 were both career lows, and his contact rates were the highest since his pre-All-Star days in 2012. Bumgarner also struggled with command as he failed to get more batters to chase pitches out of the strike zone resulting in a career-low 2.98 BB/9 in 2018.
Value Moving Forward
Whether it's fair to blame Bumgarner's stats from the past two dwindling seasons solely on his shoulder and hand injuries remains to be seen. Perhaps his regression is the effect of all the accumulated innings years prior or the league's ability to adapt to his pitching habits. The fact remains that it'll be difficult to see him return to his elite 2013-16 form.
We can't help but compare him to a former Giants pitcher, Tim Lincecum, who fell out of all fantasy relevancy after having some dominating seasons. Bumgarner won't see this same fate seeing how he's as big of a competitor as any player in the game. Baseball is a game of constant change and improvements, so it's unlikely that he'll let himself fizzle out and fall off the fantasy map completely.
The drop in velocity and inability to generate strikeouts like he once did is a massive hit to MadBum's fantasy value moving forward. He has become more hittable than ever and will have to modify his method of approach to keep runners off the base paths. Still a good pitcher, he's a shade of his former self and can no longer be trusted as an SP1 in the fantasy game.
Turning 30 on August 1, it appears that the player we have seen the past two seasons will be closer to the player we see moving forward. Bumgarner better fits in on a fantasy squad as at least an SP2 but more in the SP3 territory due to his lack of strikeouts. Wins will be hard for MadBum to find as well, given the current state of the Giants. Currently being selected at an ADP of 72.5, it would be advisable to take a pitcher at this price with more ability to throw the chair and who can put up similar ERA and WHIP numbers (e.g., Berrios, Foltynewicz).
More 2019 Fantasy Baseball Advice