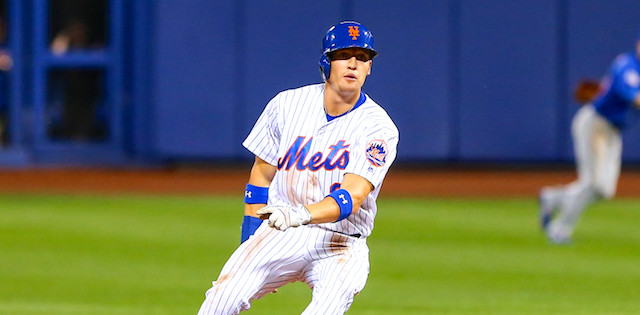 We'll be doing this roundup of points leagues every week here at RotoBaller, with waiver wire targets and streaming pitchers being evaluated in terms of the different scoring systems of ESPN, Yahoo!, CBS, and Fantrax.
Player values can vary wildly from platform to platform, so we'll make sure to highlight where players are the best and worst fits. We know points league players get neglected and we're here to help.
These waiver-wire adds are for the week of July 19 - July 25, looking at players below 50% rostered for ESPN and Yahoo! Stats and rankings are calculated using games through Friday, July 16 for hitters and Saturday, July 17 for pitchers.
Featured Promo: Get any full-season MLB and DFS Premium Pass for 50% off. Exclusive access to our Team Sync platform, Premium articles, daily Matchup Rating projections, 15 lineup tools, DFS cheat sheets, Research Stations, Lineup Optimizers and much more!
Sign Up Now!
Know Your System
If you've read me even a little, you likely know what I'm going to say...You must account for, as precisely as possible, how a player performs under your particular scoring system. Don't be fooled into believing you can just make rough adjustments in your head, bumping up guys with high on-base percentages and low strikeout rates. Every point, in every category, counts.
For example, ESPN and Fantrax are virtually identical in their scoring for hitters and roster size. The only difference is that stolen bases are worth one more point on Fantrax and ESPN subtracts one point per strikeout. That's the difference between Ronald Acuna Jr. being a top-five hitter versus top-20.
If your league uses standard settings, then great! Turn to page 94 and you can skip ahead to the leaderboards. If you play with custom settings, it'll still be fine. Go back to page 43 and look below at the scoring systems of the four major platforms. I bet there's a chance that you'll find that your league's scoring is very similar to one of the four (well, not Yahoo!'s), even if it's not the platform you actually play on.
For example, my home league started on a now-defunct platform before moving first to ESPN and is now at Fantrax. But our scoring is basically ESPN standard only with two points for stolen bases and a handful of other minor adjustments.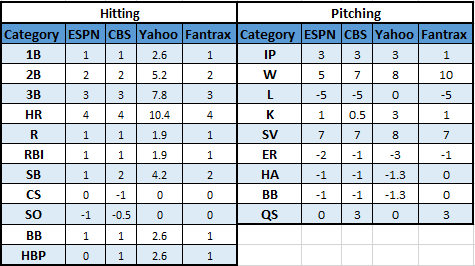 If you look above, you'll likely find a suitable mirror to your own system. While every point counts, as long as they aren't seismic changes you can get away with some "close enough" calls. IE. If everything is the same except for HBP (or something similar), you're probably fine.
Waiver Wire Leaderboards
In addition to our overall waiver wire leaderboards, we're deep enough into the season that we'll also start doing a 14-day leaderboard (21 days for pitchers), as well, giving us a window into recent production. The charts are updated prior to Saturday's games, on stats and ownerships. All leaderboards, overall and 14-day, are sorted according to the player's APR*, and clicking on a chart will open a new page with a magnified version.
*APR = Average Platform Ranking - the average platform ranking between ESPN, CBS, Yahoo, and Fantrax (standard point settings)
The Hansels
Let the recency bias wash over you because these players are just so hot, right now. So, just for fun, let's start making a chart of the players in the top-100 of APR over the last two weeks before diving into the position-by-position analysis.
First Base
Must Add
Joey Votto, CIN 
Garrett Cooper, MIA - Cooper has put up just silly numbers since returning from the IL on June 26. Over 62 PA, he's slashed .426/.565/.745, with 4 HR, 13 RBI, and 10 R, with a .545 wOBA and 251 wRC+.
C.J. Cron, COL - Cron has started heating up, with three home runs and a .414 wOBA over his last 12 games. And while most of the week will be spent in Los Angeles, he'll at least get two games at Coors to start things off.
Can Add
Desperate Adds
Miguel Sano, MIN
Bobby Dalbec, BOS
Albert Pujols, LAD - If you can afford to only start him versus LHP, he's a pretty safe play. Pujols is slashing .319/.354/.657 vs LHP, with a .415 wOBA.
Notable IL
Second Base
As it's been for a while, the wire is deep enough at second base to make the 'Must' and 'Can' adds bleed together at the edges.  Choose freely and just use any spares at third base, so you don't have to pick up Yandy Diaz instead.
Must Adds
Jed Lowrie, OAK - It looks like Lowrie is hot again and should be added until he cools back down. He homered in his last two games prior to the All-Star Break and then hit another one in his first game after. Ride the streak while it lasts.
Cesar Hernandez, CLE
Ty France, SEA
Kolten Wong, MIL - Pick him up and get whatever value you can before he inevitably goes back on the IL.
Can Adds
Jace Peterson, MIL - In theory, Peterson could start to lose playing time if Keston Hirua stops being such a giant whif-...I crack myself up. Obviously, Keston Hiura will never stop being a giant whiffer.
Enrique Hernandez, BOS
Luis Arraez, MIN - Arraez is one of those guys I'll just never be able to quit because the best version of him is a points monster, with a high contact rate and few strikeouts. Since returning from the IL on June 14, Arraez is slashing .329/.376/.459 over 93 PA, with a .360 wOBA and 129 wRC+.
Nick Solak, TEX
Josh Harrison, WSH
Desperate Adds
Notable IL
Third Base
Must Adds
Can Adds
Jeimer Candelario, DET - Relative to his third base peers, Candelario has been on fire over his last 10 games, slashing .286/.375/.486, with a .366 wOBA. Relative to everyone else, he's been just okay.
Yandy Diaz, TB
Desperate Adds
Notable IL 
Shortstop
Must Adds
Luis Urias, MIL
J.P. Crawford, SEA - A boring compiler on a bad team can be the perfect plug when injuries pile up.
Elvis Andrus, OAK - Since July 1, Andrus is slashing .269/.309/.442, with 2 HR and 9 R, batting second in every game but one. His time-machine magic will eventually end but he has a pretty safe floor for the time being.
Can Adds
Miguel Rojas, MIA - Rojas might be finally heating back up since coming back from the IL ice cold. He's collected 10 hits in his past five games, slashing .476/.476/.619, with a .473 wOBA and 205 wRC+.
Josh Rojas, ARI
Paul DeJong, STL
Desperate Adds
Notable IL
Outfielders
Must Adds
Brandon Nimmo, NYM - Since returning from the IL on July 3, Nimmo is slashing .302/.412/.465, with a .385 wOBA and 147 wRC+ over 51 PA. This looks suspiciously like what he did in the 80 PA before hitting the IL, when he slashed .318/.430/.439, with a .387 wOBA and 149 wRC+. Nimmo puts up great numbers and bats leadoff...What are we doing?
Max Kepler, MIN - Kepler finally started waking up in July, slashing .297/.350/703 over 40 PA, with four home runs, and a .436 wOBA.
Robbie Grossman, DET
Can Adds
Desperate Adds
Notable IL
Catchers
Must Adds
Can Adds
Desperate Adds
All catcher adds are desperate adds.
Notable IL
Starting Pitchers
Must Adds
Merrill Kelly, ARI - Over his last five starts, Kelly has gone 3-0, with a 2.05 ERA over 30.2 IP. He'll face the Cubs, who have a .283 wOBA, 73 wRC+, and 29.5% K% versus RHP.
Kwang Hyun Kim, STL - Kim may not strike anyone out (18.2% K%) but he was quietly dominant heading into the All-Star break, allowing just one earned run over his last three starts, entering the break on a 13 IP scoreless streak. He kept that streak going against the Giants on Saturday, allowing no runs on three hits, pitching six innings, and picking up the win. He'll face the Cubs, who have a 24.4% K% and .305 wOBA vs LHP.
Can Adds
Ryan Yarbrough, TB - Tampa hasn't yet announced when Yarbrough will start but it seems likely that he'll get a two-start week, facing Baltimore and Cleveland. I don't want anything to do with the Orioles, who have a .329 wOBA vs LHP, with just a 20.9% K%. But Cleveland is much more palatable, posting a .301 wOBA and 23.6% K%.
Cole Irvin, OAK - Irvin is in a similar position as Yarbrough, in that, while yet unannounced, he may have a two-start week with one good, and one bad option. The Angels have a .340 wOBA and 21.3% K% vs LHP, while the Mariners have a .296 wOBA and 26.6% K%.
Wily Peralta, DET - Peralta, obviously using some sort of voodoo, still has a 2.08 ERA through five starts. The Royals are mostly inept versus right-handers, with just a .299 wOBA and 86 wRC+ - though, they do have a stingy 21.2% K%.
Casey Mize/Tarik Skubal, DET - Detroit hasn't announced the schedule yet but one, or both of Skubal and Mize will have a two-start week versus the Rangers and the Royals. Texas and Kansas City are both much worse versus righties, than they are against lefties, so the matchup advantage would go to Mize. But the talent advantage stays with Skubal.
Alex Cobb, LAA
Ross Stripling, TOR
Triston McKenzie, CLE
Vladimir Gutierrez, CIN
Zach Thompson, MIA
Desperate Adds
Tyler Anderson, PIT - I love streaming Anderson but Arizona is sneaky-decent against LHP, with a .311 wOBA and 21.8% K%.
Jordan Lyles, TEX - The Tigers have a 26.0% K% and 96 wRC+ versus RHP.
Cal Quantrill, CLE - The Rays have a 27.8% K% and .315 wOBA vs RHP.
Vince Velasquez, PHI
Patrick Sandoval, LAA - You know that Sandoval is one of my favorites but Minnesota has been destroying lefties. The Twins have a .339 wOBA, 115 wRC+, and 19.5% K% vs LHP.
Michael Wacha, TB
Drew Smyly, ATL
Adbert Alzolay, CHC
Zach Davies, CHC
Notable IL
Relief Pitchers
Keep in mind that with relievers, points scored can be deceiving. Most scoring systems make it pretty difficult for even the best non-closers to score elite points, making them very reliant on unpredictable wins. You simply need the save points to really do damage. AKA, when you see totally random names hit the leaderboard (particularly the 14-Day one), it's probably because they happened to get a few wins and/or a lot of usage. If a reliever doesn't have an established role, tread carefully.
One note about ownership; because ESPN uses nine open pitching slots, as opposed to dedicated slots for RP/SP, relievers tend to be lighter owned than on other sites.
Must Add
Heath Hembree, CIN
Ranger Suarez, PHI
Paul Sewald, SEA - While Kendall Graveman still looks like he'll get a majority of the Mariners save chances, Sewald should still get the occasional opportunity. But even when not closing, Sewald's extreme whiffery (41.9% K%) still keeps him as a viable option.
Can Add
Gregory Soto, DET - He still might be in a timeshare with Jose Cisnero but Soto has gotten all of Detroit's chances since Cisnero's last save on July 4.
Giovanny Gallegos, STL - You're not going to get a bulk of points since Gallegos is locked in as the setup man but he's a solid fill-in for those in daily move leagues.
Notable IL
Download Our Free News & Alerts Mobile App
Like what you see? Download our updated fantasy baseball app for
iPhone
and
Android
with 24x7 player news, injury alerts, sleepers, prospects & more. All free!
More Points Leagues Analysis