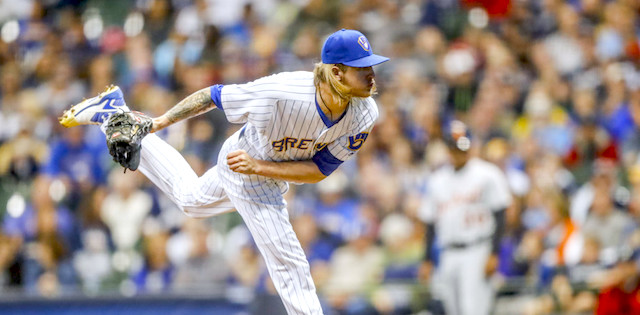 Saves are an important component for many fantasy baseball leagues. Closers are one of the most volatile positions in fantasy baseball, and one of the highest turnover positions in MLB. Each year, closers drop like flies and many MLB teams make in-season changes due to injuries or poor performance. Stay on top of all closer depth charts for the AL and NL, and dominate in saves this year.
We will be updating the MLB Closers & Saves Depth Charts every day, all season long. Be sure to also check out these quick-hit notes from @DavidMarcillo77 looking at the biggest daily bullpen news from around MLB:
1/15: The White Sox signed free agent Steve Cishek to strengthen their bullpen. He should join Aaron Bummer as a solid righty-lefty setup team for closer Alex Colome.
1/6: The Nationals added another arm to their bullpen, re-signing Daniel Hudson to a two-year deal. He'll likely work alongside Sean Doolittle in the ninth inning, depending on matchups.
1/2: The Nationals signed Washington World Series Hero Will Harris to a three-year deal. He'll likely work the eighth inning ahead of closer Sean Doolittle. With Harris signed, sources say the Nationals are now unlikely to re-sign Daniel Hudson.
12/30: Happy New Year, Happy New Depth Chart. Closers and Saves Depth Charts are freshly updated. Keep an eye out for a series of six division-by-division articles coming throughout January and February breaking down each team's bullpen heading into Spring Training!
Be sure to also read our other articles on closers, setup men, and bullpens here:
AL EAST: 2019 Fantasy Baseball Closers & Saves
AL CENTRAL: 2019 Fantasy Baseball Closers & Saves

AL WEST: 2019 Fantasy Baseball Closers & Saves
NL EAST: 2019 Fantasy Baseball Closers & Saves
NL CENTRAL: 2019 Fantasy Baseball Closers & Saves
NL West: 2019 Fantasy Baseball Closers & Saves
Previous Closers and Saves News Updates
2019 Season Updates Below
9/19: Craig Kimbrel was activated from the injured list on Thursday and could quickly find himself back in high-leverage situations.
9/17: Pirates closer Felipe Vazquez was arrested on several awful charges and was placed on MLB's administrative leave. He's unlikely to pitch again this season. Keone Kela and Richard Rodriguez should work any save situations that come up for the remainder of the season.
9/10: Not a ton going on in the league's bullpens for once, but depth charts are updated, so have a look!
9/5: Craig Kimbrel and his high ERA are back on the injured list. Steve Cishek and Pedro Strop figure to split ninth innings until Kimbrel returns.
9/3: Mark Melancon has pitched well enough to take over the closer's role all to himself for now. Unless he struggles again, he should hold it down until the end of the season.
9/2: The Marlins activated Jose Urena from the IL and he should be given a chance to jump into the closer's role almost right away. He's worth a look for those desperate for saves, although the Marlins might not have too many leads to save in September.
9/2: The Mets seem to prefer Seth Lugo in a save situation, but they also like using him for multiple innings at times, so Edwin Diaz will still get his save chances now and then. Lugo usually won't pitch the day after throwing multiple innings, so owners can take a look at his usage from a previous day and get an idea of what he'll do on the current day.
8/25: Ryne Stanek earned a save for the Marlins today, the team's first official save since July 24. Opening Day starter and "ace" (according to the Marlins and literally no one else) Jose Ureña will reportedly return from the IL as a reliever and could make his way into the closer's role.
8/25: Brad Hand looks like he's back at it, saving two games in a row after blowing three in a row but getting a vote of confidence from his manager. His owners have nothing to worry about.
8/21: Wade Davis got a chance to close again, and he somehow looked even worse than before. The Rockies are in full-on committee mode, but it looks like Carlos Estevez and Jairo Diaz should be at the top of the list.
8/21: Matt Magill saved two games in two days for the Mariners and hasn't allowed a run in his last six appearances. Looks like he's atop the Seattle committee, as Anthony Bass pitched the eighth inning ahead of Magill.
8/18: Craig Kimbrel is set to be activated on Sunday and should immediately return to his role as closer. It's been a struggle for the Cubs since Kimbrel went on the IL, so they'll be happy to have him back. Brandon Kintzler is back as well and should work in a setup role ahead of Kimbrel.
8/18: With Scott Oberg going on the IL with a blood clot, the Rockies closer situation is officially as volatile as it gets. McGee, Davis, and Shaw have all been terrible over the past 30 days, so it's anyone's guess who gets the first shot at closing. Davis could be the favorite simply because of his experience this season and prior success (before this season). For now, this is a bullpen to stay away from, although if you are desperate enough to have to pick one, Davis would be the best bet.
8/18: After getting blown up recently, the Nationals placed Sean Doolittle on the IL with knee tendinitis. Daniel Hudson, Hunter Strickland or others could be in the mix to fill in, with Hudson perhaps getting the first chance as he's been the most effective lately.
8/14:The Nathan Eovaldi as closer experiment looks like it's over, and it never really started. Brandon Workman has taken hold in the Boston bullpen, and Eovaldi is on his way back to the starting rotation.