We'll be doing this roundup of points leagues every week here at RotoBaller, with waiver wire targets and streaming pitchers being evaluated in terms of the different scoring systems of ESPN, Yahoo!, CBS, and Fantrax.
Player values can vary wildly from platform to platform, so we'll make sure to highlight where players are the best and worst fits. We know points league players get neglected and we're here to help.
These waiver-wire adds are for the week of June 28 - July 4, looking at players below 50% rostered for ESPN and Yahoo! Stats and rankings are calculated using games through Friday, June 26.
Editor's Note: Our incredible team of writers received five total writing awards and 13 award nominations by the Fantasy Sports Writers Association, tops in the industry! Congrats to all the award winners and nominees including Best MLB Series, NFL Series, NBA Writer, PGA Writer and Player Notes writer of the year. Be sure to follow their analysis, rankings and advice all year long, and win big with RotoBaller!
Read More!
Know Your System
If you've read me even a little, you likely know what I'm going to say...You must account for, as precisely as possible, how a player performs under your particular scoring system. Don't be fooled into believing you can just make rough adjustments in your head, bumping up guys with high on-base percentages and low strikeout rates. Every point, in every category, counts.
For example, ESPN and Fantrax are virtually identical in their scoring for hitters and roster size. The only difference is that stolen bases are worth one more point on Fantrax and ESPN subtracts one point per strikeout. That's the difference between Ronald Acuna Jr. being a top-five hitter versus top-20.
If your league uses standard settings, then great! Turn to page 94 and you can skip ahead to the leaderboards. If you play with custom settings, it'll still be fine. Go back to page 43 and look below at the scoring systems of the four major platforms. I bet there's a chance that you'll find that your league's scoring is very similar to one of the four (well, not Yahoo!'s), even if it's not the platform you actually play on.
For example, my home league started on a now-defunct platform before moving first to ESPN and is now at Fantrax. But our scoring is basically ESPN standard only with two points for stolen bases and a handful of other minor adjustments.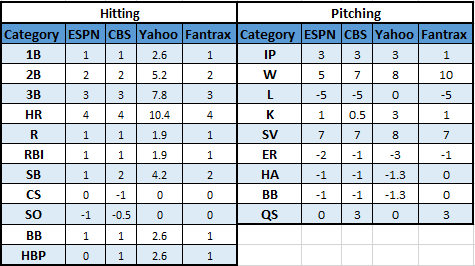 If you look above, you'll likely find a suitable mirror to your own system. While every point counts, as long as they aren't seismic changes you can get away with some "close enough" calls. IE. If everything is the same except for HBP (or something similar), you're probably fine.
Waiver Wire Leaderboards
In addition to our overall waiver wire leaderboards, we're deep enough into the season that we'll also start doing a 14-day leaderboard (21 days for pitchers), as well, giving us a window into recent production. The charts are updated prior to Saturday's games, on stats and ownerships. All leaderboards, overall and 14-day, are sorted according to the player's APR*, and clicking on a chart will open a new page with a magnified version.
*APR = Average Platform Ranking - the average platform ranking between ESPN, CBS, Yahoo, and Fantrax (standard point settings)
First Base
Must Add
Joey Votto, CIN - You know what I'm going to say, right? Joey Votto should be owned in all point leagues. Fact.
C.J. Cron, COL - Cron should already be owned but there is really no excuse with a homestand at Coors on the docket for Week 14.
Nate Lowe, TB
Can Add
Desperate Adds
The same rogue's gallery of part-timers and whiffers as every week. Hopefully, you're not this desperate.
Notable IL
Second Base
Must Adds
Second base remains basically the opposite of first and third base, with multiple excellent (and currently hot) options available in many leagues. Take your pick!
*Shortly after writing this, Wong left in the eighth inning with calf tightness, although the Brewers are optimistic that it is a minor issue.
Can Adds
Desperate Adds
Notable IL
Third Base
Must Adds
Times are dire. Hopefully, you don't need one of these third basemen.
Can Adds
Jeimer Candelario, DET - Candelario has only put up a 172 APR over the last two weeks but hasn't exactly been terrible, posting a .333 wOBA and 111 wRC+. However, a lot of that is being driven by 20.0% BB%, as he's only run a .313 SLG and .063 ISO over that time.
Yandy Diaz, TB
Maikel Franco, BAL
Desperate Adds
Notable IL 
Shortstop
Must Adds
J.P. Crawford, SEA - Crawford has continued to dominate, continued to bat leadoff, and continues to be shockingly under-owned. He's up to a 79 APR for the year and has a 43 APR over the last two weeks, slashing .346/.370/.519 over his last 54 PA, with a .383 wOBA and 149 wRC+. Seriously, what are we doing here, people?
Can Adds
Desperate Adds
Amed Rosario, CLE - The Rosario renaissance has been knocked back to the dark ages these last few weeks, slashing just .226/.268/.283, with a .247 wOBA and 52 wRC+.
Kyle Farmer, CIN
Kevin Newman, PIT
Notable IL
Outfielder
Must Adds
Hunter Renfroe, BOS - Renfroe has been an underrated star in both points and roto formats, coming in as a top-50 outfielder in roto and is a top-100 hitter by APR in points. And he's been doing it without as much of the trademark power that generally drives his value. The power has started to turn up more, though, with Renfroe running a.575 SLG and .225 ISO over the last two weeks.
Taylor Ward, LAA
Yonathan Daza, COL - Daza is the perfect storm of a player on a hot streak who is getting ready to have a whole week of games at Coors Field. Over the last two weeks, Daza has a 52 APR and has slashed .362/.423/.489 over 53 PA, with a 141 wRC+.
Can Adds
Desperate Adds
Notable IL
Catcher
Must Adds
Omar Narvaez, MIL - I mean, I guess? Narvaez isn't helping you that much but at least he's not going to absolutely murder you like most of your other likely options if you're needing to fill your backstop.
Can Adds
Desperate Adds
All catcher adds are desperate adds.
Notable IL
Starting Pitchers
Two Start Weeks
Check back throughout the day for more pitching analysis! IE. We're going to a bunch of open houses today and I'm writing as we travel ; )
Must Add
Tarik Skubal, DET - Sigh. Still available in most leagues, huh? Skubal's start looks less promising on paper than it is in reality, as the White Sox have a .335 wOBA vs LHP since May 1. But Chicago has done a lot of their lefty-mashing versus substandard pitchers and Skubal has more than held his now in two starts versus the pale hose this season, striking out 17 batters in 11 IP, while allowing 4 ER. So help me, if he strikes out double-digits again but is still less than 50% rostered, I may scream.
Johnny Cueto, SF - Arizona is very bad. Fact. Arizona is particularly bad vs RHP (.282 wOBA and 25.1% K% since May 1). Fact.
Jameson Taillon, NYY
Alex Cobb, LAA - Baltimore has the second-worst record in baseball but is also one of the best offenses vs LHP. Alex Cobb, however, is not left-handed.
Logan Gilbert, SEA - Since getting roughed up in his first two starts of his major league career, Gilbert has settled down, posting a 3.07 ERA over his last six starts, although his most recent start was cut short by rain after just two innings (0 ER, 1 H, 3 K).
Matt Manning, DET
Tyler Anderson, PIT - Anderson has been much better than he's looked on paper, as his 4.84 ERA is weighed down by two blowups where he allowed a total of 15 ER in 11 IP versus Atlanta and Washington. In his other 12 starts, Anderson has a 3.64 ERA and 1.10 WHIP and has a juicy matchup with the Brewers, on tap. Milwaukee is one of baseball's worst offenses vs LHP, posting a .307 wOBA and 27.3% K% vs LHP since May 1.
Can Add
Bailey Ober, MIN - Ober has been up and down in his five starts but has a sneaky little two-step in Week 14, even if the upside is low. The White Sox have a .310 wOBA and 25% K% vs RHP since May 1, while the Royals have a .300 wOBA vs RHP. Kansas City may have a stingy 21.8% K% but they are also the Royals. Soooo...
Ryan Yarbrough, TB
J.T. Brubaker, PIT - Since May 1, the Brewers have just a .295 wOBA vs RHP, with a 25% K%.
Chris Flexen, SEA - I love Flexen for his start against Texas but have zero desire to start him against Toronto earlier in the week. Seriously, it's about time to just slap a big pause on streaming against Toronto for a minute, or two.
Martin Perez, BOS - Yes, it's Martin Perez but Perez tends to be pretty decent against bad teams. For example, when he locked up these same Royals on June 19, allowing 1 ER in five innings.
Drew Smyly, ATL - The Mets have a .285 wOBA and 24.8% K% vs LHP since the start of May.
Kwang Hyun Kim, STL -Kim has been a man of extremes in 2021 but the bad version isn't that bad and the good version is more than decent. In 2021, Kim has allowed 3-4 earned runs in five of his 12 starts but only one earned run in each of the other seven. On the docket for Week 14 is the Arizona Diamondbacks, who you may recall are a very bad offense.
Zach Thompson, MIA
Ross Stripling, TOR
Anthony Kay, TOR - Kay has a juicy matchup against the Mariners, who have just a .281 wOBA and 27.4% K% vs LHP since the start of May.
Adrian Houser, MIL - With an early half of the lineup featuring Adam Frazier, Bryan Reynolds, and Ke'Bryan Hayes, the Pirates aren't the streaming pushovers they once were. There are still plenty of holes but Houser has been up-and-down (at best) in 2021.
Desperate Adds
Patrick Sandoval, LAA - I love me some Sandoval and have added him just about everywhere over the last few weeks but you need to be really careful in starting him versus the Orioles. Baltimore is bad but is also one of baseball's best offenses when facing LHP, posting a .347 wOBA since May 1, with just a 19.0% K%.
Dylan Bundy, LAA - Oh, my sweet Dylan, what have they done to you? Your heart is just too pure for this cold, cruel world. Two starts against the Yankees and Orioles are good on paper but you're really tempting fate by running Bundy out, at this point.
Jon Lester, WSH - If you're feeling brave (desperate), the Rays aren't that great vs LHP, posting a .295 wOBA and 27.5% K% since May 1.
J.A. Happ, MIN - Don't get tricked by a start against the Royals. Happ is washed.
Caleb Smith, ARI - I mean, if you're looking for a pitcher who should pick up some strikeouts but have virtually no chance of getting a win, then Smith is your man.
Carlos Martinez, STL - If you are so desperate as to start Martinez, let alone in a matchup in Colorado, then things have gone completely sideways. Pull up! Pull up! Don't do it!
Kyle Freeland, COL - I just called both Merriam AND Webster. It turns out that starting Kyle Freeland at home for a two-start week is quite literally the definition of desperation. But hey, if you're willing to do it with C-Mart, might as well lean into your insanity.
Notable IL
Relief Pitchers
Keep in mind that with relievers, points scored can be deceiving. Most scoring systems make it pretty difficult for even the best non-closers to score elite points, making them very reliant on unpredictable wins. You simply need the save points to really do damage. AKA, when you see totally random names hit the leaderboard (particularly the 14-Day one), it's probably because they happened to get a few wins and/or a lot of usage. If a reliever doesn't have an established role, tread carefully.
One note about ownership; because ESPN uses nine open pitching slots, as opposed to dedicated slots for RP/SP, relievers tend to be lighter owned than on other sites.
Must Adds
Can Adds
Notable IL
Download Our Free News & Alerts Mobile App
Like what you see? Download our updated fantasy baseball app for
iPhone
and
Android
with 24x7 player news, injury alerts, sleepers, prospects & more. All free!
More Points Leagues Analysis