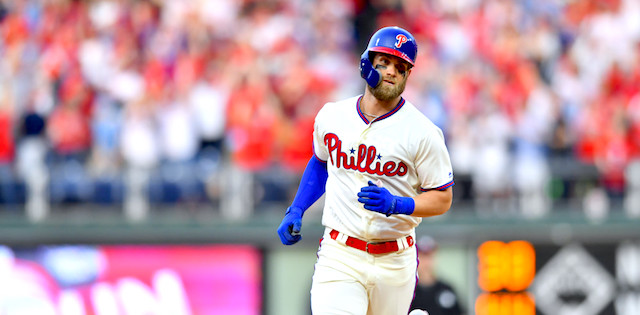 Much like their milquetoast television lineup, CBS points leagues are like a warm bath of mediocrity. Are they great? No-oooo, but are they awful? Also, no. I mean, you're never really going to want to watch a Chuck Lorre sitcom or the latest chapter in naval policing, but they can still serve a purpose. Because sometimes you just want something droning on in the background while you answer emails and check Twitter.
Unfortunately, they aren't completely benign, as CBS offers users suspect player rankings and player projections that don't seem very likely of ever matching reality. But at least they don't seem to do it in ways that sometimes seem almost designed to frustrate points players to the point of quitting and forever blaspheming against the format. And that's something! The simplistic CBS roster settings might seem creaky - with the limited slots making it hard for users to properly value players - but at least they didn't do what Yahoo did! I don't have a whole side of beef for CBS but milquetoast is still terrible and I'm still hungry... let's go.
This article will cover the best fantasy baseball points league strategies for dominating CBS leagues after we recently introduced RotoBaller's CBS Points League Ranker Tool, which is designed to give players an even bigger leg up on their competition. To read a general overview of our Points League Ranker tool, and the methodology behind it, check out this intro article we recently published. You can read the rest of this Point League Ranker series as well covering Yahoo, Fantrax and ESPN platforms.
Featured Promo: Want a free RotoBaller Premium Pass? Check out these sports betting promo offers from the top sportsbooks! All new sign-ups get a free bonus offer on their first deposit, and a free year of RotoBaller's Premium Pass for all sports ($450 value)!
Sign Up Now!
Strings That Control the System
The two components that ultimately control a player's value are which categories are scored and how rosters are required to be constructed. Both are supremely important and must be accounted for when judging a player's worth.
Default Roster Size: C - 1B - 2B - 3B - SS - OF (3) - UT - SP (5) - RP (2)
While most will give consideration to how players can score points, not as many consider the roster restrictions of their platform. Head on over here for a more thorough explanation but roster size must be accounted for so replacement levels can be set.  Comparing 12-team leagues in ESPN to CBS, for example, the latter only uses three outfielders with no middle infield or corner infield slot. That translates to CBS players requiring 24 fewer starting outfielders, 12 fewer corner infielders, and 12 fewer middle infielders. That's 48 fewer starters total; 48 players who would be starters in ESPN but are on the waiver wire in CBS, with default roster construction.
Then there's the matter of the pitching, with CBS having specific slots for starters and relievers, as opposed to ESPN, Fantrax, and NFBC that all use nine generic pitcher slots. Not only do relievers gain more value by virtue of having their own designated slots but the value of starters is dramatically affected by only having five slots available. That means only 60 starting pitchers above replacement-level, which in turn makes the cream of the crop that much creamier.
Default Point Scoring
| | | | |
| --- | --- | --- | --- |
| Batting | Points | Pitching | Points |
| Single | 1 | Win | 7 |
| Double | 2 | Loss | -5 |
| Triple | 3 | Save | 7 |
| Home Run | 4 | Inning | 3 |
| RBI | 1 | Quality Start | 3 |
| Run | 1 | Strikeout | 0.5 |
| Base on Balls | 1 | Base on Balls | -1 |
| Stolen Base | 2 | Hits Allowed | -1 |
| Hit by Pitch | 1 | Earned Runs | -1 |
| Strikeout | -0.5 | Hits Batsman | -1 |
| Caught Stealing | -1 | | |
Hitter Takeaways
There's nothing in the scoring for total bases, runs, and RBI that throws the system out of wack, relative to the other point platforms. CBS scoring is nearly identical to ESPN, with the main difference being that CBS takes a half-point per strikeout compared to the full point that ESPN charges batters for a whiff. This small difference, along with the much smaller rosters, dramatically alters value between the two platforms even as their settings seem so similar.
Pitcher Takeaways
Getting only a half-point for strikeouts and rewarding quality starts will affect pitcher values the most when compared to other platforms. The best fantasy pitchers usually separate themselves with elite K-rates but getting just the half-point serves to close the gap between the normally top-tier pitchers and ones whose mediocre K-rates would usually limit their ceiling on other platforms. And whether you like them or not, quality starts will earn pitchers three points on top of the seven points they can get for a win. This additional scoring category adds a lot of value to quality-start machines like Jose Berrios and Madison Bumgarner.
Simulated Nonsense
Points players (and especially new ones) are often much more reliant on the data and rankings provided to them by their chosen platform than roto players are. You can do research for your roto league by going to a dozen different places to see how many home runs, strikeouts, ERA, etc, that Player X is projected to have but you won't know how those stats translate to value in your chosen points league unless you do the work yourself (or find someone to do it for you). That makes it incumbent on platforms to put out projections, rankings, and ADP that properly reflect how scoring behaves in their system.
There are four direct resources that CBS makes available to points players for draft prep. The projected points based off of their site player projections (and the subsequent rankings), their format-specific ADP, Scott White's top-300 rankings, and Sportsline's top-300 rankings. However, two of these resources are acting like some sort of broke-down, discount Skynet.
There seems to be something absolutely insane kind of off with the rankings provided by CBS partner Sportsline. I'm clueless about their methodology, outside of knowing that they base projections around running numerous computer simulations, but some of the data seems so obviously wrong that it's hard to trust the rest. For example, #264 Bryce Harper.
There is also the projected points provided on-site, which have just as many giant question marks within the data. For example, #208 Bryce Harper. While it's unclear if these projections are also powered by Sportsline, it wouldn't be surprising given how much overlap there is in regards to which players hold the strangest valuations. Here's a selection of reasons you may want to take both the Sportsline top-300 rankings and CBS's projected points with a giant rock of salt:
These are not the projections you are looking for. Move along. However, while you shouldn't be using these resources to draft from, that doesn't mean your opponents won't be. And that makes the information useful. Regardless of skill level, many players will rely only on the projected points and ADP that their platform provides. I've been in many points drafts this offseason and most of them have been against other industry folks. I promise you that many of them didn't make their own spreadsheets and were drafting by making mental adjustments to the site's projected point totals. Seriously, everyone does it.
Looking at the ADP CBS provides - which is specific to the format - many of them only make sense if you presume that many players are using the site's projected points to make their draft decisions. Why does Lance McCullers have a 71 ADP? Because players trust when they see that CBS projects him to score the 72nd-most points and Sportsline has him as their #36 player. ATC projects J.D. Martinez to score the 21st-most points (24th in PAR) in 2020, yet his 47 ADP leads me to believe that people are drafting him more in line with the CBS projections that call for him to score the 57th-most points.
Call me crazy, but I'm trusting Ariel Cohen - 2019's most accurate ranker and creator of ATC - over the system that is projecting Bryce Harper to score a half-point more than Rio Ruiz. Never assume that your opponents are using anything more sophisticated than the projections provided by the platform. Take advantage of that misguided trust whenever possible.
Solving the CBS Points Puzzle
The general axiom of pitching being king in points leagues is true to a tee on CBS, even though it may not seem that way on the surface. Looking at just projected points doesn't give justice to how deep hitting is given how tight the rosters are. Having only three outfielders and no swing spots for infielders makes a large difference in values and should be leveraged in drafts by adjusting for the position. Projected points also don't show just how valuable elite pitching is once you take these replacement levels into account. Take a look at the top-30 projected scorers in 2020 according to ATC projections:
There are eight pitchers in the top-30 projected scorers (not counting Ohtani) with just three projected in the top-10. While comparing pitchers and hitters isn't always a straightforward relationship, it's worth noting just how much pitcher values increase when using points-above-replacement (PAR) instead of just projected points, as the composition of the top-30 changes drastically. Not only does the number of pitchers in the top-30 rise from eight players to 14 but more pitchers are projected to return near a first-round value, with four pitchers projected in the top-seven and seven in the top-15:
| | | | |
| --- | --- | --- | --- |
| Rank | NAME | POS | PAR |
| 1 | Gerrit Cole | SP | 301 |
| 2 | Jacob deGrom | SP | 274 |
| 3 | Mike Trout | OF | 257 |
| 4 | Max Scherzer | SP | 240 |
| 5 | Cody Bellinger | 1B/OF | 235 |
| 6 | Mookie Betts | OF | 225 |
| 7 | Walker Buehler | SP | 222 |
| 8 | Christian Yelich | OF | 219 |
| 9 | Juan Soto | OF | 216 |
| 10 | Shane Bieber | SP | 211 |
| 11 | Alex Bregman | 3B/SS | 204 |
| 12 | Ronald Acuna Jr. | OF | 194 |
| 13 | Jack Flaherty | SP | 191 |
| 14 | Freddie Freeman | 1B | 187 |
| 15 | Stephen Strasburg | SP | 185 |
| 16 | Zack Greinke | SP | 183 |
| 17 | Nolan Arenado | 3B | 181 |
| 18 | Francisco Lindor | SS | 179 |
| 19 | Jose Ramirez | 3B | 177 |
| 20 | Shohei Ohtani | SP/DH | 173 |
| 21 | Patrick Corbin | SP | 171 |
| 22 | Bryce Harper | OF | 166 |
| 23 | Luis Castillo | SP | 165 |
| 24 | J.D. Martinez | OF | 161 |
| 25 | Justin Verlander | SP | 159 |
| 26 | Clayton Kershaw | SP | 153 |
| 27 | Rafael Devers | 3B | 152 |
| 28 | Anthony Rendon | 3B | 150 |
| 29 | Jose Berrios | SP | 146 |
| 30 | Aaron Nola | SP | 144 |
Draft Plan of Attack
1. Early Pitching Storm
With as large of a gap as there is between Cole/deGrom and the rest of the top pitchers, I'm taking them over anyone besides Trout and will aim for getting two of the top-five pitchers with my first picks. This is an easily achievable goal going by CBS ADP, which is more trustworthy given that it's available specific to the format. As mentioned previously, only getting one-half point per strikeout helps shrink the gaps between pitchers the lower you go down the lists. This helps make truly elite starters the game's scarcest resource and I would likely use at least two (and possibly all three) of my first three picks on these premier arms. Having a starting duo that is some combination of Cole/deGrom/Scherzer/Buehler will be a dominating advantage in this format and I know how easily I can make up offensive value later in the draft.
2. Avalanche of Bats 
After I hit pitchers early, I'm dropping the hammer on bats for multiple rounds. While I might take an opportunity to grab a pitcher like Aaron Nola (53 ADP, 30th in PAR) or Trevor Bauer (59 ADP, 31st in PAR) to further temper my elite staff, I likely wouldn't take more than one more pitcher until after pick #100. Using PAR as my guide, I'm looking to get a round or two of surplus value with every batter I draft during this period. I'm also usually going to watch my opponents continually take players that carry projected negative-value relative to their draft price, multiplying the advantage I'll have already gained by drafting properly valued players. Some examples:
3. Pivot Back to Pitching
There are numerous pitchers going after pick 100 who project to be top-75 and top-100 players, giving me a chance to solidly my already strong pitching staff with tremendous values. Here are some examples, sorted by ADP with player ranks by CBS projected points and ATC projected PAR:
3. Don't Forget About Relievers
This is also a good time to remember that you will need relievers (or starters with RP-eligibility) and these middle rounds are a good time to address those needs. I'm not opposed to grabbing Josh Hader (53 ADP, 35th in PAR) or Aroldis Chapman (74 ADP, 64th in PAR) in order to lock up an elite option. But the price really needs to be right, though, as their likely draft price is right in the middle of the rounds where I'm going to be looking primarily for hitters. Besides, I'm confident that there will be numerous great options available later.
Relievers to Target:
Finishing Strong
Even though you have four bench spots available, I'm probably only drafting one extra hitter. Given the shallowness of offensive roster slots, the waiver wire should stay hopping with talent all season so I won't feel much pressure to load up on backups. I'm going to spend the last rounds rounding out my pitching staff but I'll also probably still be lacking an offensive starter or two, even as late as the 15th round in what's just a 20-round draft. That's because I know I can fill out my starting roster with hidden offensive gems that will give me above-replacement value for the relative cost of pennies.
Let's close up shop today by looking at a few players like this at each position, as well as a few that will look better on someone else's team.
Outfielder
First Base
Second Base
The keystone is very unique because it is overvalued almost completely across the board. My advice would be to just draft Ozzie Albies and be done with it but here are the first 22 players being drafted so you can see what I mean:
Third Base
Shortstop
Catcher
Starting Pitchers
The Points Pipeline Keeps Flowing
That wraps up this edition of Break the League but we've upped the ante on points coverage here at RotoBaller and now have dedicated tools and focused analysis to help you bring home the gold in 2020. Read about our platform-specific Points League Rankers here. If you're in a CBS Points league, these rankers, which sit behind our premium wall, are essential draft tools for you.
Our premium tools include customized rankings for each platform and utilize the exclusive projections of RotoBaller's Nick Mariano (2018's most accurate MLB ranker), to calculate projected points, points-above-replacement, and per-PA rates of scoring. In the coming weeks, we'll have more and more analysis articles with the specificity you need to identify the best and worst players on your particular platforms. Stay with us, ye long-neglected points players. We come bearing gifts.
More Points Leagues Analysis