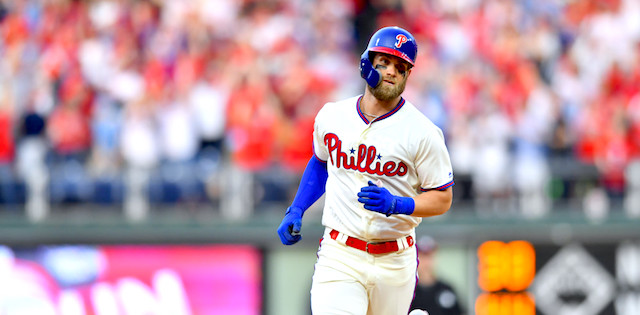 For the first time in a long time, Mike Trout isn't the top dog in dynasty baseball. While this is hard to believe for some, the numbers being put up by players like Ronald Acuna Jr., Christian Yelich, and Cody Bellinger, to name only a few, are impossible to ignore.
You simply can't go wrong at the top of the outfield player pool. After the first-rounders are gone, however, the pool becomes a minefield of playing time battles, injury concerns, and worrisome aging curves. Let's dive into this position and dig up some gold for your dynasty drafts.
All preseason long, RotoBaller has you covered with the latest rankings for all fantasy baseball league types. Here we present our dynasty rankings for the outfield position, put together by analysts Ellis Canady, Nicklaus Gaut, Kyle Brown, and Pierre Camus. Check out our analysis of all other positions as well.
Featured Promo: Get any full-season MLB and DFS Premium Pass for 50% off. Exclusive access to our Team Sync platform, Premium articles, daily Matchup Rating projections, 15 lineup tools, DFS cheat sheets, Research Stations, Lineup Optimizers and much more!
Sign Up Now!
Outfield Rankings — Dynasty Leagues (March)
In case you missed it, our very own "Big Pick Nick" Mariano was named the #1 overall most accurate industry expert ranker for the 2018 season!
Tier One
Acuna is an absolute monster in today's fantasy baseball landscape. With stolen bases getting harder and harder to find, Acuna's 40/40 potential at 22 years old is the perfect, and only, type of age/production combination that could wrestle away the top spot from Mike Trout. Keep in mind that Aunca Jr. has not yet had his peak season, and the possibility of him putting up a .300/40/40 campaign this year is very real. Do everything in your power to get that #1 pick in your dynasty draft.
There is nothing wrong with Mike Trout. In a 5x5 format, Acuna has a higher ceiling due to the steals, but Mike Trout's floor is still an MVP season. It will be interesting to see what Trout's stolen base total is in 2020 after he had surgery to fix a nagging nerve issue in his foot at the end of 2019. It's too easy to simply write off the possibility of Trout stealing 30 bags again. Consider Mike Trout's 2014 and 2015 seasons where he only stole 16 and 11 bases, respectively. Well, all he did after that was go out and steal 30 bases in 2016. Trout is still several years away from his decline and remains a legitimate choice for the #1 overall pick in any format.
If Yelich's 2019 had not been cut short by an unlucky foul ball, he might have hit 50 HR with 40 SB. No, really. In just 130 games, he was able to mash 44 bombs and swipe 30 bags. He is also the only player in tier one to hit over .320 for two consecutive seasons. Simply put, Yelich is elite is every single 5x5 category, and you really can't say that about any other player in fantasy baseball. At only 28, Yelich has a few more MVP seasons left in the tank.
Juan Soto's emergence defies reason. He has hit 56 HR in the major leagues and will play the entirety of 2020 as a 21-year-old. Players like this simply do not come around very often. A big part of his elite value in 2019, and his top-15 ADP in 2020, comes from the 12 SB he logged last year. Soto's sprint speed was in the 60th percentile last season, which is good, but his minor league career lacks a track record of swiping bags. If Soto can continue to tack on double-digit steals for the next few seasons, he is likely to remain a first-rounder for the next decade. Juan is just beginning to scratch the surface of his potential, and none of us are ready for what's to come.
Mookie Betts had a down year in 2019 and still had a wOBA of .380 with a wRC+ of 135. His floor is extremely high, and NASA is probably monitoring his other-worldly ceiling. Betts will be hitting at the top of a Dodgers lineup that could easily be the best in baseball in 2020, even without a DH. Oh yeah, Mookie is also in a contract year. Betting on elite players to put everything on the line for a huge season and subsequent payday is just smart money. He may not have the green monster to smack doubles off anymore, but the centerfield wall in Dodger Stadium is much friendlier than centerfield in Fenway. Betts is still in the conversation for the best player in baseball. Don't let him slip too far.
You can read about Cody Bellinger in the 1st base rankings here. First base is incredibly thin this season, and it is, therefore, unwise to think of Bellinger as an OF. That said, the multi-position eligibility is a nice chip to keep in your back pocket.
Tier Two
Harper is a frustrating player to own in dynasty leagues. It can feel as if Harper merely decides what stats he wants to chase in a given year and gets tunnel vision. Frustration aside, Harper possesses the skills to turn in HOF level production at any time. Just look at his .330/.460/.649 season in 2015, or his .319/.413/.595 season in 2017 for proof. Both his average exit velocity and hard-hit rate are in the 86th percentile or better, and his on-base skills are incredible. With a floor of 30/15, the 27-year-old Harper is a great piece for any dynasty team despite the possibility of a .250 average.
Aaron Judge has a bum shoulder and a stress fracture in his rib. Without knowing how the injuries will play out for 2020 and beyond, it is extremely difficult to place a value on the oft-injured slugger. We all know that Judge has the potential to hit 50 HR with any baseball, but will he ever reach that number again? Proceed with caution.
J.D. Martinez is as steady as they come. JDM has hit over .300 for four consecutive seasons, a very rare feat for a power hitter that can easily blast 40 HR. At 32, the clock is running out on Martinez for dynasty leagues, but until the numbers show a noticeable dip, there isn't much reason to get off the train.
In a world where seemingly every top prospect comes up and immediately lights the world on fire, Eloy Jimenez's debut could be viewed as a disappointment. Do not fall into this trap and let the Eloys of the world slip through your fingers because they didn't go all Acuna and Soto on the league. Jimenez's two biggest problems are a lack of walks and an abundance of strikeouts. However, both of these shortcomings are hidden in a 5x5 format, and at just 23, he has lots of time to grow into the 40 HR masher we all expect him to become.
Yordan Alvarez was just 22 years old in 2019, but that didn't stop him from hitting 50 HR between AAA and the MLB last season. His slugging percentage in 56 AAA games last season was .742. The major leagues barely slowed him down after he debuted, and his final triple-slash line ended up a jaw-dropping .313/.412/.655. The league should adjust to him with a full season of analysis, but Alvarez is likely to remain an upper-echelon power source for dynasty teams for six to eight more seasons. That said, he is a risk to lose OF eligibility in the future if he doesn't log enough games on the grass.
Tier Three
Victor Robles has plenty of people cheering and jeering him on both sides of the fence. Those who favor him are looking at his elite speed (29.3 ft/sec). Those who steer away from him are eyeing the poor 81 MPH average exit velocity. At 23 years of age, there's still time to decide which side of the fence you're on.
Feet don't fail me now. Starling Marte's superior sprint speed (29 ft/sec) endured another year. If you believe in his career-high Barrel rate (8.2%), then a 20 HR/30 SB season is well within reach for the aging veteran.
Austin Meadows is the next superstar with power and speed. The youngster will have his streaky moments, but a decade of this goodness has people salivating. He is worth his current price.
Luis Robert represents a ton of value at this very moment. Right now, he has the potential to hit 30 homers and steal 30 bases. You could even look at his .312 AVG across his minor league career and project a great batting average as well. Everything looks peachy. Consider using this as an opportunity to test the market. Robert's value will never be as high as it is now when the imagination runs wild of what he could become. Long-term, he does have the tools to be a very good fantasy player.
Tier Four
Andrew Benintendi contributes in all five categories but doesn't excel in any one of them. His tremendous 2018 season was supposed to be a launching pad for an exciting career. However, his contact rate (77.3%) dropped off, and his Swinging Strike rate (11.6%) jumped. A silver lining is that he improved his performance against southpaws. Right now, Benintendi is a great buy-low candidate. Get in now.
What type of dynasty league are you in? Joey Gallo is perfect for those big-power and high-OBP leagues, albeit with a low-average.
Marcell Ozuna might present a buying opportunity if the owner is fretting over a career-low batting average. His one-year contract in Atlanta will provide the opportunity for plenty of counting stats to boost his value by the end of the season. Don't get involved with paying for his career-high 12 stolen bases, though.
Charlie Blackmon is still a four-category contributor that has a lovely home park. However, he is best suited for the win-now roster construction as he's not getting younger (33 years old) or faster (26.7 ft/sec).
Kris Bryant still has outfield eligibility. Though he has above-average speed (28.2 ft/sec), it hasn't resulted in many stolen bases. Bryant does have excellent plate discipline, though, which has contributed to tallying 100 runs in three of the last four years. The trend should continue with a move to the leadoff spot and a career .385 OBP. Bryant might even have some discounted value in him.
A leg injury didn't stop Ramon Laureano from validating his rookie season. He exhibited enough power (93.3 mph LD/FB) and speed (28.5 ft/sec) to make people slobber over themselves at the possibilities. We would prefer a higher walk rate that 5.6%, but we won't quibble about the process if he can achieve 30 HR/20 SB.
Tier Five
Michael Conforto seems to have put the shoulder troubles in the past. He has rewarded you with the power (33 HR) that you sought all along. However, be honest with the talent; He's not a four or five-category contributor. Conforto is a serious power bat (40 HR, anyone?) who will draw plenty of walks (13%).
Nick Castellanos falls into a primo situation that allows every owner to giggle like little school girls. Covered in Cincinnati red, he will attempt to convert his league-leading 58 doubles into even more homers for the next four years. If you own him, hold onto him unless the offer is substantial for a four-category provider.
Tucker's performance at Triple-A in 2019 was jaw-dropping; he compiled 189 R +RBI, 34 HR, and 30 SB with a .266 AVG. Regardless of your personal opinion, Tucker earned an opportunity to ride the MLB pine and get a few spot-starts. He has been waiting a while, but it seems regular playing time is near as Josh Reddick is in the final year of his contract. The 23-year-old brings power and speed that will make him a coveted asset annually.
Tier Six and lower
David Dahl and Willie Calhoun represent the opposite end of the opportunity spectrum. Dahl has been presented with chances, but his injuries have kept him from giving any consistent excitement to owners. They have every right to be restless, but his potential is too much for them to give up on him. I'd move on from him as soon as possible. That might not happen until he entices owners with a sniff of his all-around performance.
Calhoun has power and should hit for a high batting average. He lacks a defensive position as he's not as defensively inclined as he is at the plate. Calhoun is projected to own an outfield spot in 2020; however, a fastball broke his jaw in spring training. Once he returns from surgery, it wouldn't be surprising if he became a bit more timid in the batter's box.
Grisham and Verdugo both benefit from trades that open avenues for playing time. Grisham had poor minor league performances until a power breakout (26 HR) at Double- and Triple-A in 2019. The power quickly carried over with six long balls in 156 at-bats. While the batting average (.231) was poor, his 10.9% walk rate was encouraging. Even with a .250 average, Grisham's power and premium speed (29.1 ft/sec) make him a target everywhere. How much does he cost in your league?
Verdugo was the major piece in return for Mookie Betts and David Price. The pressure already exists to validate the value sacrificed. In his best year, Verdugo will never be Betts, but he is still a great asset hitting at the top of a dynamite lineup. Verdugo has discipline and a great eye at the plate that will limit his swing and misses. However, he won't be looking to take walks (6.9%). His principle tools (power and batting average) will keep his value high regardless of any injuries, and it will be worth it.
Bryan Reynolds silently flies under many radars. Some consider him the replacement for Michael Brantley on your roster. Statistically, he looks to fit the mold with a .314/.377/.503 slash line. Naysayers will point towards his .371 wOBA that outweighed his actual xwOBA (.357). They will even bring up a very generous .387 BABIP. We can't predict the future, but I will point this out. Reynolds has not had a BABIP below .362 or a batting average below .302 in his entire professional career.
Carlson and Hays represent the next group of prospects that deserve their fair share of big-league playing time in 2020. Carlson skyrocketed up the rankings and is considered a contender to get a spot to start the season. He hit 21 homers with 18 stolen bases and a .281 batting average at Double-A in 2019. I know, I know. Our fantasy teams need him on our rosters now. Check your league to see if the positivity train has already inflated his value beyond reach.
Hays has continuously battled injuries but did well in 2019. In only 75 plate appearances, he hit four long balls and had a .309 AVG while pitching in two stolen bases. Some of these numbers contradict his minor league performances, but player development is significant. Playing time is extremely important in fantasy and Hays has already been identified as the leadoff guy for the Orioles. Not only does he call Camden Yards home, but he has a few more favorable parks to visit in the American League East. Assuming health, the 25-year-old rookie will show us the extent of his skills soon enough. It doesn't hurt to have a couple of cheap shares of him.
More Dynasty Baseball Strategy