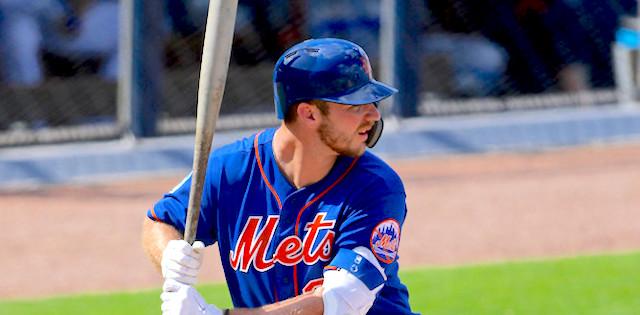 Our series of Bold Predictions continue with my piece. I've had success with this exercise in the past, but last year was easily my worst performance to date. That said, I am traditionally one of the boldest authors on this series, and I think you'll agree that the predictions below will at least let me keep that title.
We have a great lineup for you this year in our Bold Predictions series. Make sure you check in every morning to catch the latest edition.
Without further ado, let's look at some hot takes!
Editor's Note: Get any full-season MLB Premium Pass for 50% off. Exclusive access to our Draft Kit, premium rankings, projections, player outlooks, top prospects, dynasty rankings, 15 in-season lineup tools, and over 200 days of expert DFS research.
Sign Up Now!
C.J. Cron Is the Top-Ranked AL 1B
Cron slashed .253/.323/.493 with 30 HR in 2018, yet seems to be a complete afterthought in fantasy drafts (250.18 NFBC ADP as of writing). I'm sorry - did I miss the meeting where all fantasy owners got together and decided that we don't like 30 HR bats anymore? The knock against Cron is that nothing in his underlying peripherals supported his power breakout last year, but his Brls/BBE has increased three years running (8% to 10.2% to 12.2%) to complement strong average airborne exit velocity (93.9 mph) and a high 28.6% Pull% on fly balls.
He's a legitimate 30 HR bat who should have a lineup role that provides plenty of counting stats. Add in the fact that AL first basemen are not great unless you believe in a Jose Abreu rebound for a terrible team, and I'm worried this might not be bold enough!
Ozzie Albies Is Waiver Fodder in 12-Team Leagues
Albies was solid for the Braves last year, slashing .261/.305/.452 with 24 HR and 14 SB. The power came out of nowhere, as it more than doubled Albies's professional HR total (previously 22). His Statcast power metrics (91.7 mph average airborne EV, 4.7% Brls/BBE) also weren't very good, so banking on a power repeat seems bananas. Unfortunately, Albies seems to think he's a power guy and lifts the ball accordingly (39.9% FB%), suppressing his BABIP (.285) and opportunities to steal for little tangible benefit.
The Braves realized that Albies's April was a mirage by the end of the year, demoting him to sixth and then seventh in their lineup last season. He's expected to start the year toward the bottom again, capping his RBI+R opportunities. Considering how deep middle infield is these days, a .260 hitter with 10 HR and 20 SB is nothing more than an injury replacement in standard leagues.
Jonathan Villar Posts His Best Fantasy Season Ever
The bar for this one is high, as Villar slashed .285/.369/.457 with 19 HR and 62 steals back in 2016. That said, Villar came closer to that than you might think last year. Sure, he only hit .260/.325/.384 with 14 HR and 35 SB, but those numbers came in 515 PAs. He had 679 PAs in 2016, and Villar should be a lock to match that number in 2019 as a fixture atop the Orioles order. Add 25 percent to last year's numbers for the extra playing time, and you're already looking at a career-best HR total with 40+ steals.
Villar will still need some growth to reach his 2016 heights, and I think it comes from his FB%. Last season's 24.4% FB% was terrible, and it was even lower in 2016 (24.1%). Increasing this number to even 30% for the power-happy Orioles at hitter-friendly Camden Yards could produce 30 bombs, which would pair nicely with 50 steals and a neutral .260ish batting average, don't you think?
Benintendi had a great year for the world champs, slashing .290/.366/.465 with 16 HR and 21 steals. Sadly, his power metrics were not good (91.9 mph average airborne EV, 6.4% rate of Brls/BBE). Worse, this piece by Jason Mastrodonato of the Boston Herald suggests that Benintendi intends to sacrifice power to raise his batting average as Boston's leadoff hitter in 2019. Dropping to 10 HR or so would make Benintendi worth far less than his third-round price tag.
He'll probably still steal 20 bags, but how aggressive are the Red Sox going to be with Mookie Betts and J.D. Martinez batting behind him? A .300 average is increasingly rare in today's game, but you can get it if you look hard enough (Adam Frazier anyone?) It says here that Benintendo's fantasy owners will have significant buyer's remorse by season's end.
Elite fantasy RPs need three things: Ks, Saves, and solid ratios. Boxberger had a 30.2% K% in 2018, a slight down tick from his 33.1% mark in 2017. Sounds like Ks are covered.
Boxberger hasn't won the job yet, but his primary competition is Wily Peralta. Peralta combined a bland 23.5% K% with an atrocious 15.4% BB% in 2018, and his 2017 rates (19.3%, 11.9% respectively) were just as bad. Boxberger had his own control issues in 2018 (13.6% BB%), but he was better in 2017 (9.1%) and has the K potential to make up for it. Some owners might be shying away because the Royals aren't very good, but their division gives them plenty of winnable games. With their pop-gun offense, it's tough to see how the Royals blow anybody out. Therefore, a lot of their 70 wins should need saving.
Finally, Boxberger has a career ERA of 3.42 (4.39 last year). The problem was an 18.4% HR/FB allowed, mostly to left-handed hitters (six of nine HR allowed). Kauffman Stadium had a Baseball Prospectus HR factor of 85 for LHB last season, giving Boxberger more room for error. In short, he's a great buy at his current ADP of 398.62.
At least half of the people reading this just asked, "who?". Rodriguez was a rookie last year for the Pirates, compiling 69 1/3 IP with a 2.47 ERA and 31.5% K%. He features a simple two-pitch mix of fastball and slider, just like Hader. He allows a ton of fly balls (47.5% FB%) but not many homers (6.6% HR/FB), better than Hader (48.4% FB%, 14.5% HR/FB). Fly balls have lower BABIPs than other batted ball types, but Rodriguez didn't benefit from that last year (.309 BABIP). If that regresses, he could be a force.
Calling Rodriguez Josh Hader also implies that he won't end up in a traditional ninth-inning role despite dominant numbers. I feel pretty confident in that prediction, as Felipe Vazquez is very good and Keone Kela is available to take over if he falters. Kyle Crick is in play too - the Pirates kind of have an outstanding bullpen.
My colleague Harris Yudin sort of beat me to the punch in predicting Aguilar's demise, so I'll concentrate on Thames here. His slash line (.219/.306/.478) didn't stand out, but 16 HR in just 278 PAs do. Thames elevated nearly everything (46.7% FB%) with authority (22.9% HR/FB), and his performance was backed by Statcast power metrics (94.9 average airborne EV, 16.7% Brls/BBE). The latter mark ranked 5th in all of MLB, hinting at outstanding raw power.
You probably already know about how Aguilar regressed significantly in the second half (.245/.324/.436 with 11 HR) after coming out of the gate on fire (.298/.373/.621 with 24 HR), so I'll merely add that Thames stole seven bases against zero CS last year. Is Aguilar going to give you a 20-SB pace and elite power? Didn't think so!
DeShields was a popular sleeper pick at this time last year due to a .269/.347/.367 triple slash line in 2017 and an elite MiLB SB history (101 SB in 2012. 101!). It didn't pan out, as three separate injuries (fractured hand bone, concussion, broken finger) limited him to a .216/.310/.281 line in 393 PAs. That said, the rebuilding Rangers are giving him another chance and all of last year's arguments still hold true.
DeShields has an excellent eye, posting a double-digit BB% at every level including a 10.1% mark over 1,528 PAs as a major leaguer. He knows how to steal a bag (82-for-105, 78% success as a major leaguer), and still has raw speed to burn (30 ft./sec Statcast Sprint Speed). If he hits .270 or so, it would be like owning a version of Billy Hamilton who can actually hit!
Alonso enjoyed a great 2018 on the farm. First, he slashed .314/.440/.573 with 15 HR in just 273 PAs for Double-A Binghamton, a pitcher's park. He did a great job elevating the ball (44.2% FB%) with authority (20.5% HR/FB) and displayed outstanding plate discipline (15.8% BB%, 18.3% K%). A promotion to Triple-A Las Vegas went largely the same way, as Alonso slashed .260/.355/.585 with 21 HR in 301 PAs. He struck out more (25.9% K%), but continued to walk (11% BB%) and hit airborne baseballs (40.4% FB%) with authority (25.4% HR/FB).
This profile reminds me of something: namely that of Rhys Hoskins when he first came up in 2017. He hit .259/.396/.618 with 18 HR in just 212 PAs that season, numbers that Alonso should be able to replicate on a rate basis in his first big league exposure. Hoskins actually had more of a fly ball bent, but Alonso has the advantage of only needing to usurp the terrible Dominic Smith for playing time. If Alonso logs 450 PAs or more, this should be a slam dunk.
Juan Soto Fails to Hit 20 MLB HR and Logs At Least 100 MiLB PAs
It's not hard to be down on the 20-year-old wunderkind's power, as he posted well below average FB% (28.8%) and LD% (17.5%) rates after a MiLB career doing the same. His surface power looked strong thanks to an elevated HR/FB (24.7%), but a low Pull% on fly balls (11.2%) and merely above average 9.8% rate of Brls/BBE don't really support that mark. Add in elite plate discipline (16% BB% last year) limiting his total number of balls in play, and I'm not sure how bold this actually is.
So, let's go even more aggressive! The Nationals have done the exceptionally-talented teenager thing before with Bryce Harper, but they didn't win a ring with him before he fled to Philadelphia as a 26-year-old free agent. I believe that the Nats thought they would keep Harper, enticing them to call Soto up early. Now that Harper is officially gone, they might reconsider and look for reasons to delay Soto's service clock. He wasn't great defensively (-5 DRS), so don't be surprised if the Nats spontaneously decide he needs to "work on his defense."
If these predictions weren't bold enough for you, you just may have impossible standards. Tune in at the end of the year to see if I end up a Champ or a Chump!
More Fantasy Baseball Predictions