Welcome RotoBallers to my Jahmyr Gibbs NFL Draft rookie profile. The 2023 NFL Draft Prospect Profile Series features eminent 2023 NFL Draft prospects with film analysis and scouting insights. I have experience working in college football and have been studying the NFL Draft for over 15 years. My analysis is based on film study and analytics. For the past two years, I wrote up profiles on the top offensive skill position prospects in each class. Here are some of my past profiles:
A common misconception about the NFL Draft is that the college and pro games are very similar. They are not. Besides the obvious difference in speed and skill level, a college field has different hash mark distances and different rules. There are specific schemes and plays that NFL teams copy from college and vice versa. But the differences between the two are understated in NFL Draft coverage. There's a reason many highly-productive college players are not considered legitimate professionals.
To that end, scouting prospects is not just about evaluating college performance, it's about projecting traits that translate to the next level. This is not limited to just physical traits. There are certain football traits that are evident in college film and will translate to the pro game. We will continue our 2023 Prospect Profile series with Alabama RB Jahmyr Gibbs.
Featured Promo: Get any full-season NFL Premium Pass for 50% off and win big in 2023. Exclusive access to our Premium articles, 15 lineup tools, new Team Sync platform, Lineup Optimizer, Premium DFS tools and cheat sheets, and much more!
Sign Up Now!
Jahmyr Gibbs - NFL Rookie Profile
Jahmyr Gibbs is a 5-9, 199-pound RB prospect who played two years at Georgia Tech before transferring to Alabama prior to the 2022 season. At Georgia Tech, Gibbs was fairly productive as the best player on a mediocre offense. At Alabama, he became one of the most explosive stars in the country surrounded by better teammates. Gibbs is an electrifying talent who brings a very specific skillset to the table. While he can win with quickness and speed, he has not shown translatable power on film. Also an excellent receiver, Gibbs caught 103 passes for 1212 yards and 8 receiving touchdowns during his three-year career. Let's dive in.
A Functional 4.36 is Not Normal
When I started evaluating NFL draft prospects in the mid-2000s, any 40 time that was faster than 4.45 was considered blazing for skill players. Today's athletes are faster due to better training and more focus on athletic testing, but we have taken for granted just how incredible a sub-4.4 40 is.
Over the years we've seen a lot of players run sub-4.4 and struggle in the NFL. Jahmyr Gibbs' 4.36 is notable because he plays to that time on the field. His play speed jumps off the screen, even in the SEC.
In the clip below, Gibbs finds a seam on a buck sweep. He's able to stick his foot in the ground and with stupid acceleration, make the added safety overcommit to the edge. Gibbs' film is more dynamic on the edge, but well-blocked inside runs or vertical cuts on buck sweep or outside zone can lead to explosive runs.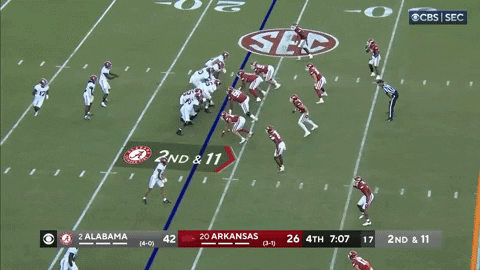 When Gibbs is in the open field, defenders start to give up. You just aren't catching him.
While Gibbs' speed is outstanding, his quickness also translates in a game-changing way.
In the clip below, Alabama is running duo, and Gibbs shows a lightning-quick jump-cut to accelerate to the backside. He's so quick that he's almost five yards away from every defender after his cutback.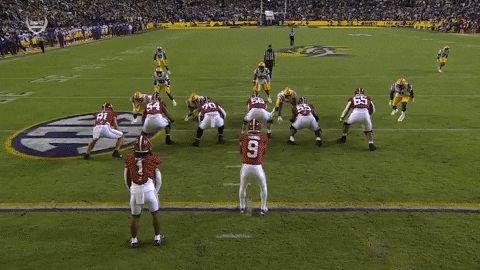 In the clip above, Gibbs shows the natural ankle flexion to stairstep around pursuing defenders and gain extra yardage simply by understanding angles. He's also smart when it comes to not taking unnecessary hits.
The clip below shows more special juice on an inside zone. Gibbs is a bouncy runner but knows how to get vertical. He's patient to set up his blocks, but explosive and fast through the hole. NFL RB coaches will be pounding the table for him.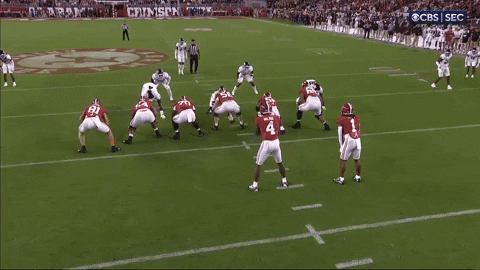 The clip below is another zone run, this time with split flow. Gibbs is able to take this frontside and bounce it out to set up second-level blocks by his O-line. It's an Iverson-esque crossover against the two LBs, who flow too hard to the backside. That slight hesitation and almost squared-up cut off the right foot is special.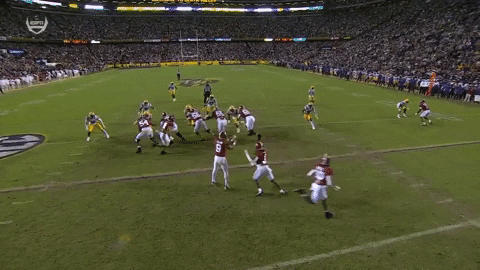 Rare Receiving Traits
Jahmyr Gibbs is a skilled runner, but not all of his rushing reps are translatable to the pro game. The Alabama offensive line was elite and he simply won't see the same types of seams, holes, and edge opportunities at the next level. However, Gibbs' ability to run routes, catch the ball naturally, and make guys miss in the open field is something that will translate seamlessly.
Gibbs does an excellent job making decisions. He's a quick processor of information and picks his spots in terms of keeping runs frontside, cutting back, or bouncing certain runs outside. Similarly, his ability to transition quickly from a route-runner to running after the catch is outstanding.
The clip below is wild. Gibbs is running an angle route out of the backfield and his execution of the breakpoint shows rare ability. Ja'Marr Chase's ability to break without using arm action or changing speed is incredible. This from Gibbs is Chase-like. Notice how it looks like he actually gains speed after cutting off his left foot. It's also special how quickly he snaps his head out of the break.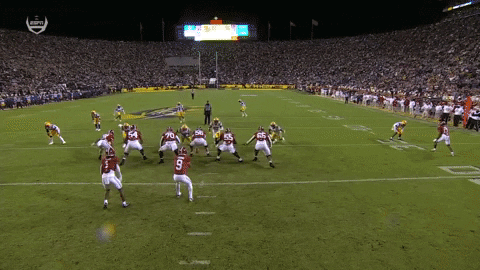 The clip above also shows him transitioning to a runner quickly after the catch. Offensive play-callers and quarterbacks will want to feed him the ball in the passing game as much as possible.
In the clip below, Gibbs again shows another seamless transition after the catch. While he graded out poorly as a pass-blocker, he's the type of receiving talent that teams will game-plan for. He can be an elite fantasy asset without carrying the ball 20 times a game.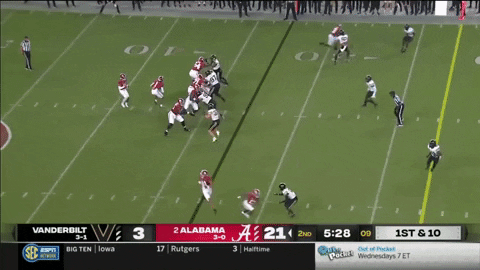 In the clip above, notice the clinic-tape balance one-legged drill. He's worked on that exact tackle-breaking move in practice. It's always great when a player uses skills learned at practice in games. Juking two Vanderbilt defenders out of their cleats is also neat.
Another special trait that will surely translate to the pro game is Gibbs' focus on consistent ball security. He frequently gets his off hand on his opposite wrist on contact. I suspected that maybe he was so diligent in that area because he had fumbling problems prior. Nope, he had zero fumbles for Alabama. Details on his film make him seem very coachable.
Size Concerns
The main question about Gibbs' transition to the pro game is how he'll deal with physicality and size. Gibbs is small at 5-9, 199, although it is possible that he weighed in so light to maximize his 40 time at the combine. He may be able to play at 205 or heavier if the team that drafts him wants to use him in between the tackles.
SEC athletes are as close as you get to the NFL, but there's still a stark difference in terms of size and speed. Gibbs won't enjoy the same type of huge speed advantage in the pro game, and he'll be dealing with bigger box players.
There are flashes of stiff arms in his film, but power simply isn't a huge part of Gibbs' game. He also doesn't have the tendency to fall forward for hidden yardage. His traits don't make him look like the best short-yardage option.
In the clip below, Alabama is running a draw. There is an unblocked spying LB, who has a free shot on Gibbs, who gets caught behind his guard. The issue here isn't the result of the play - it's how small Gibbs looks to be rag-dolled and literally tossed backward.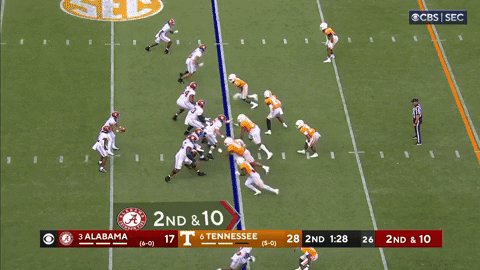 Gibbs is not a special tackle-breaker. The clip below is an example of what happens when he tries to use his speed but doesn't have a huge advantage. Gibbs has a huge seam but is taken down quite easily by the shooting safety. Being tackled is one thing, but to actually be taken backward on a low tackle like this shows his size.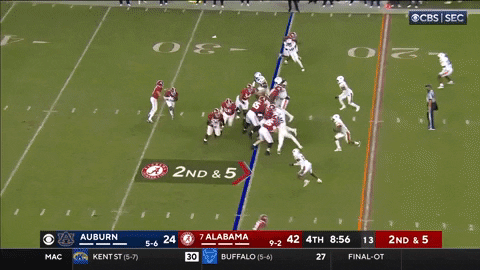 In the clip above, Gibbs is clearly frustrated that he was unable to capitalize on a well-blocked run. It's likely that he'll try to bounce runs outside at the pro level and get hawked down because he's so used to running away from people on the edge.
Tennessee had stronger, faster players in their front seven, and Gibbs took some TFLs and no-gains as a result. The clip below shows him duck under a tackle and then lower his shoulder to try to power through the next wave of defenders. He's stonewalled and doesn't gain a yard.
Gibbs has elite traits in terms of speed, quickness, and receiving ability, but he simply lacks the size and power to be a grinder in between the tackles. He projects best as a complement to a two-down goal-line inside runner. The issue with that possible deployment is that he hasn't proven to be an effective blocker, so he might not be a great option for third downs. If Gibbs is on the field, you want him running a route. The team that drafts Gibbs needs to have a plan to highlight his positive traits.
NFL Outlook
Gibbs is an explosive playmaker with the home run speed and receiving ability of an All-Pro RB. While he lacks power and tackle-breaking ability, he makes people miss in the open field and is an excellent receiver. In a good offense with competent coaching, Gibbs can be productive and dynamic as early as his rookie year. There is also some untapped potential to grow as an inside runner if he can put on some weight and adjust to a jump in difficulty without huge blocking advantages. Because of his receiving prowess, I expect Gibbs to be drafted in the first round. He's the clear 1.02 in one-QB dynasty leagues and will likely be undervalued in re-draft.
Thanks for reading and stay tuned for more draft content in the coming days.
Download Our Free News & Alerts Mobile App
Like what you see? Download our updated fantasy football app for iPhone and Android with 24x7 player news, injury alerts, rankings, starts/sits & more. All free!


Win Big With RotoBaller
Be sure to also check out all of our other daily fantasy football articles and analysis to help you set those winning lineups, including this new RotoBaller YouTube video:


More NFL Rookie Analysis