Welcome RotoBallers to my Will Levis NFL Draft rookie profile. The 2023 NFL Draft Prospect Profile Series features eminent 2023 NFL Draft prospects with film analysis and scouting insights. I have experience working in college football and have been studying the NFL Draft for over 15 years. My analysis is based on film study and analytics. For the past two years, I wrote up profiles on the top offensive skill position prospects in each class. Here are some of my past profiles:
A common misconception about the NFL Draft is that the college and pro games are very similar. They are not. Besides the obvious difference in speed and skill level, a college field has different hash mark distances and different rules. There are specific schemes and plays that NFL teams copy from college and vice versa. But the differences between the two are understated in NFL Draft coverage. There's a reason many highly-productive college players are not considered legitimate professionals.
To that end, scouting prospects is not just about evaluating college performance, it's about projecting traits that translate to the next level. This is not limited to just physical traits. There are certain football traits that are evident in college film and will translate to the pro game. We will continue our 2023 Prospect Profile series with Kentucky QB Will Levis.
Featured Promo: Get any full-season NFL Premium Pass for 50% off and win big in 2023. Exclusive access to our Premium articles, 15 lineup tools, new Team Sync platform, Lineup Optimizer, Premium DFS tools and cheat sheets, and much more!
Sign Up Now!
Will Levis - NFL Rookie Profile
Will Levis is a polarizing QB prospect with impressive physical talent. He started his collegiate career at Penn State back in 2018 but didn't get a chance to start until 2021 as a grad transfer at Kentucky. Levis will be 24 years old when he starts his NFL career this fall, which makes him a risky bet as an older prospect. Levis reportedly has great intangibles and maturity is probably more important for a QB prospect than any other position. Let's dive into the film.
Arm Talent
Will Levis has a cannon for a right arm. But what makes his arm talent even more special, is his ability to throw off different platforms with different arm angles. His flick-of-the-wrist release and ability to muscle the ball to all levels of the field makes him a tantalizing project for NFL evaluators. Some of his impressive throws include over-the-middle darts and the ability to get the ball out to his check-down while defenders are contacting him.
The clip below is far more impressive than a deep shot down the field. Levis is off-platform and fits the ball into a tight window as the receiver sits down the route.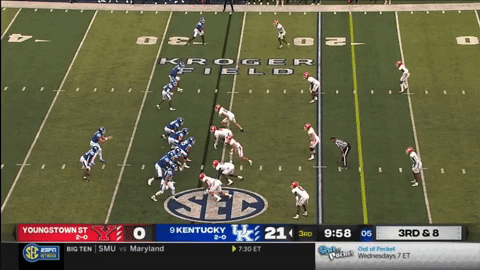 I've scouted every top QB prospect in-depth since 2011. Over the years I've come to realize how important coaching and landing spot really are. While some guys simply don't have what it takes to play well at the NFL level, most top picks fail for reasons other than some insurmountable flaw that can be gleaned from watching their film. This is why teams miss on high draft picks every year, and really what makes studying the draft so fun. While Levis has a lot of question marks on his film and in his overall profile, there are plenty of reasons teams would be willing to take a chance on a 24-year-old with pedestrian numbers.
The clip below shows an on-time, in-rhythm, perfect-feet rep from Levis. He flicks his wrist to place the ball to the opposite sideline with ease. Levis's teammates were rough at times in the SEC, but in this instance the offensive line allows their QB to look great.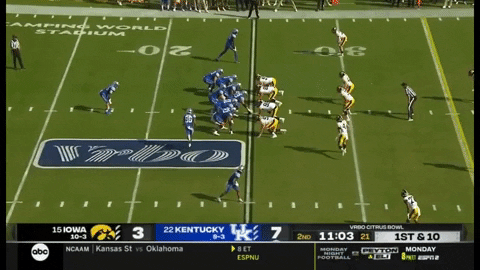 For as impressive as his arm talent is, Levis was not particularly effective at placing his deep balls. However, the clip below shows the translatable trait of a 62-yard bomb that jumps out of his hands. His WRs were not as good in his final season, but he did a good job of giving them a chance down the field.
Processing and Decision-Making
Accuracy is Levis's one major flaw, and obviously one of the most important traits for QB prospects. It is extremely difficult to improve accuracy and placement, and Levis is far more of a project in those areas than you'd want an old, experienced QB to be. However, if he can somehow make a Josh Allen-ish leap in that area, Levis has all the other traits teams covet, including the ability to make quick decisions and process information.
When Levis is confident, he can quickly scan the field and let his quick release deliver a strike in SEC-tight windows.
The clip below shows him working past his first read and firing an intermediate dart off one hitch for a conversion on third-and-17.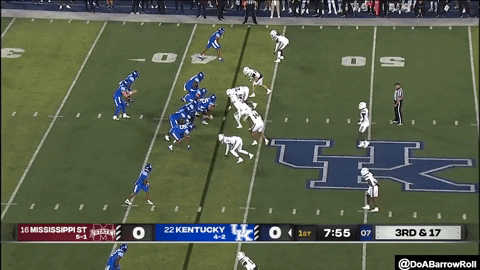 The clip above does show one of his mechanical flaws that can messes up his timing on too many reps. There is too much wasted movement at the top of his drops. Levis prefers to transfer his weight with a quick hitch up in the pocket, but on almost every throw he hitches up, then jumps and "gathers" himself before delivering the ball. His quick release makes up for it but if he can lose that bad habit, he can be even sharper from the pocket.
The clip below is another instance of confident QB play making a read. On third-and-five, Levis decides not to throw his flat route and hits the dig in-stride under the safety.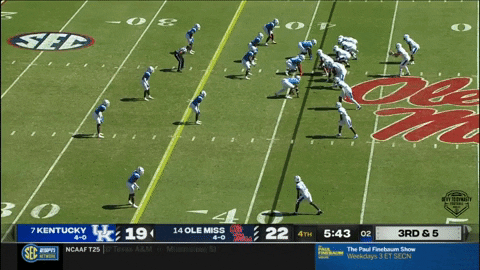 The clip below is more good stuff from Levis as he again foregoes his flat route and finds the TE on time for a TD.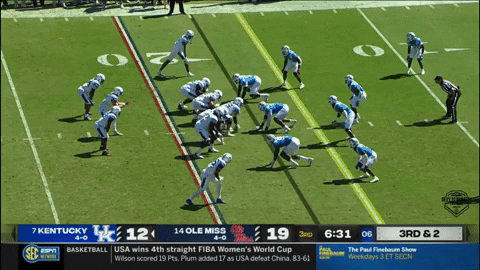 I like the clip below because he does well given the circumstances. His offensive line does him no favors, and the middle-of-the-field coverage drops far enough where checking it down to the RB is the right decision.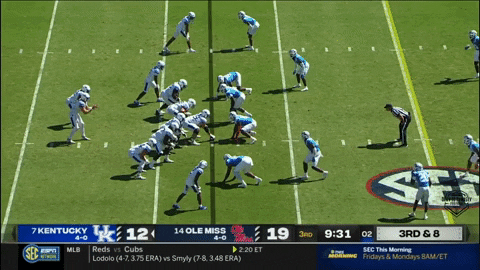 Levis threw 43 TDs and 23 interceptions in his two years starting at Kentucky, so his decision-making obviously wasn't flawless or even a strength of his. I do think that his ability to process and make quick decisions is a trait that translates. I also liked how quickly he chose to tuck and run in precarious positions. He just needs to learn an NFL offense, which is why certain coaches will want to work with him.
Accuracy and Placement Issues
In a screen-heavy offense, Levis's completion percentage hovered around 65.5% in his two years as a starter. While that number isn't terrible, the film showed inconsistencies in terms of accuracy and placement.
The clip below is a good decision, but the ball is just placed poorly behind the receiver. It leads to a tipped interception.
In the clip above, you can see the "double-gather" mentioned previously. Levis hitches up in the pocket once and then quickly bounces upfield a few inches right after before letting go of the ball. It messes up his timing and is wasted movement at the top of his drop. This is a correctable mechanical flaw but one that was far too prevalent on his fim.
In the clip below, Levis does well to find a throwing angle, but the ball is placed on his RB's back knee, which causes him to actually lose yards.
The clip below is also frustrating, because Levis had just led his offense to a touchdown drive, and had a chance here to make it a one-possession game against Georgia. This is a tight-split fade that is for some reason placed a yard out of bounds. How?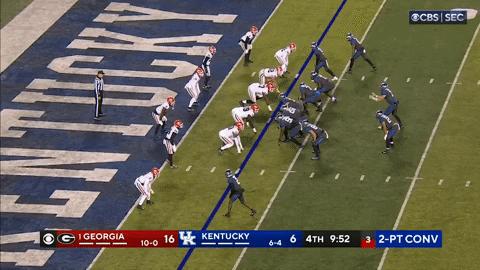 In the clip above, Levis fades away a bit after a "punch-one" drop. It's an example of ugly mechanics in a big spot.
In the clip below, Levis's mechanics are fine after a deep drop off play-action. However, the deep ball is still missed, thrown too far upfield.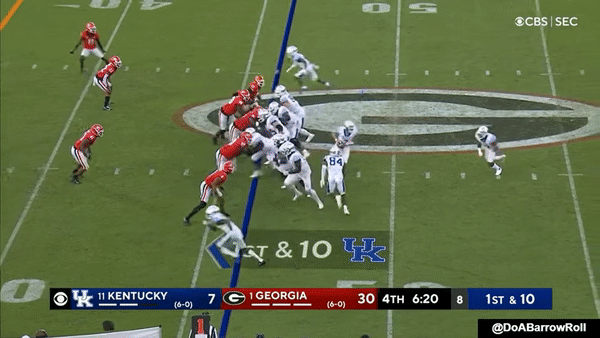 Levis missed all types of throws, including high to his tight ends and some hospital balls over the middle. Simply put, his accuracy is a huge issue and if he doesn't drastically improve in that area, he won't be a starting QB in the NFL.
The clip below is an example of good mechanics but a bad result. Without his "double gather," Levis' base looks a little thin but his timing is better as the ball comes out right off a hitch up. This is a big gain, but a poorly-placed ball that almost makes his receiver take a big hit. This ball should be placed up the field so that the left safety can't get there. The right safety opens his hips to the No. 1 WR on the right. This should be a touchdown.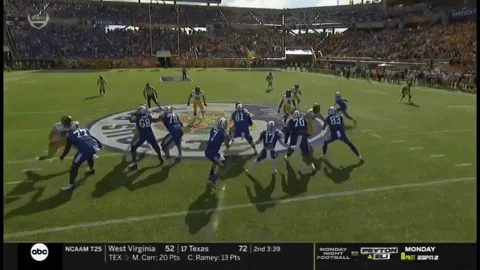 NFL Outlook
Levis has special physical talent and by all accounts has the intangibles teams want in the quarterback position. I also loved how tough he was running the ball, and his size is ideal. He can withstand hits and sneak from under center, and actually trucked defenders at times. However, his accuracy issues are a huge problem and not something that is easy to overcome, especially for an older prospect. I expect him to be drafted high, but he will need to make huge strides in the accuracy department to stick as a starting QB in the league.
Thanks for reading and stay tuned for more draft content in the coming days.
Download Our Free News & Alerts Mobile App
Like what you see? Download our updated fantasy football app for iPhone and Android with 24x7 player news, injury alerts, rankings, starts/sits & more. All free!


Win Big With RotoBaller
Be sure to also check out all of our other daily fantasy football articles and analysis to help you set those winning lineups, including this new RotoBaller YouTube video:


More NFL Rookie Analysis