Welcome RotoBallers to my C.J. Stroud NFL Draft rookie profile. The 2023 NFL Draft Prospect Profile Series features eminent 2023 NFL Draft prospects with film analysis and scouting insights. I have experience working in college football and have been studying the NFL Draft for over 15 years. My analysis is based on film study and analytics. For the past two years, I wrote up profiles on the top offensive skill position prospects in each class. Here are some of my past profiles:
A common misconception about the NFL Draft is that the college and pro games are very similar. They are not. Besides the obvious difference in speed and skill level, a college field has different hash mark distances and different rules. There are specific schemes and plays that NFL teams copy from college and vice versa. But the differences between the two are understated in NFL Draft coverage. There's a reason many highly-productive college players are not considered legitimate professionals.
To that end, scouting prospects is not just about evaluating college performance, it's about projecting traits that translate to the next level. This is not limited to just physical traits. There are certain football traits that are evident in college film and will translate to the pro game. We will continue our 2023 Prospect Profile series with Ohio State QB C.J. Stroud.
Editor's Note: Our incredible team of writers received 13 award nominations by the Fantasy Sports Writers Association including Baseball Writer of the Year, Football Writers of the Year, Golf Writer of the Year and many more! Be sure to follow their analysis, rankings and advice all year long, and win big with RotoBaller!
Read More!
C.J. Stroud had a fantastic career at Ohio State, putting up eye-popping numbers in Ryan Day's offense. Stroud compiled 8123 yards and 85 touchdowns in just two seasons as Ohio State's starter, with a 69.3 completion percentage and just 12 interceptions. Stroud played with a handful of high draft picks at receiver and offensive line, and his offense was extremely stat-friendly. However, he showed many traits that will translate to success at the next level.
Footwork, Anticipation, Timing
C.J. Stroud is one of the most natural passers I've ever scouted. He understands how to execute his offense and gets the ball to his playmakers. While playing with three first-round receivers and a handful of pro offensive linemen makes for favorable conditions, Stroud still displays elite traits as a passer.
Stroud has calm, efficient footwork in the pocket. You don't complete almost 70% of your passes without sound mechanics. His release is quick enough and his base is balanced. He involves his lower half into throws when necessary. Footwork won't be the same for every QB, and being able to deliver accurate passes when moved off your spot is just as important as being sound when protection is as well. Stroud's film is clinic-worthy stuff.
In the clip below you can see what calm, efficient feet can lead to. This is great anticipation and placement to place the ball behind the linebacker and in front of the safety. One of Stroud's best routes is the seam route. He would be deadly with a seam-stretching tight end in the NFL.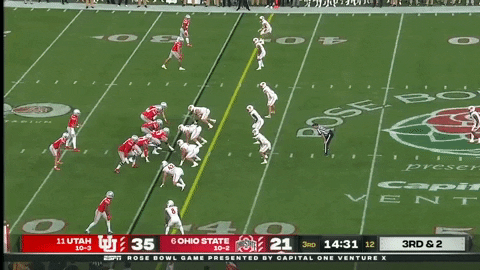 In the clip below, his mechanics are a little different due to play-action. Stroud actually fades away a bit here in a clean pocket, which isn't necessary. More important than grading his college film, this shows his innate accuracy trait, which surely translates to the next level.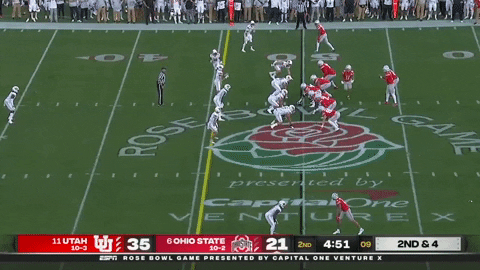 If seams are Stroud's best route, curls are his second favorite. I love the clip below because it shows his ability to go through a full-field progression. His eyes start to the boundary, then he works to the field to the curl from the No. 3 receiver. The best part is that he's intentionally placing the ball low where only his receiver can get it away from the defender.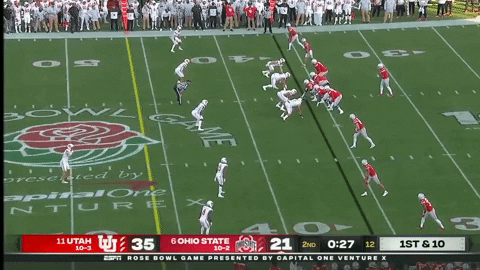 While Stroud is adept at seams, curls, and quick-game short passes, his ability to hit spots down the field is downright special.
In the clip below, Stroud delivers a seed to his slot receiver. The trajectory of the ball is perfect.
PhD in Placement
Mastering the Ohio State offense the way Stroud did is impressive. His preparation and football IQ are evident on film. But the separating trait that will translate to the NFL is his elite ability to place the ball in great spots on all different routes.
The clip below is a simple outside vertical to the field. Stroud knows there will be no safety help, takes a three-step drop with one hitch, and delivers an in-stride dime to his All-American receiver.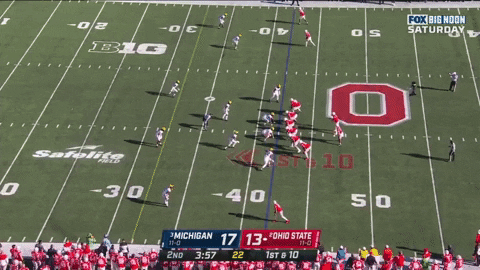 The clip below is another vertical outside the numbers to the field. This time it's a slot fade and Stroud takes two hitches up in the pocket. Recognizing no safety help, Stroud starts his eyes to the right and drops it in the bucket to let his WR win his matchup.
The clip below is a different type of strike. Stroud feels some inside pressure, makes the subtle move up in the pocket, and delivers the throw accurately. Unfortunately, the receiver doesn't make the catch but you can see Stroud's arm strength and pocket feel.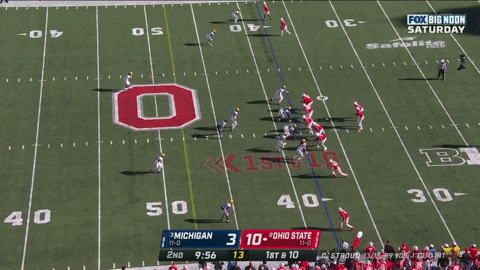 Some of Stroud's throws are jaw-dropping. His ball placement is as special as any prospect this decade. The clip below isn't pretty in terms of footwork, as Stroud pointlessly wanders left, messing up his RB. However, the placement trait shines through, as the ball is served on the back shoulder, a perfect spot for when the receiver doesn't win on a vertical against press man.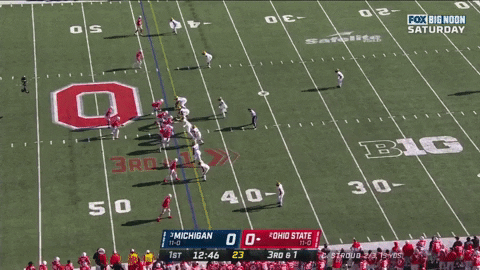 Stroud throws well on the run and throws to receivers before they're open - which is super important when translating processing speed for the next level. He places the ball to let his receivers run after the catch as well.
(Buck) I Robot
C.J. Stroud balled out in the National Championship Semifinal against Georgia. He put his team in a position to win the game and actually made huge plays with his legs all night. This was particularly notable because he did not show a willingness to run that much throughout his career. In fact, his biggest question mark translating to the pro game is how he will fare outside the structure of an offense.
At Ohio State, his circumstances were very QB-friendly. The NFL will be an entirely different beast, especially if he's drafted to a mediocre-to-bad team, which is likely. A scrambler who thrives out of structure might adjust seamlessly to a tough NFL situation. Stroud is used to elite WRs, an elite OL, and a scheme that works brilliantly against college opponents. He plays like he has answers to the test. It just won't be as easy at the next level.
There are times when Stroud guesses pre-snap, and locks on to a receiver, missing another open option post-snap. It usually happens when he's guessing his short option will be open and he misses someone down the field.
In the clip below, Ohio State is running a snag concept out of a tight bunch. Stroud looks to his flat route, but it's played by the corner. As soon as that happens he should work the high-low and see no one in the deep third to the field. He misses the wide-open corner route from the No. 2 receiver.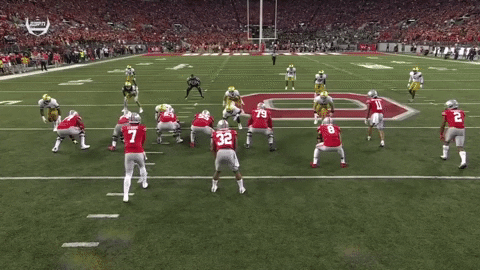 While the clip above doesn't show a clear escape hatch, the clip below shows Stroud's limitations in that area. Maryland gets a free runner, but he takes a while to get there and hesitates. The best scrambling QBs will find a way to get out of that sack. Stroud just doesn't have the juice or shiftiness to roll right or spin out, even with Maryland's pass-rushers off-balance.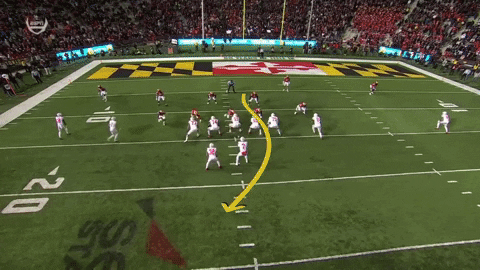 In the clip below, Stroud does escape to his right but is unable to separate from incoming defenders. The defenders don't have great angles but Stroud doesn't have conviction when scrambling. It's just not a big part of his game.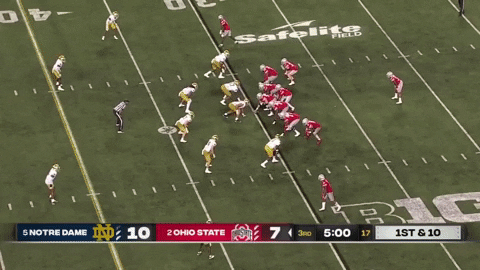 It's obviously worth repeating that Stroud did run and create out of structure a lot more in Ohio State's most important game of the year. He's a decent athlete with enough speed to run for chunks when the defense gives him a lane. However, he takes way too long to decide to run and just isn't that creative outside of the pocket. It is worth noting that he is an experienced QB sneaking under center. That can be a huge weapon in today's NFL.
NFL Outlook
Stroud is a special prospect with natural accuracy and ball placement that translates in a big way. He also has ideal size and enough athleticism to escape when needed. While it's fair to wonder how he'll transition away from Ohio State's extremely QB-friendly system, his processing and preparation make him a good bet to adjust. Stroud won't have the same matchup advantages, but his commitment to getting the ball to his best receivers will be huge for his offense putting up points and stats. His even-keeled demeanor as a calm assassin will make him a great teammate and leader. I expect Stroud to be drafted in the top five and would not be shocked if he ended up as the No. 1 overall pick.
Thanks for reading and stay tuned for more draft content in the coming days.
Download Our Free News & Alerts Mobile App
Like what you see? Download our updated fantasy football app for iPhone and Android with 24x7 player news, injury alerts, rankings, starts/sits & more. All free!


Win Big With RotoBaller
Be sure to also check out all of our other daily fantasy football articles and analysis to help you set those winning lineups, including this new RotoBaller YouTube video:


More NFL Rookie Analysis