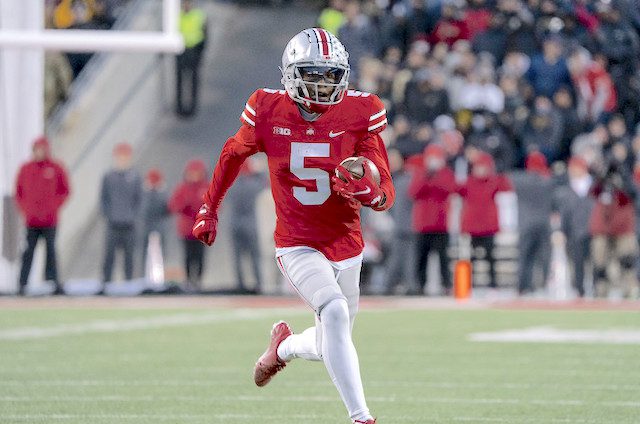 The 2022 NFL Draft Prospect Profile series features prominent 2022 NFL Draft prospects with film analysis and scouting insights. I have experience working in college football and have been studying the NFL Draft for over 15 years. My analysis is based on film study and analytics. In 2021, I profiled nine of the top skill players in the draft. So far this season, I have written up profiles on Pittsburgh QB Kenny Pickett, Liberty QB Malik Willis, and North Carolina QB Sam Howell.
A common misconception about the NFL Draft is that the college and pro games are very similar. They are not. Besides the obvious difference in speed and skill level, a college field has different hash mark distances and different rules. There are specific schemes and plays that NFL teams copy from college and vice versa. But the differences between the two are understated in NFL Draft analysis. There's a reason many highly-productive college players are not considered legitimate professionals.
To that end, scouting prospects is not just about evaluating college performance, it's about projecting traits that translate to the next level. This is not limited to just physical traits. There are certain football traits that are evident in college film and will translate to the pro game. For example, a wide receiver being able to get in and out of breaks efficiently will not change from college to pro. On the flip side, an edge rusher who got most of his sacks due to hustle or missed offensive line assignments may not have shown translatable traits on film. We will continue our 2022 Prospect Profile series with Ohio State WR Garrett Wilson.
Editor's Note: Our incredible team of writers received 13 award nominations by the Fantasy Sports Writers Association including Baseball Writer of the Year, Football Writers of the Year, Golf Writer of the Year and many more! Be sure to follow their analysis, rankings and advice all year long, and win big with RotoBaller!
Read More!
Garrett Wilson is a 6-0, 183-pound versatile WR prospect who is coming off his best season as a Junior for Ohio State. In 2021, Wilson put up 70 catches for 1058 yards and 12 touchdowns as part of the best trio of receivers in the country. Wilson didn't actually lead the team in any of the major receiving categories, but all three of him, Chris Olave, and Jaxon Smith-Njigba will be starting NFL WRs soon enough. Wilson has special traits but his lack of ideal size could be an issue at the next level. Let's dive into the film.
Suddenness
When Cooper Kupp says something about NFL WR play - we should probably listen. "Speed is a luxury, quickness is a necessity" pertains to Garrett Wilson more than any WR in this year's class. Wilson has the luxury of top-end speed (4.37), but his suddenness is what separates him, literally.
The clip below shows Wilson getting five yards of separation on a sail route. He is sudden in and out of breaks and his lower body moves in ways others can't. He does unnecessarily jump to catch the ball, which we'll get to later.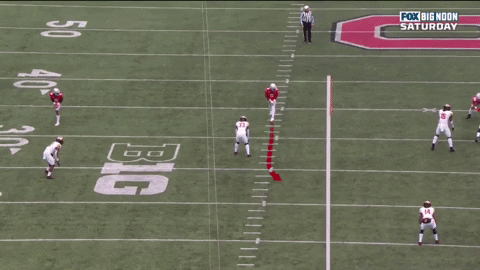 The clip below shows Wilson getting three yards of separation against inside leverage on a slant route. He has uncommon quickness. You can also see the Madden-like cutback in the open field and a little stiff-arm.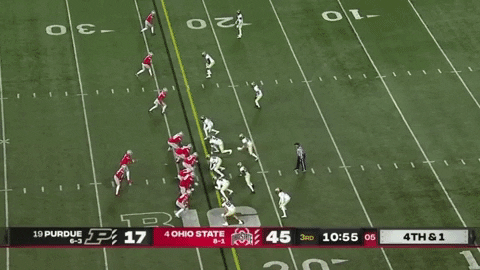 In 2020, Wilson struggled a bit against press coverage. In 2021, he came back with a clear plan to improve in that area. There were fewer wasted steps and more violence on his jabs. The release below is poetry. Wilson jabs hard inside to move the CB then gets almost a full two yards of separation at the goal line, which is crazy. The key to the release is his sudden lower body and the quick and violent head-fake.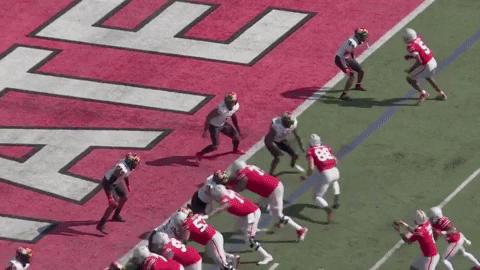 We'll get to his high-point prowess later, but in the clip above, I also love the way he attacks the football and then also brings it away from the defender to protect the catch. Special stuff.
The clip below shows a similar release and the same result. So far we've seen him gain significant separation on two verticals and a slant against inside leverage press man.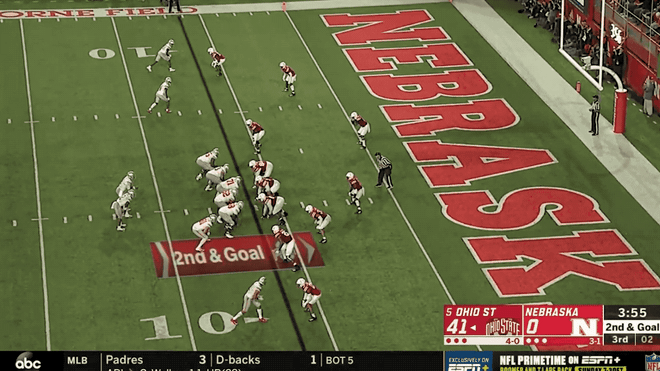 The clip below shows a mistake by the defense but is an example of Wilson's suddenness, speed, and mid-route handwork. Wilson takes inside access, then works to stack the quarters corner, swiping his outside arm down to react to mid-route contact. The corner simply isn't fast enough to even get hands-on and the safety has no angle to catch up. This is a beautiful deep post and a clinic on how to beat quarters coverage. More importantly, it shows Wilson's traits that translate. He can be a deep threat in the NFL.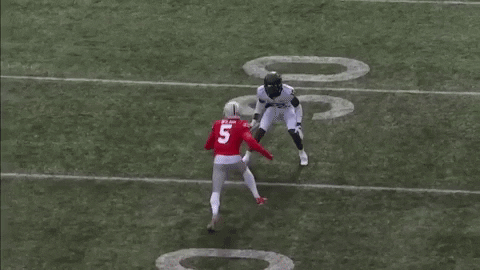 High-Point Playmaker
Wilson has strong hands and made some special catches on poorly thrown low balls. However, the most impressive displays of his strong hands were in high-point situations, like the play below.
When we talk about separation, sometimes in the NFL that doesn't mean space on the field. It could mean somehow catching the ball away from the defender while covered. The CB Wilson is catching this over started on two National Championship teams (shoutout to the transfer portal) and will be playing on Sundays next year. Here's a closer look at an incredible willingness to attack the football and survive the ground to complete the catch:
The tweet below shows a similar catch against Michigan this year in snowy weather. Some dudes are just playmakers.
The NFL is a Different Beast
In 2020, Sophomore Garrett Wilson struggled a bit against Penn State's press coverage. The Penn State corners had more size and were generally more physical.
In the clip below, you can see what a good corner does when a WR doesn't sell inside enough. Compare this clip to the ones of Wilson winning above and you can see the difference. Here he just pops up, steps under himself, and doesn't sell the inside at all. It makes it easy for the corner to pin Wilson to the sideline.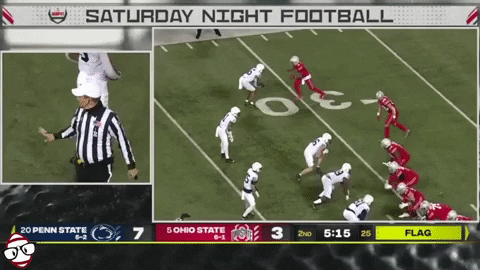 Wilson isn't weak, but a 183-pound outside receiver isn't exactly ideal for the next level. His quickness advantage against Jalen Ramsey won't matter much if he can't get off the line. It's fair to wonder if he has enough functional strength to consistently win outside in the NFL.
The other translation question I have about Wilson's game is how effective he can be after the catch. Ja'Marr Chase is on everyone's mind after his unbelievable rookie season, and Wilson does remind me of Chase in terms of height, smoothness, and suddenness. However, Chase is almost 20 pounds heavier than Wilson and has a thick lower body. A better comparison for Wilson might be Marvin Harrison, who was obviously an amazing receiver but didn't specialize in yards after the catch.
The clip below shows Wilson getting some college YAC. His tendencies to hesitate and cut-back work in the Big Ten, but professional tacklers will make clips like this look a little different. This clip also shows Wilson getting jolted pretty well by the pursuing defender. While there are exceptions, the NFL is best suited for big and strong humans. Wilson isn't one, relative to pros.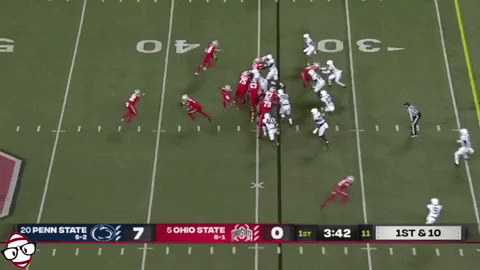 The final critique of Wilson's game is his weird tendency to jump when catching the football. With 143 career catches, it obviously didn't hinder him too much at Ohio State, but it was super noticeable in the gauntlet at the combine. Receivers are taught to not jump when catching the ball unless in high-point situations. It's something to monitor more so because there's no way he wanted to do that at the combine so did he even prepare for the drill beforehand?
NFL Outlook
Garrett Wilson has the speed and quickness traits that definitely translate to the next level. He also has great hands. At the end of the day, those skills are basically all you need to succeed as a WR in the NFL. However, there are some question marks about his size, functional strength, and ability to win outside against pro corners. Wilson played some slot at Ohio State, and I wouldn't be shocked if some NFL teams saw him as a fit there more than outside.
I'm still in the process of scouting and ranking all the WRs, but Wilson is currently my WR1 by a small margin. There's a cluster at the top of this class. Depending on the situation he's drafted to, Wilson has a chance to provide solid fantasy value as a rookie.
Thanks for reading and stay tuned for more draft content in the coming days.
Other Prospect Profiles:
Kenny Pickett - QB, Pittsburgh
Sam Howell - QB, North Carolina
Download Our Free News & Alerts Mobile App
Like what you see? Download our updated fantasy football app for iPhone and Android with 24x7 player news, injury alerts, rankings, starts/sits & more. All free!


Win Big With RotoBaller
Be sure to also check out all of our other daily fantasy football articles and analysis to help you set those winning lineups, including this new RotoBaller YouTube video:


More NFL Rookie Analysis