The 2022 NFL Draft Prospect Profile series features prominent 2022 NFL Draft prospects with film analysis and scouting insights. I have experience working in college football and have been studying the NFL Draft for over 15 years. My analysis is based on film study and analytics. In 2021, I profiled nine of the top skill players in the draft. Looking back on those articles, I feel really good about my process. If you're interested in judging how accurate or predictive my analysis was, feel free to review some of my evaluations from last year's rookie class such as Trevor Lawrence - QB, Clemson, Mac Jones - QB, Alabama, or Elijah Moore - WR, Mississippi.
A common misconception about the NFL Draft is that the college and pro games are very similar. They are not. Besides the obvious difference in speed and skill level, a college field has different hash mark distances and different rules. There are specific schemes and plays that NFL teams copy from college and vice versa. But the differences between the two are understated in NFL Draft analysis. There's a reason many highly-productive college players are not considered legitimate professionals.
To that end, scouting prospects is not just about evaluating college performance, it's about projecting traits that translate to the next level. This is not limited to just physical traits. There are certain football traits that are evident in college film and will translate to the pro game. For example, a wide receiver being able to get in and out of breaks efficiently will not change from college to pro. On the flip side, an edge rusher who got most of his sacks due to hustle or missed offensive line assignments may not have shown translatable traits on film. We will continue our 2022 Prospect Profile series with Liberty QB Malik Willis.
Featured Promo: The FFPC Playoff Challenge #2 is back for the Divisional Round with a massive $100,000 grand prize and $260k total prize pool. Here's the deal: no salary cap, no draft, no pickups, no subs. Choose 8 players, and as NFL teams get knocked out so will your players, so choose your team wisely. The 1,500 entries will sell out quickly, and registrations will close on Saturday January 21st at 4:30 pm ET . Don't wait - get your team now and end your fantasy football season with a shot at $100,000!
Sign Up Now!
Malik Willis is a dynamic QB prospect who began his college career in the SEC at Auburn. After being unable to beat out Bo Nix for the starting job, Willis transferred to Liberty where he led his team to a 9-1 record in 2020, completing 64.2% of his passes for 2250 yards, 20 touchdowns, and just six interceptions while adding 944 rushing yards and 14 rushing TDs. In 2021, Liberty went 8-5 and Willis' numbers took a dip, as he completed just 61.1% of his passes for 2857 yards, 27 touchdowns, and 12 picks.
While Willis' passing production wasn't elite, he didn't have many professional-level offensive teammates. More importantly, his traits stood out on film, including in games against Power 5 competition.
Otherworldly Traits
Willis has incredible arm talent. Everything teams look for in an arm, he's got it. He can spin a tight spiral, throw on the run and off-platform, hit deep balls with some touch and downward trajectory, and rifle it outside with energy on the back-end. When you combine his raw arm talent with his spectacular mobility, you get a rare set of physical tools to work with. From a pure talent standpoint, he's a lot closer to Michael Vick than most NFL fans would like to admit.
The clip below is just marvelous. It highlights a spin that translated from individual QB drills and an amazingly accurate 50-yard bomb rolling to his left in the face of pressure.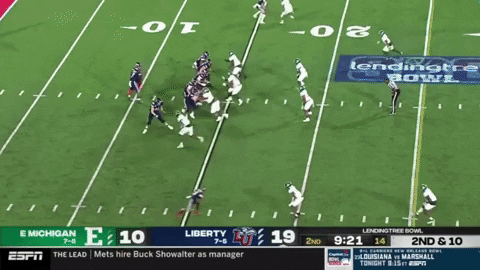 Willis' accuracy is inconsistent, but he flashes the ability to place deep balls better than anyone in this class. The clip below highlights a beautiful high-arching throw in the face of pressure that allows his receiver to run under the ball and get yards after the catch.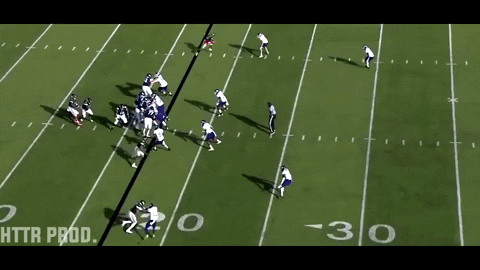 The clip below is another perfect deep ball. Willis may not have needed to backpedal to throw this, and he surely wasn't coached to do that. As far as projecting traits to the next level rather than critiquing college performance, this play is a huge positive for scouts because it shows he can throw deep and accurately on his back foot and doesn't need to hitch up to get it there. That buzzword "arm talent" you keep hearing? This is it.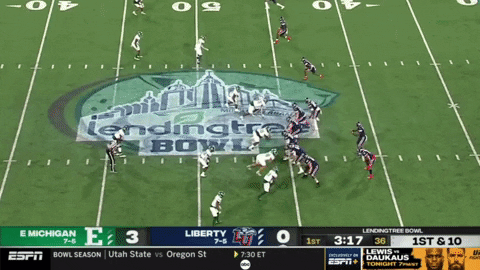 The clip below shows Willis fire a downfield slot fade with a hitch this time. Notice how the ball clearly has energy on the back-end. It's a missile. Willis has awesome mobility, but he absolutely can win from the pocket.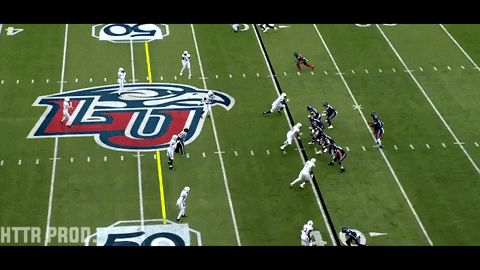 Willis is adept at reading the quick game. He plays like a QB who understands simple coverages and can identify pre and post-snap where he should go with the ball on what amounts to a zero or one-step drop out of shotgun.
In the clip below, he has a fade/out route combo to the boundary from an empty formation. Willis reads the cloud (cover 2) corner and hits the fade in the hole before the deep half safety can get there. In many other games, he's content to take the out route. He also does a great job identifying when the field flat is uncovered and hits hitches and other short routes with ease.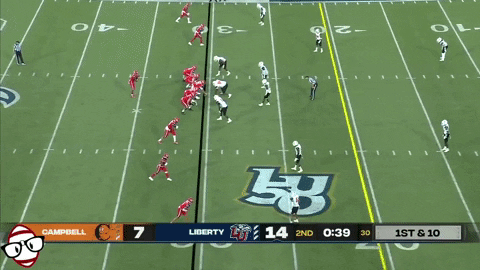 You often hear the term "level of competition" as a negative when scouting QBs from non-Power 5 programs. Over the years, I've come to weigh "level of teammates" more than level of competition in QB evaluations. When a guy like Willis or Josh Allen pops so much on film that he's clearly the best player out there and shows the traits teams want, it doesn't really matter who they're playing against. SEC QBs have to make a huge adjustment too - it's not like the Power 5 is that close to the NFL in speed and size at a macro level. It's about traits that translate, and when scouting Justin Herbert, Trey Lance, and Malik Willis, it was easy to see them all flash traits in spite of less talented teammates at times.
The clip below is an example of the type of throw Willis can make when he's kept clean in the pocket. Unfortunately, his receiver can't complete the play so Willis' completion percentage goes down.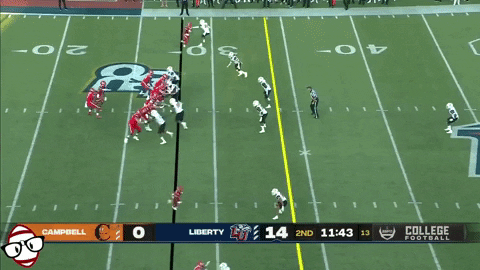 As a rusher, Willis is twitchy and fast with great balance. He isn't on Lamar Jackson's level in terms of elusiveness, but no one is. The most encouraging thing about the clip below is that it shows his ability to look better than SEC defenders.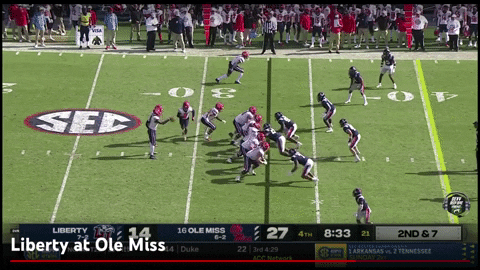 Willis didn't have his best game against Ole Miss, but he kept his team in the game and had flashed dominant traits against SEC athletes. His rushing will surely translate to the NFL.
The clip below shows more Willis rushing, this time juking out Ole Miss defenders and bursting up the sideline for a first down. He'll make NFL players miss and beat angles at the next level.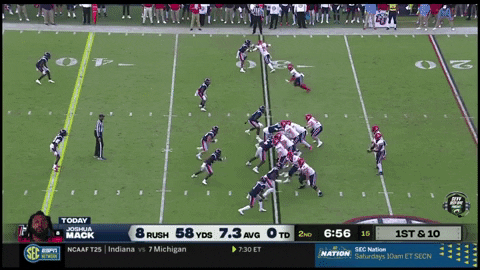 Creativity and Playmaking
While Willis flashes the ability to read coverages and place the ball well from the pocket, his creativity on second-reaction plays is what will excite decision-makers at the next level. There is nothing worse for a defensive coordinator than playing sound coverage on the backend, only to see the opposing QB make a play when nothing is there.
Case in point: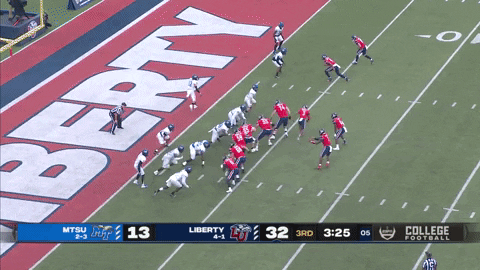 Willis was awesome against Virginia Tech in 2020, leading Liberty to a game-winning drive on the road against a Power 5 team.
The clip below shows one of his touchdowns. He climbs the pocket, keeps his eyes downfield, and delivers an accurate strike for six.
The clip below shows more special creativity from Willis against Virginia Tech. Against a three man rush with a spy, Willis hits an open crosser in the hands after stepping up and moving to his left.
Decision-making and Accuracy Questions
While the highs are very high with Willis, his low points raise serious questions about his translation to the pros. Willis was not consistently accurate on film, at the Senior Bowl, or at the combine. His bouts of inaccuracy appear to be related to inconsistent mechanics. At times he brings his hips through aggressively while other times they lock up. His feet can also get a little too hot, which leads to a messed up transfer of weight, and varying wideness of his base. His tendency to want to crow-hop leads to issues when he doesn't have the luxury to use one (or in some cases two) big hitches.
Accuracy and placement as they relate to mechanics are tough to critique because so much of the game is throwing on the move from different arm angles and off-platform. I lean towards not worrying about his accuracy as much as maybe I should because Josh Allen and Justin Herbert are recent examples of players with incredible physical tools who improved their accuracy once they entered the league and started playing with better talent around them. I would not fault a team for making a bet that Willis can do the same.
The clip below is an example of a miss against NC State. Willis' sliding backward with two hitches footwork is out of whack and his narrow base makes him overcompensate and miss high. NC State was probably his worst film, as he missed multiple throws.
At the end of the day, Willis' 62.8 career completion percentage is a concern that underscores his biggest physical flaw as a prospect. Just remember that Josh Allen completed 56.2% of his passes in college and Lamar Jackson just 57%.
The other big question mark about Willis' translation to the next level is decision-making. Willis' worst plays were usually when he held the ball too long or did something reckless in the backfield. He took too many sacks for two reasons. Either he was unable to recognize the coverage quick enough and his internal clock didn't go off in time or he just tried to play hero ball and went backward trying to make a play. Willis needs to learn when to throw the ball out of bounds and when to leave the pocket and take what he can get without losing more yards. There were even instances of Willis breaking a big run and literally looking backward for some weird reason. His ball-handling decision-making is a concern.
Willis struggled reading certain bunch concepts, including the clip below. The number one receiver runs a quick look slant underneath the bunch, forcing his man defender to work through all those bodies. Willis' shuffling feet are wrong, and there's no reason for him to stare at the boundary solo if he's going to come back to the bunch. He should hitting field one on the run here instead of getting sacked.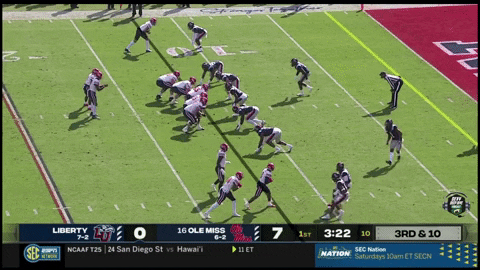 The clip below shows Willis inexplicably decline to go forward when he has the edge, and instead choose to backpedal awkwardly, ultimately falling down for a huge loss. There are too many examples on film of him moving backwards recklessly. He's going to have to clean up that part of his game. Ideally, a guy with his tools will have already shown the instincts to be able to make great decisions on second-reaction plays. The question is – are his decision-making instincts improvable?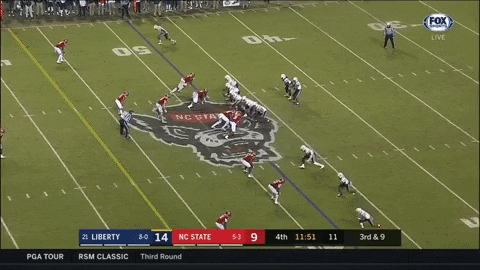 NFL Outlook
Malik Willis has all the potential in the world. With his physical skillset, going to the right situation with the right mindset and coaches, the sky is the limit. Given that he reportedly wowed people with his interviews, there's no reason to believe he can't master an NFL offense. Willis will need to learn how to read coverages better like all young QBs. Also like all young QBs, his situation will be paramount. If a team can get him great coaching and surround him with talent, there's no doubt he can develop into a star. His two main weaknesses, decision-making, and accuracy, can be improved upon with great coaching and hard work.
To this point, I've studied the top five quarterbacks in this class. There is no doubt that Willis is the most physically gifted with the highest ceiling. If I needed a QB, I would consider taking a risk on his rare talent in the top 5.
More Prospect Profiles
Kenny Pickett - QB, Pittsburgh
Thanks for reading and stay tuned for more prospect profiles and other NFL Draft content.
Download Our Free News & Alerts Mobile App
Like what you see? Download our updated fantasy football app for iPhone and Android with 24x7 player news, injury alerts, rankings, starts/sits & more. All free!


Win Big With RotoBaller
Be sure to also check out all of our other daily fantasy football articles and analysis to help you set those winning lineups, including this new RotoBaller YouTube video:


More NFL Rookie Analysis