The 2022 NFL Draft Prospect Profile series features prominent 2022 NFL Draft prospects with film analysis and scouting insights. I have experience working in college football and have been studying the NFL Draft for over 15 years. My analysis is based on film study and analytics. In 2021, I profiled nine of the top skill players in the draft. Looking back on those articles, I feel really good about my process. If you're interested in judging how accurate or predictive my analysis was, here are the links to last year's articles:
A common misconception about the NFL Draft is that the college and pro games are very similar. They are not. Besides the obvious difference in speed and skill level, a college field has different hash mark distances and different rules. There are specific schemes and plays that NFL teams copy from college and vice versa. The differences between the two are understated in NFL Draft coverage. There's a reason many highly-productive college players are not considered legitimate professionals.
To that end, scouting prospects is not just about evaluating college performance, it's about projecting traits that translate to the next level. This is not limited to just physical traits. There are certain football traits that are evident in college film and will translate to the pro game. For example, a wide receiver being able to get in and out of breaks efficiently will not change from college to pro. On the flip side, an edge rusher who got most of his sacks due to hustle or missed offensive line assignments may not have shown translatable traits on film. We will kick off our 2022 Prospect Profile series with Pittsburgh's Kenny Pickett.
Featured Promo: Our friends at RIVAL Fantasy have created fun and unique DFS games including over/under contests and Fantasy Bingo. Use promo code BALLER to get a free year of RotoBaller Premium access ($199 value), and a $50 risk-free deposit.
Play Now!
Kenny Pickett is an intriguing late-blooming RS-Senior QB prospect who grew into Pittsburgh's all-time leading passer with a stellar final season for the Panthers in 2021. Pickett completed 67.2% of his passes for 4319 yards, 42 touchdowns, and just seven interceptions, leading Pitt to an ACC Championship. He also displayed notable athleticism, rushing for 233 yards and five touchdowns. Pickett had 21 total rushing touchdowns to go along with 81 passing touchdowns during his five years at Pitt. Productive with ideal size (in terms of height and weight at least), Pickett has emerged as one of the top QB prospects in the 2022 NFL Draft. While there is a lot to like about his decision-making and accuracy, Pickett has real question marks about his translation to the next level.
Placement Professional
The most obvious positive trait in Pickett's game is his ball placement. While most pro QB prospects are accurate (think a pitcher's control), some of them are not consistent in terms of placement (think a pitcher's command). Pickett is gifted at putting the ball where it needs to be, whether that means allowing a receiver to run after the catch, using touch in the red zone, or placing a deep ball where only his receiver can run under it. The clip below highlights another one of his strengths – being on time – as he hits the field dig against inside leverage man coverage in a tight window.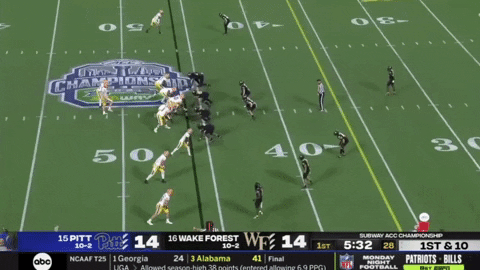 The clip below shows Pickett deliver a perfect ball to hit the wheel route in a hole with pressure in his face. In this pass concept, the wheel route is often open underneath the deep defender, so the ball must be placed on time. There were countless reps of Pickett instinctively knowing what type of placement was needed for various routes.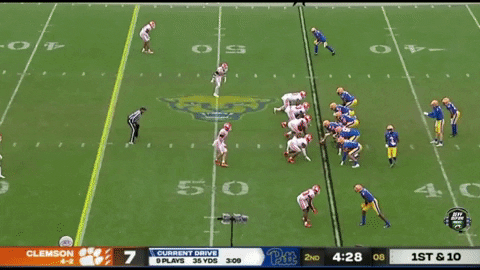 The clip below might be Pickett's most impressive throw on film. It's sprint-out protection with a deep corner route from the No. 3 receiver in the high red zone. It's just a perfect spot on the run.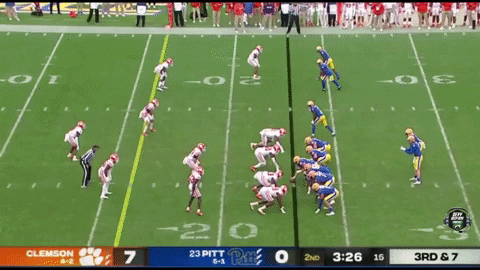 Pickett's ability to throw rolling to his right and place back-shoulder throws was a recurring positive on film. Here's an example of both.
Many top QB prospects over the years have opted to only throw at their pro day and skip combine drills. Pickett made the confident decision to throw at the combine and by my count watching the broadcast, didn't miss a single throw. He wore gloves and displayed his elite placement ability, outshining the other QBs.
Arm (Hand?) Talent?
People throw around the phrase "arm talent" a lot. While Kenny Pickett obviously has a special arm in comparison to the entire population, when dealing with the elite of the elite, it's fair to be critical of his arm. Now, what does arm talent even mean? To me, arm talent is a general phrase used to describe the combination of arm strength, tight spiral, ball speed, and platform angle versatility a QB possesses. Guys like Patrick Mahomes have clearly incredible arm talent, as they frequently display a mastery of those four components. Sometimes I believe analysts use the phrase arm talent to describe simple arm strength, which by itself doesn't matter that much assuming a pre-requisite level, which 99% of college QBs possess.
My concern with Pickett isn't that I believe his arm isn't strong enough to throw down the field, pierce windy conditions, or zip the ball into tight windows. His ability to anticipate and process information quickly will help him make up for less-than-elite arm strength and make all the throws necessary. However, Pickett is a creative baller and does have a propensity to throw across his body too much. NFL defenders will make him pay more than ACC defenders, and if he continues with that habit, he's going to get picked off a lot. Mahomes and Josh Allen can throw across their bodies and get away with it because of ridiculous arm strength
Pickett has question marks regarding all four components of arm talent. The clip below is a rare bad read by Pickett, but it's also a concerning example of his lack of elite arm strength. In the face of pressure, he doesn't have the luxury of stepping up to deliver this deep ball. The result is a floater that hangs and has no energy on the backend.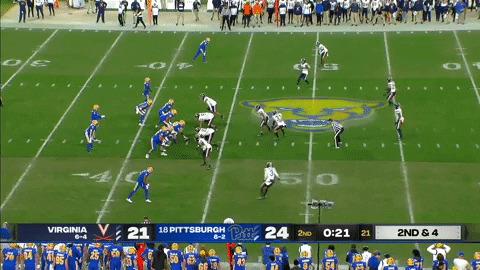 The clip below shows a bad habit and overcompensation for a weaker arm. Pickett drifts to his left in the pocket and throws a late looping pass to the sideline. The trajectory of the ball doesn't need to be at such a high angle, and his overcompensation leads to an overthrow. A QB with better arm talent would have been able to zip the ball outside the numbers on time as the clearly open receiver gets out of his break.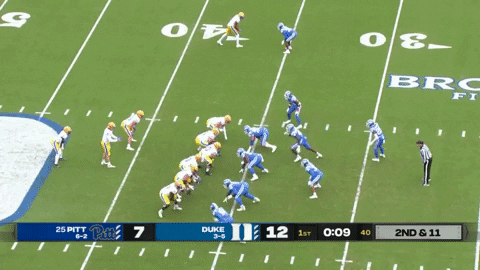 Much has been made about Pickett's hand size. He declined to have his hands measured at the Senior Bowl, and his 8.5-inch hands will be the smallest in the NFL next year. If Pickett had a rocket arm, I'd love to ignore a seemingly ridiculous rigid size requirement. However, his lack of elite arm strength, mixed with some bad reps in the rain (at the Senior Bowl and against North Carolina), does make his hand size a concern.
There were numerous reps on film where Pickett threw wobblers, including the clip below. While the result of this play was positive, the receiver did have to double-catch the ball.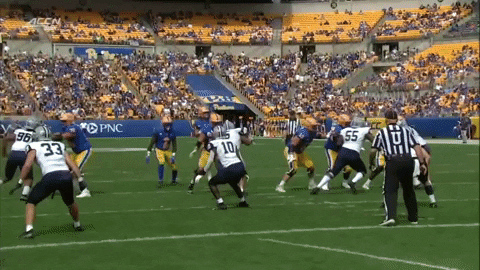 In the aforementioned North Carolina game, Pickett went just 25 for 43, taking four sacks and throwing the interception below.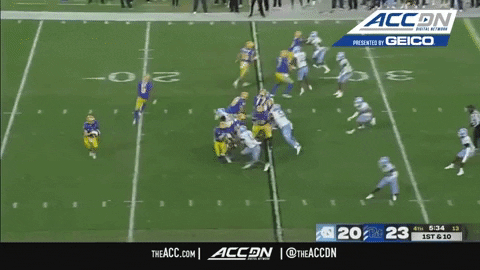 It's worth noting that Pickett led the Panthers to an overtime victory in the rain, but his traits simply didn't look as impressive in the rainy conditions.
Pickett also fumbled 26 times for Pitt. Ball security is another concern for a QB with small hands.
NFL Outlook
Kenny Pickett is an intriguing QB prospect with franchise signal-caller squarely within his range of outcomes. A close study of Pickett's game will lead any evaluator to the same conclusions – he can place the ball anywhere on time and has coveted athleticism. He didn't luck into 47 TDs as a Senior, as his positive traits popped off the screen in terms of accuracy and making plays with his legs. However, I think NFL teams will struggle with his evaluation in terms of projecting his arm to the next level. The essential question is can he succeed when the windows get tighter and the bullets get faster considering his lack of elite arm talent? I expect a team that either plays in a dome or warmer weather to make a bet on Pickett.
When Pickett enters the league, his legs will make him a very interesting fantasy asset. However, as Matthew Stafford and countless others have taught us, situation matters a lot. Pickett can develop into a franchise QB, but surrounding him with good coaching and talent will be crucial. I rank him second among 2022 QB prospects and would be comfortable taking a risk on him in the middle of the first round.
Thanks for reading and stay tuned for more prospect profiles and other NFL Draft content.
Download Our Free News & Alerts Mobile App
Like what you see? Download our updated fantasy football app for iPhone and Android with 24x7 player news, injury alerts, rankings, starts/sits & more. All free!


Win Big With RotoBaller
Be sure to also check out all of our other daily fantasy football articles and analysis to help you set those winning lineups, including this new RotoBaller YouTube video:


More NFL Rookie Analysis