The 2021 NFL Draft Prospect Profile Series features prominent 2021 NFL Draft prospects with film analysis and scouting insights. I have experience working in college football and have been studying the NFL Draft for over 15 years. My analysis is based on film study and analytics.
A common misconception about the NFL Draft is that the college and pro games are very similar. They are not. Besides the obvious difference in speed and skill level, a college field has different hash mark distances and different rules. There are specific schemes and plays that NFL teams copy from college and vice versa. But the differences between the two are understated in NFL Draft coverage. There's a reason many highly-productive college players are not considered legitimate professionals.
To that end, scouting prospects is not about evaluating college performance, it's about projecting traits that translate to the next level. This is not limited to just physical traits. There are certain football traits that are evident in college film and will translate to the pro game. For example, a wide receiver being able to get in and out of breaks efficiently will not change from college to pro. On the flip side, an edge rusher who got most of his sacks due to hustle or missed offensive line assignments may not have shown translatable traits on film. We will continue our draft coverage this year with arguably the best TE prospect of all-time in Florida's Kyle Pitts.
Featured Promo: Get any full-season NFL Premium Pass for 50% off and win big in 2023. Exclusive access to our Premium articles, 15 lineup tools, new Team Sync platform, Lineup Optimizer, Premium DFS tools and cheat sheets, and much more!
Sign Up Now!
When you look up "Matchup Nightmare" in the dictionary, you see a picture of Kyle Pitts. Pitts has extremely rare athleticism for his size at 6-6, 246, with long arms, huge hands, and a suddenness to his game that compares to Travis Kelce. He was a beast at Florida, totaling 1,492 yards and 18 TD in just 24 career games. At just 20 years old, I believe Pitts is the best TE prospect ever.
Labeling Pitts as TE is misleading. He played all over the formation at Florida, and will likely do the same in the pros. He can play outside, slot, inline, or at H-back.  His skill set is as versatile as any prospect in this draft class. Many NFL TEs are limited to a few routes. Pitts can flex out and run slants like Mike Evans, then put his hand in the dirt and block the backside C-gap on the next play.
Special Traits
Kyle Pitts is a highly-skilled receiver in a tight end's body. The easiest translatable trait to spot in Pitts' game is his ability to high-point the football. In the clip below, he runs a slot fade and makes an acrobatic spinning catch against two Alabama defenders.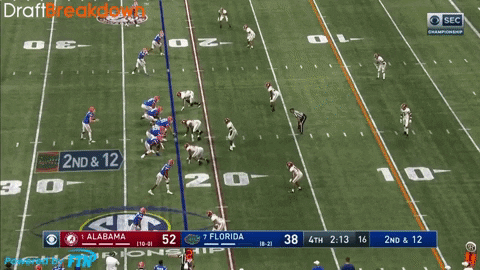 A red zone monster, Pitts scored 12 touchdowns in just 8 games in 2020. The clip below shows him catch the ball above his eyes, an important technique when tracking touch passes. Georgia CB Tyson Campbell, a potential day-two pick, is the player giving up the TD.
Arguably the single most impressive trait Pitts shows on film is his ability to catch low passes. There is no better way to showcase his rare athleticism than to be able to pluck a low-thrown ball despite his 6-6 frame. There are multiple instances of this on film, including the clip below.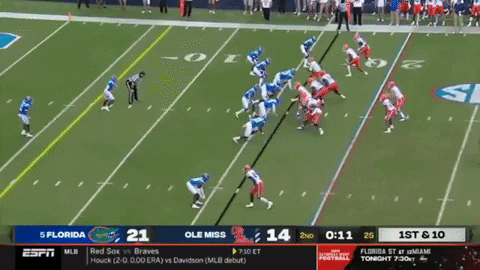 Pitts' suddenness is rare for a man his size. He has a tremendous ability to run effective slants to complement vertical routes and fades. In the clip below he gains ground on his press release and is able to burst for separation on the slant, making a nice catch on a ball placed behind him.
The clip below shows the same thing, this time in the red zone. You can see that the corner is petrified of the goal-line fade. Pitts will have no issue getting separation at the next level.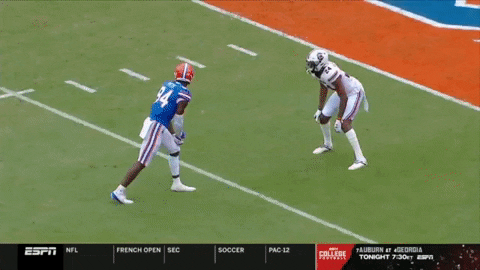 It's going to sound nitpicky, but I have very high hopes for Pitts. He flashes strong hands and makes some incredible catches. But his hands are not elite. He will double-catch the ball (see above) and occasionally commit a drop. Are his hands a weakness? Absolutely not. But they aren't as amazingly consistent as some of the greats. It's worth monitoring as he jumps to the NFL level where defenders are more physical and windows get tighter.
Pitts is fast enough to play WR in the NFL regardless of what he runs in a 40. His film shows him run away from people, and his short-area suddenness is elite. One way to run great routes is to change speeds while not giving the defender any tells. The clip below shows Pitts release from an inline position, change speeds on a seam route to run away from a defender in cover two, and complete a difficult catch while taking a big hit.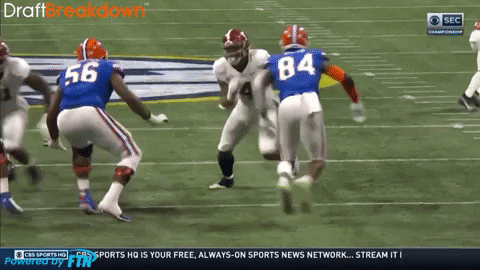 Pitts has the athletic ability to run almost any route, including a whip at the goal-line, a route more common to shifty slot receivers.  In the clip below he stems outside, sticks a sharp cut to the post, leaving Kentucky's Kelvin Joseph in the dust. For context, Joseph is one of the most talented CBs in this draft class and Pitts makes him look silly before accelerating away from him, showcasing his long speed.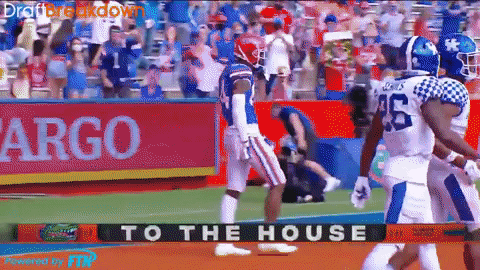 So how will NFL teams defend Pitts?  He's no match for linebackers or safeties and has shown the ability to beat pro-level corners.  Smart NFL DCs will be begging their team to select him so they don't have to face him in games.
Blocking
Pitts is probably not going to develop into an elite run-blocking TE. But there is no doubt he can be passable. In fact, at just 20 years old, he has the potential to get stronger and become above average as a blocker. His physical gifts, effort, and understanding of leverage and angles can make him an effective blocker.
In the clip below, you can see the effort. Pitts inserts into the A-Gap, drives back the Alabama inside linebacker, and springs his RB in for the score. His technique isn't perfect, but you can see his natural strength.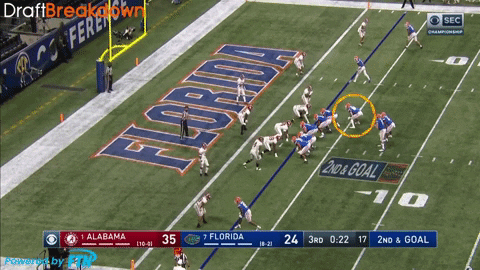 Some people want to knock Pitts as a blocker and label him a WR. To me, it would be a waste to exclusively use him as a WR. Allowing him to play inline as well as flexed out will give an OC a ton of flexibility and keep defenses guessing.
NFL Outlook
Kyle Pitts will likely be the highest-drafted TE since Vernon Davis went sixth overall in 2006. Davis was a freak athlete coming out of Maryland, but Pitts is a better natural receiving prospect. Like all prospects, Pitts' career will be partially impacted by what team drafts him. With the right coaching and QB, he could end up as one of the most productive TEs in the league. Rookie tight ends are notorious for taking longer to transition to the league. If any young TE were to buck that trend, Pitts would be the guy.
Thanks for reading and stay tuned for more prospect profiles and other NFL Draft content.
Read past Prospect Profiles here:
Trey Lance - QB, North Dakota State
Justin Fields - QB, Ohio State
Download Our Free News & Alerts Mobile App
Like what you see? Download our updated fantasy football app for iPhone and Android with 24x7 player news, injury alerts, rankings, starts/sits & more. All free!


Win Big With RotoBaller
Be sure to also check out all of our other daily fantasy football articles and analysis to help you set those winning lineups, including this new RotoBaller YouTube video:


More NFL Rookie Analysis