Welcome to March. Pro Days are around the corner, the rumor mill is heating up, and draft boards are starting to round into form. The NFL Draft Prospect Profile Series will feature prominent 2021 NFL Draft prospects with film analysis and scouting insights. I have experience working in college football and have been studying the NFL Draft for over 15 years. My analysis is based on film study and analytics.
A common misconception about the NFL Draft is that the college and pro games are very similar. They are not. Besides the obvious difference in speed and skill level, a college field has different hash mark distances and different rules. There are specific schemes and plays that NFL teams copy from college and vice versa. But the differences between the two are understated in NFL Draft coverage. There's a reason many highly-productive college players are not considered legitimate professionals.
To that end, scouting prospects is not about evaluating college performance, it's about projecting traits that translate to the next level. This is not limited to just physical traits. There are certain football traits that are evident in college film and will translate to the pro game. For example, a wide receiver being able to get in and out of breaks efficiently will not change from college to pro. On the flip side, an edge rusher who got most of his sacks due to hustle or missed offensive line assignments may not have shown translatable traits on film. We will continue our draft coverage this year with another special QB prospect in Ohio State's Justin Fields.
Editor's Note: Our incredible team of writers received 13 award nominations by the Fantasy Sports Writers Association including Baseball Writer of the Year, Football Writers of the Year, Golf Writer of the Year and many more! Be sure to follow their analysis, rankings and advice all year long, and win big with RotoBaller!
Read More!
Justin Fields: Profile
Justin Fields came into the 2020 season as the consensus QB2 in draft circles, after a 2019 season in which he accounted for an insane 51 total touchdowns and just three interceptions. In the pandemic-shortened 2020 season, he upped his completion percentage from 67.2 to 70.2, added another 22 touchdown passes, and led Ohio State to the National Championship game.  Somehow, his draft stock actually declined, as Zach Wilson jumped above him on a bunch of internet big boards. It remains to be seen whether or not NFL decision-makers truly value Wilson over Fields. In my opinion, there are four QBs in this class who would be considered top-five prospects in almost any class.
I sound like a broken record after writing the exact same thing about Trevor Lawrence and Trey Lance, but here it is again - Fields has all the tools teams look for in a modern franchise QB. At 6-3, 228, with the ability to throw 60-plus yard deep balls in addition to ideal athleticism, Fields is the complete package. There are flaws in his game, but most of them are correctable. The positives will definitely excite NFL decision-makers.
Toughness & Intangibles
On January 1st, 2021, Justin Fields put on a legendary performance. He came back from this vicious hit to toss six touchdowns in a National Semifinal victory over the favored Clemson Tigers. He clearly checks the toughness box. Moving on.
You can read about Fields' journey after transferring from Georgia here. No one says a word when a coach changes schools to help their professional career, so anyone spinning Fields transferring as a negative is full of it.
It can be difficult to define and identify leadership while just watching the film. I don't get to interview or spend time with any of these players. But if you look close enough, projecting leadership isn't impossible (also, speed).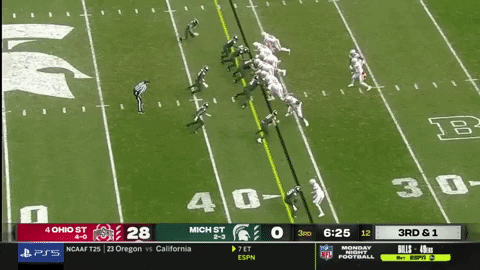 Ryan Day's Offense and Holding the Ball "too long"
Two very general knocks on Fields are that he comes from the same offense that produced bust Dwayne Haskins and that he "holds the ball too long."  Both of these criticisms are overblown at best and unimportant at worst.
First, scout the player, not the helmet. There are a ton of QBs who came from programs or systems that had never produced a franchise QB including Patrick Mahomes and Deshaun Watson. It's a ridiculous argument but underscores a more important common misunderstanding about scouting NFL draft prospects.
Scouting prospects is not about evaluating college performance. It's about evaluating traits that translate to the pro game to project players to the next level. I do not care why Justin Fields held the ball longer on average than the other top QBs. Is it because of more downfield concepts? Option routes? It doesn't matter. Trying to evaluate the nuances of Ryan Day's system is not the goal, and 99% of people evaluating Fields wouldn't be able to do it anyway. The key is to look at individual plays and judge Fields' mental processing and decision-making quickness. Most people know very little about the scheme. Judge the player. For the record, not once in my notes did I note that Fields held on to the ball too long. I think he has a tendency to look for the big play and miss open options underneath, but his mental processing - a trait that translates - is just fine.
The clip below shows Fields miss the open underneath receiver on a fake mesh wheel type boundary route combo. Did he hold on to the ball too long or just decide pre-snap he wanted to throw the wheel?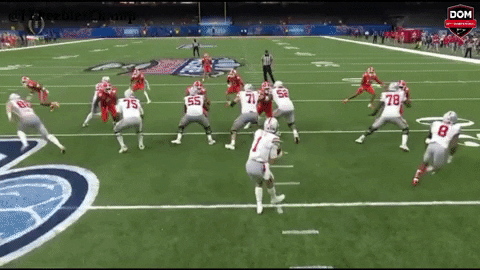 Similarly, the clip below shows him ignore the open snag route and try to fit in a corner route against double coverage. His timing isn't perfect and it's the wrong decision. But is he a generally poor decision-maker that lacks the ability to anticipate?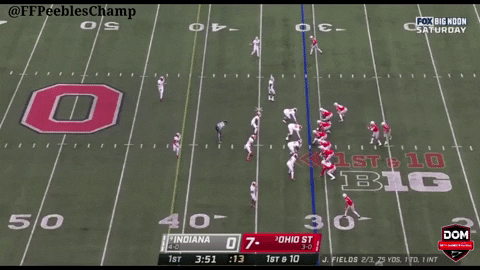 As the clip below shows, absolutely not. He learns from his previous mistake, the coaching staff calls the same play, and he hits his snag route on time for the first down.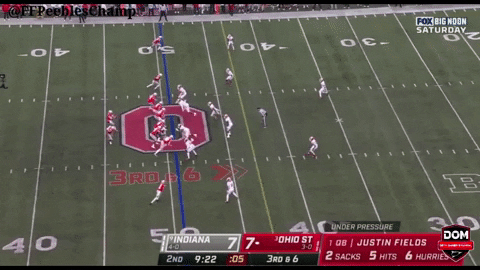 It's About Traits
So we know Justin Fields is fast.  We know he's accurate enough to complete 70% of passes in a Ryan Day offense. We know he's above average in terms of throwing tight spirals. And we know he has enough arm strength to make throws like this:
Looking closely and critically at everything when it comes to QBs, I did note that while Fields was mostly accurate (think a pitcher's control), he was not exceptional in terms of ball placement (think a pitcher's command). Many of his deep balls were thrown accurately but placed a hair behind his WRs. Maybe Chris Olave is just that fast. Maybe it's nitpicky. But it's worth noting.
I also don't believe his pure arm talent is as impressive as Trevor Lawrence, Zach Wilson, and Trey Lance. The bomb above was great, but arm strength isn't just about deep balls. Notice the lack of back-end energy the clip below shows. His velocity on intermediate and boundary throws is a slight concern.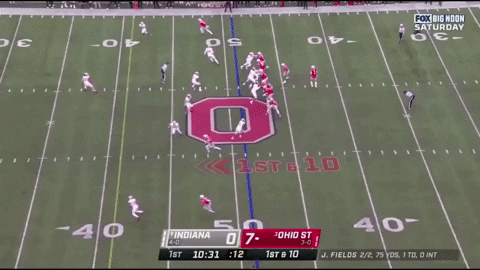 I'm not focused on the result of the play or even the wrong read. On the above clip, and multiple other clips (especially against Penn State), his intermediate and boundary throws simply lack energy. For a player who may not have been trained enough to anticipate yet, it's worth noting.
Switching gears to a positive, Fields' most underrated trait is his ability to be accurate throwing on the run. The clips below are examples of his knack for hitting receivers in stride on the move: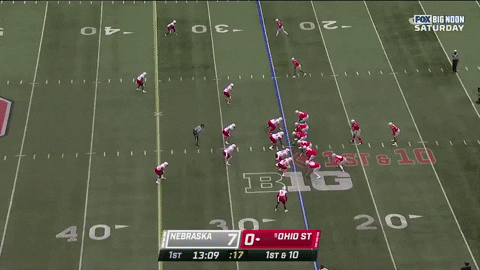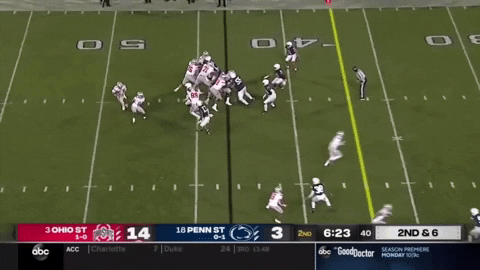 NFL Outlook
The 2021 QB class may be the best top-5 we've ever seen at the position. I expect all five signal-callers to be drafted in the top- 10. Justin Fields deserves to be right in that mix and has the tools and toughness to develop into a franchise QB.  His success will be dependent on learning to anticipate better, process NFL defenses quickly, and get drafted to a coaching staff that knows how to maximize his legs.
Thanks for reading and stay tuned for more prospect profiles and other NFL Draft content.
Download Our Free News & Alerts Mobile App
Like what you see? Download our updated fantasy football app for iPhone and Android with 24x7 player news, injury alerts, rankings, starts/sits & more. All free!


Win Big With RotoBaller
Be sure to also check out all of our other daily fantasy football articles and analysis to help you set those winning lineups, including this new RotoBaller YouTube video:


More NFL Rookie Analysis