The NFL Draft Prospect Profile Series features prominent 2021 NFL Draft prospects with film analysis and scouting insights. I have experience working in college football and have been studying the NFL Draft for over 15 years. My analysis is based on film study and analytics.
A common misconception about the NFL Draft is that the college and pro games are very similar. They are not. Besides the obvious difference in speed and skill level, a college field has different hash mark distances and different rules. There are specific schemes and plays that NFL teams copy from college and vice versa. But the differences between the two are understated in NFL Draft coverage. There's a reason many highly-productive college players are not considered legitimate professionals.
To that end, scouting prospects is not about evaluating college performance, it's about projecting traits that translate to the next level. This is not limited to just physical traits. There are certain football traits that are evident in college film and will translate to the pro game. For example, a wide receiver being able to get in and out of breaks efficiently will not change from college to pro. On the flip side, an edge rusher who got most of his sacks due to hustle or missed offensive line assignments may not have shown translatable traits on film. We will continue our draft coverage this year with one of the most polarizing WR prospects ever in Alabama's DeVonta Smith.
Featured Promo: Get any full-season NFL Premium Pass for 50% off and win big in 2023. Exclusive access to our Premium articles, 15 lineup tools, new Team Sync platform, Lineup Optimizer, Premium DFS tools and cheat sheets, and much more!
Sign Up Now!
DeVonta Smith: Profile
DeVonta Smith is a fascinating WR prospect coming off one of the most epic collegiate seasons of all time. Smith won the Heisman in 2020, compiling an incredible 117 catches for 1856 yards and 23 touchdowns. He helped Alabama to an undefeated season and National Championship, and in the title game against Ohio State, he put up 215 yards and three scores.....in the first half. He actually exited that game with an injury, which underscores the main question mark about his transition to the pros. At (allegedly) just 170 pounds, can Smith withstand the physicality of the NFL with his small frame? Time will tell.
WR1 Traits
The traits that make Smith special surely translate to the next level. He's a smooth and sudden athlete with terrific acceleration. He's an explosive leaper and uses his rare mix of length and body control to come down with some incredible catches. While he may not be a weight-room monster, his grip strength is surely elite.
The clip below shows him high-point the football in the back of the end zone, get both his feet down, and complete the process of the catch against a possible Day 2 pick in Georgia CB Eric Stokes.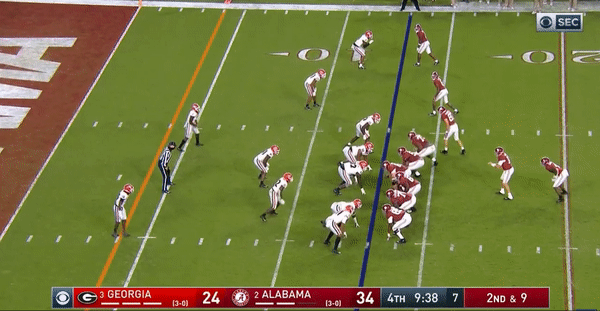 Smith is not the most advanced route-runner or technician in the world. He possesses all the tools he needs to develop, but he will waste steps at times, including on press releases at the line of scrimmage. He also doesn't always use his hands to get separation against physicality at the top of his routes. However, the clip below showcases his elite suddenness. Smith also transitions into a runner more seamlessly than anyone I've ever scouted. It's why he was so productive on perimeter screens.  The Alabama coaching staff didn't force-feed him the ball because he was some great tackle-breaker. He was just so quick to transition to a runner after the catch.
You can see that uncommon smoothness and acceleration in the clip below.
Smith possesses an other-worldly mix of venus fly trap hands, length, and body control. All are on full display in the clip below, with a nod to the NFL. If you listen closely, Smith is whispering "Kyle Pitts doesn't always get two feet down" as he makes the catch.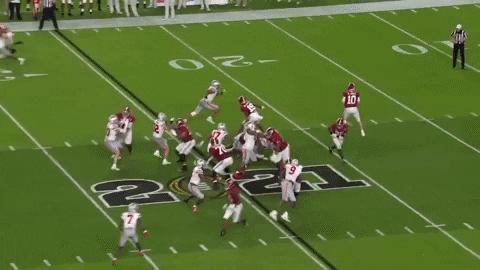 Notice how he catches the ball with both hands, but only his right hand is needed to claw the ball and bring it into his body. If he improves his hand-fighting, there's no doubt he can be a big-time red-zone threat in the NFL.
Another aspect of Smith's game that I love is his "my ball" mentality. On curl routes, receivers are taught to attack the football downhill. Smith does this numerous times on film, including the clip below, where he wins at the catch-point in traffic.
Weight Watchers
The "wish-he-was-at-least-200"-pound elephant in the room is Smith's frame. He is slender and long-limbed without a defined upper body. Some NFL receivers have been able to carve out careers playing at around 170 pounds, but they are the exceptions, and usually have elite timed speed. The issue with Smith is that he projects as a high-volume do-it-all WR1. Can his slender body survive 100+ touches a year?
It's fair to wonder, especially after watching him get up slow for various reasons down the stretch of last year. His exit in the National Championship was due to a dislocated finger, which may not be an indictment of his small stature. His frame is still a legitimate question mark. Even his camp is aware, as he opted not to be weighed in at the Senior Bowl.
The clip below shows him get ragdolled by an LSU safety. If a clean shot like this sends him back more than three yards, can we expect him to bounce back from big hits every time in the NFL?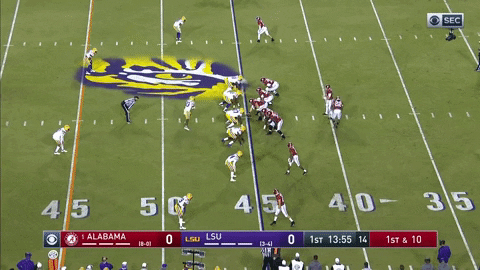 His lack of functional strength is also a weakness in his game. The clip below shows our friend Eric Stokes again, a player known more for his speed than strength, pinning Smith to the sideline on a vertical route. Smith is unable to move Stokes' arms at all and leaves his shoulder pads exposed for Stokes to bump him off his spot.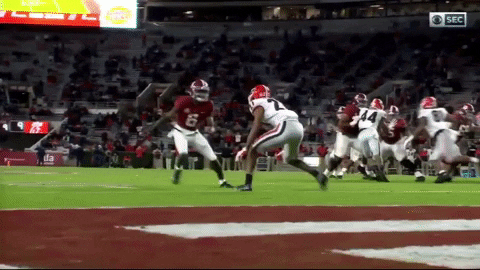 Smith can surely work hard as a professional in terms of eating habits and strength training, but it's not like he didn't have those resources at Alabama. And while there are reps that show a lack of great play strength, it's not like Smith is an easy pushover. He will fight and he will get physical - he just doesn't have the body type to project his physicality to be a particularly useful tool at the next level.
Late Breakout Age
Despite elite receiver-specific traits and historic production, Smith has many detractors, mostly due to his late breakout age, an accurate predictor of WR success in the NFL. There's a pretty good chance he's an outlier considering his film, but I respect the conviction of the analytics community. His late breakout is easily explainable by the other first-round receivers he shared targets with at Alabama. Not to mention the fact that he's been on the field playing meaningful snaps since his freshman year.  Does catching the game-winning TD in the National Championship as a freshman count as a breakout?
NFL Outlook
DeVonta Smith decided not to do on-field drills or run a 40 at the Alabama pro day. I don't worry about his play speed at all, but it's fair to wonder if his stock may be ever-so-slightly impacted by not having a sub-4.5 40 to his name. Ja'Marr Chase has more of an NFL body type, earlier breakout age, similarly historic production, and possibly a fast 40 to his name. I do believe Smith has better film, and for now, he's my WR1. However, it's easy for me to rank him highly and say I'd take him in the top-five when I don't have to worry about him staying on the field. NFL teams are likely petrified of his frame, which is why a minor draft day slide would not shock me.
Thanks for reading and stay tuned for more prospect profiles and other NFL Draft content.
Read past Prospect Profiles here:
Trey Lance - QB, North Dakota State
Justin Fields - QB, Ohio State
Download Our Free News & Alerts Mobile App
Like what you see? Download our updated fantasy football app for iPhone and Android with 24x7 player news, injury alerts, rankings, starts/sits & more. All free!


Win Big With RotoBaller
Be sure to also check out all of our other daily fantasy football articles and analysis to help you set those winning lineups, including this new RotoBaller YouTube video:


More NFL Rookie Analysis