The 2021 NFL Draft Prospect Profile Series features prominent 2021 NFL Draft prospects with film analysis and scouting insights. I have experience working in college football and have been studying the NFL Draft for over 15 years. My analysis is based on film study and analytics.
A common misconception about the NFL Draft is that the college and pro games are very similar. They are not. Besides the obvious difference in speed and skill level, a college field has different hash mark distances and different rules. There are specific schemes and plays that NFL teams copy from college and vice versa. But the differences between the two are understated in NFL Draft coverage. There's a reason many highly-productive college players are not considered legitimate professionals.
To that end, scouting prospects is not about evaluating college performance, it's about projecting traits that translate to the next level. This is not limited to just physical traits. There are certain football traits that are evident in college film and will translate to the pro game. For example, a wide receiver being able to get in and out of breaks efficiently will not change from college to pro. On the flip side, an edge rusher who got most of his sacks due to hustle or missed offensive line assignments may not have shown translatable traits on film. We will continue our draft coverage this year with Mississippi WR Elijah Moore.
Featured Promo: Get any full-season NFL Premium Pass for 50% off and win big in 2023. Exclusive access to our Premium articles, 15 lineup tools, new Team Sync platform, Lineup Optimizer, Premium DFS tools and cheat sheets, and much more!
Sign Up Now!
Elijah Moore is a super-productive receiver prospect with experience playing all over the formation throughout his three years at Ole Miss. He spent most of his time in the slot, but also lined up outside, in the backfield, and even as an H-back at times for the Rebels. In just eight games as a junior in 2020, he totaled 86 catches for 1193 yards and eight scores. Moore infamously cost his team the 2018 Egg Bowl after imitating a dog urinating as an end zone celebration. He made a mistake, but his character has not been questioned since.
Outstanding Hands
Despite a smallish size at just 5-9, 178, Elijah Moore has relatively large 9-and-3/8-inch hands and uses them as well as any receiver in this class. PFF notes that he had the lowest drop rate among SEC WRs last season, and the film definitely backs that up. The clip below shows one of the more impressive catches I've seen this year, a shoelace grab with no gloves against Alabama.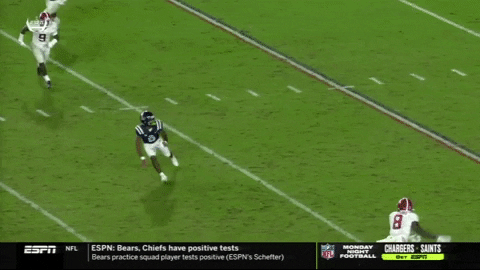 Moore has the tools to develop into a versatile route-runner as well. He's quick-twitched and fast, and put on a show at his pro day, running an unofficial 4.35 40. In the clip below, he runs an effective sail route, working a secondary release with his arm, bursting out of his speed cut at the top of the route, and finishing with a strong grab along the boundary while taking a hit.  Catching in traffic was a foregone conclusion in Moore's film. His hands are special.
A key indicator when evaluating hands is to scout how a receiver transitions to a runner after the catch. Does he lose speed or does he seamlessly transition with no wasted steps? The clip below answers that question emphatically regarding Moore.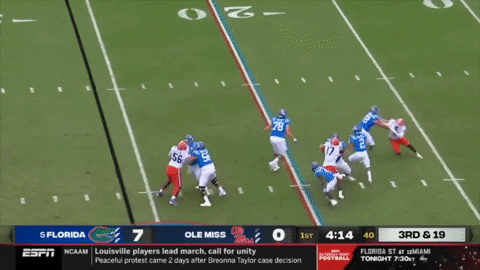 In the Rondale Moore Prospect Profile, I questioned the Purdue prospect's hands. There's a clip of Rondale in that article that's nearly identical to the one below of Elijah. Notice Elijah's eyes. The coaching point here is to "exaggerate your eyes." This is one reason I prefer Elijah Moore to Rondale Moore.
The clip below is a fun example of his elite hands, confidence, and transition to becoming a runner. There's a reason the Ole Miss coaching staff lined him up everywhere and schemed so many ways to get the ball in his hands. Look closely as he uses one hand to nonchalantly pluck the ball out of the air, switching it to his outside arm without losing speed, and continuing on his jet sweep path to set up 3rd-and-short. This is the type of on-field swag that makes me believe he will fit right in with the world-class playmakers in the NFL.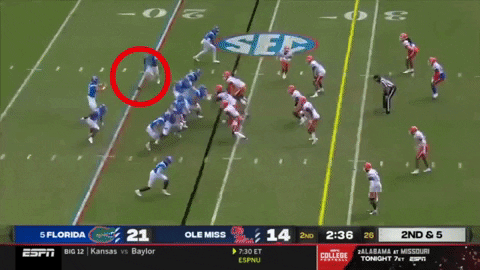 Professional Deep Threat
Moore is not strictly a gadget guy. While the Ole Miss coaching staff did find ways to get him the ball on jet sweeps, perimeter screens, and RPO hitches, he flashed the ability to win downfield on many occasions.
The clip below shows him run a slant-and-go at outside receiver against Vanderbilt. Not a soul on the Vanderbilt football team who could cover him. Notice the use of his eyes and head as he sells the slant and how quickly and efficiently he bursts out of the breakpoint. Receivers are taught to run out of their breaks. Moore wins so much here that he's underthrown, but unsurprisingly and calmly reacts to the deep ball, showing great tracking, strong hands, and exaggerated eyes to finish for the score.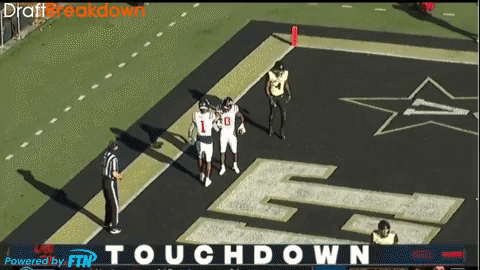 The clip below shows him run a different type of slant and go as an inside receiver. Moore's film against Alabama wasn't flawless, and it's fair to question his transition after he struggled at times with physicality in that game. On this rep, however, he wins with speed, ball-tracking, and concentration, three traits that translate to the next level.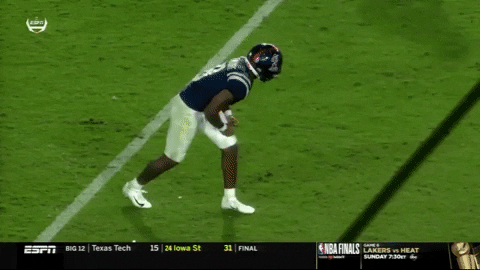 Concerns
The main concern with Moore is how he'll deal with physicality at the next level. With his smallish frame, Moore can't afford to do some of the dancing he does with the ball in his hands at the next level. He also took a lot of big hits, partially due to sheer volume. How many touches can he handle at the NFL level?  The good news is that Moore does not have an extensive injury history, only dealing with standard nagging issues down the stretch last year.
Against Alabama, Moore didn't always win 1-on-1 matchups with stud defensive back Malachi Moore. His lack of size and strength was evident in many plays, including the clip below. Moore faced inside leverage from the defender and did not win his assignment. In this RPO, the QB is reading the inside linebacker and expects his WR to win. Moore does not. He could have stemmed inside to eat up leverage or burst out of the break and cut the collision point. In any case, it's not a winning route.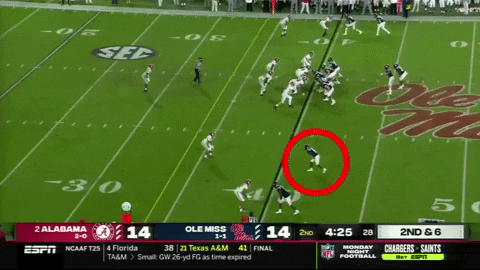 In the clip below, Moore is asked to run a crossing route. I'm not sure what depth he's supposed to get to, but I'm fairly certain it isn't six yards. He's definitely expected to be able to get open against 1-on-1 coverage, especially on an in-breaking route.  Instead, the defender actually finishes ahead of Moore while the QB still has the ability to throw it. It's another loss against physicality.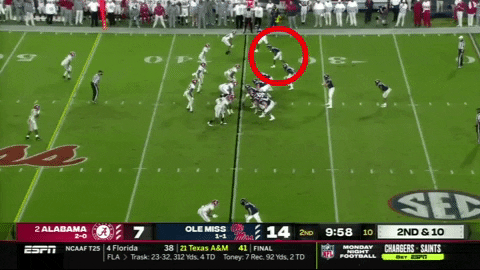 These clips are just reminders that everyone in the NFL is fast and most of the Alabama defensive players will be in the NFL one day. Physicality is important at WR because a lot of times separation boils down to hand-fighting and the catch point. Moore's small frame may limit him to slot duties as a pro. If he can't get a freshman's hands off him, can we expect him to win against Jalen Ramsey on the outside? The good news is that he still has room to grow and plenty to improve from a technical standpoint. I believe his mentality and swagger will allow him to develop and that his upside truly is a WR1, regardless of whether or not he can play more outside than inside.
NFL Outlook
Elijah Moore is one of my favorite players in the 2021 draft class. He's a pure playmaker who projects as a guy who can win with the ball in his hands and as a deep threat. His speed, quickness, and hands are traits that give him real WR1 upside. His confident play style reminds me of Antonio Brown. His only concerning weakness is a lack of ideal size and physicality, and we've seen many smaller receivers excel in the right situation.
Finally, just watch this play.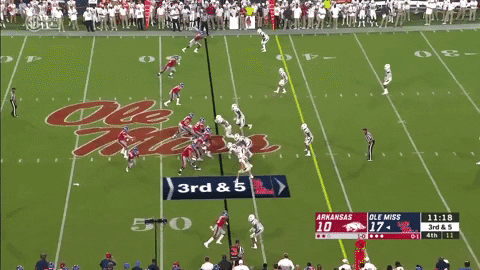 I want that guy on my team.
Thanks for reading and stay tuned for more prospect profiles and other NFL Draft content.
Read past Prospect Profiles here:
Trey Lance - QB, North Dakota State
Justin Fields - QB, Ohio State
Download Our Free News & Alerts Mobile App
Like what you see? Download our updated fantasy football app for iPhone and Android with 24x7 player news, injury alerts, rankings, starts/sits & more. All free!


Win Big With RotoBaller
Be sure to also check out all of our other daily fantasy football articles and analysis to help you set those winning lineups, including this new RotoBaller YouTube video:


More NFL Rookie Analysis