Welcome RotoBallers to my Bryce Young NFL Draft rookie profile. The 2023 NFL Draft Prospect Profile Series features eminent 2023 NFL Draft prospects with film analysis and scouting insights. I have experience working in college football and have been studying the NFL Draft for over 15 years. My analysis is based on film study and analytics. For the past two years, I wrote up profiles on the top offensive skill position prospects in each class. Here are some of my past profiles:
A common misconception about the NFL Draft is that the college and pro games are very similar. They are not. Besides the obvious difference in speed and skill level, a college field has different hash mark distances and different rules. There are specific schemes and plays that NFL teams copy from college and vice versa. But the differences between the two are understated in NFL Draft coverage. There's a reason many highly-productive college players are not considered legitimate professionals.
To that end, scouting prospects is not just about evaluating college performance, it's about projecting traits that translate to the next level. This is not limited to just physical traits. There are certain football traits that are evident in college film and will translate to the pro game. We will kick off our 2023 Prospect Profile series with Alabama QB Bryce Young.
Featured Promo: Get any full-season NFL Premium Pass for 50% off and win big in 2023. Exclusive access to our Premium articles, 15 lineup tools, new Team Sync platform, Lineup Optimizer, Premium DFS tools and cheat sheets, and much more!
Sign Up Now!
Bryce Young - NFL Rookie Profile
Bryce Young is a listed 6-0 (more likely 5-10.5), 194-pound Heisman-winning QB prospect with the production profile and resume of a top five pick. During his Sophomore Heisman campaign in 2021, Young completed 66.9% of his passes for 4872 yards, 47 touchdown passes, and just seven interceptions, while throwing to high draft picks Jameson Williams and John Metchie. In his Junior season, Young had a less-talented supporting cast, and his stats took a dip as a result. His completion percentage dropped to 65.8%, and he threw for 3328 yards and 35 touchdowns.
Jazz on Turf
Mac Jones mastered the Alabama offense in 2020 and was a high draft pick as a result. Bryce Young mastered the offense as well but will be a higher draft pick because of his improvisational ability in and out of structure.
The first thing that stands out in Young's film is his unorthodox drop. Young backpedals before planting his right leg, sometimes hopping forward when he hitches up in the pocket. It looks very different than the typical "cross-plant-throw" footwork most other QBs use when taking snaps from the shotgun. To put it bluntly - I don't care about the intricacies of his footwork, and the team that invests a high draft pick in him probably won't work to change it that much. He gets enough depth on his drops and he's accurate.
His unique footwork underscores his most impressive trait - his ability to improvise. If Young's footwork was more robotic, he probably wouldn't be so special outside the structure of the offense. Young's instincts in terms of escaping and keeping his eyes downfield are special.
The clip below is wizardry. Three LSU defenders have a shot at Young, but none can get home because of his quickness and instincts. He finishes the play with a quick-release accurate strike downfield.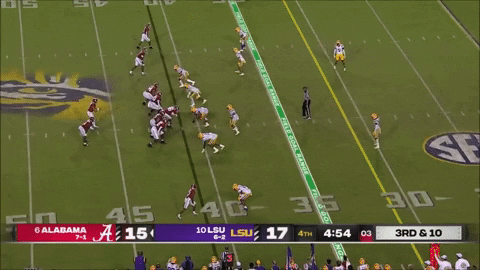 Young is excellent at manipulating the pocket. The best pocket passers have the innate ability to make slight movements to find throwing lanes and deliver accurate passes from the pocket.
What separates Young from most pocket passers is that he can be a subtle mover inside the pocket, but is special at ducking and escaping out of the pocket as well.
One of the most impressive aspects of Young's game is his habit of keeping his eyes downfield in the face of pressure. In the clip below, Young delivers a perfect strike, placed for his WR to run after the catch, while taking a huge hit from the spying defender.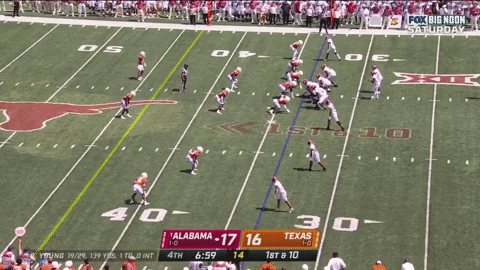 Pinpoint Placement
Young is an accurate passer in that he gets the ball to his targets without misses most of the time. More important than accuracy (think a pitcher's control) is ball placement (think a pitcher's command), and Young is exceptional in that area as well.
The clip below is a simple RPO perimeter screen. Notice how Young places the ball at the perfect height on the upfield shoulder of the receiver. For this particular screen to the No. 2 receiver, it is imperative that the ball is not placed where the WR is standing or behind, because the block of No. 1 has to be inside-out. Because of Young's ball placement, both blocks are set up, and it's a big gain.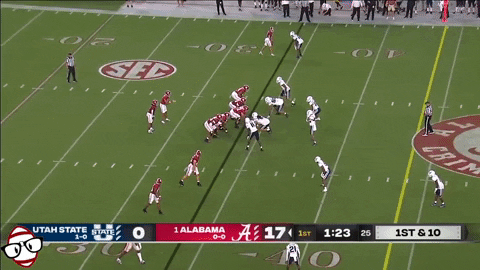 Young has pinpoint placement in the short and intermediate levels, and some of his throws down the field are Burrow-esque. The throw below is dropped in the bucket perfectly off a three-step drop.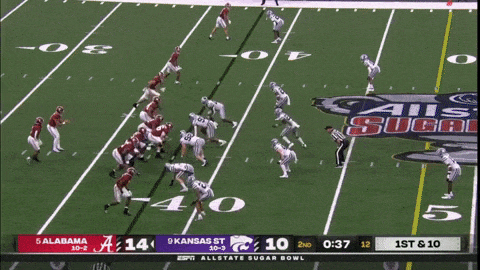 Young anticipates well and throws an extremely catchable ball. In the few times he appeared a hair late or behind his receiver, it looked like the receiver ran a lazy or incorrect route. There were more instances of this type of missed connection this year when Young's receivers weren't as good as in 2021.
In the clip below, Young places an absolute dot in the corner of the end zone. The spinning footwork off the play-fake from the 32-yard line in the boundary makes it unlikely Young practiced this exact throw that many times. It's still perfect.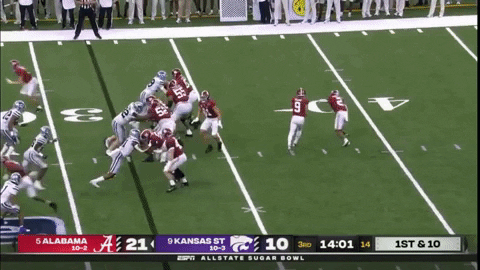 So we know Young can move, we know he's accurate, and we know he has the mental acuity to make great decisions. What about his arm? Does he have that special arm talent and arm strength that props up QB prospects every year?
In short, Young does not have elite arm strength. However, arm talent isn't just about ball speed and distance. Anticipation, timing, release, and trajectory can make up for a lack of a bazooka.
In the clip below, Young takes his field hitch against off-coverage. It takes a lot of confidence to make this throw. Young knows he can get it there in time and has clearly studied the coverage tendencies, knowing the nickel or corner is not going to jump the hitch.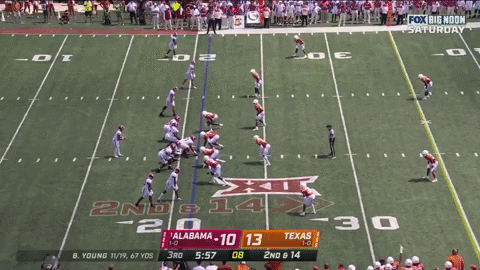 Size Concerns
By far the biggest concern with Young's transition to the pro game is his size. Not only is Young small and slender at just 6-0 (probably more like 5-10.5), 194, but his willingness to stand in the face of pressure and tendency to hold the ball long out of structure will leave him susceptible to big hits.
Russell Wilson was short, but he otherwise had a sturdy frame and large hands. He was also extremely smart as a runner, rarely leaving himself vulnerable to big hits. Young is riskier as an improviser, and that's a concern. It's also worth noting that he's dealt with shoulder issues in the past. If Young fails to live up to his draft status, the likeliest path to failure is due to durability issues rather than on-field performance.
Because Young is not physically dominant, he doesn't have great power on some throws down the field. Most of his misses look overcompensating for not having elite arm strength. Young can make all the throws, but his hitch-ups and hops in the pocket are the results of his trying to get more power in certain throws. It will be interesting to see if an NFL staff deems it necessary to coach him out of hopping into throws.
In the clip below, Young takes multiple hitches in the pocket to deliver the deep over route against man coverage. An optimist would say he's giving his WR a chance against man coverage on an intentional underthrow. More likely, it's just a late miss.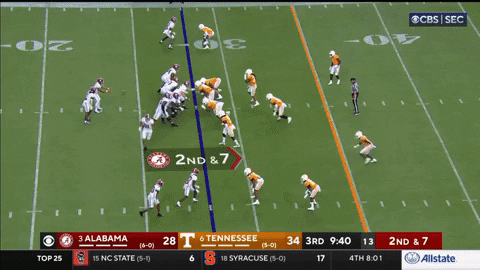 Young's other misses down the field are typically overthrows. This shows that he's overcompensating for a lack of elite arm strength.
In the clip below, Young escapes left and overthrows his wide-open WR. There were also instances of overthrown corner routes in the red zone.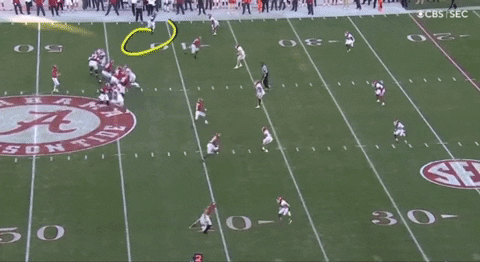 NFL Outlook
Young has natural accuracy, placement, and point guard skills that definitely translate to the pro game. His quarterback-specific traits are that of a first-overall pick. The main question mark in his profile is his size, and he's likely going to have to change his playstyle a bit at the next level. I expect Young to be drafted in the top five. If healthy, he should have an extremely productive career with the ceiling of a league MVP.
Thanks for reading and stay tuned for more draft content in the coming days.
Download Our Free News & Alerts Mobile App
Like what you see? Download our updated fantasy football app for iPhone and Android with 24x7 player news, injury alerts, rankings, starts/sits & more. All free!


Win Big With RotoBaller
Be sure to also check out all of our other daily fantasy football articles and analysis to help you set those winning lineups, including this new RotoBaller YouTube video:


More NFL Rookie Analysis