The 2022 NFL Draft Prospect Profile series features prominent 2022 NFL Draft prospects with film analysis and scouting insights. I have experience working in college football and have been studying the NFL Draft for over 15 years. My analysis is based on film study and analytics. In 2021, I profiled nine of the top skill players in the draft. So far this season, I have written up profiles on Alabama WR Jameson Williams, Mississippi QB Matt Corral, Cincinnati QB Desmond Ridder, Ohio State WR Chris Olave, Arkansas WR Treylon Burks, USC WR Drake London, Ohio State WR Garrett Wilson, Pittsburgh QB Kenny Pickett, Liberty QB Malik Willis, and North Carolina QB Sam Howell.
A common misconception about the NFL Draft is that the college and pro games are very similar. They are not. Besides the obvious difference in speed and skill level, a college field has different hash mark distances and different rules. There are specific schemes and plays that NFL teams copy from college and vice versa. The differences between the two are understated in NFL Draft coverage. There's a reason many highly-productive college players are not considered legitimate professionals.
To that end, scouting prospects is not just about evaluating college performance, it's about projecting traits that translate to the next level. This is not limited to just physical traits. There are certain football traits that are evident in college film and will translate to the pro game. For example, a wide receiver being able to get in and out of breaks efficiently will not change from college to pro. On the flip side, an edge rusher who got most of his sacks due to hustle or missed offensive line assignments may not have shown translatable traits on film. We will continue our 2022 Prospect Profile series with Iowa State RB Breece Hall.
Featured Promo: Battle it out on Bettle with your season-long lineups! Join the free RotoBaller weekly contests on Bettle -- just important your season-long lineups and enter! Winners get a free year of RotoBaller Premium access for all sports ($450 value) plus another free $50 in Bettle credits!
Join Now!
Breece Hall is a 5-11, 217-pound RB with an enticing height-weight-speed combo and an outrageous production profile. Hall rushed for 1472 yards (5.8 ypc) and 20 touchdowns last season as the bell-cow for Iowa State. In 2020, he rushed for 1572 yards and 21 touchdowns. Hall also adds value as a receiver, and improved from 23 catches in his Sophomore season to 36 in his Junior season. He finished his career with 82 grabs for 734 receiving yards and six receiving touchdowns. Hall's film shows an extremely talented back with home run speed. Let's dive in.
Speed, Acceleration, and Creativity
Breece Hall can take it to the house from anywhere on the field, but his juice as an accelerator is just as special as his long speed. He's not the most agile player laterally, but sometimes side-to-side movement habits can get RBs into trouble. Hall is dynamite in the open field, with the ability to bend his ankles to change his path quickly.
The clip below shows exactly that as he sets up the defender in space and blows by him after a jab outside. He's able to take an outside run and cut it back three times. You can see how he doesn't lose any speed on his pressure steps and the defenders look like they're on skates.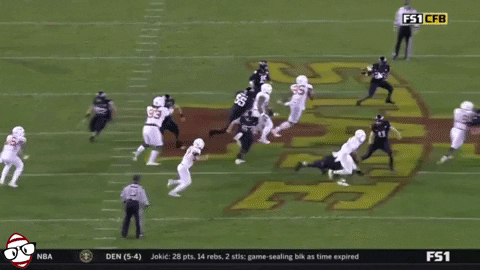 Hall is natural at cutting back zone runs, and the clip below shows his outstanding bend to again cut back against the grain without losing any speed. In fact, Hall looks like he gains speed as he reads the cutback lane. This is not an easy path to take while simultaneously exploding away from guys. He has full yards of separation from the edge defender reading the QB.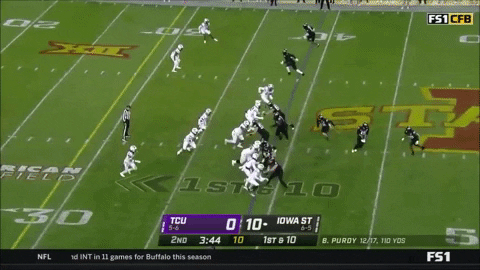 Hall shows plenty of wiggle near the line of scrimmage, making free defenders miss all the time. The clip below shows more zone blocking and a cutback against flow. The free linebacker comes through the A-gap untouched, but Hall is able to bend it back on him and accelerate backside.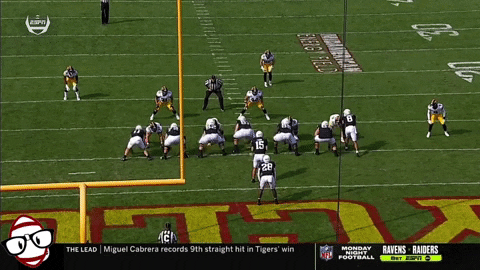 Hall is not a ferocious tackle-breaker, as shown in the clip above. He's skilled and speedy more than powerful. More on that later.
Creativity is a very important trait for RB prospects. Hall is creative at making guys miss in different ways, and his ability to get out trouble in the backfield and then burst to positive plays is outstanding. The clip below shows a spin move to cut back. This rep is probably not a one-for-one translation of the type of defense he'll see in the NFL, but the instincts to make someone miss and his natural burst to find the crease outside are special traits.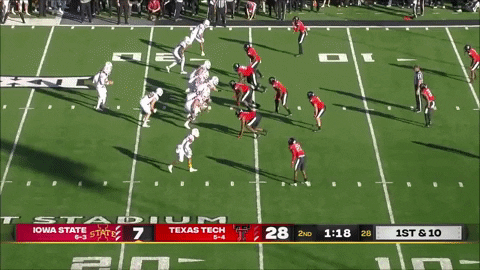 The clip below is more creativity after a cutback. The backside safety fits freely to take away the cutback, but Hall is somehow able to make him and the flowing linebacker miss. Hall's foot quickness is uncommon and his ability to make different types of moves and burst out of them is excellent.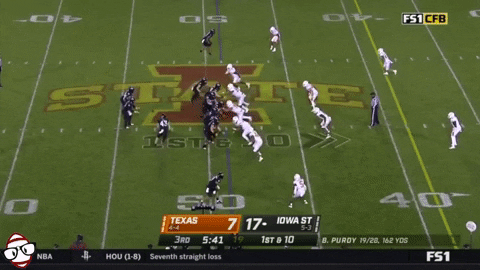 Receiving Skills
Hall isn't the best blocker and did have a few drops, but he is naturally comfortable as a receiver and improved his receiving production throughout his career.
The first thing to look for when evaluating a RB as a receiver is how quickly they can transition into a runner after the catch. Hall has good hands and doesn't lose any speed on the rep below. He's able to make two guys miss with a sudden cut and burst to the end zone.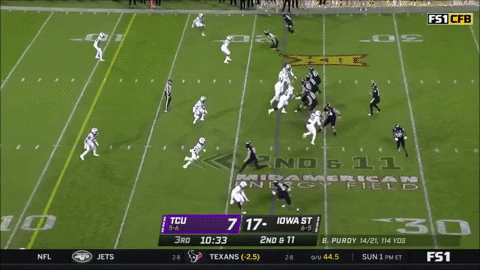 The clip below is another great example of Hall not losing any speed after transitioning to a runner. It's like he's shot out of a cannon following the catch.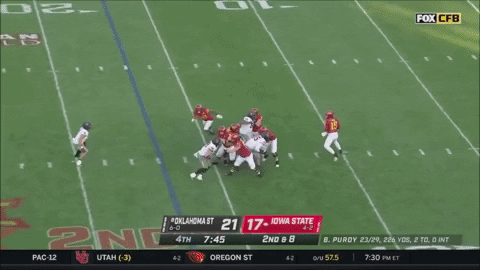 Hall strikes me as the type of do-it-all back that will excel in the passing game at the NFL level. The clip below shows really tremendous hands catching the ball outside the framework of his body and somehow executing a spin move and burst that makes it look like the defenders are playing in slow motion. It's one thing to run a fast 40, it's another to have that speed show up so obviously on film.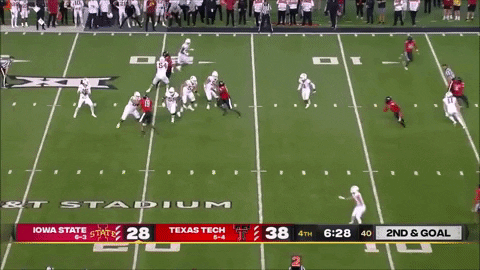 Did Hall have some drops? Yes. But there is no reason to doubt his hands or ball skills. Case in point:
Question Marks
By far the most obvious question mark in Breece Hall's evaluation is his perplexing lack of physicality on some reps. Hall is a fairly big dude, but he's really not that physical of a runner. I wouldn't call him finesse, but he's just not that physical.
The clip below shows his speed and a mini-stiff arm to get the edge defender off of him. But what strikes me is how he braces for contact at the end of the play and takes the brunt of the hit. He just doesn't look like a strong, physical finisher on this run.
Hall also had two fumbles in each of his past two years. I think we've all learned our lesson about overrating fumbles in RB evaluation after Jonathan Taylor, and a RB fumbling just four times on 718 career carries is hardly a red flag. For me the clip below is more concerning as it relates to his lack of physicality. Hall takes a jarring hit at the end of the play and the ball pops loose even though it's not extended or moving. He's simply falling forward with low pads and still loses control. Sometimes he looks easier to tackle than you'd like.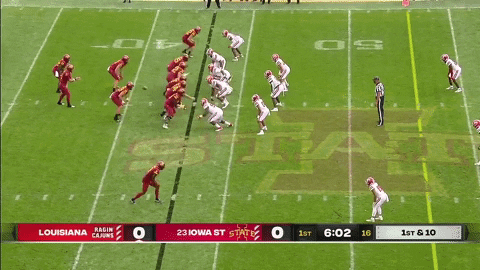 The clip below shows a finish to a run where he looks like he's about to stop his and take the brunt of the contact. Instead he gets help from his offensive line. His play strength doesn't stand out in the Big 12, so I don't expect him to be a powerful runner in the NFL.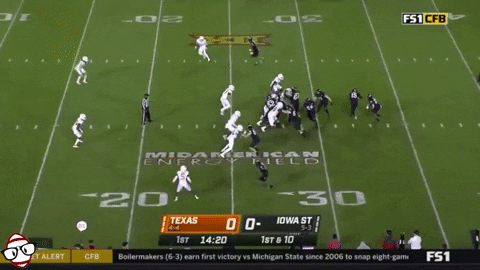 It's pretty encouraging that his lack of physicality is my one concern and I'm ending this section with a clip of him pushing a pile forward. Hall is really good.
NFL Outlook
Breece Hall is the clear RB1 based on film and most other advanced metrics. He pops on film and plays to his fast 40 time. I'm especially excited for his involvement in the passing game. Comparisons to Jonathan Taylor are fair to me, but keep in mind that Taylor went to a team with a bright offensive coach and one of the best offensive lines in football. And even he struggled early in his career.
Hall has the potential to be a special pro, but landing spot will dictate how quickly he'll start producing at a high level. Even though I project Hall to be a standout pro, I gave him a second round grade because I simply won't endorse any RB as a first round pick in today's NFL. However, I will admit that if there were ever a team that could convince me a RB would be the right pick in the late-first it would be Buffalo this year. They have a solid roster otherwise, pick late, and should definitely look to take some pressure and carries off of their star QB.
Thanks for reading and stay tuned for more draft content in the coming days.
Other Prospect Profiles
Download Our Free News & Alerts Mobile App
Like what you see? Download our updated fantasy football app for iPhone and Android with 24x7 player news, injury alerts, rankings, starts/sits & more. All free!


Win Big With RotoBaller
Be sure to also check out all of our other daily fantasy football articles and analysis to help you set those winning lineups, including this new RotoBaller YouTube video:


More NFL Rookie Analysis