The 2022 NFL Draft Prospect Profile series features prominent 2022 NFL Draft prospects with film analysis and scouting insights. I have experience working in college football and have been studying the NFL Draft for over 15 years. My analysis is based on film study and analytics. In 2021, I profiled nine of the top skill players in the draft. So far this season, I have written up profiles on Arkansas WR Treylon Burks, USC WR Drake London, Ohio State WR Garrett Wilson, Pittsburgh QB Kenny Pickett, Liberty QB Malik Willis, and North Carolina QB Sam Howell.
A common misconception about the NFL Draft is that the college and pro games are very similar. They are not. Besides the obvious difference in speed and skill level, a college field has different hash mark distances and different rules. There are specific schemes and plays that NFL teams copy from college and vice versa. But the differences between the two are understated in NFL Draft analysis. There's a reason many highly-productive college players are not considered legitimate professionals.
To that end, scouting prospects is not just about evaluating college performance, it's about projecting traits that translate to the next level. This is not limited to just physical traits. There are certain football traits that are evident in college film and will translate to the pro game. For example, a wide receiver being able to get in and out of breaks efficiently will not change from college to pro. On the flip side, an edge rusher who got most of his sacks due to hustle or missed offensive line assignments may not have shown translatable traits on film. We will continue our 2022 Prospect Profile series with Ohio State WR Chris Olave.
Featured Promo: Get any full-season NFL Premium Pass for 50% off and win big in 2023. Exclusive access to our Premium articles, 15 lineup tools, new Team Sync platform, Lineup Optimizer, Premium DFS tools and cheat sheets, and much more!
Sign Up Now!
Chris Olave is a 6-0, 187-pound speedster who produced 2702 receiving yards and 35 touchdowns during his four-year career at Ohio State. Olave passed on declaring last year as a Junior and went back to Columbus in 2021, when he led an historic Ohio State WR group with 13 touchdowns. Olave is commonly ranked behind fellow Buckeye Garrett Wilson, but he has a strong case to flip that. In fact, Olave being the first WR drafted isn't out of the question. He's that good. Let's dive into the film.
Deep Threat
Chris Olave's play speed is his most dominating physical trait. His ability to win deep down the field will make him very attractive to teams that emphasize stretching the field vertically. Teaming him up with a QB who can hit the deep ball would be deadly.
The clip below shows him blow by the outside leverage corner and run away from the safety. Even with a slightly underthrown ball, Clemson's DBs have no chance. Olave is more smooth than twitchy, and you can see how he sprints off his outside foot at the subtle breakpoint of the deep post route. This stuff translates.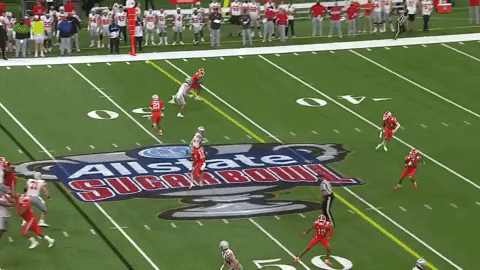 To be an excellent deep threat, tracking the football is an essential skill. Olave is fantastic at the catch point down the field. The clip below shows him extend and "stab late" so that he can run through the catch point. His hands are excellent. Also, while we can't see the route on the broadcast footage, his separation from the corner just gets wider as he reacts to the ball. That's play speed.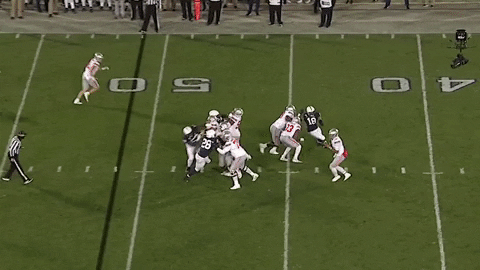 Olave is terrific at adjusting his body and placing his hands to make over-the-shoulder grabs. The catch below is extremely difficult, but he's able to secure it while leaning his body to the outside and keeping his feet in bounds. Notice how deliberate and focused his eyes are to the ball to complete the play. Brilliant stuff.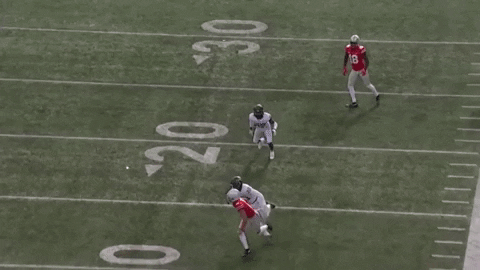 Olave's play speed shines through in other ways than just deep balls. In the clip below he runs a simple shallow cross. It's a 40-yard dash to the opposite side of the field and his separation from the defender just gets wider. He's literally exponentially faster.
Making it Look Easy
There is a lot of data that supports the notion that the best WR prospects are early declarees. Chris Olave stayed all four years at Ohio State and also never emerged as the true alpha on his team. However, it is super important to view each situation on a case-by-case basis, and I believe his film separates him from past busts with those two things in common. While Olave did choose to stay in school for his Senior year, it's not like he built his draft status as a Senior. He had already established himself as a first-round player. Also, we have seen way too many instances where two or more receivers on a college team had success in the NFL. Not separating yourself as the unquestioned alpha when the other guys around you are also special isn't a big deal. See Justin Jefferson.
Olave's return to school actually makes him one of the more mature and polished WRs in this class. He clearly understands passing concepts, how to set up routes, and use leverage to his advantage. You can't play as fast as he does without mastering the fundamentals of your craft and having 100% confidence in understanding your assignment on each play.
The clip below shows a simple curl route against zone coverage. Notice how fluid he is out of the break. He's not as twitchy as Garrett Wilson, but his smoothness and hip fluidity allows him to stem outside and win back downhill.
The more I watched Olave, the more I liked his route-running. He didn't gain separation on every single rep, but there was more than enough evidence that he can work the boundary against one-on-one coverage at the NFL level.
Olave also has excellent hands and made some very difficult catches. The clip below shows him climb the ladder against Rutgers, extend his arms and secure the catch along the boundary.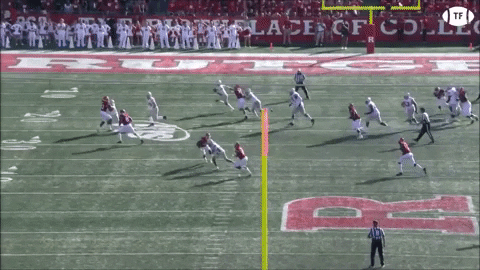 While not a huge run-after-catch threat, Olave's smoothness does translate when he transitions to a runner. The clip below shows him unsurprisingly win on the deep crosser and quickly flip his head and eyes around to burst upfield. He may have to jump to catch the ball because the defender is in his line of vision.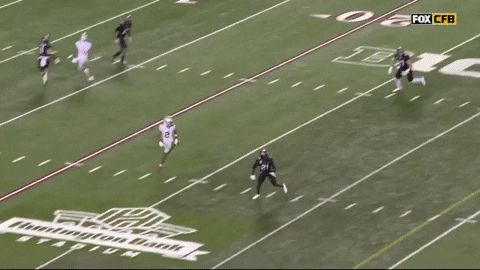 Weaknesses
The main question with Olave's translation to the pro game is how he'll deal with physicality. Olave is smooth and fast but he's not a physical player. How he deals with fast, physical DBs trying to rough him up will be key.
The clip below shows him getting re-routed fairly easily by the Penn State defender over him in the slot. He's pushed two full yards off his route and loses speed. This allows the outside corner to get hands on (yes possibly a slight tug), and either their feet get tangled or Olave just falls after being contacted. Regardless of whether or not it should be a penalty, this clip shows his play strength as below average.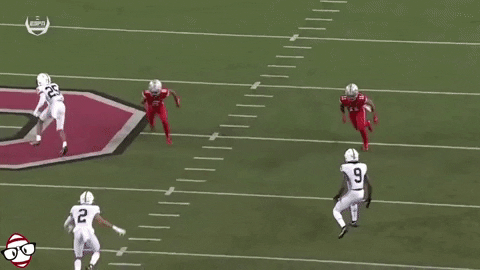 Olave struggling with physicality is a possibility. In the clip below he' asked to block a corner. He doesn't deliver a strike or move his feet, and his feeble attempt fails completely. His film showed a player that basically can't block. While there are ways to scheme around that, it's more an indictment on his lack of play strength than anything else.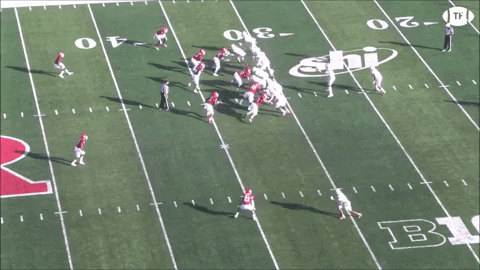 In addition to poor blocking and issues with physicality, there were instances on film of Olave struggling to separate on shorter routes. The route below is a simple hitch, but the DB does not buy him vertically at all. His strides are too obvious, his arms aren't pumping, and he reaches at the top of the break. It's a loss against man coverage.
There were other instances where his lack of twitch didn't allow him to layer moves on top of just winning with speed. For example, after stacking a defender, he wouldn't use a rocker step to fake one way and break to his corner route. This will allow good DBs to simply trail and make up ground when Olave has to change direction.
NFL Outlook
Chris Olave is an incredibly talented WR prospect with ideal play speed, hands, and ball-tracking ability. His smoothness, fluidity, and polish make him a dynamic player who projects to make a lot of big plays at the next level. Olave isn't the biggest run-after-catch threat, doesn't always get separation on short routes, and isn't a good blocker, but a lot of teams care more about what you can do than what you can't. If a team is looking for a deep threat, his game clearly translates to the NFL. I would be shocked to see Olave slip past the 20th pick, and I think he's a darkhorse candidate to be the first WR off the board and a top-10 pick. He's that good.
Thanks for reading and stay tuned for more draft content in the coming days.
Other Prospect Profiles:
Kenny Pickett - QB, Pittsburgh
Sam Howell - QB, North Carolina
Garrett Wilson - WR, Ohio State
Download Our Free News & Alerts Mobile App
Like what you see? Download our updated fantasy football app for iPhone and Android with 24x7 player news, injury alerts, rankings, starts/sits & more. All free!


Win Big With RotoBaller
Be sure to also check out all of our other daily fantasy football articles and analysis to help you set those winning lineups, including this new RotoBaller YouTube video:


More NFL Rookie Analysis