The 2022 NFL Draft Prospect Profile series features prominent 2022 NFL Draft prospects with film analysis and scouting insights. I have experience working in college football and have been studying the NFL Draft for over 15 years. My analysis is based on film study and analytics. In 2021, I profiled nine of the top skill players in the draft. So far this season, I have written up profiles on USC WR Drake London, Ohio State WR Garrett Wilson, Pittsburgh QB Kenny Pickett, Liberty QB Malik Willis, and North Carolina QB Sam Howell.
A common misconception about the NFL Draft is that the college and pro games are very similar. They are not. Besides the obvious difference in speed and skill level, a college field has different hash mark distances and different rules. There are specific schemes and plays that NFL teams copy from college and vice versa. The differences between the two are understated in NFL Draft analysis. There's a reason many highly-productive college players are not considered legitimate professionals.
To that end, scouting prospects is not just about evaluating college performance, it's about projecting traits that translate to the next level. This is not limited to just physical traits. There are certain football traits that are evident in college film and will translate to the pro game. For example, a wide receiver being able to get in and out of breaks efficiently will not change from college to pro. On the flip side, an edge rusher who got most of his sacks due to hustle or missed offensive line assignments may not have shown translatable traits on film. We will continue our 2022 Prospect Profile series with Arkansas WR Treylon Burks.
Featured Promo: Our friends at RIVAL Fantasy have created fun and unique DFS games including over/under contests and Fantasy Bingo. Use promo code BALLER to get a free year of RotoBaller Premium access ($199 value), and a $50 risk-free deposit.
Play Now!
Treylon Burks is a 6-2, 225-pound dynamic WR prospect who dominated the highest level of college football in the SEC. In his final year at Arkansas, Burks put up 66 catches for 1104 yards and 11 touchdowns. An early declaree, Burks also produced well as a Sophomore in 2020, when he put up 51 catches for 820 yards and seven touchdowns. His career yards-per-catch was 16.4, which underscores his big play ability. He also rushed for 222 yards and a touchdown throughout his career for the Razorbacks. Burks has desirable traits and an impressive production profile. Let's dive into the film.
Big-Time Playmaker
Evaluating prospects for the NFL draft is not just about judging college performance. It's more important to evaluate the translatable traits a prospect shows on film. Obviously, college performance and translatable traits often intersect, but there are instances where process matters more than results. This is part of the reason why athletic testing does matter to some degree. Seeing a guy run away from players in college doesn't mean he has that kind of juice for the NFL.
Treylon Burks only ran a 4.55 40 at the combine after seemingly playing much faster in games. The 40 is a quantifiable metric that does raise questions about his ability to run away from NFL defenders. On the flip side, Burks' undeniable playmaking, while unquantifiable, shows translatable traits.
Burks is a beast after the catch, and his size makes him tough to bring down. He also does an excellent job transitioning quickly to a runner after the catch. The clip below shows him get to the flat, make the catch and seamlessly transition upfield with the ball in the outside hand. This frees him up to give a stiff arm to the trailing defender. His transitioning to a runner after the catch and ability to make plays with the ball in his hands is special.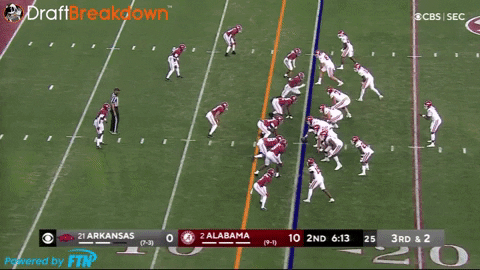 The clip below shows more special traits against Alabama's defense. Burks doesn't get much separation on his vertical route, but does a great job using handwork at the top of his route to get away from the defender. He has the hands and eyes to back-shoulder catch on verticals as well as anyone in this class. The quickness to flip his body to the ball will translate, as will the crazy acceleration to run away from Bama DBs.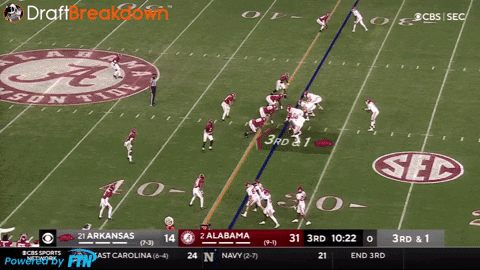 After watching his film, I expected Burks to run in the 4.4s. He plays faster than 4.55, and it's possible that his long speed simply isn't as fast as his burst. The good news is that running a 4.5+ is nowhere near a death sentence for a WR prospect. Some of the best WRs in the NFL ran 4.5 or slower, including Davante Adams and DeAndre Hopkins. If Burks was a 190-pound slot it would be an issue. As a 225-pound WR with his film, it's simply a footnote.
The clip below is another example of Burks transitioning to a runner quickly and using his size and strength to finish the play. Burks has to wait for an underthrown ball, but his arms continue working to the point where he can actually burst right after the catch. It's also clearly tough to bring him down. He's a pure playmaker.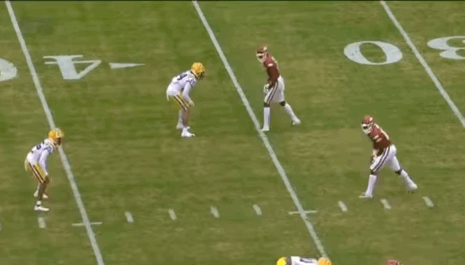 I wouldn't consider Burks a very technical receiver, and he's going to have to work on releases at the next level. However, there is a lot of good stuff in the clip below. Burks is not a great separator on initial releases or breakpoints, but he works his hands well in tight spaces to gain separation at the end of routes. The example below shows him subtly push off to run away from the press corner, continue pumping his arms without losing any speed, stack the DB, and finish the catch in stride.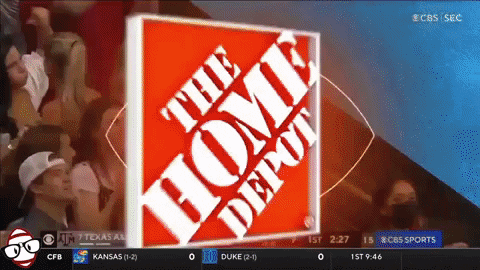 I hate to keep harping on his 40, but when D.K. Metcalf did this against Alabama, he also showed up at the combine and ran a sub-4.4. If Burks had done the same, no one would question whether the clip above translates or not. Because he ran 4.55, it's worth wondering if he really can gain this type of vertical separation against fast NFL corners.
Burks is adept at using his size at the top of routes, but his greatest strength might be his hands. Burks made special catches throughout his career, including the one below.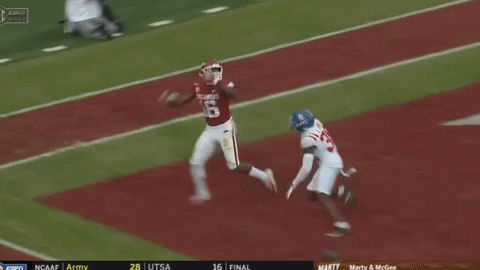 Burks only jumped 33 inches at the combine, but his ball-tracking while adjusting his body is fantastic. Also notice the grip strength with his right hand.
The catch below is similar in that he doesn't get that far off the ground but his dexterity and eyes are terrific. And again, the right hand grip strength and ability to get one foot down is just phenomenal. We will see Burks make some crazy one-handed catches in the NFL.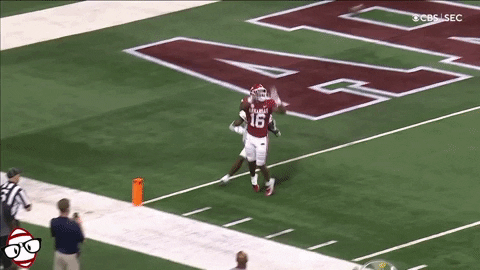 Separation in the NFL
Working backwards – we've seen Burks win after the catch, at the catch point, and hand-fighting. How is his route-running?
Burks detractors will likely point to a questionable translation in terms of getting separation on various breakpoints. I did see examples of him getting matched on speed cuts and being unable to gain separation on curls. However, the clip below shows an effective sail route. Burks has the physical tools to get out of speed breaks cleanly. The question is whether or not he can master square or sharp breakpoints that require him to sink his hips.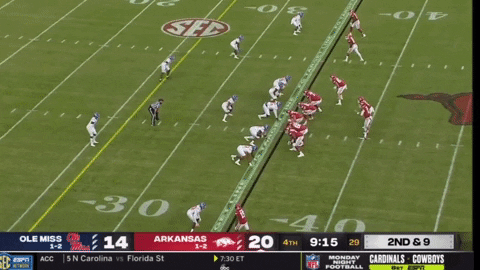 The clip below shows a missed opportunity with limited separation. The Alabama defender is able to stay sticky on Burks' hip and influence the play. Burks has a lot of potential as a big slot, but his quickness will be tested against fleet-footed nickel corners and safeties.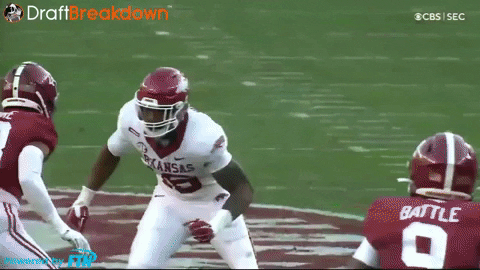 Can he separate at the next level is the essential question in Burks' evaluation. I think he can and will. He is best suited in a scheme where he can play inside and utilize his big body to find windows against zone.
The final on-field issue with Burks' film was a tendency to get lazy, especially as a blocker. The clip below shows him get pushed back by a smaller DB. He doesn't strike his hands or get his hips in the block. I don't believe he is as physically weak as shown on this clip, so it looks like laziness.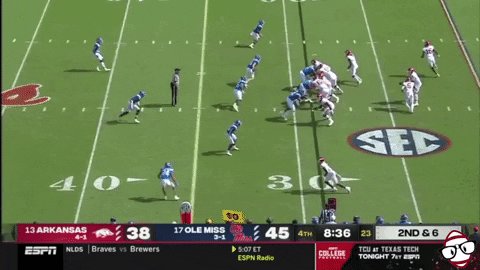 NFL Outlook
Treylon Burks has the traits teams want in a big-bodied versatile playmaker at WR. He can play inside or out and mostly wins at the catch point and after the catch. His burst, size, and hands make a deadly combination. Burks is unpolished as a route-runner, and might not ever be the most technical or precise outside threat. However, his ability to produce in the SEC shows an undeniable playmaking trait regardless of great technique or quickness on certain breakpoints.
There's bust potential here, but Burks has a high ceiling depending on the situation he's drafted to. I am struggling to separate the top five WRs in this class. All of them have a legitimate claim to be the top WR off the board. In terms of fantasy value, situation and draft capital will be crucial.
Thanks for reading and stay tuned for more draft content in the coming days.
Other NFL Rookie Profiles
Download Our Free News & Alerts Mobile App
Like what you see? Download our updated fantasy football app for iPhone and Android with 24x7 player news, injury alerts, rankings, starts/sits & more. All free!


Win Big With RotoBaller
Be sure to also check out all of our other daily fantasy football articles and analysis to help you set those winning lineups, including this new RotoBaller YouTube video:


More NFL Rookie Analysis