The 2022 NFL Draft Prospect Profile series features prominent 2022 NFL Draft prospects with film analysis and scouting insights. I have experience working in college football and have been studying the NFL Draft for over 15 years. My analysis is based on film study and analytics. So far this season, I have written up profiles on Ohio State WR Chris Olave, Arkansas WR Treylon Burks, USC WR Drake London, Ohio State WR Garrett Wilson, Pittsburgh QB Kenny Pickett, Liberty QB Malik Willis, and North Carolina QB Sam Howell.
A common misconception about the NFL Draft is that the college and pro games are very similar. They are not. Besides the obvious difference in speed and skill level, a college field has different hash mark distances and different rules. There are specific schemes and plays that NFL teams copy from college and vice versa. But the differences between the two are understated in NFL Draft analysis. There's a reason many highly-productive college players are not considered legitimate professionals.
To that end, scouting prospects is not just about evaluating college performance, it's about projecting traits that translate to the next level. This is not limited to just physical traits. There are certain football traits that are evident in college film and will translate to the pro game. For example, a wide receiver being able to get in and out of breaks efficiently will not change from college to pro. On the flip side, an edge rusher who got most of his sacks due to hustle or missed offensive line assignments may not have shown translatable traits on film. We will continue our 2022 Prospect Profile series with Cincinnati QB Desmond Ridder.
Featured Promo: Get any full-season NFL Premium Pass for 50% off and win big in 2022. Exclusive access to our Premium articles, 15 lineup tools, new Team Sync platform, Lineup Optimizer, Premium DFS tools and cheat sheets, and much more!
Sign Up Now!
Desmond Ridder is a 22-year old senior QB prospect who helped propel Cincinnati to new heights under Luke Fickell. The Bearcats became the first-ever Group of Five team to make it to the College Football Playoff in 2021, and Ridder was a huge reason why. His 44-6 record as a starter underscores his ability to lead and win. Ridder completed just 62.1% of his passes in his four years at Cincinnati and will be 23 when his rookie year starts. While his college performance was undoubtedly terrific, it's important to separate college results from traits that translate. Let's dive into his film.
In Structure and In Rhythm
Desmond Ridder is the most polished QB in this class from an experience, maturity, and mechanics perspective. When he's on time and in rhythm, he has a good tempo and quiet feet in his drops. When balanced with good feet, he's naturally accurate with the football. He also shows good touch on different types of passes that need to be dropped in.
The clip below shows him ID the one-on-one matchup with his best receiver and place a ball perfectly along the boundary.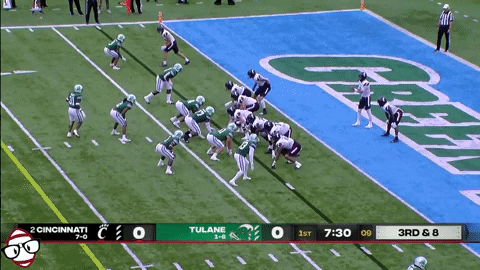 Ridder excels working the middle of the field and a lot of his best production came on seam routes. In the clip below, he works the one-high safety with his eyes and delivers a strike in the hole to the number two receiver. He frequently hit the TE in this area as well.
Here's Ridder showing off his touch and arm, placing a perfect ball over the linebacker without hitching up in the pocket.
The clip below is more on-time accuracy near the hash to his TE. Ridder threw 30 touchdowns and just eight picks as a senior. His film looks like someone who can be efficient if he masters his offense.
Ridder's ability to hit the seam route and drop the ball in with touch shines on film. Another route he was really good at throwing was the dip dig. In the clip below, he uses play-action and a five-step drop to deliver a seed on time to the in-breaking receiver.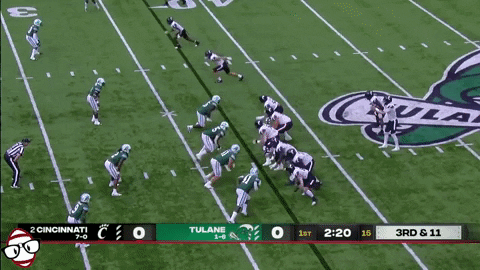 The clip below shows more of the same. This time with a three-step drop and a hitch. When his base is solid and the pocket is clean, Ridder looks as good as any QB in this class.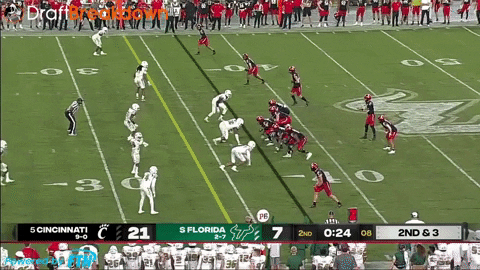 Here's another deep dig route delivered on time with great accuracy. The Mike hangs on the Y-Cross long enough for Ridder to fit it in under the high safety.
Does his Processing Translate?
Desmond Ridder dominated most of his competition but did not look great in the College Football Playoff Semifinal against Alabama. I prefer to weigh the level of teammates more than the level of competition when evaluating QBs, and Ridder's teammates were more talented than most teams they faced. The few times they weren't, he did not play as well. Ridder clearly struggled reading the more complex Alabama defense.
My main critique of Ridder's game is his tendency to hang on his primary read for too long. Related, I'm not sure his internal clock will allow for a smooth adjustment to the speed of the NFL game. For a seasoned QB who will be 23 in his first NFL game, it's not ideal.
The clip below shows the Alabama defense playing Tampa 2 with a twist upfront. Ridder is trying to work the dagger concept to the field but completely botches the read. Once the hook/curl defender carries number two, Ridder's eyes should quickly move down to the wide-open shallow cross coming from the boundary. Instead, it's a sack.
Directly from my notes - "taking sacks... it's Tulane c'mon." The clip below shows three over three to the field and an RB perimeter screen. I don't know why he doesn't go there. Instead, he looks for the solo slant against a low safety and a dropping DE. Another sack that's 100% on him.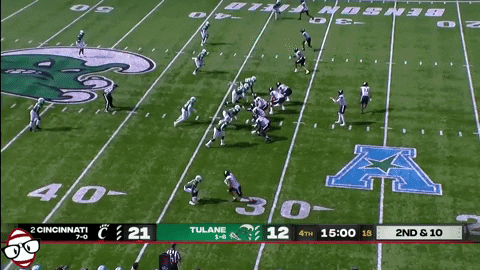 The clip below is another misread that should have resulted in a pick-six. The Bearcats call a mirrored two-man stick concept backed up. Ridder's first read is the flat route, and he chooses to try to stick it in when it's covered.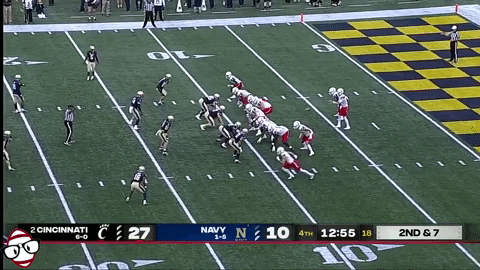 The clip below is more of him staring at his primary receiver even when the coverage dictates that he should look elsewhere. The Navy defense rotates to the field and Ridder still tries to fit in his deep out. He should either come down to the short one or work to the boundary.
The clip below again shows him staring down his primary receiver instead of moving on. The safety is hanging on the dig the whole way through. Even if the WR doesn't fall, he's taking a big hit. This could've been picked one way or the other.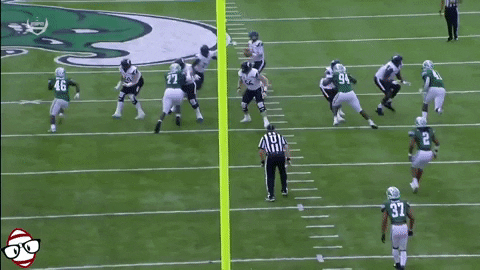 Ridder is not the most naturally accurate passer when off-platform. In fact, it's probably fair to describe his throwing habits as robotic. When in structure and on time, he looks great. The problem is that so much of the NFL game is second-reaction plays and making something happen. Ridder has wheels, but his playmaking outside the structure of the offense leaves something to be desired.
The clip below is a simple glance RPO from boundary one. It's the right read, but things get a little messy in front of Ridder. It's one of too many misses.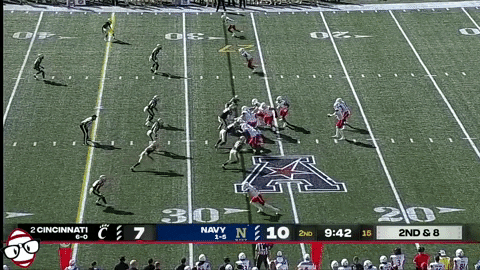 The clip below is a perfect example of Ridder being uncomfortable with second-reaction plays. He steps up the pocket and tries to throw off-platform to the dig route. It's behind his receiver and a near pick. No offense to the Navy but NFL DBs are going to be a lot faster, smarter, and better at disguising coverages. Ridder might be more polished than Malik Willis, but his jump in the level of competition will be similarly steep.
NFL Outlook
Desmond Ridder ran a blazing 4.52 40 at the combine and rushed for a 91-yard touchdown against SMU. He has the physical gifts and intangibles teams want at the QB position. Unfortunately, there is a lot more to playing QB in the NFL than just college performance, and Ridder's issues with processing, hanging on primary reads, and placement lapses make him a risky bet. When on-time and in structure, he looks like a franchise QB, but I have a hard time endorsing a guy who doesn't look natural as a second-reaction baller.
In the NFL, you need to be a quick processor and a playmaker when things aren't perfect. I wouldn't fault a team for taking a chance on Ridder on the draft's second day. He has a capable arm and throws well from the pocket.
Thanks for reading and stay tuned for more draft content in the coming days.
Other Prospect Profiles:
Kenny Pickett - QB, Pittsburgh
Sam Howell - QB, North Carolina
Garrett Wilson - WR, Ohio State
Download Our Free News & Alerts Mobile App
Like what you see? Download our updated fantasy football app for iPhone and Android with 24x7 player news, injury alerts, rankings, starts/sits & more. All free!


Win Big With RotoBaller
Be sure to also check out all of our other daily fantasy football articles and analysis to help you set those winning lineups, including this new RotoBaller YouTube video:


More NFL Rookie Analysis