The 2022 NFL Draft Prospect Profile series features prominent 2022 NFL Draft prospects with film analysis and scouting insights. I have experience working in college football and have been studying the NFL Draft for over 15 years. My analysis is based on film study and analytics. So far this season, I have written up profiles on Cincinnati QB Desmond Ridder, Ohio State WR Chris Olave, Arkansas WR Treylon Burks, USC WR Drake London, Ohio State WR Garrett Wilson, Pittsburgh QB Kenny Pickett, Liberty QB Malik Willis, and North Carolina QB Sam Howell.
A common misconception about the NFL Draft is that the college and pro games are very similar. They are not. Besides the obvious difference in speed and skill level, a college field has different hash mark distances and different rules. There are specific schemes and plays that NFL teams copy from college and vice versa. But the differences between the two are understated in NFL Draft analysis. There's a reason many highly-productive college players are not considered legitimate professionals.
To that end, scouting prospects is not just about evaluating college performance, it's about projecting traits that translate to the next level. This is not limited to just physical traits. There are certain football traits that are evident in college film and will translate to the pro game. So, we will continue our 2022 Prospect Profile series with Ole Miss QB Matt Corral.
Featured Promo: Get any full-season NFL Premium Pass for 50% off and win big in 2022. Exclusive access to our Premium articles, 15 lineup tools, new Team Sync platform, Lineup Optimizer, Premium DFS tools and cheat sheets, and much more!
Sign Up Now!
Matt Corral is a talented and productive QB prospect who had a lot of success in a stat-friendly offensive scheme in the SEC. Corral completed 70.9% of his passes for 3337 yards, 29 touchdowns and 14 interceptions during his Redshirt Sophomore season, and followed that up with a 67.9 completion % for 3349 yards, 20 TDs and just five picks this past year as a Redshirt Junior.
Corral also produced with his legs, rushing for 1338 yards and 18 touchdowns throughout his career at Ole Miss. Corral battled two ankle injuries last season and was unable to participate at the combine. He did show off his arm to NFL teams at his pro day, where he excelled against air. Corral is talented and his production profile in the SEC is impressive, but his film shows flaws in his game. Let's dive in.
Athletic Gunslinger
Desmond Ridder is a bit robotic, Malik Willis is inconsistent, Kenny Pickett is somewhat unremarkable, and Sam Howell has some mechanical issues. Matt Corral has the fewest question marks in terms of projecting his traits translating, as he's shown them against the top competition in college football in the SEC.
Corral is athletic and has obviously decent arm talent. He also plays with a gunslinger mentality that is almost required for NFL success at this point. While Corral mastered his RPO-heavy offense, his quick decision-making trait on second-reaction plays looks to be translatable.
The clip below shows Corral at his best in a tough spot. Alabama gets a free rusher right through the A-Gap and Corral is still able to escape, spinning out to his left and throwing a well-placed ball to the deep post. It wasn't a completion, but it showed translatable traits in athleticism and arm talent.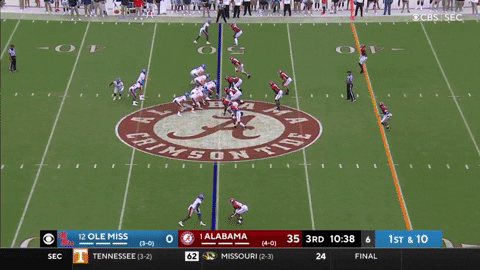 Corral plays fast and produced well as a rusher for Ole Miss. His elusiveness in QB run game concepts shined through, as you can see in the clip below. Besides the obvious broken tackle, notice the natural stairstep to maximize yardage. His legs will be very attractive to offensive play-callers.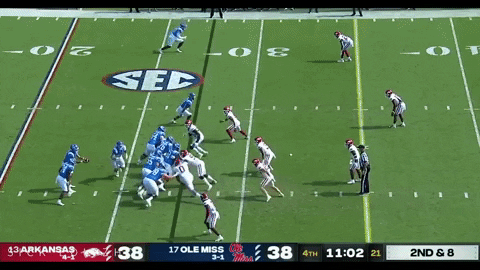 Corral's best fit is in an RPO-heavy offense that accentuates his playmaking on the edge.
The clip below shows a sprint-out concept that highlights his ability to throw on the run and off-platform. In the face of pressure he delivers an accurate ball to the wheel route. It's special stuff.
The clip below is more sprint-out with good accuracy and ball speed. This time at the goal line he reads the speed out win against man and delivers a strike with quick release.
The passing concept Corral liked most was clearly double slants. He executed the read correctly in quick game and on RPOs. The clip below shows him zing it in there to the number two receiver before the Mike can get there. His release and ability to locate slant throws translates.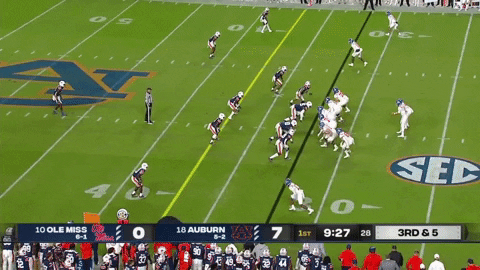 Corral shows the ability to execute in structure as well as creatively out of structure. The clip below is an on time rhythm throw to the backside on a three-step drop with a hitch. Corral missed some throws, but a 67.3 completion percentage in the SEC is quite impressive no matter the offensive scheme.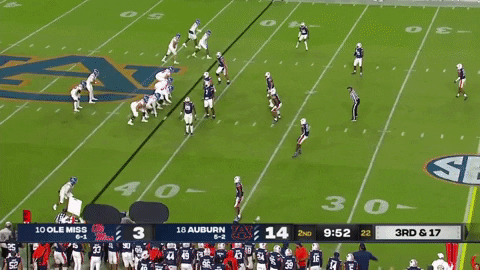 The clip below shows a one-step, gather, hitch to work the boundary one-on-one. The trajectory of the ball and placement are perfect. Corral is extremely talented.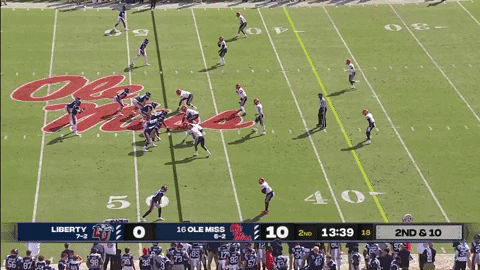 Accuracy Inconsistencies
Simply put, Corral missed more throws on film than I want from a first-round QB. His completion percentage was clearly inflated by a ton of slants and RPO throws, and while there were many reps where his accuracy was right, there were too many where he just flat-out missed the target. Some QBs are consistently accurate where they can get the ball to their intended receiver (think a pitcher's control) but struggle with placement to where they can't locate it to allow that player to run after the catch or finish the catch in traffic (think a pitcher's command).
Corral's issue is more accuracy than placement, which is concerning. I tried to pinpoint a mechanical reason for his inconsistent accuracy, but nothing stood out from his lower body. The only oddity is in his quick release, as the ball comes out from a lower release point (almost like it's resting on his shoulder) than most QBs. That's not something I see him changing, although Aaron Rodgers is an example of a QB who changed his release point early in his NFL career.
The clip below shows a bad overthrow in a clean pocket. This is alarming inaccuracy.
The clip below shows a slightly missed underthrow, again with a clean pocket. This is an example of poor placement.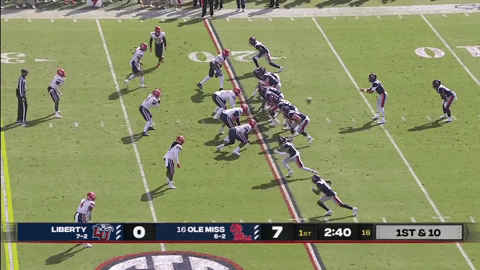 The clip below shows an overthrow on a slant. It doesn't make much sense that Corral could look so good throwing slants and inexplicably miss throws like this one.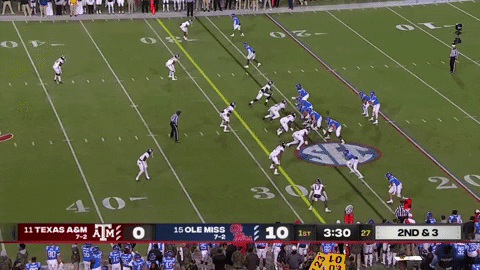 The clip below shows him face some pressure and have to move to his left. It's a bad miss to a wide open receiver.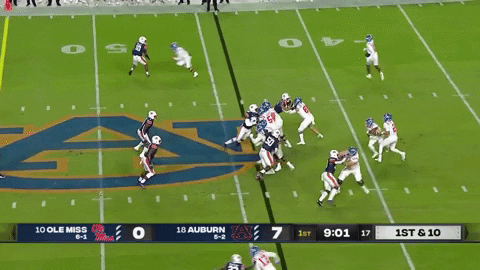 The clip below is an example of accuracy vs placement. This is an easy throw to the back and should be placed on his upfield shoulder so that he can outrun the pursuit. Instead it's placed on the near shoulder which slows down the back.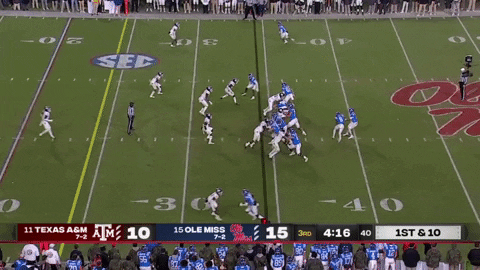 Corral doesn't have a huge arm by NFL standards, so when you mix that with bouts of inaccuracy and poor placement, you get serious second thoughts about his translation to the pro game. There is a lot to like in Corral's game, but there's a reason no QB has shot up the board this draft season.
NFL Outlook
Matt Corral is athletic and talented and produced well in the SEC. He also might be the best decision-maker in this class and has the fewest question marks regarding his internal clock translating. However, Corral's main issues are physical inconsistency as a passer. Poor placement on deep balls is one thing, but he placed too many screens poorly as well. Corral also fumbled too much and will need to adjust to a completely different world in terms of drop-back and under-center NFL plays.
I would struggle to take him in the first two rounds, but I have no doubt a team will take him early. In 2016, I had questions about Dak Prescott, especially in terms of bouts of inaccuracy. Like Corral, Prescott's completion percentage in the SEC didn't match up with my notes about his accuracy. Dak proved me wrong, and with the right team fit, Corral has the talent to do the same.
Thanks for reading and stay tuned for more draft content in the coming days.
Other Prospect Profiles:
Kenny Pickett - QB, Pittsburgh
Sam Howell - QB, North Carolina
Garrett Wilson - WR, Ohio State
Desmond Ridder - QB, Cincinnati
Download Our Free News & Alerts Mobile App
Like what you see? Download our updated fantasy football app for iPhone and Android with 24x7 player news, injury alerts, rankings, starts/sits & more. All free!


Win Big With RotoBaller
Be sure to also check out all of our other daily fantasy football articles and analysis to help you set those winning lineups, including this new RotoBaller YouTube video:


More NFL Rookie Analysis