Welcome RotoBallers to my Anthony Richardson NFL Draft rookie profile. The 2023 NFL Draft Rookie Profile Series features eminent 2023 NFL Draft prospects with film analysis and scouting insights. I have experience working in college football and have been studying the NFL Draft for over 15 years. My analysis is based on film study and analytics. For the past two years, I wrote up profiles on the top offensive skill position prospects in each class. Here are some of my past profiles:
A common misconception about the NFL Draft is that the college and pro games are very similar. They are not. Besides the obvious difference in speed and skill level, a college field has different hash mark distances and different rules. There are specific schemes and plays that NFL teams copy from college and vice versa. But the differences between the two are understated in NFL Draft coverage. There's a reason many highly-productive college players are not considered legitimate professionals.
To that end, scouting prospects is not just about evaluating college performance, it's about projecting traits that translate to the next level. This is not limited to just physical traits. There are certain football traits that are evident in college film and will translate to the pro game. We will continue our 2023 Prospect Profile series with Florida QB Anthony Richardson.
Editor's Note: Our incredible team of writers received 13 award nominations by the Fantasy Sports Writers Association including Baseball Writer of the Year, Football Writers of the Year, Golf Writer of the Year and many more! Be sure to follow their analysis, rankings and advice all year long, and win big with RotoBaller!
Read More!
Anthony Richardson is a 21-year-old QB prospect who started just 13 games in three years at Florida and led the Gators to a 6-6 record as a Redshirt Sophomore in 2022. Richardson only completed 54.7% of his passes throughout his career and had a 17:9 TD:INT ratio in 2022. Richardson oozes upside and has moments on film that indicate that he "gets it." Physically, he has the size and tools NFL teams want in a franchise QB. Let's dive into the film.
The Dual Threat Prototype
If you wanted to build a pro quarterback in a lab, Anthony Richardson would be the physical template to start with. Richardson has the size (6-4, 244), speed (4.44 40-yard dash), explosiveness (broke both vertical and broad jump QB records at the combine), and strength of an elite professional athlete. With availability being the most important ability, NFL teams will love Richardson's size as it relates to projected durability. Too many young QBs see their growth stunted due to missed time.
As far as playing the QB position goes, Richardson's film is up-and-down, to say the least. He flashes unbelievable highlights but also very concerning lowlights. NFL teams care more about what a player can do than what they can't, and Richardson is versatile and dynamic.
His arm is strong and he's incredibly mobile for his size. He can play from the pocket, create out of structure, and make plays with his legs. He's also a weapon in the run game, which offensive coaches will love. Some mobile QBs lack the size to be counted on in terms of designed QB runs. Richardson's film makes me believe he can handle a QB run-game package each week, which gives the offense an extra blocker and opens up a lot for a playcaller, especially down near the goal line.
First, his arm. Richardson can sling it with anyone. In the clip below, he hitches up after a play-fake and quick five-step drop, transferring his weight to deliver a perfect ball 50 yards downfield. The receiver is wide open, but the ball is placed where he catches it in stride.
In the clip above, notice how Richardson takes a hit just after releasing the football. He keeps his eyes downfield in the face of pressure and is unfazed. Richardson never plays scared and has unteachable toughness instincts. Even though he has flaws as a player, I think his confidence in terms of dealing with physicality plays at the next level.
The clip below is similar. When Richardson knows what he's looking at, he looks like a No. 1 overall pick. Here, he hits his cross-runner in stride with velocity as a free blitzer comes off the edge. It's a three-step drop with a hitch and shows his arm strength when he transfers his weight.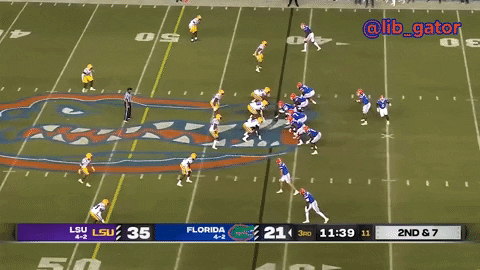 The clip below isn't meant to be a clinic rep about the passing game. What's more important is to highlight Richardson's traits. It's just a three-man rush, so his first read is covered. He is able to flip his eyes to the other side of the field and delivers a rope into a tight window. The ball velocity on the run translates.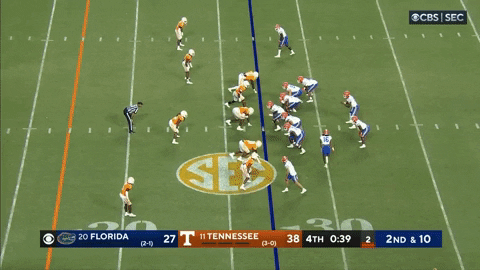 At his best, Richardson looks like he "gets it." He throws the ball away when he should, and tucks and runs when the situation warrants it. Is he the most polished quarterback in the draft? Absolutely not. But he's only 21 and flashes game-changing ability.
In the clip below, he works to a secondary read and hits a curl route to the No. 1 receiver in the bunch. It's exactly what you're looking for in terms of moving on in a progression.
There's really no point in breaking down Richardson's running ability too far in-depth. He can run power read and will absolutely be a threat on the ground the second he steps on an NFL field. There are instances of him pushing piles and he had an 81-yard touchdown run against LSU. His 4.44 40 at 244 pounds corroborated his freakish speed for his size.
The tweet below shows off his instincts and physicality. SEC defenders bounce off of him and he's quick enough to make people miss. Having the guts to even try these moves bodes well for his confidence and instincts translating to the NFL.
The Highs are Really High
Richardson is a baller. He shows good ball-handling in terms of play-fakes and mesh points and broke tackles against Georgia's basically-professional defense. Direct from my notes: "drags SEC dudes."
The clip below shows some creativity versus not one but two free rushers after a naked bootleg. It shows off his instincts and quickness.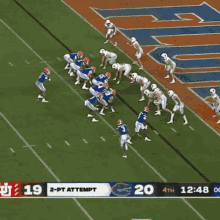 The clip below is similar and shows his arm talent in the face of a free rusher again. Richardson is airborne and throws a perfectly placed dot for a touchdown.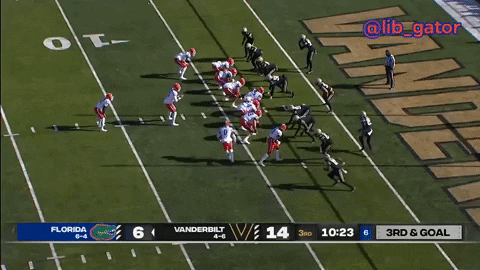 The clip below is more evidence of his ability to deliver strikes on the run. AR is wise to move right away from the undisciplined rush of the Georgia defensive line. The result is a bullet to a sitting receiver in a tight window 23 yards down the field.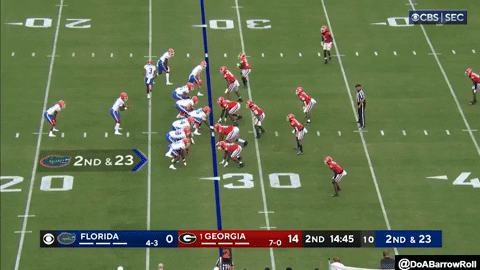 The clip below is interesting from an X's and O's perspective, and the defense actually baits AR into a sub-optimal decision. However, I like that he has the power and confidence to make this check at the line of scrimmage in his offense. And to top it all off, he places the cover two-hole shot in a great spot.

In the clip above, his mechanics aren't great as he fades left, but you can see the arm talent as the ball is dropped in behind the corner and away from the safety.
At his best, Richardson flashes the ability to hit deep balls as well as anyone in this class. In the clip below, he drops a dime 60 yards downfield to hit his post for a touchdown.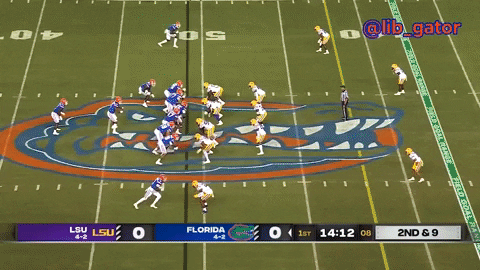 The clip below is another rep of good footwork and an on-time dime down the field. Richardson's eyes get the safety to stay middle to give his left WR the one-on-one. The WR barely wins but the ball is dropped in so perfectly that it doesn't matter. 47 yards in the air dropped in the bucket. For a guy with a sub-55% completion rate, there sure are a lot of clips of well-placed deep balls on his film.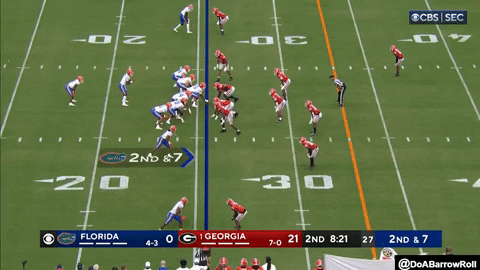 At the combine, Richardson wowed the NFL world with his insane athletic testing numbers. However, his performance in on-field drills as a passer may have been equally as beneficial to his stock. He showed the ability to throw without a hitch, and was generally accurate, missing just a few throws. Most impressively, he confirmed what we saw on film - his deep ball can be great.
Can He Minimize the Lows?
There is no doubt that Anthony Richardson has the traits that translate to developing into a successful NFL QB. He's a dog, he's a baller, he's smart, and he's extremely talented. That all shines through on film. He's not going to play timidly like Zach Wilson and played more impressively against top competition than Malik Willis. However, his lows in terms of accuracy and placement raise major questions about him reaching his potential in the NFL.
When trying to figure out why he's so inconsistent in terms of placement, I looked at his lower half when delivering the ball. Richardson looks much more comfortable after a hitch when he can transfer his weight forward. In the clip below, he misses a wide-open seam off a three-step drop and no hitch up in the pocket.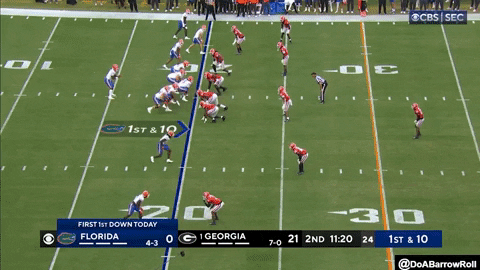 Richardson wasn't particularly good in terms of performance against Georgia this year. He went just 18 for 37 and couldn't get anything going on the ground either. It's definitely not a death sentence to struggle a bit against Georgia, and while he did flash elite traits, he also left some plays on the field, including the seam above and a missed wide-open wheel to the boundary.
The clip below is tough to defend in any way. Richardson's left leg locks up and he double-clutches before missing a wide-open receiver in the boundary flat. There were too many of these types of easy misses on film.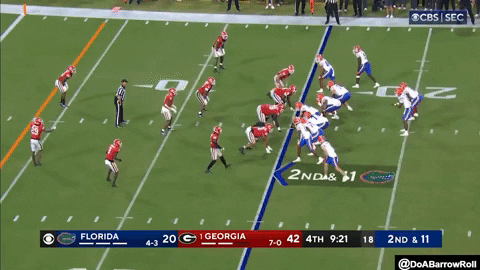 The clip below is another miss, this time on the run. AR has a wide-open crosser but overthrows him.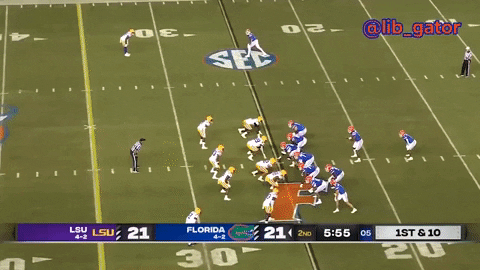 The bust case for Richardson is scary because if he were to flame out in the NFL, it would be very easy to say everyone should have seen it coming. He was inconsistent in terms of placement and decision-making and didn't produce well as a starter.
The clip below is an example of poor decision-making. It's actually an impressive throw from a physical traits standpoint, but he inexplicably didn't see the corner undercut the route.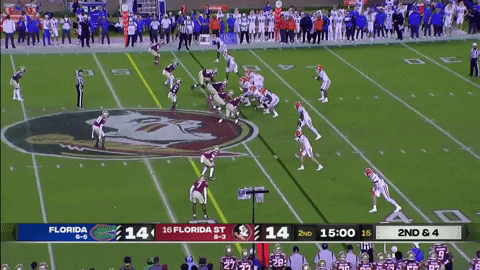 Richardson is a tantalizing talent, but he's rough around the edges, to say the least. There are simply too many misses on film.
NFL Outlook
Anthony Richardson might be Him. NFL teams searching for a franchise quarterback will surely be intrigued by his physical tools and instincts. Simply put, he's a baller. However, accuracy issues and a lack of polish make him a risky investment with a low floor. Like with all draft prospects, his ultimate fate will be decided by his ability to transition to being a pro and adjusting to a very different, faster pro game.
Richardson was Academic Honor Roll at Florida and plays like he gets it. Historically, it is rare for a QB to put up poor numbers in college and then produce better stats as they move up to the NFL. Richardson can buck that trend with the right situation and growth in the accuracy department. I expect him to be drafted in the top half of the first round, and will likely target him in dynasty, re-draft, and even deep best ball leagues.
Thanks for reading and stay tuned for more draft content in the coming days.
Download Our Free News & Alerts Mobile App
Like what you see? Download our updated fantasy football app for iPhone and Android with 24x7 player news, injury alerts, rankings, starts/sits & more. All free!


Win Big With RotoBaller
Be sure to also check out all of our other daily fantasy football articles and analysis to help you set those winning lineups, including this new RotoBaller YouTube video:


More NFL Rookie Analysis