We'll be doing this roundup of points leagues every week here at RotoBaller, with waiver wire targets and streaming pitchers being evaluated in terms of the different scoring systems of ESPN, Yahoo!, CBS, and Fantrax.
Player values can vary wildly from platform to platform, so we'll make sure to highlight where players are the best and worst fits. We know points league players get neglected and we're here to help.
These waiver-wire adds are for the week of July 26 - August 1, looking at players below 50% rostered for ESPN and Yahoo! Stats and rankings are calculated using games through Friday, July 23.
Featured Promo: Get any full-season MLB and DFS Premium Pass for 50% off. Exclusive access to our Team Sync platform, Premium articles, daily Matchup Rating projections, 15 lineup tools, DFS cheat sheets, Research Stations, Lineup Optimizers and much more!
Sign Up Now!
Know Your System
If you've read me even a little, you likely know what I'm going to say...You must account for, as precisely as possible, how a player performs under your particular scoring system. Don't be fooled into believing you can just make rough adjustments in your head, bumping up guys with high on-base percentages and low strikeout rates. Every point, in every category, counts.
For example, ESPN and Fantrax are virtually identical in their scoring for hitters and roster size. The only difference is that stolen bases are worth one more point on Fantrax and ESPN subtracts one point per strikeout. That's the difference between Ronald Acuna Jr. being a top-five hitter versus top-20.
If your league uses standard settings, then great! Turn to page 94 and you can skip ahead to the leaderboards. If you play with custom settings, it'll still be fine. Go back to page 43 and look below at the scoring systems of the four major platforms. I bet there's a chance that you'll find that your league's scoring is very similar to one of the four (well, not Yahoo!'s), even if it's not the platform you actually play on.
For example, my home league started on a now-defunct platform before moving first to ESPN and is now at Fantrax. But our scoring is basically ESPN standard only with two points for stolen bases and a handful of other minor adjustments.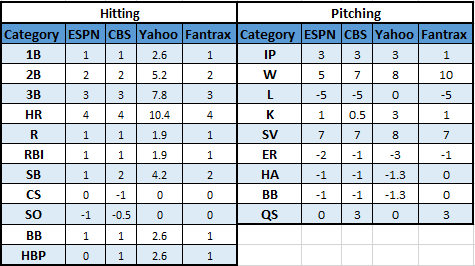 If you look above, you'll likely find a suitable mirror to your own system. While every point counts, as long as they aren't seismic changes you can get away with some "close enough" calls. IE. If everything is the same except for HBP (or something similar), you're probably fine.
Waiver Wire Leaderboards
In addition to our overall waiver wire leaderboards, we're deep enough into the season that we'll also start doing a 14-day leaderboard (21 days for pitchers), as well, giving us a window into recent production. The charts are updated prior to Saturday's games, on stats and ownerships. All leaderboards, overall and 14-day, are sorted according to the player's APR*, and clicking on a chart will open a new page with a magnified version.
*APR = Average Platform Ranking - the average platform ranking between ESPN, CBS, Yahoo, and Fantrax (standard point settings)
The Hansels
Let the recency bias wash over you because these players are just so hot, right now. So, just for fun, let's start making a chart of the players in the top-100 of APR over the last two weeks before diving into the position-by-position analysis.
First Base
Must Add
Joey Votto, CIN - Week by week, Votto's ownership moves slowly up. That's probably because he has a 126 APR even after missing over a month to injury. He has a 75 APR over the last two weeks and is sporting a .360 wOBA for 2021, backed by an even more impressive .382 xwOBA.
C.J. Cron, COL - Even with a week's worth of road games, it looks like we've finally inched into full-on Cron-time. Cron has a 38 APR over the last two weeks but is particularly useful in leagues with a strikeout penalty (like ESPN and CBS) due to his elite 20.9% K%.
Can Add
Desperate Adds
Notable IL
Second Base
Must Adds
Kike Hernandez, BOS - Hernandez just refuses to stop hitting, with .375 wOBA since the start of June and posting a 14 APR over the last two weeks. Hernandez has now batted leadoff in his last 21 games and this train doesn't look like it's slowing down, as he's slashing .333/.406/.815 with a .488 wOBA since returning from the All-Star Break.
Cesar Hernandez, CLE - Hernandez keeps quietly doing his thing, with a 66 APR on the year, and a 56 APR over the last two weeks. It's nothing flashy, he just compiles from the top of Cleveland's order.
Can Adds
Desperate Adds
Notable IL
Third Base
Must Adds
Jeimer Candelario, DET - Whoa! A must-add player at the hot corner? It's been a while but it's time to give Candelario some must-add love for the first time in a few months, who has a modest six-game hit streak, over which he's slashing .381/.458/.714, with a .490 wOBA. But to be fair, his recent hotness started before last week. Since the start of July, Candelario is slashing .302/.405/.524 over 74 PA, with a .397 wOBA and 153 wRC+. And while the overall production is excellent, so is his quicky falling strikeout rate; his 25.2% K% in April/May has dropped to a 19.2% K% since June 1:
Can Adds
Yandy Diaz, TB - Diaz has actually been really good lately, posting a 74 APR over the last two weeks, with his 15.1% K% and 15.4% BB% providing even more value in leagues with a strikeout penalty. The problem is that his playing time is in for a big squeeze following Tampa's acquisition of Nelson Cruz. Sharing time at first and third base with left-handers Ji-Man Choi and Joey Wendle - and with the DH now locked down by Cruz - Diaz will likely be getting the short-end of the platoon stick.
Maikel Franco, BAL
Hunter Dozier, KC
Desperate Adds
Notable IL 
Shortstop
Must Adds
Miguel Rojas, MIA - Finally! After living in this space for weeks prior to the broken finger injury that caused him to miss three weeks, Miguel Rojas is back, baby. Granted, he's gone 0-for-13 in his past three games but after staying on the skids following his return from injury on July 18, it seems that Rojas has found his hit stick again. Rojas is slashing .316/.361/.421 since July 1 and has a 51 APR over the last two weeks.
Can Adds
J.P. Crawford, SEA - Crawford has slowed down lately, slashing .114/.162/.114 since the All-Star break but should continue to be a decent compiler as long as he's holding down the leadoff spot for the Mariners.
Paul DeJong, STL - Since the start of July, DeJong is slashing .315/.383/.519, with a .390 wOBA and 148 wRC+.
Desperate Adds
Notable IL
Outfielders
Must Adds
Can Adds
Desperate Adds
Notable IL
Catchers
Must Adds
Daulton Varsho, ARI - When a catcher has four two-hit games in a row, with three home runs, he's a must-add. Just a little rule I try to hold by.
Austin Nola, SD - He only returned from the IL on July 22 but Nola has a high-OBP/low-K% profile that plays well in points. Particularly behind the plate.
Alejandro Kirk, TOR - Ditto from Nola.
Can Adds
Desperate Adds
All catcher adds are desperate adds.
Notable IL
Download Our Free News & Alerts Mobile App
Like what you see? Download our updated fantasy baseball app for
iPhone
and
Android
with 24x7 player news, injury alerts, sleepers, prospects & more. All free!
More Points Leagues Analysis