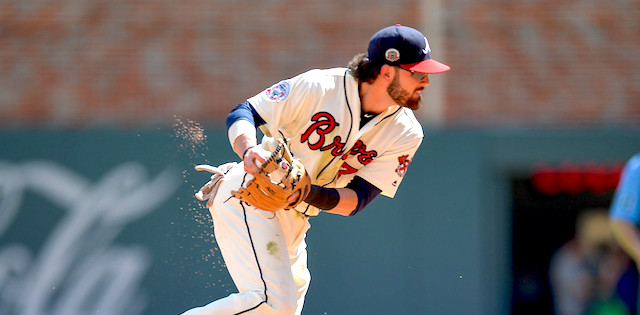 BALLER MOVE: Target ~210
CURRENT ADP: ~230 overall
ANALYSIS: Atlanta Braves shortstop Dansby Swanson was terrific throughout the first half of 2019, but then a July 23 heel injury sunk it all. He would miss a month, only to return with a 32% strikeout rate compared to 20.4% prior to the injury. He hit 17 homers over his first 88 games but would hit zero in August and September. Overall, the .748 OPS with 17 longballs and 10 steals in 127 games (545 PAs) is simply okay, but his underlying metrics tell a different story.
His .271 xBA compared to a .251 average and a .480 xSLG compared to his .422 actual slugging percentage suggests more growth. His Hard-Hit% has increased each of the last three years, along with a decrease in GB%, and a rise in Z-Swing%. What that says is that Swanson is becoming a slightly more aggressive hitter who is making better quality contact with his all-fields approach. His jump in exit velocity improvement to a 10.1 Brl/BBE% suggests that he is beginning to evolve as a hitter as he enters his prime.
We cannot forget that Swanson will be 26 years old and must not lose sight of his pre-injury season through 100 games. He was hitting .265 (.798 OPS) with 17 homers, 64 runs and 57 RBI alongside seven steals. At that rate, he'd have finished with roughly 25 homers, 100 runs, 90 RBI and 10-12 swipes. It's very likely that we could see Swanson become a 20-10 threat with a .260 average hitting near the bottom of the Braves order, which should provide him with the opportunity for 70+ RBI and 80+ runs with guys like Ronald Acuna and Ozzie Albies hitting behind him. That's enough to make him a solid MIF candidate in the early 200s.
Check out RotoBaller's entire fantasy baseball waiver wire pickups and sleepers list, updated daily!