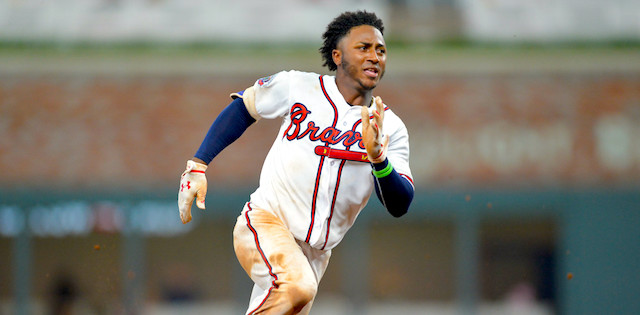 We continue our fantasy baseball tiered rankings analysis with the second base position. Even though we are just coming off ringing in the new year, RotoBaller writers Nick Mariano, JB Branson, Pierre Camus, and Chris Zolli have wasted to time coming up with our initial pre-draft rankings to give you a sense of player values as early as possible. As the offseason progresses, these rankings are sure to change quite a bit over the coming weeks. We'll be updating our rankings regularly, so be sure to keep checking in on our fantasy baseball rankings dashboard for the most updated lists.
Second base isn't usually a priority position in fantasy drafts and the disappointing season by former fantasy stud Jose Altuve hurts it further. The relative lack of names within the top-25 ranked players goes to show that you can probably wait for a solid starter. This is a good place to find speed, but you'll have to either sacrifice other categories with players like Peraza and Gordon or take a calculated risk with someone like Mondesi or Villar. Most of these players also qualify at other positions, so you can approach this list with a great deal of roster flexibility in mind on draft day.
In case you missed it, you can also read about our shortstop rankings to help round out your MI tiers. Without any more delay, let's take a peek at the 2019 second base rankings for January.
Editor's Note: Get any full-season MLB Premium Pass for 50% off. Exclusive access to our Draft Kit, premium rankings, projections, player outlooks, top sleepers, dynasty and prospect rankings, 15 in-season lineup tools, and over 200 days of expert DFS research.
Sign Up Now!
2019 Fantasy Baseball Rankings: Second Base (January)
Rankings Analysis - Top Tiers
Tier One
There isn't much to discuss as far as who ranks as the top second baseman in 2019. Jose Ramirez stands alone in the first tier as the only player at the position to rank inside our top 10 overall. At 26 years of age with five years of MLB experience, J-Ram is in his prime and ranks among the most consistent fantasy options available, regardless of position. His 225 R+RBI ranked third in the majors, behind only J.D. Martinez and Christian Yelich. There's a reason he finished third in the AL MVP voting and it's the same reason he is an easy top-five fantasy pick. The only surprise here is the absence of a certain diminutive two-bagger from Houston, who now sits in the second tier.
Tier Two
Jose Altuve wasn't just the top second baseman in all fantasy drafts last year, he was even taken as the top overall pick in some leagues. Yes, over Mike Trout. Maybe it was a World Series hangover or a case of fatigue. Maybe Altuve's best seasons are behind him and his wheels won't see as much mileage around the basepaths as they used to. Whatever the case, he dropped down to 17 steals - the first full season in which he ended with fewer than 30 SB. The .316 average was still sold, but not elite as we've come to expect, and his home runs dropped from 24 to 13. He's not at an advanced age (28) and is still playing in a stacked lineup, so maybe a shorter playoff run and some renewed motivation will result in a reboot of MVP-caliber Altuve. He doesn't need to be a first-round pick anymore, though.
Amidst multi-position eligible players like Baez, Carpenter, and Merrifield, the most interesting name that stands out is Ozzie Albies. I'm personally highest on Albies, so allow me to explain. Albies had a great rookie year but it was a tale of two halves: before the ASB he hit .281 with 20 HR and 55 RBI, whereas post-ASB he hit .226 with four HR and 16 RBI. It seems obvious that pitchers adjusted to him but he showed progress in his plate discipline in September, posting the best BB:K ratio of any month and his run-scoring was consistent throughout the year. I know he won't hit 30 homers but he doesn't need to. If he crosses the plate 100+ times again with anything close to 20 HR, 75 RBI and 15 SB (meaning no growth from his rookie year), he still ranks in the top five among second basemen in every counting stat category. Given the state of the position, where players like Brian Dozier and DJ Lemahieu are on the downslide, it's worth nabbing Albies early before filling other positions.
Tier Three
A pair of second-year players comprises the third tier. Both Gleyber Torres and Raul Mondesi Jr. (call him Adalberto) are intriguing yet unproven, which explains my slightly lower ranking. I would gladly take Mondesi in the first five rounds if I could be sure he would steal 50+ bases this season and bat .286 like he did in the second half of 2018. This is a young player that struggled mightily in his first two tastes of Major League action, though. His 4% career walk rate must improve if he's going to be a consistent threat at the top of the lineup. My concern is two-fold. First, that newly acquired Billy Hamilton manages to replace him at the top of the lineup and reduce Mondesi's chances to steal and/or score. Second, that Mondesi becomes a middle infield version of Billy Hamilton, providing speed but little else. He flashed power last year but, like with Albies, that could change if pitchers start to run it inside on him more often. More than anything, I'm not going to overpay for a small sample size toward the end of the season. Remember when we were projecting Jose Peraza for 50 steals and a .300 average in 2017? Fun times.
Gleyber Torres has great power at the position and plays in a potent lineup. I'm not convinced it's enough yet to distinguish him much further from players in the next tier like Scooter Gennett or Daniel Murphy, so I'd be tempted to wait rather than reach too early for a player simply because he wears pinstripes. He's a great talent in a great spot but his roto value doesn't make him superior enough to draft much higher.
Rankings Analysis - Middle Tiers
Tier Four
This tier is by far the most crowded, with a handful of speed demons headlining the group. Dee Gordon is a consistent source of steals and should get the benefit of not having to move around the field or learn a new position this season. He seems to enjoy better success in terms of average in odd years, so there's that too.
Jose Peraza is more of a fallback option, having stolen 23 bases each of the last two seasons despite seeing over 500 plate appearances. Perhaps he'll run more with B-Ham out of the way or maybe new skipper David Bell will be aggressive on the basepaths. It's still best to forecast Peraza for approximately 25 steals with an average around .280 as Steamer suggests.
Recency bias has propelled Jonathan Villar back into fantasy prominence, even into JB's top 100 overall players. He finished strong with 21 steals over the last two months in Baltimore, but this is still a player that hits .260, has never reached 20 HR and plays on what is sure to again be one of the worst teams in baseball. He won't kill you in any one category, but to suggest that he is a top-12 second baseman is giving him a major pass for his disappointing 2017 and first half of 2018 before he was discarded by Milwaukee. To be fair, NFBC data has Villar as the seventh-ranked second baseman, which seems borderline insane.
I'd love to see a Robby Cano renaissance but we definitely need to be realistic here. This is a 36-year-old coming off arthroscopic knee surgery who is moving to the National League and a ballpark that finished dead-last in Ballpark Factor for runs and 22nd in home runs last year. Cano has proven he can maintain a high average but I just don't see the homer total passing 20 and would rather take a chance on a Brian Dozier rebound instead.
Tier Five
Is this the year of the Yoan Moncada breakout? If so, someone in every fantasy league will get a major value since Moncada is going as the 14th-ranked 2B according to current ADP results. We have him ranked 19th, mainly because we know you don't have to swing for the fences with every pick in order to build a strong team. Moncada showed little progress throughout the season, finishing with a lower batting average in the second half (.231 vs .238), lower slugging percentage (.359 vs .427) and near-identical strikeout rate (32.6% vs 33.9%). He knows how to take a walk but even his OBP isn't helpful as long as his average remains so low. This is a sleeper pick that should be taken after your starter spots are filled.
Did I intentionally put Jonathan Schoop inside the top 100? Yup. While Villar gets a pass for playing in Baltimore, Schoop is being penalized for one bad year playing on a lousy team. He is in his prime at 27 years old and is on a one-year prove-it deal with Minnesota, who will back him up in the lineup with Nelson Cruz. Schoop has proven he can be an elite power option at the position, even hitting .293 in 2017. Schoop is more likely to be the value play you're looking for than Moncada.
Tier Six
Looking to backup your second baseman or fill your middle infield spot with oodles of upside? Consider youngsters Lourdes Gurriel, Garrett Hampson, or Jeff McNeil.
Gurriel struggled initially upon call-up but finished strong with a .310/7/19 triple-slash line in his final 31 games. At 25 years of age, with five full seasons of international play for the Cuban National Series under his belt, youth or inexperience are no concern here.
Hampson is a good-looking prospect who got a cup of coffee with the Rockies last year and fared well. He could be in line for extended playing time with Lemahieu out of the picture, but a rumored acquisition of Brian Dozier could squash that value.
McNeil could be in the starting lineup even after the team traded for Robinson Cano, as one of those players will likely shift to first base. If Peter Alonso wins the first base job, as some are projecting, then McNeil could become a super-utility player. That doesn't kill his value. In fact, as he adds positional eligibility, it might make him even more useful in deeper mixed leagues. In half a season, McNeil hit .329 and kept his strikeout rate under 10%. The power hasn't fully developed but there is a lot of potential that shouldn't be overlooked.
Rankings Analysis - Lower Tiers
Tiers Seven and Eight
This is where things get less exciting. Starlin Castro is one of the few players at this rank to hold down a regular starting gig. Playing for the hapless Marlins squashes much of his value, although he did hit .278 and score 76 runs last year. The upside is too limited to make him anything other than a streaming option throughout the season.
Ian Kinsler is the new second baseman in San Diego, but it may not be long before Luis Urias takes over. Kinsler still has some pop left in his bat and surprisingly stole 16 bases last year, his most since 2012. Andy Green does like to give his players the green light to run. Then again, Kinsler's average has sunken to .236 and .240 the last two seasons. Urias could actually win the job at shortstop this spring if he proves capable enough with the glove, so we might see both players on the field to start 2019. This offense isn't yet one you want to hang your hat on but neither will cost you more than a late-round pick anyway.
Johan Camargo doesn't have a starting job, at least not until Josh Donaldson gets hurt, so give or take a few weeks. OK, maybe it's not fair to label Donaldson as injury prone just because he's missed almost a full season's worth of games (159) over the last two years. He had played in at least 155 games every full season in the majors before 2017. Camargo doesn't need to be drafted as long as Donaldson is ready for the start of the season but he could be a smart handcuff for his owners.
It feels like Jason Kipnis has been around since the days of Jim Thome and Albert Belle, but he is in fact only 31 years of age. He's still got a starting gig in Cleveland, although this version of the Indians could be a stripped-down version if they part with their elite starting pitchers. If he hits near the top of the order, which is front-loaded with guys like Lindor, Ramirez, and Santana, he could be a decent source of R+RBI again in addition to 15-20 HR. The bottom of Cleveland's lineup gets scary, however, so if Kipnis is moved down in the order, his value drops with it.
Some names to keep in mind at the bottom portion of the second base rankings include Brewers prospect Keston Hiura, Giants utility man Alen Hanson, and the talented but perpetually-injured Devon Travis. These make for interesting late-round picks, as lack of opportunity is the only thing holding them back.
More Fantasy Baseball Rankings Analysis