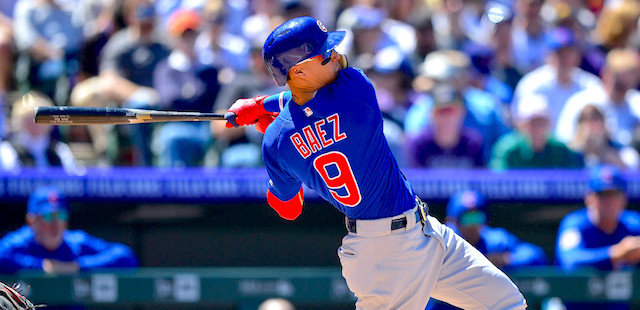 It's never too early to start looking toward the fantasy baseball season, so I'm here to kick off RotoBaller's position-by-position rankings analysis series with the ever-so-glamorous shortstop position. Shortstop is rich at the top and while it boasts intriguing depth, this is not a position to wait on, especially if you also have a middle-infield (MI) slot.
Our mixed-league staff rankings come straight from the minds of myself, JB Branson, Pierre Camus and Chris Zolli, and we've got them broken down into tiers for both the sake of digestible content and because your rankings should always be tiered. We'll be updating our rankings on a regular basis, so be sure to keep checking in on our fantasy baseball rankings dashboard for the most updated lists.
Without any more delay, let's take a peek at the 2019 shortstop rankings for January.
Editor's Note: Our incredible team of writers received five total writing awards and 13 award nominations by the Fantasy Sports Writers Association, tops in the industry! Congrats to all the award winners and nominees including Best MLB Series, NFL Series, NBA Writer, PGA Writer and Player Notes writer of the year. Be sure to follow their analysis, rankings and advice all year long, and win big with RotoBaller!
Read More!
2019 Fantasy Baseball Tiered Rankings: Shortstop (January)
Rankings Analysis - Top Tiers
Tier One
The top of the shortstop pack is spearheaded by none other than budding-superstar Francisco Lindor, who elevated his power surge and showed off the wheels for 63 HR+SB -- the second-most by an SS in '18. Manny Machado has yet to choose a uniform for 2019 and beyond, but he was a top player despite being stuck on a 2018 Orioles squad for the bulk of the fantasy season so I'm comfortable propping him as a viable first-round pick even before the decision's made. That said, if he does land with the Yankees in that stadium, hoo boy!
This wouldn't be a Nick Mariano column if we didn't discuss Trevor Story, who was the one SS to eclipse Lindor's aforementioned 63 HR+SB by one. Story stands as a true 30/30 threat and his bat skills blossomed in '18 with a zone-contact rate that jumped from 79.9% to 87.2% while maintaining his elite power (44.5% hard-hit rate). Rag on Coors Field all you want, but the improvements shown and that offensive environment is exactly what you want to lean into in fantasy.
Tiers Two & Three
Two of the biggest questions on drafters' minds are going to be how well Carlos Correa and Corey Seager rebound in '19, so I'll wrap these tiers into one section to tackle that.
Correa is entering his fifth MLB season at 24 years old, but 2018 saw a horrible .239/.323/.405 triple slash in 468 plate appearances come from side and back injuries. Remember that he had 10 homers and a respectable .264/.348/.464 slash entering June, but then the back issue eventually put him on the DL for six weeks starting on June 28 and he hit below the Mendoza Line after returning in mid-August. While you can be optimistic about his swing returning to form, these injuries seem to have evened out his expectations moving forward. He was being drafted like the 2015-16 stud who was stealing double-digit bases, but with five swipes in his last two seasons (219 games), fantasy owners should be happy at this reasonable price point if he swats 30 homers with a .270 average over a full season.
Now for Seager, who is reportedly is on track in his recovery from Tommy John surgery and will hope to recapture his .300-hitting form with 25 homers and 100 runs from atop the Dodgers order. While I appreciate the value of batting average in today's power-happy era, the lack of steals means he'll need to hit that mark alongside an immediate return to power form in order to justify the cost. It's worth noting that his 115 PAs yielded a gaudy .377 xwOBA (.324 wOBA), which led all shortstops with at least 100 PAs per Baseball Savant.
As for the others, I'm buying Javier Baez's aggression and power-speed threat to deliver plus value again in 2019 (and likely well beyond then). Xander Bogaerts had a ghastly showing in the World Series, but his 72-23-103-8-.288 roto 5x5 line with a career-high .373 wOBA and 37.9% hard-hit rate are surely enough to buy into Fenway Park through his bat.
Jean Segura faltered down the stretch but still hit .304 -- his third-straight season batting .300 or higher -- with 10 homers and 20 steals while playing in just 144 games. What may not be appreciated about his 2018 was that he trimmed his swinging-strike rate -- from 7.2% to 5.6% -- and subsequently dropped his strikeout rate from 14.7% to 10.9%. Finally, Gleyber Torres definitely had his rookie moments in the batter's box (and the field) but still delivered an .820 OPS with 24 homers and 131 R+RBI across 123 games (484 PAs). Steamer's conservative nature pegs him for just 23 homers in 100 additional PAs, but I'll take the over in Yankee Stadium and the AL East.
Rankings Analysis - Middle Tiers
Tier Four
While I don't recommend waiting on SS and having to use one of these guys as a starter in 12-team leagues, this quartet comprised of two youngsters and two vets is still worth your attention. Jose Peraza delivered 14 homers with 23 steals and a .288 average in '18 with a lowly 11% strikeout rate and a 95.7% zone-contact rate that led the NL and trailed only Michael Brantley (97.3%) out of qualified hitters. We know the speed is legit (he's topped 20 bags in every season at every level) and his contact tool is primed for a .300 average, so I'd buy here even if the power doesn't grow.
Elvis Andrus flopped in 2018 and will likely be viewed with a toxic tint on draft day in '19, but he admitted to returning from his broken elbow too soon and should at least recapture his 25-steal form with an average closer to .290 with a healthy offseason. Being a right-handed bat in Arlington was the most favorable park-factor environment in 2018 per Baseball Prospectus, and by a healthy margin too, so I'm in for some bounce back action here in '19.
Tier Five
This tier is spearheaded by two Oakland A's in Jurickson Profar and Marcus Semien. I enjoy the power-speed blend that you'll get there, but I should probably temper expectations on projecting Profar's bat in Oakland compared to 2018's breakout in Arlington. Let me say that this is more on the park and not on Profar, because while Profar hit .237 on the road compared to a .271 home mark (with exactly 262 ABs in each split), his batted-ball data stayed largely the same. In fact, his line-drive rate jumped over four percentage points on the road, yet a .288 home BABIP against a .250 road BABIP did his splits in any way. 
The Mets saw Amed Rosario hit well in the week leading up to the All-Star Break and promptly handed him the keys to the leadoff spot on July 23. All the 23-year-old did from July 10 on was deliver a .277/.310/.412 line with 20 steals, 12 doubles, six triples and five homers (77 R+RBI) in 306 PAs, which leaves us with another base-stealer that won't sink your other categories available later.
While we hate injuries, a marred 2018 can mean a discount in 2019 -- especially when a player doesn't recover their spark in September and we aren't anchored by a tremendous stretch run. Lourdes Gurriel Jr. fits the discount bill perfectly, as he stumbled out of the gate and hit the minors for a while, only to re-emerge by hitting safely in 16-of-17 games starting on July 2 before getting injured on July 29. That sells him very short, excuse me. Over that stretch, Gurriel hit a whopping .423 (30-for-71) with four homers and had strung together 11 multihit games before getting hurt. He returned in late August and managed to hit four more dingers with a .256 average in September, which is solid enough to justify buying into his age-25 season later on in case that precious ceiling hits again.
Tier Six
With respect to the composite nature of our rankings, I feel the need to point out that Chris and Pierre have Willy Adames inside the top 200 while JB and myself are closer to 250, instead preferring the next four names over Adames. I'm sure the optimists have their reasons, but I see uninspiring contact rates, a 29.4% strikeout rate, a low 17.5% line-drive rate and a 16.9% HR/FB rate that doubled any clip he'd ever produced in the Minors. Sure, he was 22 years old and has room to put muscle on the frame, but then you mix in that his expected batting average was just .213 underneath the .278 reality (per Baseball Savant) -- easily the biggest gap by a SS in '18 -- and you can see why I'm out. His .378 BABIP does come with precedent, he often tallied .350+ BABIPs in the Minors, but they'd come with line-drive rates north of 22%. Show me the authoritative bat and I'll come around, but I need to see it against MLB pitching.
I'm not bullish on Chris Taylor, but it's worth noting that his 13.3% soft-contact rate was the second-lowest mark among SS with >300 PAs, while the 38.3% hard-hit rate was seventh. That said, and part of why I'm third among our rankers on him, is the horrendous swinging-strike growth (10.8% to 13.7%) that accompanied a 7.5-percentage-point drop in his zone-contact rate. So the contact he made was loud, but the frequency wasn't worth the tradeoff as his OPS dropped from .850 in' 17 to .775.
The world needs more Joey Wendle in their lives, as the 28-year-old breakout stepped up in 139 games for Tampa Bay with a lovely .300/.354/.435 slash line while going 16-for-20 on steal attempts and seven homers. This was his first year with regular work and it showed with a streaky first half, but July 1 on saw him post a .335/.397/.515 line with five dingers, 10 steals and a measly 11.8% strikeout rate. That looks like A) a guy finding his groove and B) someone I want on my team.
Rankings Analysis - Lower Tiers
Tiers Seven and Eight
An unheralded name is Ketel Marte, a name that feels like a retread but he's just 25 and chipped in 20 HR+SB alongside a .260 average in Arizona. The D-Backs might put Marte in centerfield come Opening Day, but he'll remain shortstop-eligible no matter what and could keep the power gains if his 36% hard-hit rate from '18 holds (28.2% in '17).
Another strong late name is Jorge Polanco, who quietly hit six homers with seven steals and a .288/.345/.427 slash line in 77 games (333 PAs) after serving an 80-game PED suspension. This followed his torrid 63-game second half from '17 where he popped 10 homers with seven swipes, so it looks like we can trust post-suspension Polanco to deliver sneaky potential as he racks up PAs from Minnesota's leadoff slot.
Orlando Arcia enters his age-24 campaign with one decent rookie showing, a strong 2017 and a dreadful 2018 where his already-terrible .254 wOBA actually outpaced his expectations -- the .235 xwOBA was the worst of all shortstops (>100 PAs) per Baseball Savant. Luckily, the Brew Crew offer a fantastic lineup and plus park to hit in, but Arcia will need to prove he's made adjustments before he can enter any of your starting lineups.
Ignoring hitters entering venues such as Coors Field, Globe Life Park in Arlington and Yankee Stadium is a big mistake -- huge. And while Troy Tulowitzki hasn't played in a Major League game since July 28, 2017 thanks to ankle and foot injuries, perhaps mirroring Brian Cashman's league-minimum signing with your own late-round flier would be wise.
Being put on a team that just scored 851 runs -- the second-most in '18 -- where each spot in the batting order produced at least 20 homers while setting the all-time HR record for a team is great for one's upside. Maybe he won't make it through Spring Training, but the Yanks reported a "spring in his step" and he could provide some pop and counting stats until Didi Gregorius returns.
Do you want to hear about boring veterans that you know front-to-back already, or do you want to hear about the youngsters? Personally, I don't think Nick Gordon has an outside chance at impact in '19, but his, Royce Lewis and Wander Javier's development is absolutely worth watching. And in the year 2025, maybe Oakland will finally give Franklin Barreto consistent playing time. Maybe. The trade for Jurickson Profar was a real lose-lose in my mind, as that park downgrades Profar and nudges Barreto's playing time into questionable territory.
In terms of talent, I have Bichette's bat ahead of Rodgers (shocker) but Coors Field is a fantasy behemoth and would yield immediate dividends should multiple injuries befall Colorado starters. Also going against Rodgers is that Colorado GM Jeff Bridich can't manage rookies worth a lick, as we've seen stunted opportunities for David Dahl, Ryan McMahon, Tom Murphy and Raimel Tapia over the last couple of seasons. Meanwhile, Bichette will likely be kept down until the Super Two deadline at the earliest with Toronto not threatening Boston, New York (AL) or Tampa Bay in '19 -- but if he does get a cup of coffee then you'll want him.
But let's chat about Barreto a bit more, as Oakland claims they'll get his bat in the lineup by playing him in the outfield. His age-22 season yielded a zesty 23 homers in just 408 combined PAs between Triple-A and the bigs, but he only hit around .250 with a terrifying strikeout rate above 30% that neared 40% in his limited MLB PAs. He's got power but will find himself on the outside looking in if he can't get on base -- Oakland's just not that kind of club. But y'all need to be on top of this if he shows improved contact out of the gate.
More Fantasy Baseball Analysis