Welcome RotoBallers to my Jaxon Smith-Njigba NFL Draft rookie profile. The 2023 NFL Draft Prospect Profile Series features eminent 2023 NFL Draft prospects with film analysis and scouting insights. I have experience working in college football and have been studying the NFL Draft for over 15 years. My analysis is based on film study and analytics. For the past two years, I wrote up profiles on the top offensive skill position prospects in each class. Here are some of my past profiles:
A common misconception about the NFL Draft is that the college and pro games are very similar. They are not. Besides the obvious difference in speed and skill level, a college field has different hash mark distances and different rules. There are specific schemes and plays that NFL teams copy from college and vice versa, but the differences between the two are understated in NFL Draft coverage. There's a reason many highly-productive college players are not considered legitimate professionals.
To that end, scouting prospects is not just about evaluating college performance, it's about projecting traits that translate to the next level. This is not limited to just physical traits. There are certain football traits that are evident in college film and will translate to the pro game. We will continue our 2023 Prospect Profile series with Ohio State WR Jaxon Smith-Njigba.
Editor's Note: Our incredible team of writers received 13 award nominations by the Fantasy Sports Writers Association including Baseball Writer of the Year, Football Writers of the Year, Golf Writer of the Year and many more! Be sure to follow their analysis, rankings and advice all year long, and win big with RotoBaller!
Read More!
Jaxon Smith-Njigba Rookie Profile
Jaxon Smith-Njigba is an extremely skillful WR prospect who had an amazing year as a Sophomore in 2021. JSN put up monster stats in a stacked receiver room that year, catching 95 balls for 1606 yards and 9 touchdowns alongside two first-round picks in Garrett Wilson and Chris Olave. Much has been made about who is the best of the three and how much production JSN had when one or both didn't play. The bottom line is that all three are outstanding players with bright NFL futures. JSN has all the traits teams look for in an All-Pro slot receiver but missed almost the entire season in 2022 with lingering soft tissue issues. Let's dive into the film.
Smooth Operator
JSN is silky smooth. He moves efficiently with no wasted steps and catches the ball extremely well. Skilled and natural, he has flexible hips and ankles that allow him to run awesome routes and make moves after the catch.
In the clip below, JSN works to find space against zone coverage. He transitions to a runner quickly after the catch and makes a defender miss with a dirty double jab move in the open field.
JSN has elite quickness. He had the fastest 3-cone at the combine and changes direction quickly and efficiently. While speed is an asset at WR, quickness is even more important. Agile with great instincts, JSN can win on the inside against man or zone. He has a great feel for the game.
In terms of catching the football, JSN is as natural as it gets. His hands are sticky and his grip strength is a huge plus. In the tweet below, notice how he's able to grip the ball with one hand after the insane catch and smooth footwork in the end zone.
The tweet below is more special stuff in terms of concentration and grip strength, as JSN makes an unbelievable catch while covered.
Sometimes receivers start off slow in the NFL and never regain the confidence they need to produce at the NFL level. Drops can contribute to a downward spiral. If JSN flames out, it definitely won't be due to a lack of confidence. His hands are outstanding and he knows it.
The clip below highlights his ball-tracking and ability to finish and survive the ground without losing the football.
In the clip above, his ability to subtly hand-fight and stab late at the catch point over the opposite shoulder while shielding the defender is special.
Route-Runner Extraordinaire
JSN has natural hands and can win after the catch, but his route-running is what separates him from every other WR in this class. Not only is JSN quick and efficient in and out of breaks, but he knows the nuances of route-running in terms of varying tempo and understanding DB leverage and space.
Running routes against man coverage is all about deception. Everything is a vertical until it's not. In the clip below, JSN free releases off the line of scrimmage at about 90% speed then expands out at full speed to sell to the CB that he's running a fade. The first 10 yards of this route are exactly how he'd run a fade. He makes Joey Porter Jr., a potential first-round pick in this year's draft, turn his hips and begin to run to cover him vertically. JSN stops on a dime and wins the route.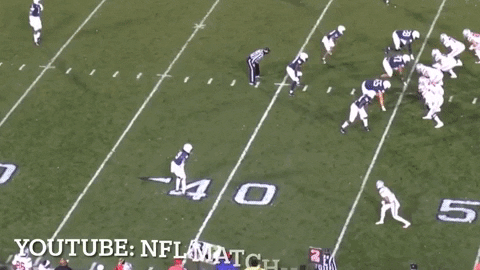 In the clip above, JSN gives no indicator that he's stopping. His arms are within the framework of his body and he doesn't take too many steps at the top of the route. The other essential aspect of breakpoints is being able to sink your hips and run out of the break. JSN isn't the biggest guy in the world and doesn't have the longest arms, so he's able to stay more compact when running routes. He has the potential to be a nasty route-runner in the Keenan Allen mold.
In the clip below, JSN works an outside stem to sell a vertical route and changes direction so quickly at an angle that is really tough to do. The DB is Dax Hill, who was a first-round pick in last year's draft. He has no chance against this unteachable breakpoint.
Whether it's seams or crossing routes, JSN can win in the intermediate or deep levels from the inside. His ball-tracking, concentration, and ability to make tough catches in traffic are traits that translate to the next level. Utilizing tools like tempo changes and hesitations make him an advanced route-runner the second he steps on an NFL field.
Lost Season
At the end of 2021, Garrett Wilson and Chris Olave sat out Ohio State's bowl game to prepare for the NFL Draft. JSN was the beneficiary, putting up 15 catches for 347 yards and three touchdowns against Utah. Last season, JSN was unable to build on that momentum, as he struggled with a hamstring injury, catching just five passes in three games for the Buckeyes.
There's no way of knowing if JSN chose to not play as a precaution due to the risk of injury, but even if he did, so what? He had already cemented his status as a first-round pick, and Ja'Marr Chase seemed to do fine after a year off. No one should fault him for prioritizing life-changing money after he already produced enough to earn his draft status.
Teams may view not competing for his team as a negative, but to me the far more important factor is his durability. If his hamstring was truly bad enough to sideline him for such a large chunk of the season, is that not a red flag? Soft tissue injuries can be a recurring problem. The great news for JSN is that he looked 100% healthy at the combine.
On the field, JSN's only two weaknesses are physical. He doesn't have elite long speed and his arms are relatively short at 30.5 inches. For reference, Josh Downs is another top slot WR prospect in this class and stands just 5-9, 171 and has 30.8-inch hands. JSN can make high-difficult catches, but it's fair to wonder how his catch radius will translate to the pro game.
One huge question about JSN's transition to the pro game is if he can win consistently on the outside or if he'll play a large majority of his snaps from the slot. If he's viewed as slot only, that does impact his draft fate. I think he has the skills to play outside, but he's not necessarily the guy you want to throw 50/50 balls or deep routes too, which limits what he can do against premiere outside NFL corners.
JSN is not physically imposing at sub-200 pounds, doesn't have long arms, and it's fair to wonder how he'd fare against NFL press coverage on the outside. Can his elite quickness make up for that lack of size and physicality? Even if he does win at the line of scrimmage, does he have the speed to stack DBs down the field?
The clip below is an unbelievable catch in traffic and it also shows tight coverage by an inside defender. JSN doesn't run away from his man so is forced to make an acrobatic catch. The defenders footwork and technique is sloppy and JSN still doesn't get any separation.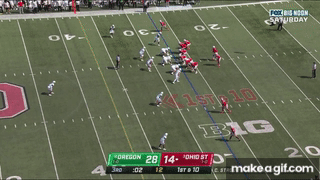 The clip below is another great play by JSN, but it also shows his lack of long speed, as he's caught by two Penn State defenders who had difficult angles.
JSN ran somewhere around a 4.50 at his pro day, and while that's fine for a slot receiver, it might not be fast enough to win on the outside.
In the clip below, JSN is again hawked down by a defender who has a tough angle. He also fumbles. He just doesn't have that extra gear.
NFL Outlook
Jaxon Smith-Njigba has all the football-specific traits of an All-Pro receiver. He's an excellent route-runner with terrific hands, who can run after the catch and block. He should have no issues creating separation as a matchup nightmare in the slot in the NFL. Currently healthy, hopefully his hamstring issue is completely behind him, but his lack of snaps this past season will surely raise some eyebrows. The only on-field question mark about JSN's translation to the pro game is if he can win on the outside. I think he can. He is the clear WR1 in this class and will be a highly productive pro starting in his rookie year.
Thanks for reading and stay tuned for more draft content in the coming days.
Download Our Free News & Alerts Mobile App
Like what you see? Download our updated fantasy football app for iPhone and Android with 24x7 player news, injury alerts, rankings, starts/sits & more. All free!


Win Big With RotoBaller
Be sure to also check out all of our other daily fantasy football articles and analysis to help you set those winning lineups, including this new RotoBaller YouTube video:


More NFL Rookie Analysis