Hello and welcome to the eighth and final 2021 installment of my annual NFL Draft Review. Here are the links to the reviews for the AFC West, NFC North, AFC North, NFC East, AFC East, AFC South, and NFC South.
Every year after the draft, I write a way-too-long review of each team's draft. The purpose of this draft review is to give predictions for the careers of each team's drafted players. The vast majority of 4th-7th round picks don't amount to much, so I stick to the first three rounds. I've watched films of each player I'm commenting on and have over seven years of NCAA coaching experience. Draft grades are overly optimistic and unrealistic. Unlike the majority of post-draft coverage out there, I will pick busts. Keep in mind that 19% of all first-round picks bust.
Over the years, I've had some impressive hits (like picking both Jameis Winston and Marcus Mariota to underwhelm) and embarrassing misses (like underestimating Justin Jefferson). I stick to my process and usually hit on some unpopular predictions. I enjoy arguing the contrarian opinion, but will only do so when my evaluations allow me to.
Featured Promo: Get any full-season NFL Premium Pass for 50% off and win big in 2023. Exclusive access to our Premium articles, 15 lineup tools, new Team Sync platform, Lineup Optimizer, Premium DFS tools and cheat sheets, and much more!
Sign Up Now!
Overview
Each player will receive their career prediction in parentheses following their name. For example, Kyle Pitts (5). Here's how the picks break down:
5 – All-Pro: Starter who has performed at an elite level at his position.
4 – Above-Average: Starter who has been among the best at his position.
3 – Solid: Starter or valuable back-up with significant positive production.
2 – Replacement Level: Below-average starter or back-up who made minor contributions.
1 – Bust: Player who didn't amount to anything positive.
Next up, the best division in football - the NFC West.
San Francisco 49ers
Just a year removed from a Super Bowl appearance, the 49ers made a big splash when they traded up to No. 3. Rumors swirled about Mac Jones being the pick, but in the end, they selected Trey Lance (4) of North Dakota State. The move-up will prove to be worth it. Lance was my No. 2 overall player and not that far behind Trevor Lawrence.
Lance is a fascinating QB prospect who possesses every trait teams look for in a modern franchise QB, including size, arm talent, athleticism, and rushing ability. The glaring question marks about Lance are his level of competition and lack of experience as an FCS player who has only started 18 games and only played one game (which unfortunately happened to be the worst of his career) in 2020. Carson Wentz, also from North Dakota State, was the last big-name FCS QB prospect and has had a tumultuous NFL experience thus far, to say the least. Other FCS QB products over the years include Tony Romo, Jimmy Garoppolo, and Joe Flacco. Going further back, Phil Simms, Steve McNair, and Doug Williams also came from FCS schools.
College film is sometimes difficult to evaluate when the level of competition is lower than the Power 5, but sometimes the traits make pro prospects stand out regardless. It's also worth noting that the general public often underrates FCS football - the players are still scholarship athletes. Not to mention Lance dominated his level and looked like he didn't even belong against the likes of South Dakota, cruising to a National Championship and a 28-to-0 TD-to-INT ratio in 2019. Besides ideal size, arm talent, and mobility, Lance's QB-specific strengths include decisiveness, spatial awareness in and out of the pocket, and willingness to take checkdowns. He had only one career game with over 30 pass attempts, and will surely improve at reading defenses once he learns an NFL playbook.
His fit in San Francisco with Kyle Shanahan could not be more perfect. Shanahan will utilize Lance's legs with movement passes and a sprinkling of QB run game. I predict he will develop into a top-five NFL QB and lead his team to multiple deep playoff runs in the next ten years. You can read my full Prospect Profile of Lance with film clips here.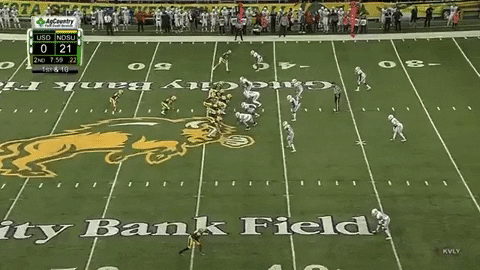 John Lynch was somehow able to keep his high second-rounder and traded down with Las Vegas to get more draft capital. At No. 48, the Niners took my 80th-ranked player in Notre Dame guard Aaron Banks (2). Banks makes sense as a projected starter in Shanahan's zone-blocking scheme. His best trait is his ability to work double teams, as he showed well in that area against Clemson. He also bullied smaller LBs. I didn't like how he was on the ground a lot, so I was surprised he was taken so high.
Los Angeles Rams
The Rams didn't have a first-round pick due to the Jalen Ramsey trade, and it's becoming a trend to see successful playoff teams deal projected late firsts for known veteran starters. This study shows that over 50% of picks from No. 21 to No. 32 disappoint, so using draft capital to add a player like Ramsey was a wise move. The Rams quadrupled down on punting firsts by trading for Matthew Stafford. They clearly believe they'll be contenders for the next few seasons.
In the second, the Rams addressed their WR room with hopefully the next DeSean Jackson in Tutu Atwell of Louisville. I was way too high on Marquise Brown, but I now acknowledge that I underestimated how much the size disadvantage would impact him. Atwell does not have WR2 upside and will top out as a situational deep threat. He's just too small at 5-9, 155. He's bouncy and lightning-fast with good ball-tracking skills. He transitions to a ball-carrier well and ran a post against Syracuse where the safety wasn't within 15 yards after his break.
Sean McVay wants to expand his Goff-less offense by incorporating more vertical concepts and using Robert Woods and Cooper Kupp closer to the line of scrimmage. DeSean Jackson and Atwell make sense in theory, but it's fair to wonder if a 155-pound WR can handle more than a handful of touches a game. I think they wanted D'Wayne Eskridge and reached for my No. 86 overall player at No. 57.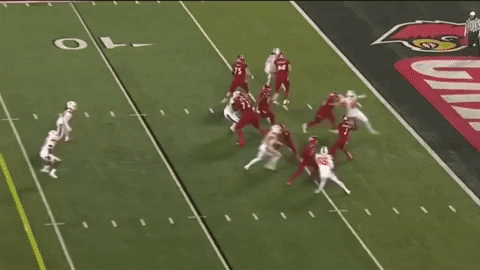 The Rams also took Ernest Jones (2) who fits in as a potential starter for a light LB group, and Robert Rochell (2), who is worth a look as a developmental small-school corner. Jones has some good instincts and Rochell has the natural cover ability that plays in the NFL. The Rams defense will be worse this year after losing four starters in free agency, but Stafford will allow them to win some shootouts. In the bloodbath that is the NFC West, Sean McVay has a chance to re-emerge as a premier offensive coach thanks to the upgrade at QB.
Arizona Cardinals
The Cardinals came into the draft needing help on defense, and they got that with their first-round selection of Zaven Collins (3). At 6-4, 259, Collins has borderline EDGE size and can rush the passer well as a blitzer. His best trait is his closing burst, as he is exceptional at closing space when he reads the ball carrier. Some of his production is inflated due to making tackles downfield and some mild pile-jumping, but his mix of size/speed/production is unquestionably worth a high draft pick.
His lurking pick-six in overtime against Tulane was one of the plays of the year. Collins fits in as an off-ball playmaker who can rush the edge on occasion for Vance Joseph. I don't think he'll ever be an elite player though as he missed angles against the run versus UCF and Tulane. Collins was my 28th-ranked player, so I think there were better options at No. 16.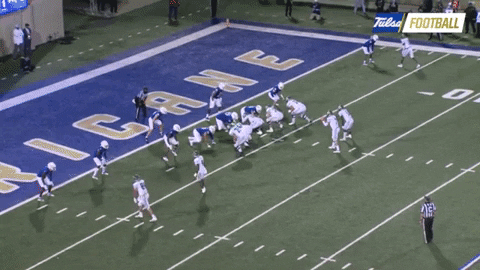 In the second, the Cards selected one of the highest upside players in the draft in Purdue WR Rondale Moore (2). Moore famously broke out as a freshman, putting on a show against Ohio State en route to 114 catches for 1258 receiving yards and 14 total scores in 2018. Moore stands just 5-7, 181, but don't mistake his lack of size for a lack of strength. Moore can squat 600 pounds, ran an unofficial 4.29 40 at his pro day, and jumped 42.5 inches on his vertical.
The main issue with Moore is that he has only played seven games since his magical 2018 campaign. Moore has missed time due to hamstring and "lower body" injuries the past two years, appearing in just seven games. Although he's currently healthy, durability is a legitimate concern for a player without ideal size. His size is also a concern based on precedent, as there haven't been many successful pro-WRs under 5-8.
Moore is flashy and exciting, but his transition to the league may not be as seamless as some may suggest. He does not possess elite WR-specific traits, may only be a slot, and his game is more Percy Harvin than it is Tyreek Hill or Steve Smith. I can't get past the durability concerns and I have not been impressed with Kliff Kingsbury as an NFL play-caller. I think Moore makes some splash plays when on the field, but struggles to stay healthy and ends up signing somewhere else for his second contract. You can read my full Prospect Profile with film clips of Moore here.
Seattle Seahawks
The Seahawks have not drafted well and it almost cost them their Hall-of-Fame QB. After trading their first for Jamal Adams, they came into this draft with glaring needs at WR3 and CB. Possibly still holding out hope for Richard Sherman, the Hawks decided to give Pete Carroll another shot at developing his CB room. At No. 56, they took my No. 64 player in the draft in Western Michigan's D'Wayne Eskridge (2).
The Eskridge pick is another example of how the presentation of the draft differs from the actual value of picks. The Seahawks needed a starting corner but instead chose to add competition at WR3 and special teams value with what most would qualify as a premium pick. Fans often have visions of grandeur when dreaming of draft hauls, predicting their favorite team will add multiple starters with their first few rounds of picks. The reality is that accepting a sobering hit rate for second-rounders should probably lead teams to look for special teams value and role players, which is what Eskridge represents.
Eskridge has legit 4.4 speed and was a slant demon at Western Michigan. He won a game by running a dig through guys and generally has the right level of twitch and body coordination to develop into a good route-runner. However, he's not there yet, as he struggled a bit getting out of breaks at the Senior Bowl. It won't matter much, as the Seahawks will ask him to be a deep threat and special teamer early on. There are holes in his game, including dealing with press, drops, and inconsistent separation on verts against inferior competition. I don't think he develops into a star, but he can contribute as Russell Wilson makes everyone around him better. Breakout age should be living rent-free in Seahawks fans' heads.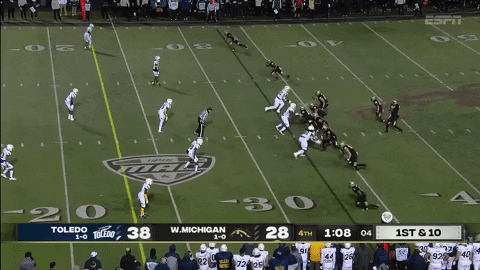 The NFC West is the best division in football and both LA and San Francisco upgraded at the QB position. Meanwhile, the Cardinals added J.J. Watt and the Seahawks added Gabe Jackson and a couple of pass rushers. Russell Wilson is still the best QB in the division, so I give Seattle the slight edge. A Richard Sherman reunion would put them in the Super Bowl conversation.
Thanks for reading.
Download Our Free News & Alerts Mobile App
Like what you see? Download our updated fantasy football app for
iPhone
and
Android
with 24x7 player news, injury alerts, rankings, starts/sits & more. All free!
Win Big With RotoBaller
Be sure to also check out all of our other daily
fantasy football articles
and analysis to help you set those winning lineups, including this new RotoBaller YouTube video:
More Fantasy Football Analysis