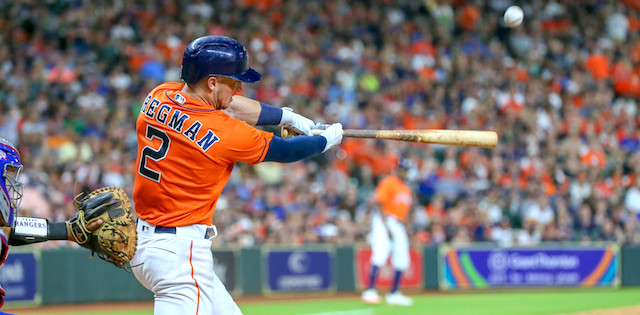 It's never too early to start looking toward the fantasy baseball season, so I'm here to carry on RotoBaller's position-by-position rankings analysis series for points league and head-to-head (H2H) formats with the stars of the infield, the shortstops. The position is star-studded, and in roto leagues, I think I'd be comfortable with any of the top-20 names on this list. Unfortunately, the position gets pretty scarce in points leagues due to the majority's lack of power and walks. In points leagues, I want my starting shortstop selected in the first three tiers (yes, even Andrelton Simmons who is always undervalued in points leagues). 
Our mixed-league points staff rankings come straight from the minds of Nick Mariano, myself and Bill Dubiel (a.k.a. the fourth-most accurate MLB expert for 2017 on FantasyPros), and we've got them broken down into tiers, as it should be. For this format, hitters get a bump for total bases, walks and take a hit for strikeouts.
In case you missed it, check out our analysis on catcher, first base, second base, third base, and outfield. You can also see all of our preliminary 2019 fantasy baseball rankings for mixed leagues here. Bookmark that page and come back for updates throughout the coming months as you prepare to dominate on draft day. Without any more delay, let's take a look at the 2019 shortstop points league rankings for January.
Featured Promo: Want a free RotoBaller Premium Pass? Check out these sports betting promo offers from the top sportsbooks! All new sign-ups get a free bonus offer on their first deposit, and a free year of RotoBaller's Premium Pass for all sports ($450 value)!
Sign Up Now!
2019 Fantasy Baseball Points League Rankings: Shortstop
Shortstop Points League Rankings: Top Tiers
Only one player in all of baseball reached 700 PA in both 2017 and 2018, and that player was Francisco Lindor. He exceeded our fantasy expectations for the fourth straight season, setting career-highs in Runs (129), HR (38), RBI (95), and SB (25). His lofty run total tied AL MVP Mookie Betts for the league lead, and his 38 bombs were good for the sixth-most. The power outburst is certainly intriguing from the 25-year-old, as he increased his total in the HR category for the third straight year. Lindor's HR/FB ratio only jumped three points from 2017, while his hard-hit rate jumped even further up over 41% which shows that he's not stumbling his way into these numbers. Outside of Mookie Betts and Mike Trout, no hitter comes with a fantasy floor as high as Lindor, which is a great comfort to have with your first-round draft pick. The kid is so consistent, he's registered the same 0.65 BB/K ratio for three straight years! It's not Khris Davis batting average-consistent yet, but rather impressive nonetheless.
That next stud is Alex Bregman. Fantasy aside, this kid is a phenomenal hitter. His 1.13 BB/K ratio was the third-best in all of baseball and his 157 wRC+ beat out Arenado and Machado. He's slated to hit in the two-hole behind George Springer and in front of Jose Altuve, Carlos Correa, and Michael Brantley. If the elite plate discipline continues, then Bregman is a serious threat for reaching triple-digit runs and RBI again in 2019 along with 25+ HR and 10+ SB with a BA hovering around .290. If you can snag him after the first turn in the second round, the LSU product will easily return value this season. People often forget this guy is still just 24 years old.
Where is Manny Machado going to sign? I don't have the answer, but honestly, does it matter? If he can be fantasy relevant with the Orioles, he can play anywhere and we'll still like him as a top-20 guy in points leagues. If he ends up in PHI or NYY I would bump him up a few spots overall, maybe even sneaking into the first round, but I like the current spot if he winds up with CHW or SD. He has hit at least 30 HR in four straight seasons, three of those going for more than 35, and reached double-digit steals in two of those. The BB/K ratio isn't anywhere near that of Bregman but the 26-year-old has never struck out more than 120 times.
Tier Two
The only guy who loves Trevor Story more than me is my colleague, Nick Mariano. We both ranked him in the top-10 in our mixed league rankings, but still acknowledge the small dip in value for points leagues. Story contributed across all five roto categories in his breakout season, hitting 37 HR and 108 RBI with 27 SB. The whiffs did improve by nine points from 2017, but are still occurring over a quarter of his ABs which is his only limiting factor. Regardless the Rockies shortstop is still a solidified top-30 player thanks to his massive amount of XBH, sexy hard-hit pulled-flyball profile, and playing half his games at Coors Field.
I am truthfully not a huge Trea Turner fan outside of roto, as I see him as an over-hyped Whit Merrifield, but the 15/40 floor at the top of the Nationals lineup is hard to deny. He hit 19 bombs while scoring 103 R and swiping 43 bases last season, while increasing his BB% by three points. Turner is a ground-ball hitter with a mediocre hard-hit rate, which caps the potential for repeating or building on the 19 HR, but he is a safe source of points thanks to the elite speed and a lock for another triple-digit run total.
Xander Bogaerts is easily the least sexy name in this tier, but it's hard to find a much safer option at the position. The world champ provides modest numbers all around, and should be hitting cleanup for the the Sox in 2019. He set a career-high with 23 HR and 103 RBI last year on his way to a personal-best 133 wRC+ last season, and his 0.54 BB/K is the highest of the tier. You'll never feel super excited about drafting the X-Man, but you will certainly never regret it either.
Shortstop Points League Rankings: Middle Tiers
Tier Three
After injuries ruined the end of his 2017 season, many of us expected Corey Seager to bounce back to his 2016 form where he finished as the 43rd-ranked player in fantasy. Instead, the poor guy needed Tommy John surgery before the month of April was over. The recovery looks to be going well, and Seager himself is even optimistic that he will be ready by the season opener. I value a healthy Seager the same I do Bogaerts. The only reason I rank them 19 spots apart is the question mark of how long or successful the recovery truly is.
Anyone else exited to watch this Phillies offense? Whether they land Bryce Harper or not, this will be a vastly improved team with the acquisitions of Andrew McCutchen and our SS#10 Jean Segura. The 28-year-old has hit over .300 in three straight seasons, each with double-digit HR and at least 20 SB. He cut his K% by four points and is a threat for 200 hits over a full season. If he can get himself into the top third of that lineup, much easier sans-Harper, he will be a great value at his current ADP.
A Reddit reader brought up the question of why we were so low on Gleyber Torres in our points league rankings. Allow me to explain. First, his 25.2 K% is worrisome, and in the same territory of Javier Baez and Trevor Story. That is admittedly some good company, but Torres isn't hitting .290 with 30+ HR and 20+ SB to offset the whiffs like the other two. Secondly, he is most likely going to hit in the bottom half, maybe the bottom third of the lineup which should "cap" his run scoring production. Third, the 17.9 HR/FB% isn't sustainable based on his minor league track record which means even with a full season of PA I don't see the HR total from 2018 increasing by more than a few. Lastly, in points leagues that reward total bases, its worth noting that Torres only hit 17 XBH outside of those 24 HR. The most optimistic projection system (THE BAT) for Torres projects him and Brian Dozier very similarly, who we have ranked back-to-back in the second base rankings. Wrong position for this article, but still helps deliver the point. I honestly think its a very generous rankings for a guy that looks eerily similar to a guy two tiers down.
Tier Four
This is when the points league formats starts really sapping shortstops of their value. The question marks and strikeouts are growing rapidly, while the on-base ability is shrinking. Adalberto Mondesi and Jonathan Villar are prime examples. The fourth tier is a solid point to fill your MIF slots if your league uses them.
Regarded as a top prospect not too long ago, Jurickson Profar finally stayed in the bigs for a full season in 2018 and he did not disappoint. The 25-year-old hit 20 HR and stole 10 bases and showed off some impressive versatility. He made at least 10 appearances at every infield position (besides catcher), and joins an underrated Oakland Athletics squad loaded with offensive potential. Profar should be manning the keystone position for the A's every day in 2019, and his numbers don't show any strong reasons to believe you can't expect another 20/10 campaign with a healthy BB/K ratio that you can stick almost anywhere in your lineup.
Like Torres, Tim Anderson suffers in points leagues that penalize for strikeouts. His 0.20 BB/K ratio was fifth lowest in all of baseball last year, despite enjoying his first 20/20 season. The discipline is slowing improving as hes cut his whiffs in each of the last three seasons, and he double his BB% to a still unimpressive 5.0%, but he still has a ways to go to climb the points league rankings. I expect another 20/20 campaign in 2019 thanks to his steady increase of flyballs and sustained HR/FB%, but outside of that there isn't a lot to love here especially with his bottom-third spot in the lineup against RHP.
For my thoughts on Amed Rosario, see the above paragraph. His plate discipline is just slightly better than Andersons, but has about half the pop. I am excited about the Mets offense this year with the acquisitions of Robinson Cano and Jed Lowrie with prospects Peter Alonso and Jeff McNeil in the background, but Rosario's spot at the bottom of the order against RHP will limit the benefits he sees from his new teammates.
Tier Five
By now, hopefully you are just looking for depth, as the fifth tier is perfect for injury/off day replacements. Remember when I said Gleyber compared to a guy two tiers down? Say hello to Eduardo Escobar. After reaching over 500 PA for the first time in his career, the 30 year old hit 23 HR and 84 RBI with a .272 BA with the Twins and Diamondbacks. His 20.0 K% is a tad unsightly, but he also boasted the highest BB% of his career. The biggest aid to his value in points leagues are the XBH. His impressive 48 doubles was second in all of baseball. He fell off after his trade to the desert, but you can't hit poorly at Chase Field for long. With Paul Goldschmidt gone, Escobar is concreted in the top third of the lineup and in addition to his 3B position eligibility he makes for a great value pick this year.
I think just about everyone in this industry saw regression heading Paul DeJong's way after an impressive rookie 2017 season. We were certainly right. Injury prevented a full sophomore season, but the BABIP plummeted 60 points and his HR/FB% came back down to earth. Despite the ugly .241 BA, the youngster still finished with 19 HR, 68 R, 68 RBI and managed to decrease his K% and increase his BB%. I believe Harrison Bader should get more looks in the two hole, meaning DeJong could see the majority of his AB down at sixth or seventh in the lineup, but high-20s power with a healthy amount of RBI will make DeJong a useful bench bat in 2019.
Here's two guys that don't really excel in any one category, but their modest all-around production plus great situations in 2019 make for easy bench picks. Ketel Marte is a 10/10 guy with a mediocre BA but hit a shocking 12 triples last year and boasted a 0.68 BB/K ratio. He ended the year strong, hitting .296 with a 126 wRC+ after the All-Star break and should be leading off for the D-backs while manning CF in 2019. If you play in daily roster move leagues, it's worth noting that you'll want this guy in your lineup against LHP. He hit .321 with a 157 wRC+ against southpaws in 2018. The next fantastically average player is Jorge Polanco. He missed the season thanks to a PED suspension, but came back with his usual 15/15-pace stuff and hit a .288 BA. Like Marte, Polanco should be hitting at the top of the lineup for the Twins this season, and will score more than enough runs to warrant a spot on your bench.
Shortstop Points League Rankings: Lower Tiers
Tier Six
I was high on Johan Camargo at the beginning of the off-season as a sneaky value pick, but the resigning of Nick Markakis makes him much less appealing. The signing occurred after these rankings were submitted, and honestly, he can probably safely be dropped down to tier seven. His best path to playing time aside from an injury to Josh Donaldson, not that big of a stretch, is through the continued struggles of Dansby Swanson. He's best left on the waiver wire at the beginning of the season.
Willy Adames showed flashes of promise in his first half season of MLB play last year, hitting 10 HR with a .278 BA while swiping six bases. He's always possessed a healthy BB% through the minors, and it carried over to his short MLB stint, but the strikeouts more than negated it. The 29.4 K% was just painful, and the minor XBH return (only seven doubles) won't make it worth rostering Adames in 2019.
Hot damn, what an ugly rookie season it was for Scott Kingery. He was given every possible chance with the big league level, but just wasn't able to figure it out. One year after lighting up the minor leagues with 26 HR and 39 SB, Kingery hit just .226 in 147 games, with eight bombs and 10 SB. The strikeouts weren't quite Willy Adames level, but the 0.19 BB/K ratio leaves a ton of room for improvement. Unfortunately for him, the window of opportunity has now closed in 2019 with the acquisition of Jean Segura and Andrew McCutchen and the emergence of Cesar Hernandez. The slight ray of hope for Kingery is the fact that he hit "better" against RHP (63 wRC+ vs 57 against LHP), and has the ability to play the corner outfield positions. That could open up some platoon possibilities with Nick Williams, but the most likely scenario is Kingery remains as a super-utility type in 2019.
Tier Seven
I'll be up front, we may be too low on Orlando Arcia, I mean at least the guy has a starting role. That's more than we can say for the previous three guys. He is just one year removed from a 15 HR, 14 SB, .277 BA campaign. He took a huge step back in 2018 however, hitting just three HR in 366 PA, seeing his BB/K ratio drop from 0.36 to 0.17, and having his BA bottom out. The silver lining was his second half turn-around. After the All-Star break, Arcia hit .290, giving fantasy owners some hope that a return close to 2017 is within the realm of possibility this year. It's not likely, but I'm saying there's a chance, which at this point in your drafts, it's worth it. 
The rest of this tier contains low upside bench-fillers like Brandon Crawford, Niko Goodrum, and Troy Tulowitzki (for half a season), and then high-upside stashes like Brendan Rodgers and Fernando Tatis Jr. I don't see Rodgers being relevant for 2019 redrafts with Garrett Hampson and Ryan McMahon helping bridge the infield gap for his eventual shot. But I'll gladly take a flier on Tatis Jr in the late rounds of drafts this year. Whether the Padres wait for two weeks or after June to call him up, I want a piece of that 30/30 potential once he arrives.
More Fantasy Baseball Rankings Analysis