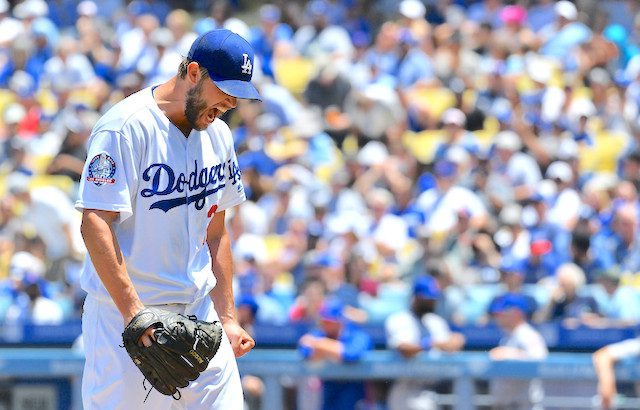 Fantasy baseball draft prep never stops, lockout or not. As we all anticipate the start of spring training, many fantasy baseball drafts are already underway. To prepare our readers, RotoBaller's rankers -- JB Branson, Pierre Camus, Ariel Cohen, Nicklaus Gaut, and Nick Mariano -- have updated their 2022 fantasy baseball mixed league rankings.
This article will focus on the top few tiers for starting pitchers and how our RotoBaller team rankings compare to the industry's ADP consensus rankings that pool the current ADP for each player across CBS, Yahoo, RT Sports, NFBC, and Fantrax leagues.
You can also find our other draft rankings for all sorts of league formats, continually updated throughout the preseason, right here in our main fantasy baseball Rankings Wizard tool. Also, make use of all our premium resources with our MLB Draft Kit.
Featured Promo: Get any full-season MLB and DFS Premium Pass for 50% off. Exclusive access to our Team Sync platform, Premium articles, daily Matchup Rating projections, 15 lineup tools, DFS cheat sheets, Research Stations, Lineup Optimizers and much more!
Sign Up Now!
2022 Starting Pitcher Rankings
The staff rankings are for roto leagues, and standard 5x5 categories. They are always updated on our fantasy baseball rankings dashboard. Nick Mariano was named the #1 overall most accurate industry expert ranker for the 2018 season, and Ariel Cohen was the top ranker in 2019. Both are included in these rankings.
Tier One
When we look at the top-tier arms and where they are getting drafted, Shohei Ohtani and Jacob deGrom stand out here as both are going under drafted according to our rankings but for very different reasons. Ohtani is eligible as a SP and as a DH, so you can justify taking him ahead of any pitcher on the board on the strength of his offense alone. And if you play in a league with daily rosters, he's hands down the most valuable player in fantasy due to his dual-threat abilities.
Meanwhile, deGrom is being drafted as the SP7 right now mainly due to managers' concerns about his health and doubts as to whether or not he can be as dominant as he's been in past years as he's coming off the injury. Our guys have him as the SP3 and it's as simple as this - if he gives you a full season of production that is anywhere close to what he's done over the last 4-5 years, he's going to absolutely smash this ADP and he could potentially be the best pitcher in fantasy baseball once again. Let's not forget what he was doing last year before the injury, shall we?
Tier Two
Things look pretty much in line here with the exception of Walker Buehler who is being drafted of Corbin Burnes and Max Scherzer in some leagues. I have nothing against Buehler as he's coming off his best full season as a pro and set career-highs in innings pitched, ERA, and WAR. But his strikeouts dipped a bit as his K% sank to 26% as he seemed to be willing to pitch to contact a bit more. Burnes and Mad Max simply have higher K ceilings and they're worth taking over Buehler here even if he was ultra-reliable last year.
Tier Three
Let's start with the guys who are solid values in this tier. I love Logan Webb and Max Fried this year and I'm not alone as our rankings reflect confidence in them as well.
Logan Webb busted out in a big way in 2021 with a stellar third season. He boosted his strikeout rate to 26.5% while lowering his walk rate to only 6%. He retooled his arsenal by throwing his sinker and slider more than ever before and going almost entirely away from his four-seamer. His changeup was an effective offspeed pitch, too, and the movement on these pitches made trying to square him up a nightmare for opposing hitters.
Logan Webb, 95mph Sinker, and 83mph Slider, Overlay with Tails pic.twitter.com/WWGtHuiAMG
— Rob Friedman (@PitchingNinja) September 8, 2021
Webb was dominant down the stretch and into the postseason for the Giants going 7-0 with a 2.71 ERA after the all-star break. If he can match last year's production, he's a great pick here in the 6th-7th rounds.
If you grab a strikeout pitcher early, Max Fried is another great target in this range. While he won't post gaudy K numbers, he has been fantastic the last two years and inducing soft contact and like Webb, he rarely walks guys. He's cut down on his fastball usage the last two seasons and threw his offspeed pitches more than ever last season which helped result in less hard contact.
Speaking of strikeout pitchers, both Robbie Ray and Freddy Peralta are ranked three spots higher in our rankings than the consensus ADP. There are plenty of people who doubt that Ray can duplicate his huge bounce-back year from 2021 but the strikeouts were always there even in the years where he struggled with homers. Meanwhile, Peralta is coming off his best season as a pro where he had career-best numbers pretty much across the board. He struck out nearly 200 hitters while maintaining a .097 WHIP and 9% walk rate. You're getting some darn good run prevention there to go with the elite strikeout numbers.
Chris Sale stands out in this tier as one guy who our experts think the field is a bit too high on this season. His numbers from nine starts last season look pretty much in line with what we've come to expect from him, but the questions surrounding his durability remain and we are now a full four years removed from his last truly dominant season in 2018.
Tier Four
Let's start out here with a few guys who are further down our rankings when compared to the consensus ADP. Jack Flaherty and Luis Castillo are being taken on average six and ten spots, respectively, ahead of where they stand in our RotoBaller rankings. Castillo had a much better second half of the year in 2021 after a disastrous start but still allowed 19 home runs last season which is pretty alarming for a ground ball pitcher and his walk rate was back up again over 9%. Even though he pitched better after that rough spring, he still finished with a 1.36 WHIP. Meanwhile, Flaherty had what appeared to be a really solid bounce-back year in 2021, but his xERA of 4.92 suggests it might not have been as good as it appeared on the surface. Ariel Cohen's ATC projections have him with a 3.70 ERA this year with about a strikeout per inning in 29 starts and while that's perfectly usable, I'd prefer some other guys in this tier over him strikeout and win upside.
Charlie Morton just had himself one hell of a season and was a major piece of this Atlanta team that won it all last fall. He's entering his age 38 season but like a fine wine has only gotten better with age. In his last two full seasons (2019 and 2021) he's thrown the most innings of any in his career and it's been pretty awesome watching his transformation into a dominant starter and strikeout artist over the years.
As you can see here, his pitch mix has continued to evolve he really morphed into this version of himself around 2017 when he went to Houston. The Pirates tried to make him a sinker-baller, but Chuck has found the most success late in his career by ditching the sinker and going heavy on his four-seamer and curve. He's showing no signs of slowing down and still doesn't get the respect he deserves. Draft him higher than the field with confidence.
Carlos Rodon went from an early frontrunner for the AL Cy Young last season to a free agent in the offseason. His velocity dropped during the year and given his long history of injuries, the White Sox decided not to offer him any kind of significant money. While he might not repeat that incredible run from March to June of last year again, this is still a quality veteran pitcher with really good stuff and I'm really intrigued to see where he lands and if he can recapture some of that magic this year.
Justin Verlander missed nearly all of the 2020 season, but let's not forget just how dominant he was in 2019. He's seven spots higher in our rankings than the consensus and it's basically the same argument here as with deGrom - if you think he comes back at anything close to his usual self and stays healthy, then he's going to be a tremendous value at this ADP.
Tier Five
Chris Bassitt and Sean Manaea are ranked 35th and 38th, respectively, in our rankings yet they are being drafted as the SP43 and SP45. Both these guys had great years in Oakland last season as they both pitched the most innings of their careers and had their best strikeout numbers, too (both struck out around a batter per inning). These guys are crafty pitchers who really seemed to figure out how to best use their stuff last year.
Eduardo Rodriguez signed in Detroit for some big money this offseason. He's a bit of a polarizing pitcher and depending on who you're talking to you're likely going to get some vastly different takes on his ability. Getting out of Boston will surely be a good thing as the short porch in left was definitely not doing him any favors and fewer starts against the Blue Jays and Yankees lineups full of right-handed power hitters certainly won't hurt either. His xERA was only 3.47 last season while his ERA was 4.74. He's a guy who's going to eat inning and if this Tigers team continues to improve with their upgrades on offense, he could be in a position to pick up double-digit wins again this year. Our staff has him eleven spots ahead of his consensus ADP, which is being weighed down by his 232 ADP on CBS.
Download Our Free News & Alerts Mobile App
Like what you see? Download our updated fantasy baseball app for iPhone and Android with 24x7 player news, injury alerts, sleepers, prospects & more. All free!


More Fantasy Baseball Advice