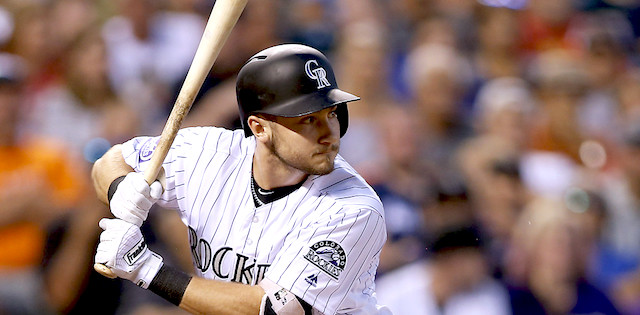 Any high-ranking prospect is saddled with an astronomical amount of hype, both throughout their minor league career and up to the moment they finally reach the Bigs. If the player fails to reach the expectations laid before him, we as fantasy players are quick to cast him aside and move to the next big thing. It's easy to forget about a player when he's not playing well and forget all about the talent that made that player so coveted in the first place.
That creates the fantasy phenomenon known as the post-hype sleeper - a player whose draft cost is depressed after busting a year or two earlier. These players can often make for the best draft-day values for those willing to risk a draft pick on someone in need of a second chance.
This article will cover four post-hype hitters to target on draft day who could realize or rediscover their potential in the 2021 season. ADP is based on NFBC and is current as of 02/02/2021.
Featured Promo: Get any full-season MLB and DFS Premium Pass for 50% off. Exclusive access to our Team Sync platform, Premium articles, daily Matchup Rating projections, 15 lineup tools, DFS cheat sheets, Research Stations, Lineup Optimizers and much more!
Sign Up Now!
Moncada has a much higher draft-day cost than the other players in this article, but that's because Moncada's shown more signs of sustainable success at the big league level in the past, and had much higher prospect status. Five years ago, Moncada was the number one prospect in all of baseball and was the centerpiece of the deal that brought Chris Sale to Boston.
Moncada's had his share of ups-and-downs as a big leaguer, and put up a measly .225/.320/.385 triple slash in 2020. He struggled while most of his fellow Southsiders flourished at the plate in Chicago's return to the postseason. Advanced metrics suggest that Moncada earned his poor numbers as well, as he put up a .208 xBA and .280 xwOBA last year, and saw his average exit velocity drop to a pedestrian 87.8 MPH. His barrel rate also halved, and his strikeout rate once again climbed above 30%. With all those negative trends, most drafters would hesitate to spend a top-100 pick on Moncada, and readers may be wondering why Moncada makes for a good post-hype sleeper.
The reality is, the advanced metrics from 2020 do not reflect the actual Yoan Moncada. Moncada was diagnosed with COVID-19 just before the start of the season, and while it didn't cost him much time on the field, the virus may have cost him at the plate. Moncada told reporters in September that he was still dealing with the effects of the virus, and that he felt a lack of energy and strength, and that is evident in the metrics.
He lost six MPH on his average exit velocity, and saw his hard hit rate crater to 32.3%, a career lowMoncada also had a career-low in sprint speed and failed to even attempt a steal after swiping double digit bags in the previous two seasons. Here's a visual of three important metrics for Moncada's performance, which are his hard hit rate, swing rate, and ISO by age.
Normally, I'm skeptical of players' excuses for poor performance, but those types of performance dips are practically unheard of in a 25-year-old athletic freak like Moncada, which is why I'm willing to believe that COVID is to blame for the bulk of Moncada's struggles.
If we give Moncada a mulligan for 2020, we only need to look back at 2019 to see what type of player he can be. Moncada was a monster two years ago, putting up a .215/.367/.548 triple slash along with 25 homers and 10 steals. He pulverized the ball for a scorching 93.1 MPH average exit velocity, and had an exceptional 12.2% barrel rate. As impressive as those numbers are, the most important one was his 47.3% swing rate, a six percent jump from the previous year. Moncada's selectiveness at the plate was one of the biggest reasons he struggled to break out, and that jump in swing rate not only led to his best power numbers, but gave him a career-low 27.5% strikeout rate.
Moncada reverted to old habits in 2020, lowering his swing rate to 42.7%, which is similar to his 2017-2018 marks. Moncada actually managed to lower his swinging strike rate by 2% in 2020 while seeing a strikeout rate climb to 31.8%, a rare feat. If Moncada can regain his physical strength and his aggressiveness at the dish, he could be in for a big year. Moncada has the talent to be a top-25 player, but can be had around pick 86 in NFBC leagues. That can't be said about the other players in his price range, making Moncada a great post-hype target with big upside.
Riley was hyped up alongside fellow young Atlanta hitters such as Ronald Acuna, Ozzie Albies, and Dansby Swanson. Riley was never expected to reach their heights, but he was expected to provide a little thump in the middle of the order for the superstars. Riley's career started off with a bang, as he slugged 14 home runs and posted a .908 OPS through his first two months in the majors, but came crashing down to earth soon after. Since 7/1/2019, Riley has a .208/.268/.374 triple slash with a 30.5% strikeout rate in 325 PA.
No one ever expected Riley to maintain his torrid pace in early 2019, his .333 BABIP, 28% HR/FB rate, and 32.6% strikeout rate were huge red flags, but Riley has been miserable at the plate ever since that start. The Braves recently affirmed that Riley is going to be their regular third baseman in 2021, but can the powerful prospect hold onto the role and rediscover what made him so successful?
Even though 2020 was a bad year for Riley (.239/.301/.415 triple slash), he made a few steps in the right direction. Riley cut his strikeout rate to 23.8%, a reduction of more than 12%. He also increased his average exit velocity to a blistering 91 MPH, a 1.6 MPH jump from 2019. These changes gave him a much more favorable .262 xBA and .471 xSLG, two metrics that indicate Riley was unlucky with his surface stats, especially in the power department. One reason for his depressed power could be a spike in grounders, as Riley's groundball rate jumped to 41.7% in 2020. Riley had just a 26.2% groundball rate in 2019, along with a 48.8% flyball rate, a distribution that created an inflated home run total.
We don't want the pendulum to swing all the way back in that direction, but if Riley could marry his improvements in strikeout rate and exit velocity with a more favorable groundball distribution, he could be in for a really nice year. With an NFBC ADP of 218.48, Riley can be had on the cheap, and he's got the opportunity to be a fixture in a loaded Atlanta lineup. He may be overshadowed by his teammates, but that's a blessing in disguise because it allows this breakout candidate to fly under the radar.
Texas picked up Lowe as part of a six-player deal with Tampa Bay back in December, and the move made Lowe a player of interest once again. An abundance of talent in Tampa meant Lowe struggled for playing time, but he'll have the opportunity for regular playing time as the everyday first baseman for a rebuilding Texas organization.
Praised for his power, hit tool, and plate discipline as a prospect, Lowe has been unable to translate minor league success into big league production. Despite tearing through minor league pitching, Lowe has a .251/.322/.447 triple slash and a 31.8% strikeout rate in 245 career PA. While those numbers do translate into a slightly above average 106 WRC+, it's a far cry from what we'd expect based on his pedigree and minor league performance, and not good enough to keep a job as a major league first baseman. Even with the trade, Lowe's NFBC ADP sits at 336.46, but there's reason to think he can provide value at his current cost.
Lowe immediately slides in as the Rangers' full-time first baseman, offering a much-needed upgrade over Ronald Guzman. Sadly, the Rangers' new ballpark doesn't seem to be the hitter's haven that the old park was, but it's still an upgrade for Lowe over Tropicana Field. The Trop is a tough place for left-handed sluggers like Lowe, and while the data sample is small on Globe Life Field, it was more friendly to lefties in 2020. If 2020 is any indication, Lowe is going to need all the help he can get. He managed a .224/.316/.433 triple slash in 76 PA, which is probably why Tampa Bay had no issue parting with him.
Lowe's awful 2020 line was primarily a product of his stomach-churning 36.8% strikeout rate, a mark that prevented him from maintaining any semblance of success at the plate. What's perhaps most bizarre about his elevated strikeout rate is the manner in which Lowe whiffed. His 26.2% chase rate was down 4% from the previous year, and he feasted on breaking balls for a .462 BA and .769 SLG. Instead, Lowe struggled to handle the heat. He hit a measly .122 against fastballs in 2020, along with a 13.8% SwStr rate. Opposing pitchers changed their approach against Lowe with fastballs, as Lowe saw fastballs 70.1% of the time in 2020, a 12% increase from the year before. They also attacked him low and away with the heat with greater frequency.
Below is a fastball heat map comparison for Lowe between 2019 (left) and 2020 (right).
Although it was a small sample size, opponents clearly found a hole in Lowe's swing and attacked. While on the surface this is a bad thing, we have seen many hitters overcome things like this, and Lowe performed well against fastballs both in 2019 and in the minors. Perhaps regular playing time and a fresh set of eyes on his swing by way of the Texas coaching staff is what Lowe needs to patch the holes in his game. Either way, there's plenty of talent lurking in this bat, and Lowe never got a fair shake in Tampa. He can be had in the price range of bland veterans such as Brandon Belt and C.J. Cron, and Lowe is a much more interesting dice roll at that cost.
Garrett Hampson was the perfect storm for a derailed fantasy hype train. He offered prodigious speed at a premium position while calling Coors Field home. Hampson believers will blame the Rockies' organization for failing to give him enough opportunities, and while Colorado's player development is certainly worthy of criticism, some of the blame lies at Hampson's feet.
He has failed to produce at the plate over the last two seasons, posting a combined .681 OPS and 63 wRC+ between 2019 and 2020. 2020 was perhaps the worse of the two showings, as Hampson's strikeout rate jumped to an eye-popping 32.7%. Given that Hampson's sprint speed is in the 99th percentile and he calls Coors Field home, the most important thing he can do is put the ball in play. A strikeout rate that high is untenable for Hampson's skillset and situation, and he won't last if he can't make more frequent contact. That being said, there are some things to like about Hampson despite his flaws.
The most enticing aspect of his game was mentioned above, the 99th percentile sprint speed. In a straight line, he's faster than noted thieves like Fernando Tatis Jr., Adalberto Mondesi, and Ronald Acuna. Hampson was a prolific base stealer in the minors and has a stellar 85% success rate on steal attempts in the majors. Rockies manager Bud Black isn't afraid to let his players run, as Colorado attempted the seventh-most steals in 2020 under Black. With stolen bases becoming scarcer with each passing season, Hampson has the unique potential to be a strong contributor in the category, and that alone makes him an interesting post-hype sleeper.
You can't get this kind of speed with this kind of opportunity anywhere else, and if Hampson hits he could easily overtake someone like Ryan McMahon, Sam Hilliard, or Josh Fuentes. He's going around pick 270 in NFBC drafts, and I will be stashing him on my bench wherever I can this draft season.
Download Our Free News & Alerts Mobile App
Like what you see? Download our updated fantasy baseball app for iPhone and Android with 24x7 player news, injury alerts, sleepers, prospects & more. All free!


More Fantasy Baseball Sleepers