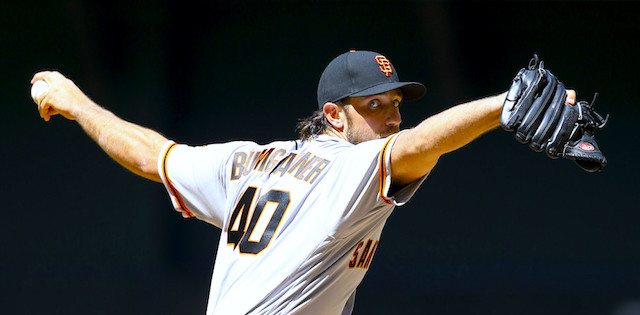 When are we going to finally get around to making MLB Opening Day a national holiday? I can tell you the only thing that kept me from calling in sick was the fact that technology allows me to stream live games in HD on my cell phone while I sit at my desk waiting until I can run home to sit in front of the big screen.
For those who weren't lucky enough to catch most of the action or simply want a neatly condensed recap, RotoBaller is here to help. We'll break down the key events and players from each game, with a fantasy slant naturally.
If you thought baseball was headed toward a three-true-outcome game, the first full day of action did nothing to dissuade you from that opinion. The Dodgers set a record by smacking eight big flies in their first competition of the season and eight different teams hit at least three homers. The aces were out as well, with 11 different pitchers registering at least seven strikeouts. Whether these paces keep up is anyone's guess. One thing is for sure - it's going to be another entertaining season.
Editor's Note: Get any full-season MLB Premium Pass for 50% off. Exclusive access to our Draft Kit, premium rankings, projections, player outlooks, top sleepers, dynasty and prospect rankings, 15 in-season lineup tools, and over 200 days of expert DFS research.
Sign Up Now!
Mets @ Nationals
This was a pitcher's duel as expected, with reigning Cy Young winner Jacob deGrom finally getting justice in the form of a win. Not that his offense did him too many favors... they managed two runs total, coming off the bat of new addition Robinson Cano. He seems to have missed the Big Apple, homering in his very first at-bat against none other than Max Scherzer. Other than that blip, Scherzer was his typical dominant self. He whiffed a league-high 12 Mets over 7 2/3 strong innings and looks poised to try to recapture the top award from deGrom.
Mets Takeaway: The new-look Mets offense gets a pass, as they were facing the most intimidating pitcher in the senior circuit. Cano looked comfortable already, which is a great sign. It will be interesting to see if Peter Alonso sticks at the #2 spot in the lineup if he gets off to a slow start. He struck out twice in four AB although he did notch a single.
Nats Takeaway: It's hard to be disappointed in the fact they couldn't solve deGrom. At one point, Trea Turner, who stole three bags on the day, was at third base with the heart of the order hitting and they weren't able to generate a run. It seems as if the repeated promise that Turner would run more may actually be true. If he swipes 50+ bases this year, he'll easily have been worth a top-five pick.
Orioles @ Yankees
Quick: name three players on the Orioles' Opening Day roster. Thought so. I'm not ashamed to admit I had to look up several names from the boxscore to figure out who they were throwing out there. Unsurprisingly, the team that lost 115 games last year and looks to be even worse on paper this year didn't do much good against the Bronx Bombers. Masahiro Tanaka wasn't super efficient, throwing 56 of 83 pitches for strikes and lasting 5 2/3 innings, but he didn't walk a batter and allowed just one run on six hits to earn the victory. The big news on offense wasn't the Twin Towers of Judge and Stanton but the dueling first base duo of Luke Voit and Greg Bird, each of whom went deep.
Orioles Takeaway: Jonathan Villar and Trey Mancini showed why they may be the only birds to carry any fantasy value this year. Cedric Mullins led off and played center, which could make him relevant if he finds a way to get on base and then gets the green light, which he obviously should. As far as the pitching staff, the Opening Day starter was Andrew Cashner. 'Nuff said.
Yankees Takeaway: You know what you're getting from nearly every position except first base. Everyone is watching to see who between Bird or Voit might win the job and have a breakout season, but with Aaron Hicks on the IL already, it's possible they both find their way onto deep mixed league rosters early on.
Cardinals @ Brewers
The most exciting game of the day came from a pair of division rivals that each have World Series aspirations in '19. I had to rub my eyes in disbelief as I watched Jhoulys Chacin strikeout the side in the top of the first inning, setting down Matt Carpenter, Paul Goldschmidt, and Paul DeJong in order. He then reverted to 2016 form as he allowed a deep blast from Kolten Wong and a back-to-back jack from Harrison Bader. He got his revenge with a home run of his own, joining Moose to five the Brew Crew a 5-4 win. Lorenzo Cain saved the day with a HR-robbing catch of Jose Martinez in the ninth, but you don't get fantasy points for that. 🙁
Cards Takeaway: Kolten Wong was the big story here but his power figures to cap around 20 for the season, so we can't expect too many more days like this. That doesn't mean he can't be a factor if healthy though. I was glad to see Harrison Bader bring value even while hitting eighth. Goldy started his St. Louis career at 0-for-3. Let's hope it's not another slow first half. Miles Mikolas was bad, allowing three homers and five ER in five innings. He allowed just 16 HR in 32 starts last year.
Brewers Takeaway: Sorry, did you say regression? Christian Yelich scoffed at that notion with a three-run shot off Miles Mikolas, who had a tough day. This team will pack a punch and is solid from top to bottom.
Braves @ Phillies
The story here was Bryce Harper's debut in Philly, where he has been sentenced signed for 13 years. The fans gave him a rousing ovation as expected but he didn't make it a memorable day otherwise, going 0-for-3 with two strikeouts. Julio Teheran was mediocre while Aaron Nola was dominant, as expected. At the end of the day, the win-now Phillies put up a 10-spot against top rivals Atlanta, so the new season is off to a great start.
Braves Takeaway: Nola was stifling, allowing just two hits in six innings. The Phillies also have a strong bullpen, so the Braves must show the ability to rebound the rest of this series with their balanced lineup. Watching parts of this game, Teheran actually looked pretty sharp for the most part and finished with a 7-2 K-BB rate. Don't count him out for this season.
Phillies Takeaway: It may take some time for Harper to get cozy in his new surroundings but his presence may already be a boon to Rhys Hoskins, who some are predicting to outperform the former MVP this year (myself included). Hoskins hit a grand slam and is off to a great start.
Tigers @ Blue Jays
This game largely went as expected, except for the thing about Jordan Zimmermann's perfect game. Yes, seriously. He didn't get it after all, but carried one into the seventh inning and completely shut down the Jays. While neither team is expected to be a contender, Toronto does have some pop in its lineup. Unfortunately, they showed that they also have plenty of swing-and-miss. The Tigers didn't score until the 10th inning but those two runs were good enough for a win.
Tigers Takeaway: We're all going to pay attention to Detroit for one reason in the fantasy world - Miguel Cabrera. He went 0-for-4 and stranded four runners, so it's not a great start. He was red-hot in spring training, so as long as he's in the starting lineup, you've gotta believe. Zimmermann was a really good pitcher once upon a time. Could it be that he's finally healthy for the first time in three years? Color me skeptical but I'll take a closer look at his next outing against a more formidable opponent.
Blue Jays Takeaway: There may be plenty more days like this, as the Jays have a slew of sluggers who run hot and cold and tend to miss the ball quite often. Teoscar Hernandez batting third should make those who took him as a late-round flier feel better.
Astros @ Rays
The 2017 champs looked sharp as ever and Jose Altuve flexed his muscles with a home run off Cy Young winner Blake Snell. In fact, Snell allowed as many HR as he had Ks (three). It's easy to overreact to one game and those who predicted a sharp decline for Snell this year are likely doing victory laps already. Alex Bregman did start but couldn't reach base in four at-bats.
Astros Takeaway: The big story here is Justin Verlander quietly looking as dominant as ever, with seven innings of one-run ball. Granted, the Rays lineup isn't too fearsome. It's encouraging to see Altuve do this thing too.
Rays Takeaway: Snell aside, I was intrigued by the fact that Brandon Lowe was hitting cleanup at DH with Joey Wendle at second base and Yandy Diaz at third base. I assumed Diaz would play more than people think, which is why the team acquired him. Overall, this team just doesn't have much power.
Cubs @ Rangers
The Cubs had a field day in this one, scoring 12 runs. Javier Baez picked right up where he left off last year, jacking two homers and driving in four. Kris Bryant also went deep and could be poised for an MVP-type season. The Rangers lineup is sneaky deep, even if the pitching staff will force them to play catch-up on most nights.
Cubs Takeaway: A down 2018 campaign should be forgotten. The lineup is solid all the way through and could produce some sleeper values with David Bote and Albert Almora if they can retain everyday jobs.
Rangers Takeaway: It was so vindicating to see Nomar Mazara drop a bomb in game one. I predicted him to reach the 36-HR mark, so he's already well on his way.
Angels @ Athletics
Mike Trout made headlines with his record contract days ago but he was mostly invisible on Opening Day, as was the Angels offense. Mike Fiers managed six shutout innings and the bullpen cleaned up the rest, blanking the Angels 4-0. Khris Davis did Khris Davis things. Interestingly, Jurickson Profar stepped in at first base in place of injured Matt Olson. He is eligible in approximately 34 different positions on the field.
Angels Takeaway: You can't blame this performance on facing an ace, so let's call a Mulligan on this performance. Justin Upton was out of the lineup, Shohei Ohtani won't be back for a while, so Andrelton Simmons was batting cleanup. It could be a slow April for the Halos scoring-wise.
A's Takeaway: When you think Oakland, you think Moneyball. This team could prove to be one of the higher homer-hitting clubs though, even aside from Krush. It's too early to panic but Ramon Laureano batted eighth and went hitless, dropping to 2-for-13 to start the season.
Pirates @ Reds
As long as Joey Votto takes a slight step back toward his All-Star form, the Reds should be a much better club this year. They got off on the right foot with a 5-3 win over the Bucs, although it was a tense ending. The Pirates had the bases loaded in the ninth inning but David Hernandez was the last of three relievers to get an out in the final frame, notching the save. Pittsburgh was without Starling Marte, a last-minute scratch due to migraines. Instead of the trio of McCutchen, Polanco, and Marte that the club used to roll out, it was Corey Dickerson, Melky Cabrera, and J.B. Shuck. These aren't your father's Pirates.
Pirates Takeaway: The name that jumps off the box score is Jung Ho Kang. The team stuck by him through legal/visa issues and injuries to announce him as the starting third baseman ahead of former top prospect Colin Moran. Kang delivered two RBI on Opening Day. He belongs higher in the lineup than Francisco Cervelli; maybe that will happen soon enough.
Reds Takeaway: Overshadowed by the late-inning dramatics is the fact that Luis Castillo was solid in his 2019 debut. He gave up just one run on two hits in 5 2/3 innings, albeit against a limited lineup. Keep the faith for now but don't read too much into it. Offensively, this team will be fine without Scooter Gennett. Hopefully, we get to see Nick Senzel get a shot, regardless of where he plays.
Giants @ Padres
It was a quiet debut for Manny Machado but the spotlight shifted away from the $300 million man before game time when it was announced that Fernando Tatis Jr. would start at shortstop. Machado would not pick up a hit in three AB but Tatis notched the first two of his career. Wil Myers got off to a good start with a solo shot of Madison Bumgarner, who looked, dare I say, like his old self. The Giants will need a lot more of that from MadBum with an offense that is coming off a ranking of 25th in batting average last season that has no reason to improve with largely the same cast.
Giants Takeaway: We can't use the fact they played San Diego as an excuse - Bumgarner was in vintage form and may have been underestimated by all of us.
Padres Takeaway: Tatis will be the talk of the town for a while but they will need their young outfielders to actually contribute something too. Manuel Margot and Franmil Reyes were a combined 0-for-6. Hunter Renfroe sat this one out.
Rockies @ Marlins
There will be many days like this for Miami. They fell to a 6-0 deficit early, got a couple of long balls in meaningless late-inning at-bats but otherwise were uninspiring. Kyle Freeland looked like the real deal, although facing this opponent in Marlins Park is quite different from getting the Dodgers or Diamondbacks in Coors Field.
Rockies Takeaway: Freeland had more than his share of skeptics on draft day, so it will be interesting to see how many are willing to reverse course if he strings together a few quality starts to start the year. Ryan McMahon picked up a hit, run, and RBI, so he has kept some of the momentum going from spring training.
Marlins Takeaway: "They are who we thought they were." This is going to be some ugly baseball. It was nice to see Jorge Alfaro with a dong today though.
Indians @ Twins
A classic pitcher's duel, with Jose Berrios getting the better of Corey Kluber. Berrios was overpowering with 10 strikeouts, second only to Scherzer on the day.
Indians Takeaway: This Indians lineup lacks the firepower of previous years and now will be without Francisco Lindor for even longer than first anticipated. The pitching staff remains one of the best in baseball. Take the under on Cleveland the rest of this month, as they'll play a lot of low-scoring games.
Twins Takeaway: To be honest, I just wanted to see Byron Buxton do something fabulous. He didn't but he did get one base hit at least.
Diamondbacks @ Dodgers
Here's where the fireworks came in. The Dodgers hit an Opening Day record eight home runs, including two by Joc Pederson and Kike Hernandez. Cody Bellinger, Max Muncy, Corey Seager, and Austin Barnes also got in on the action. Zack Greinke labored before being mercifully pulled. Matt Koch didn't suffer a better fate, allowing five runs in just over four innings of relief.
D-backs Takeaway: Not much positive here except that Christian Walker did a fine job trying to fill the shoes of departed Paul Goldschmidt. Walker doubled and homered, driving in two. There doesn't seem to be any immediate cause for concern on Greinke, so chalk it up to a bad day.
Dodgers Takeaway: We've seen this before from Pederson - he hits in bunches and then goes through spells where he can't put bat to ball. Hernandez is the one fantasy owners should pay attention to, as he will be a regular at second base but slots all around the infield and outfield. He could be a valuable utility guy in deep mixed leagues.
White Sox @ Royals
If you watched this game, it was probably to get a glimpse at potential young superstars like Eloy Jimenez, Yoan Moncada, and Adalberto Mondesi. The Sox were held in check but Mondesi fill up the box score with two hits, a run and an RBI (no steals, sorry). Brad Keller was the true star of the game, going seven scoreless frames with two hits and one walk surrendered. Brad Boxberger faced one batter and is now tied for the league lead in saves with one.
White Sox Takeaway: Chicago looked baffled by Keller but finally generated some scoring in the ninth inning. Too little too late though. There is quite a bit of talent in this lineup, even if most of it is quite young. It could take some time for things to gel but the Sox could be competitive sooner than people think.
Royals Takeaway: Keller may be the sleeper that nobody had pegged. He was quietly effective in his rookie season, posting a 3.08 ERA and managed a winning 9-6 record despite playing for a losing team.
Red Sox @ Mariners
OK Chris Sale owners, go ahead and panic. Now calm down, breathe into a paper bag and realize it's one game into a 162-game schedule. Sale got rocked for seven runs and three big flies in just three innings. There was talk about how his velocity was down, in the lower 90s, which is always concerning. Given his limited work in the spring, it might take a couple starts before he is in midseason form. The Mariners have a lot of new faces on the diamond but they did just fine in beating the reigning World Champs. There's plenty of thump in a Haniger-Santana-Encarnacion 1-2-3 to start the order.
Red Sox Takeaway: Nothing. They are coming off a 108-win season and championship celebration. Opening Day is hard to get pumped up for when you're still tired from October.
Mariners Takeaway: Are we believers in Domingo Santana's resurgence yet? He has a pair of homers and nine RBI in three games. This would be a good time to scoop him off waivers if he's available. Go grab Tim Beckham too while you're at it.
More 2019 Fantasy Baseball Advice