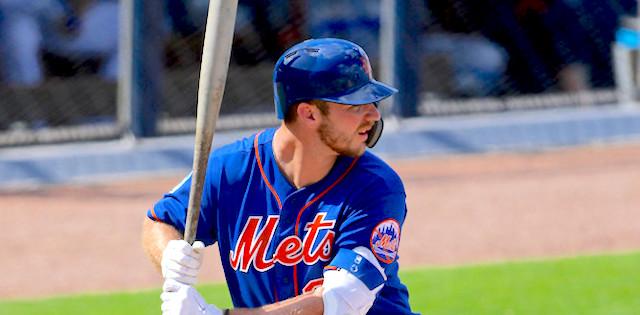 Often regarded as an inferior fantasy baseball format, points leagues offer a different style of boasting over your friends or coworkers similar to that of fantasy football. These setups are typically head-to-head formats for a one-week stretch where the player with the most points gets a win. Easy right? While it's true that roster construction is more basic, the common mistake that people make is drafting straight from a top-300 list from a magazine or website. These rankings are generally directed towards rotisserie formats, so we need to determine the key differences between these styles.
Points leagues reward stolen bases, but they aren't held in as high regard since you aren't drafting an arbitrary number of thefts to win the category. Plate discipline also matters because a walk will award a point and a strikeout will subtract you a point. Scoring systems will vary from site to site, but they generally have the same positive or negative values. It's important to know who will hurt your point total by being susceptible to the strikeout and the easiest measure to track this is K-BB%, where the lower number, the better. Total bases should be kept in mind as well as finding consistent players, so you have a better chance of winning every matchup instead of having boom or bust weeks.
Now that we know what we're looking for, we'll analyze RotoBaller's first base points league rankings to find where the value is among these hitters. There's not much speed at the position, so these rankings won't vary much from roto lists, but there are a few players that stand out in this specific format. I find the position very top-heavy, so if you wait too long, you may find yourself behind the eightball. Using these rankings gives you a huge advantage over the rest of your league that will likely run off of a standard rankings list, so read on and dominate your points league draft.
Featured Promo: Get any full-season MLB and DFS Premium Pass for 50% off. Exclusive access to our Team Sync platform, Premium articles, daily Matchup Rating projections, 15 lineup tools, DFS cheat sheets, Research Stations, Lineup Optimizers and much more!
Sign Up Now!
First Base H2H Points League Rankings
In case you missed it, our very own "Big Pick Nick" Mariano was named the #1 overall most accurate industry expert ranker for the 2018 season!
Tier One
Cody Bellinger fittingly won the NL MVP while posting career bests across the board with a .305 BA, 47 HR, 121 R, 115 RBI, and 15 steals. While these numbers are undoubtedly worthy of a first-round pick in roto leagues, his plate discipline marks make him a suitable top-10 pick for points formats as well. Bellinger entered 2019 with a K-rate of 25.3% before dramatically improving it to a 16.4% mark last season while cutting his whiffs down by over 7%. His walk rate also reached a lifetime best 14.4% BB% as he sat second at the position with a 2.0% K-BB%. Add in the fact he finished second in the majors in total bases a season ago, Bellinger is a legitimate points league threat with no glaring holes in his game.
Pete Alonso makes me more skittish in points league formats for a few reasons. I have trouble buying in on another 50-homer/120 RBI season, especially with the threat of an un-juiced ball entering the league in 2020. His 30 doubles backed up the long ball total, but only 32 of his 85 extra-base hits came in the second half. Speaking of second halves, Alonso upped his walk rate from 9.8% to 11.0% post-All-Star break, but that didn't make up for the 4% drop in K-rate to a troublesome 28.7%. The Polar Bear will give you some big weeks in H2H setups, but the consistency won't always be there with his strikeout susceptibility.
Tier Two
Anthony Rizzo and Paul Goldschmidt are as consistent as they come for points leagues. Their 2019 year-end numbers weakened a bit compared to their lifetime norms, but their ability to stay on the field and produce at a high rate yearly makes them boring, but valuable picks.
Josh Bell had a remarkable 2019 campaign that saw him slug 37 bombs with 94 runs and 116 RBI in 143 games. His 12/74/62 line from the year previous makes me believe he benefitted immensely from the juiced ball last season, although his 12.7% Barrel% and 47.1 Hard% were stellar numbers. These metrics did taper off in the second half, where he only managed to club 10 big flies and just two in the month of September. Bell's plate discipline makes him more valuable in points leagues after posting a 12.1% K-rate and 19.2% walk rate a season ago, but the counting stats are sure to drop off, especially with a depleting roster around him.
Carlos Santana has prided himself as a points-league darling since he holds a lifetime 1.1% K-BB% that makes up for his typically below league-average contribution in the BA category. The veteran put it all together in 2019 with 110 R, 93 RBI, and 30 doubles to go along with 34 round-trippers, but I expect some regression here since his HR/FB catapulted from a 13.6% career mark to 19.3% last season. Santana is a safe option who won't slump in H2H setups, but we've already seen the best year from his bat entering his age-34 season.
Tier Three
While it seemed like most players were thriving off a tampered baseball, Rhys Hoskins apparently missed the memo since his Barrel%, Hard%, and FB% all hit career lows. A sluggish second half where he clubbed nine dingers to a .180 BA has him going in the middle rounds of roto formats, but his patient approach (8.0% K-BB%) gives him more value in points leagues. If he can turn his unsightly 13.9% pop-up rate into more flies, he could have a resurgent season with the Phillies.
Other than a freak groin injury in 2018, Jose Abreu has been a model of health over his six-year MLB career. During his five full campaigns, he's put up an average of 31 HR, 83 R, and 107 RBI, and his White Sox lineup in 2020 is looking like the most formidable he's been a part of yet. The three-time All-Star can put up Rizzo/Goldschmidt type counting stats, but his 16.7% K-BB% isn't ideal in points leagues and separates him from a higher tier.
A hand injury cost Matt Olson nearly six weeks of action in 2019, but the lefty slugger still popped a career-high 36 HR and 91 RBI in 127 games. He showed elite Statcast numbers, finishing fourth in Hard% (50.3%) and seventh in fly ball/line drive Exit Velocity (97.1 MPH), but his 28.2% Whiff% and 25.2% K% caps his ceiling in points formats. This part of Olson's game doesn't seem like it's going away, but his powerful bat in the middle of the A's lineup can help make up the difference.
Tier Four
This tier has the most significant drop-off in talent, in my opinion, as it combines a few young names with one solid season under their belt and several fading veterans. One of those veterans is Edwin Encarnacion, who admittingly hasn't fully faded away, but is no longer one of the league's most feared bats. Still, his 42.0% Hard, 12.6% Barrel% and 90.0 MPH EV were all in line with his lifetime marks, which helped him club 34 big flies in just 109 games last year. I like his bat better in points formats since he hasn't hit over .260 in three straight seasons and his 8.2% K-BB% in this span is still respectable, but I don't have much confidence relying on an aging star.
Once a points-league hero, Joey Votto has fallen off most people's fantasy radar in these formats as well as in rotisserie leagues. After walking more than he struck out in three of his previous four seasons, the former NL MVP suffered his worst K-rate of his career (20.2%) and his lowest walk rate since 2008 (12.5%). With Votto's power also deteriorating to just 27 homers over his last two seasons combined, there's not much to get excited about in his age-36 season. The Reds have also added several pieces to their outfield, which could overflow to the first base position, forcing Votto out of more playing time.
Christian Walker had a productive first full season in the majors as a 28-year-old, clubbing 29 homers with 86 runs and 73 RBI. Not only am I a fan of his middle-of-the-order bat, but also because he was able to cut his K-BB% down from 19.1% in the first half to 8.9% in the second half. Walker's maturity and improved patience at the plate is a commendable attribute, making him the first baseman I would target in this tier if I missed out on the big names.
Tier Five
Three separate injuries limited Yandy Diaz to 79 games with the Rays last season, where he clubbed 14 dingers and 20 doubles batting at the top of the order. A 44.8% Hard% and 10.4% Barrel% supported these admirable numbers, which paired well with a 7.5% K-BB% in his first full season. Diaz can play both corner infield spots to help aid his playing time, and he holds sneaky upside if he can stay on the field in 2020.
Mark Canha had a quietly productive year swatting 26 taters with 89 R, and 58 RBI for the Athletics in 126 games last season. The A's are notorious for using different lineups daily, but his defensive versatility helps him play first base and all outfield spots to help keep his bat in the order. Canha seems like one of those hitters who was aided by the juiced ball in 2019 since his fly-ball rate was on par with his lifetime mark, although he did pull the ball nearly 50% of the time. Time will tell if last year will go down as an outlying season, but the price isn't very high to find out in his upcoming age-31 campaign.
Luke Voit was on a 35-homer pace in 2019 before a pair of injuries in the second half held him to four long balls in 40 games. A top-20 finish in Barrel% (13.2%) anchored the slugger's prowess as a power hitter, but strikeouts remain an issue with a bottom-three mark in Whiff% (35.1%) and a worrisome 27.8% K-rate. Thankfully Voit combatted this mark with a 13.9% walk rate, which finished fifth among all qualifying first basemen. Voit's strikeouts will cap his ceiling, but his power is legit, and he should hold his starting gig batting in the meat of the Yankees order as long as he's healthy.
Tier Six
The signings of Jose Peraza and Mitch Moreland has made Michael Chavis' path to playing time a little murky. These players won't be able to stand in the way if the 24-year-old hits well, but there are some glaring holes in his swing. If Chavis had the at-bats to qualify last season, he would have finished with the worst K-rate (33.2%) and Whiff% (38.4%) of all big-league hitters. The power potential is appealing, but his at-bats may be limited until he cleans up his plate discipline.
Justin Smoak is an intriguing late-round bat as he projects to see plenty of playing time at first base for the Brewers. The veteran's Barrel%, FB%, and EV all went up from the year previous, but he fell victim to some bad luck since his .406 SLG was a far cry from his .495 xSLG. Sporting a 5.4% K-BB%, there's gas left in the tank for the switch-hitter.
Coming off an abysmal year with the Brew Crew in 2019, Travis Shaw has swapped teams with Smoak and will take over as the Blue Jays' first baseman in 2020. It's an excellent buy-low opportunity on a player who had back-to-back 30-HR campaigns and is only one year removed from posting a 5.1% K-BB%. We can't forget his dire 19.7% mark from last season, but if his 2020 number falls somewhere in between, Shaw will return value in this hitter-friendly division.
Primarily a designated hitter in 2019, Daniel Vogelbach quietly led all first baseman with a 16.5% BB% last season to go along with a 30-HR campaign. His 26.7% K-rate was unappealing, but his bat is suited much better in points leagues since his .208 BA weighed down his roto value. With more maturity in his second full season, his numbers could flourish batting in the heart of the Mariners lineup.
Tier Seven and Lower
Acting as the everyday first baseman for the Mariners this season will likely be prospect Evan White, who clubbed 18 taters in 92 Double-A games last season. His prowess with the glove will help him stay on the field with some natural growing pains at the dish, but his 8.6% career minor league walk rate shows he has some patience. The M's think so highly of the 24-year-old that they signed him to a six-year pact this offseason, so it's his job to seize this spring with no service time concerns.
Another up-and-comer to keep an eye on this season is Seth Brown of the Athletics. Brown walloped 37 homers and 29 doubles in Triple-A last season before getting a major league promotion in late August, where he went homerless in 83 plate appearances. The 27-year-old could carve out a path to consistent playing time in the outfield, but his 25.4% K-rate in Triple-A could use some improvement to become a viable fantasy option.
The acquisitions of Jose Martinez and Yoshitomo Tsutsugo have pushed Nate Lowe down the depth chart, which could make him the odd man out for making the Opening Day roster. His 2.5% K-BB% in Triple-A last season was superb, although he saw some growing pains at the big league level with a 21.9% mark in 169 PA. Still, his 16 round-trippers and 24 two-baggers in the minors last year should translate to decent power numbers in the show, but Lowe's chance to prove it remains up in the air.
More 2020 Fantasy Baseball Advice