Finding breakout starting pitchers is one of the most important things we have to do in order to win fantasy baseball leagues every season. In most leagues, an individual starting pitcher has more of an impact on a fantasy team than an individual hitter since they are throwing a higher percentage of your team's total innings than a hitter is contributing in at-bats.
Most every team in your league will come out of the draft with 2-3 really good pitchers, and this year especially - every team is going to have an "ace" or two, at least to start with. Teams separate themselves in pitching by finding those breakout pitchers late in the draft or on waivers early in the season and letting those guys take their pitching staff to the next level.
Finding these breakouts ahead of time is a tough task. It's especially tough before we have seen anybody throw a pitch, which is when I am writing this. We can make it a little bit easier on ourselves by looking to the past and finding the breakouts that already happened and examining what happened there. Let's start there.
Featured Promo: Get your 2023 MLB Premium Pass for 50% off. Exclusive access to our preseason Draft Kit, #1 accuracy rankings, #1 ATC projections, Team Sync platform, Live Draft Assistant, 15 in-season lineup tools, customized rankings and much more!
Sign Up Now!
Last Year's Fantasy Baseball SP Breakouts
It was a more quiet year for the breakout starting pitcher. Still, there were a handful of names that were surprising given their final season roto finish. Here are those names.
He finished as the #6 SP in standard rotisserie leagues. It wasn't shocking that he had a very good year because we did know prior that Cease had an upside - but he was drafted outside of the top 30 SPs and ended up a top 10 guy, so you can definitely call that a breakout.
The funny thing about the breakout is that he didn't really improve all that much in the underlying metrics. His K% was great in 2021 (31.9%) and stayed great in 2022 (30.5%), and his bad walk rate actually got worse (9.6% to 10.2%). The reason he put up better results was what was happening when contact was being made.
His GB% came up five points to 39.4% (still a pretty low number), and the xwOBA on contact against improved drastically (.313 down from a .383 mark). We know that pitchers don't have a ton of say in what happens with the contact they're allowing, but it's fair to surmise that some of Cease's gains were a result of him throwing his slider (his best pitch) more often. That percentage came up to 43% for 31% and it became his most commonly thrown pitch.
The takeaway here is that breakouts often benefit from good luck on things that are mostly out of their control, but they can also take a step forward by changing their pitch mix. Since it's February, we don't know what pitchers might change their pitch mix - so we'll have to wait until the season starts to get and use that kind of data.
Gonsolin's breakout really didn't make any sense. He did finally get a solidified spot in the rotation so that obviously helped. However, his K% came down drastically from 27% to 24%. He did lower the walk rate a bunch (14.2% to 6.8%) - so that's certainly helpful. The bottom line is that Gonsolin posted a 2.10 ERA with a 17% K-BB%, which doesn't make a lot of sense, so we can't really learn much from his breakout either (besides maybe saying hey - start a bunch of games for the Dodgers, that helps!).
This one was mostly about the opportunity. He shared time between the rotation and bullpen in 2021 and posted a very nice 20.3% K-BB%. He earned himself a job in the rotation in 2022 and took full advantage with a 2.44 ERA and a 0.92 WHIP. He did miss a handful of starts, starting 28 games, which kept his strikeout total down a bit at 163.
The lesson to learn here is that we should jump at any pitcher that showed us a 20% K-BB% the previous year and seems poised to have a shot at an established job in a rotation.
We just hadn't seen much of Wright prior to 2022. He spent almost the whole 2021 season in AAA and didn't even pitch that well down there with middling numbers everywhere. He also wasn't all that fantastic for fantasy purposes after April, but he stayed in the rotation and pitched well enough to cross the finish line as a top 20 SP. That roto finish was certainly benefited by the 21 wins he put up, a number which led the league.
The lesson to learn here:
Wins are important in roto fantasy baseball
Pitchers with deeper pitch arsenals tend to get deeper into games, which helps in getting wins
Pitchers on good teams win more games
Obvious stuff, but we can definitely lean more toward pitchers with 4+ pitches belonging with strong offenses behind them when picking potential breakouts.
Okay, now we can move on. I'll use those lessons and some other more obvious (to me, at least) stuff to proceed and pick out some possible breakouts.
This Year's Starting Pitcher Breakouts
These aren't going to be in the order of how strongly I feel, but I will make that clear in the write-ups. I am starting with a trio of Dodger SPs to kick us off.
Dustin May, Los Angeles Dodgers
I really believe in this one, just so you know! May missed most of 2021 and then most of 2022 after undergoing Tommy John surgery in the summer of 2021. He made just 11 starts over those two years, so we don't have a ton of data to go off of.
What we do know is that, and let me say this very unscientifically, May is dive-bar floor level filthy.
SwStr%
GB%
Pitch
May
League
May
League
Sinker
8.1%
7.0%
66%
55%
Curveball
18.5%
13.0%
55%
46%
4-Seam
14.5%
10.6%
19%
34%
Cutter
17.8%
15.3%
46%
43%
Four pitches beating the league average SwStr% while being one of the best ground-ball pitchers in the league (54% GB% altogether). If he doesn't strike you out, you're most than likely putting a ball on the ground. That's a fantastic combination, and given this guy's age (25) and velocity (98.2 on the four-seam, 97.5 on the sinker), the sky seems to be the limit.
The downside, of course, is health concerns. Can he throw 180 innings this year after totaling just 109 Major League innings over the last three seasons? Probably not. Is it insane to think he could get somewhat close to that? I don't think so, and that's enough for me to take a risk on the potential there.
It is tough to believe in Thor as a useful fantasy pitcher right now given the 16.8% K% he posted last year across 134.2 innings. That's putrid. He has become a sinkerballer over the year (32% sinker last year, 5.6% SwStr% on the pitch), so I think we would have to see a shift away from that to see him break out with the Dodgers.
The good news is that the Dodgers may very well have this in mind. They are clearly one of the best-run organizations in baseball, and they jumped at the chance to sign Syndergaard - so maybe they see an opportunity here. It seems to me that it will take more than just a pitch usage change to do anything, as Syndergaard really doesn't have impressive whiff marks on any of his five offerings - so that's a downside, but maybe the Dodgers will have him change a pitch entirely.
You just never know, and a relatively young (he's 30) pitcher going to a new team always presents some opportunities for things to change for the better. Maybe Thor will add some velocity, tweak his arsenal, and excel in Los Angeles. The chance of that happening more than cancels out the (lack of) risk you get on him with his current ADP of 330.
This third Dodger does not currently have a spot in the rotation, WHICH WOULD MAKE IT PRETTY TOUGH FOR HIM TO BREAK OUT LOL!
He might not even really be their #6 option once the season gets rolling, with plenty of other guys to like in that organization. However, he got some runs in the Major League rotation last year, so they like him enough to do that.
The reason I would be interested in Pepiot if he does get a spot in the rotation is his strikeout ability. He had a sick 31% K% in the minors last year and a solid enough 26.3% mark in 36.1 Major League innings. Sticking with Major League numbers, his 12.1% SwStr% was slightly above the league average, another point in his favor. He used his four-seamer 56% of the time, a high number, but it got a whiff during a strong 12.3% of the time. His next two offerings are a changeup (11.1% SwStr% and a slider (12.7% SwStr%), so there is some work to be done.
Confidence is low here, but any time a 30% strikeout rate in the minors comes up to the Dodgers, you have to keep an eye on it.
Low-hanging fruit alert, this is not a bold prediction!!!
We can get into the nitty gritty of pitching stats all day long. I could point to a dozen different data points on Hunter Greene and use different things to make the case for him and the case against him. But I think we just need to keep it simple stupid and realize that this kid put up a 30.9% strikeout rate in his rookie year with the Reds.
Of all pitchers that have made at least 20 starts across 2021 and 2022, only 11 pitchers have a higher strikeout rate than that. Those names:
Dylan Cease
All 11 of those names are quite good for fantasy purposes, and in fact, most of them are considered aces for 2023 with the exceptions of Snell and Peralta - and most of that is because of health concerns.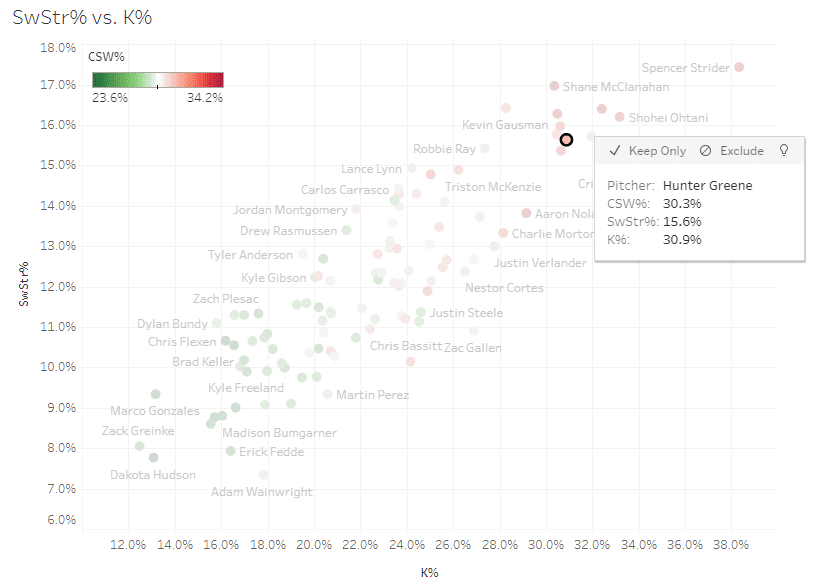 If we dove into other metrics, Greene would not compare so favorably. His 9% walk rate wasn't very encouraging, the Reds are terrible, and his home ballpark gives up the most homers of any park. The strikeout rate probably outweighs all of that, however, as it is incredibly valuable to be able to put away 30% of the hitters you face without allowing a ball in play. That gives you a lot of room for error, so it's hard not to believe that Greene can be one of the game's top fantasy pitchers in 2023.
One more "good-teamer," if you will. Brown also does not have a job in the starting rotation right now, but it seems likely that he'll find his way in there at some point even if it's not right away out of camp.
Brown posted a sweet 2.55 ERA with a 1.08 WHIP and a 31.5% K% in 14 starts in the Pacific Coast League (AAA) where it's very tough to pitch. He walked a bunch of hitters (10.6% BB%), but the extra strikeouts and ground ball rate (55%) mitigate that effect.
Despite the minor league dominance, the Astros' stacked rotation in the bigs limited him to just two starts and 20.3 total innings at the highest level (where he pitched well, giving up just two earned runs with a 27.5% K%, an 8.8% BB%, and a 65% GB% in that time). The downside here is that it's a small Major League sample, and we should be quite underwhelmed by his 10.4% SwStr% there. That said, the minor league track record of strikeouts is there, and the high ground ball rate isn't going anywhere. I think Brown will be must-own if and when he gets into the rotation, so you might as well just draft him ahead of time in deep leagues.
This is another "low-hanging fruit" pick. Valdez is being drafted as an SP2 right now after putting together the best season of his career as he ripped off a 2.77 ERA and a 1.15 WHIP over 201.1 innings. The strikeout rate went up to a career-best 23.5% and the walk came down to a career-best 8.1%. All of that while maintaining his elite 67% GB%.
With this newfound ADP of his, there's not a ton of room for a real "breakout," but I did want to mention Valdez here because there just might be another level for him to reach.
He added a cutter last season and used it more at the end of the year than at the beginning.
He posted a really nice 17.8% SwStr% on the cutter with a 58% GB% across 310 offerings in the regular season. In the playoffs, he used the pitch 10% of the time with a 13.5% SwStr% and a 67% GB%.
This is a significant addition. After he upped that cutter usage seemingly for good on August 30, here are the numbers that followed:
1,079 pitches thrown
14.1% SwStr%
29.5% K%
6.6% BB%
So that is a 22.9% K-BB% - an elite figure- and about 7-10 points higher than what we had previously seen from him.
I think that proves that Framber has some upside in the tank, and I don't really think there's a ton of downside by picking him either. The Astros are a fantastic team to pitch for, and his reliably elite ground-ball rate keeps his floor quite high. The downside, I suppose, is that the cutter regresses or disappears next year and maybe he stays as a 21-23% K% guy while the walk rate comes back up above 9%. That would make him a bad pick where he's going right now, but I think the better bet is that he pitches as well or better next year - so I'm in. I love Framber as an SP2 this year.
Another cheap one here. Springs pretty much had his breakout season last year when he made 25 starts and put up an elite 2.46 ERA with a 1.07 WHIP on a 26.2% K% and a 5.6% BB%. Picking up Springs early last season was one of the keys to success, so maybe that should exclude him from this write-up today. However, I make the choices, so I'm writing Springs up here as a symbol of affirmation!
The 14.9% SwStr% that Springs put up last year was right there with Cristian Javier (15.0%) and Shane Bieber (14.8%), so we have no issues there. He possesses one of the best individual pitches in the game - his changeup. On 35% usage (745 total pitches), he posted a 22.6% SwStr% and a 45.3% GB%. Those are fantastic, fantastic numbers. His primary weapon, the four-seamer, wasn't too bad either with a well above average 11.4% SwStr%. To top it all off, he put up a 5.6% BB% - a top 25 mark among starters with 25+ starts last year.
The Rays believe in Springs, giving him a four-year extension this offseason, and so do I. And he typically goes after pick 150 in drafts, so you're not breaking the bank to buy him.
Much like the last couple of players I just talked about, I don't know if Montgomery fits the "breakout" archetype. He's a veteran pitcher with a history of success in the Majors, and I don't think his ceiling is all that high because of it.
However, I do really like what Montgomery did last year - and we saw an approach change after he joined the Cardinals. Any time a pitcher changes teams and then changes their pitch mix-up - there is an opportunity for quick and sudden growth (or decline, I guess). Here's how Montgomery changed after the trade:
| | | |
| --- | --- | --- |
| Pitch | NYY | STL |
| Sinker | 39.4% | 26.2% |
| Changeup | 24.3% | 18.5% |
| Curveball | 21.8% | 23.1% |
| Four-Seam | 8.5% | 31.6% |
| Cutter | 6.0% | 0.6% |
With the Yankees: 21 GS, 114.2 IP, 3.69 ERA, 1.10 WHIP, 20.7% K%, 4.9% BB%
With the Cardinals: 11 GS, 63.2 IP, 3.11 ERA, 1.08 WHIP, 23.9% K%, 5.1% BB%
Things are a bit strange from here, as his four-seamer actually had a worse SwStr% (6.9%) on the year than his sinker (8.7%). The league-wide SwStr% on four-seamers (10.6%) is much higher than the sinker (7.0%), so Montgomery isn't following normal patterns here.
These are all things to consider, and it's probably the reason for a little bit of hesitancy here. However, Montgomery has long posted strong SwStr% rates, and that happened again last year as he went for a 13.9% SwStr% overall. That typically plays to a strikeout rate in the mid-twenties, as we talked about with Kirby. It's quite possible that Montgomery has been working on the four-seamer over the offseason and will improve the SwStr% on that pitch - which would go a long way to continued success, especially given his low walk rate.
It's a good ballpark and division to pitch in as well, so the move to the Cardinals seems like it will end up being a big positive for his fantasy value - I'm excited to draft Montgomery this year.
I was pumped to add Bello last year when he got the call-up to the Majors, and it went pretty terribly for me. That doesn't take away anything from his minor league dominance where he put up a beautiful 34% K%, a 9.4% BB%, and a 61% GB% between AA and AAA. I thought he could afford to drop to a 25% K%, a 10% BB%, and a 55% GB% and still have success in the Majors, but that didn't happen.
He turned in 11 starts in the Majors with a 20.6% K%, a 10% BB%, and a 55% GB%, and it was a 4.71 ERA with a 1.78 WHIP - not good stuff. The good news was that he was improving when the season was closing out. In September, he made six starts with a 22% K%, an 8.6% BB%, and a 52% GB%. Those still aren't fantastic marks, but the improvement was noticeable as he allowed zero or one earned runs in four of his last six starts.
There is good news on the "stuff" front as well. His changeup is amazing and fared well at the Major League level with a sick 22.5% and a 2.7% Brl%. The issue was that he didn't have much else to set it up with, as he didn't earn a ton of strikes with his sinker (27.6% CSW%), and his slider just isn't where it needs to be (9% SwStr%).
A big step forward with the command of his sinker will go a long way to facilitating the breakout, and the slider certainly has plenty of room for improvement as well. I love guys with potential for a 25%+ K% and a 55%+ GB%, and I see that being pretty likely for Bello in 2023.
The Mariners rotation is shaping up to be one of the best in baseball, and I think Kirby is going to be the main reason that expectation is met.
The Good:
Kirby's 4.1% BB% was the sixth-best mark in the league for pitchers with at least 15 starts (Corey Kluber, Aaron Nola, Lance Lynn, Ross Stripling, Kevin Gausman).
Kirby's 46% GB% beat the league average by more than two points.
Kirby's four-seamer had the third-best SwStr% in the league for any four-seamer thrown more than 800 times (Luis Castillo, Lance Lynn).
Kirby threw 156.7 innings between AAA and MLB last year.
He throws strikes, he has a great fastball, and he's in a spot to push over 170 innings this year.
The Bad:
There's not much of a discount (ADP 102, max pick right now at 123).
He doesn't have a great secondary strikeout weapon (6% SwStr% on the curveball and a 7% mark on the slider).
He gave up a high barrel rate last year (9%).
I don't really care about that third bullet point, since we know that pitchers don't have much control over their barrel rates allowed. You could almost take that as a positive since there's a good chance that improves just due to variance - but it's also possible that he's telegraphing some pitches or just doesn't have enough movement on the breaking balls to avoid the barrel.
Talent is certainly not an issue here. Kirby was one of the top pitching prospects in baseball until he graduated, and he has huge velocity (98.7 mph max on the fastball, 95.4 average). One thing he doesn't have are high spin rates (his slider came in at 2,188 rpm compared to a league average of 2,431 on sliders - yikes!). That's not something we like to see, but it's also something that is very possible to improve on.
We should expect improvement in Kirby's second year in the Majors, and any improvement in the curveball and slider could really take him to the next level - I expect a higher K% and a solid WHIP from Kirby in 2023 at the very least. I think he has a strong floor with true bust-out, league-winning potential, and I've already drafted him several times.
He still hasn't quite been able to put together a full season. He made 20 starts in 2022 as a follow-up to the 21 he made in 2021. His career-high in innings pitched was in 2021 with just 124.1, so we haven't had a season where Civale was a good fantasy player overall.
We did see the best performance of his career by the underlying numbers last year, here's the career progression on that front:
We still see a bad SwStr% at 11.4%, and an underwhelming K% of 24% - but both marks were big increases from what we saw in 2021. What we also love to see is the walk rate being great every single year.
We saw a pitch mix change in 2022 as well, as Civale threw more cutters (35%) and curveballs (27.5%) while dropping the four-seamer, splitter, and slider.
Those two pitches turn out to be his best offerings with a solid 11.6% SwStr% on the cutter and a really great 21.3% mark on the curveball. His curve has long been his best pitch, and the key for him might just be to find one of those fastball variations that best set it up. You can see that he still had six arrows in his quiver last year, which gives him all kinds of different ways to go and raises his per-start floor a bit, too.
I'm not so big on splitting the season into pieces and then offering stats in that fashion - but Civale did do his best work late.
You can see the SwStr% trending upwards there. Over his final nine starts, about half of his season, he went for a 27.3% K% and a 4.1% BB% - the vaunted 20%+ K-BB%! Hitters hit just .193 off of him over that time and the GB% was strong enough at 46%.
The guy has been around for a handful of seasons now, but he started very young and is currently still just 27 years old. I'm a big fan of seeing what Civale can do on my fantasy teams this year, especially with an ADP currently at 320!
The lefty got traded from the Yankees to the Athletics last year, which I suppose is unfortunate for him. To his credit, he took the change in stride and pitched very well.
He made 21 starts between AA and AAA (95 innings) and went for a sweet 2.84 ERA and a 1.16 WHIP on a sparkling 34.5%-9.1% BB% K-BB%. That earned him a call-up to the Majors where he made did not replicate the success with a 4.93 ERA and a 1.21 WHIP over his seven starts. His 22.6% K% also came down substantially, but some good news is that so did his walk rate down to 6.8%.
So we have a pitcher who put up bad ratios last year and will pitch on the league's worst team again this year. Not exactly a league-winning profile here, but bear with me.
Waldichuk's SwStr% was 13% - a nice number, as we've talked about over and over again in this post. His slider went for a 17.9% SwStr% and the four-seamer put up a good mark of 11.8% as well. Above-average SwStr% marks on his two main pitches as a young, talented arm - those are great signs. The team context certainly limits how many games he can win, and the A's might be careful with his innings as well - but the home ballpark is actually a big positive for him and I think the stuff is there to pitch well enough to well outpace his current ADP, which is near pick 400.
The tall guy probably lost his spot in the projected Major League rotation after the Pablo Lopez trade. That Twins rotation per Roster Resource right now:
Pablo Lopez
None of those five guys are really on the fringe either. All of them but Ryan are established veterans with contracts that would make it really tough to demote them, and you would really think the Twins want to give Ryan a good long look in the rotation after the upside he showed in 2021, forgiving him of the injuries he suffered through in 2022.
However, if something would happen and Ober would enter the rotation - I want to jump at the opportunity. Across 2021-2022 in the Majors, Ober has started 31 games and has put up a strong 19.3% K-BB% (24.3% K%, 5.0% BB%). He has long limited the walks and has shown some real strikeout upside with a very strong 13.2% SwStr%.
He is huge (6'9''), which gives him a ridiculous amount of extension and gives hitters less time to pull the trigger.

He also has a proven slider that went for a beautiful 20% SwStr% and a 33.5% CSW% last year. The downside is that his fastball is slow (91.5 on average - although the extension and location helped him put up a strong 12.4% SwStr% with it), and he gives up a lot of fly balls (29.4% GB% in 2022). We probably aren't drafting Ober until something happens to put him in the rotation, but again - if he does get a shot at some starts, I will be excited to get him on my team for 2023.
The Red Sox rotation might have the widest range of possible outcomes than any other team. We have already talked about Brayan Bello's talent but issues with the walk, and then there's that Chris Sale guy who could potentially win a Cy Young Award this year but could also have his season end by April. Next, we have Garrett Whitlock.
Whitlock spent the whole 2021 season in a reliever role, and much of the 2022 season in that same role - but he did have a go at a rotation spot in the middle of the year before some poor performance and an injury ended that after nine starts.
Reports out of Boston say they are committed to giving the 26-year-old another shot to be a starter, so he profiles to be in the rotation when the season begins, which makes him quite interesting for fantasy purposes this year.
As is the case with most pitchers, he put up better stats as a reliever than he did as a starter. Here's that breakdown:
You will almost always see higher strikeout rates from a player in a relief role. When you know you are only in there to get 3-6 outs, you can really let it rip and go with your best stuff. As a starter, you can't do this. We see that here with Whitlock with the big five-point gap between his reliever K% and starter K%. Even with that, the 17.7% K-BB% he posted as a starter is solid, and the 45% GB% is also a mark we like to see.
If we look for starters last year with a K-BB% and GB% around what Whitlock did, we find these starters:
Ross Stripling
Tony Gonsolin
Sonny Gray
No true fantasy studs there (save Gonsolin, I GUESS!), but a solid group of starters. Now, "solid" does not facilitate me calling him a BREAKOUT candidate - but my thinking here is that we could easily see gains for Whitlock since we know what he's able to do in a relief role.
It's likely that he'll pitch more as he did as a starter this year, but maybe given the bad results he got as a starter - he will focus on adding a little bit of velocity, spin, and attack more even in the starter role.
It's important to notice that the 13.3% SwStr% he posted as a starter is one of the better marks you'll see. Other starters that were in the 13-14% SwStr% range last season:
Admittedly, that's a curated list to make my point look better. Some other pitchers between 13% and 14%:
You need more than just a 13% SwStr% to be successful, but the point still remains that this is a good number to have.
The average K% of pitchers between 13% and 14% SwStr% over the last two seasons is 25.6%. The highest on the list is Aaron Nola (30%) and the lowest is Ian Anderson (19%).
Maybe the best part about Whitlock is that the walk rate was great no matter the role. I think we could be looking at a 26%-6% K-BB% rate here with an above-average GB% - and that would almost surely lead to a breakout season for the righty.
Since I took some liberties here, let me just go ahead and give my true "breakout" picks in list form here. All of these pitchers were talked about above, but I'll go ahead and plant my flag a bit here. My five top BREAKOUT PITCHER picks:
Dustin May
George Kirby
Hunter Brown
Hunter Greene
Aaron Civale
We'll check on this at the end of the year, hope it helped - or at least I hope you enjoyed reading it!
Download Our Free News & Alerts Mobile App
Like what you see? Download our updated fantasy baseball app for iPhone and Android with 24x7 player news, injury alerts, sleepers, prospects & more. All free!


More Fantasy Baseball Advice