The 2022 NFL Draft Prospect Profile series features prominent 2022 NFL Draft prospects with film analysis and scouting insights. I have experience working in college football and have been studying the NFL Draft for over 15 years. My analysis is based on film study and analytics. So far this season, I have written up profiles on Iowa State RB Breece Hall, Alabama WR Jameson Williams, Mississippi QB Matt Corral, Cincinnati QB Desmond Ridder, Ohio State WR Chris Olave, Arkansas WR Treylon Burks, USC WR Drake London, Ohio State WR Garrett Wilson, Pittsburgh QB Kenny Pickett, Liberty QB Malik Willis, and North Carolina QB Sam Howell.
A common misconception about the NFL Draft is that the college and pro games are very similar. They are not. Besides the obvious difference in speed and skill level, a college field has different hash mark distances and different rules. There are specific schemes and plays that NFL teams copy from college and vice versa. But the differences between the two are understated in NFL Draft coverage. There's a reason many highly-productive college players are not considered legitimate professionals.
To that end, scouting prospects is not just about evaluating college performance, it's about projecting traits that translate to the next level. This is not limited to just physical traits. There are certain football traits that are evident in college film and will translate to the pro game. We will continue our 2022 Prospect Profile series with Michigan State RB Kenneth Walker III.
Editor's Note: Our incredible team of writers received five total writing awards and 13 award nominations by the Fantasy Sports Writers Association, tops in the industry! Congrats to all the award winners and nominees including Best NFL Series, MLB Series, NBA Writer, PGA Writer and Player Notes writer of the year. Be sure to follow their analysis, rankings and advice all year long, and win big with RotoBaller!
Read More!
Kenneth Walker III is an explosive 5-9, 211-pound back who led the Power 5 in rushing in 2021 at Michigan State after spending his first two years at Wake Forest. To say Walker had a breakout year would be a massive understatement. He was the Michigan State offense and dazzled against Michigan, going for over 200 yards from scrimmage on 8.6 yards per carry. Walker finished the season with 1636 yards (6.2 ypc) and 19 total touchdowns. He doesn't have great size and didn't produce much in the passing game, but his film shows a special pure runner. Let's dive in.
Explosive Playmaker
When analysts use the term "juice" in regards to RBs, it refers to some combination of burst, moves, and creativity. Kenneth Walker III has more juice than any back in this class.
The clip below shows a burst off a one-cut-and-go that looks as sudden and explosive as any individual rep I've ever seen. It looks like he's teleporting.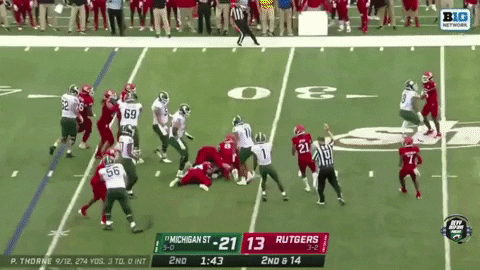 Walker has silly acceleration. When reading zone runs, RBs have a decision to run outside, bang it in a crease frontside, or bend it backside. Walker showed the ability to execute all three decisions.
The clip below is an error upfront that results in a free defender. Walker is able to outrun him with pure speed and show some power at the end of the play after an impressive burst on the edge. His 4.38 40 shows on film and there are long runs in his NFL future.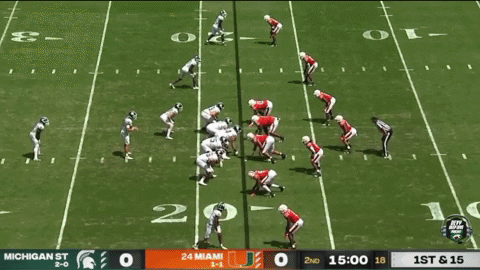 The clip below shows an explosive run featuring ridiculous ankle flexion and a bend and cut to put three Miami defenders on skates.
The clip below shows Walker's ability to bend it back. Northwestern obviously overcommits to the front side, but the result of the play isn't what's important. This rep shows translatable skills in terms of Walker being light on his feet and cutting back without losing any speed. He's explosive and plays basketball on the grass.
The tweet below is more of the same, this time with the added bonus of a broken tackle. It's Walker versus the "best player in the draft" Aidan Hutchinson. Walker is just quicker even though Hutchinson has a free shot at him. Yes, I put that in quotes because Hutchinson is NOT my top-ranked prospect.
For what it's worth, the reply to the above tweet shows the EDGE opposite Hutchinson, David Ojabo, successfully making the play on Walker in almost the exact same scenario. It's an illustration of the difference between college and pro athleticism. It might not be a great sign that the presumed No. 1 pick was used in the college example. That's a discussion for another day. Back to Walker.
While Breece Hall is clearly a skill-based runner without consistent physicality, Walker shows a willingness to mix it up on contact a bit more. Despite his smaller stature, Walker broke some tackles and knows how to keep his legs churning through contact. At 211 pounds, he's not going to be Derrick Henry, and in the clip below, you can see him lose steam when help comes after the initial contact. Still, his competitiveness shines here.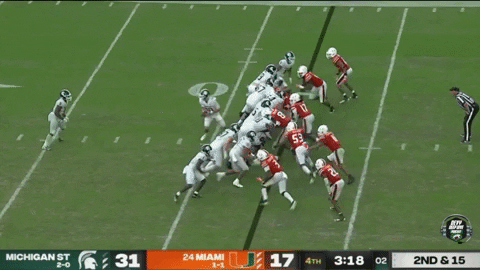 Walker was inspiring versus Michigan, leading the Spartans to a 37-33 win while scoring five touchdowns. My favorite Walker play may have been his slide-down inbounds to ensure the clock would keep running to win the game. It showed great awareness and football IQ.
The clip below is also pretty special. Walker seems content to just fall forward and not take a zero or negative, but again he's able to evade Hutchinson and this time shows the creativity and burst to get out of trouble and explode into open space.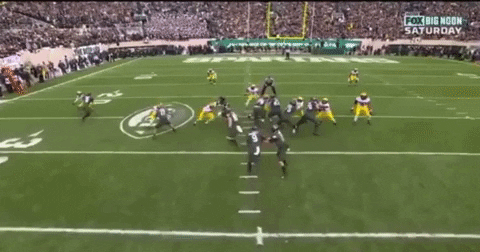 Lack of Receiving Production Explained
Kenneth Walker III had just 19 career receptions at two different schools over three years. He clearly didn't force his coaches to get him the ball in the passing game. He doesn't catch the ball as naturally as other backs on film and it is completely unknown whether or not he can handle passing-down duties in the NFL. However, I think the concerns are overblown for a few reasons.
First of all, many college backs don't do much as a receiver, in part because they are so damn good rushing the football. There's no reason to throw Walker the ball when you can just hand it to him and get the same chance for an explosive play. Jonathan Taylor had major questions about his ability to catch the ball and has been awesome in that area in the NFL. Leonard Fournette never had more than 19 catches at LSU and he's developed into a reliable pass-catcher as well. I'm not saying it's a sure thing that Walker will be able to handle passing work, but I don't think it's fair to count him out completely.
Second of all, look at the tweet below in regards to how the two programs he played for used their RBs when Walker wasn't there.
Both Wake Forest and Michigan State clearly didn't pepper their RBs with targets when Walker wasn't there, so it's reasonable to deduce that they just didn't prioritize passing to their backs. Maybe his lack of involvement in the passing game wasn't a reflection of his lack of skills.
Thirdly, there is some evidence of Walker's ability to make plays in the passing game.
In the clip below, he takes a screen pass up the sideline for a decent gain. Does he look completely natural transitioning to a runner? No, he's not comfortable turning his head upfield quickly. However, the play works.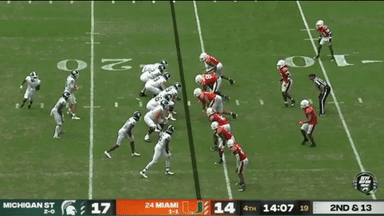 The clip below is an explosive play in the passing game. I've watched this clip 100 times and can't figure out if it's designed to cut it back underneath the three linemen or just improvisation. Regardless, it shows his creativity and ability to burst upfield after the catch.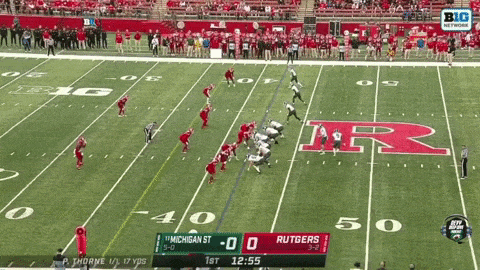 I don't expect Walker to be Austin Ekeler, and I think teams will view him as a two-down back to start his career. I wouldn't completely rule out him developing into a serviceable receiving option though.
Size Limitations
Obviously, all RBs would benefit from transitioning to a good offensive line in the NFL. With someone like Walker, it's even more important to get to a spot where he won't be asked to churn out tough yards without real creases. Walker has juice and speed but he simply doesn't have that brutal strength that's sometimes required in short-yardage situations in the NFL.
The clip below shows an eventual touchdown thanks to his offensive line finishing the play. What concerns me with Walker is that there are too many reps where he braces for contact. There's no reason to try to backpedal into the end zone here. I wonder if he can consistently get the tough yards at the next level when opposing players are even stronger.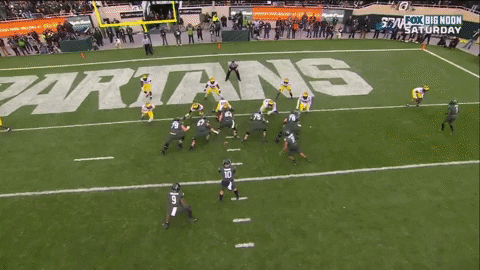 The clip below is an example of being a little too cut-back happy and not reading the run concept correctly. The O-Line gets movement on the front side and Walker should be patient and keep it there. Instead, he cuts back, eliminating the good angles the linemen created. He also doesn't fall forward and stops his feet.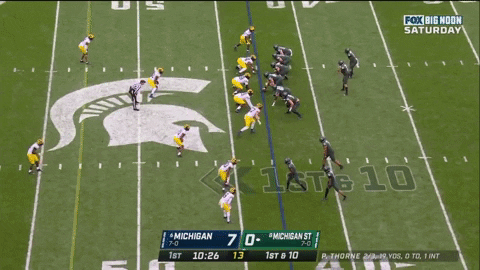 At barely over 5-9 and just 211 pounds, Walker's toughness, durability, and strength will be tested in the NFL. The landing spot will be incredibly important. Walker with a bad offensive line could lead to very underwhelming production.
NFL Outlook
Kenneth Walker III is an exciting RB prospect with the ability to continue being a workhorse at the next level. He is arguably the best pure runner in this class and his burst and long speed are as good as it gets. I expect his big-play ability to translate. His lack of receiving production is a legitimate concern, as is his smaller stature. I would have no issue taking Walker in the second round and featuring him as early as his rookie year.
For fantasy football, Walker's fit will be huge. A team with a good offensive line would make him a very attractive option in both re-draft and dynasty leagues. It will also be important to keep track of any quotes his NFL coaches make about his ability to catch the football. A fantasy RB with zero receiving upside isn't ideal.
Thanks for reading and stay tuned for more draft content in the coming days.
Other Prospect Profiles
Download Our Free News & Alerts Mobile App
Like what you see? Download our updated fantasy football app for iPhone and Android with 24x7 player news, injury alerts, rankings, starts/sits & more. All free!


Win Big With RotoBaller
Be sure to also check out all of our other daily fantasy football articles and analysis to help you set those winning lineups, including this new RotoBaller YouTube video:


More NFL Rookie Analysis