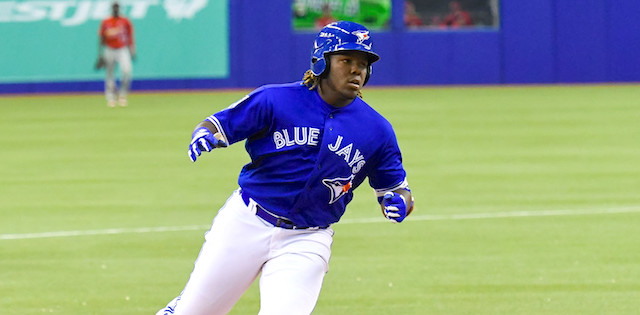 The pool of third basemen for the 2020 dynasty season is jam-packed with talent. From budding stars like Vladimir Guerrero Jr. and Rafael Devers, to productive veterans like Justin Turner and Mike Moustakas, no one should have trouble finding a useful bat to hold down the hot corner.
That said, depth can breed confusion and the overabundance of choice can sow the seeds of doubt into your draft strategy. Should your team spend a high pick on Bregman, Arenado or Rendon when so many other useful options are available several rounds later? Which prospects simmering in the upper levels of the minor leagues should one target if they end up with an aging MVP like Josh Donaldson at the five? No time for delay, to the rankings!
All preseason long, RotoBaller has you covered with the latest rankings for all fantasy baseball league types. Here we present our dynasty rankings for the third base position, put together by analysts Ellis Canady, Nicklaus Gaut, and Pierre Camus. Check out our analysis of all other positions as well.
Featured Promo: Get any full-season MLB and DFS Premium Pass for 50% off. Exclusive access to our Team Sync platform, Premium articles, daily Matchup Rating projections, 15 lineup tools, DFS cheat sheets, Research Stations, Lineup Optimizers and much more!
Sign Up Now!
Third Base Dynasty League Rankings
In case you missed it, our very own "Big Pick Nick" Mariano was named the #1 overall most accurate industry expert ranker for the 2018 season!
Tier One
Alex Bregman is one of only a few hitters in the major leagues who possess the skills required to hit for massive power without striking out. Trash cans aside, Bregman has been dominating the strike zone for his entire professional career. No other Astros player has figured out how to use the Crawford boxes in left-field better than Bregman. Despite a barrel rate of just 5.4%, Bregman was able to mash 41 HR last year and had a ridiculous walk rate of 17.2%. Bregman has increased both his LD% and his FB% for three straight seasons, a feat that is very hard to accomplish as most players tend to steal an increase in FB% from their LD% when they sell out for power. Bregman's floor is one of the highest in all of baseball, draft with confidence and try to ignore all the banging. Alex will turn the ripe old age of 26 just after opening day and we are likely to be talking about him as a tier-one talent for years to come.
No analysis is needed to understand Nolan Arenado. Don't succumb to the pernicious trend swirling around the fantasy industry about Nolan Arenado being a "boring" pick. Sure, he won't get you steals, but he is the safest bet in baseball to go .300/40/100/100. Arenado won't turn 29 until April and the air in Colorado is still thin. Take it to the bank and don't look back.
Vladito is very far away from his peak season. He needs to learn to hit the ball in the air more (20% fly-ball rate in 2019) to capitalize on his insane raw power, but let's take a minute to reflect on what his triple slash was in the 2018 MiLB season before we start to nitpick. Here it is: .387/.436/.636...as a 19-year-old. When it comes to dynasty leagues, Vladdy needs to be taken early. Don't let his first 123 MLB games dissuade you from getting him on your roster. Do you know who hit the hardest ball in all of baseball last season? That's right, Vlad Jr. It might not happen in 2020, but Vlad Jr. is going to be one of the best hitters in baseball very soon. Once he figures out how to loft the ball more - something that shouldn't be too hard for the player that Baseball America saddled with their first-ever 80-grade overall rating - we are going to see some seasons that defy reason and common sense.
Tier Two
Every slider bar on Anthony Rendon's Statcast page that relates to pure hitting ability is blood red. After three solid seasons of production, Rendon absolutely exploded in 2019 and turned in a wOBA of .413. All of his expected stats last year were in the 98th or 99th percentile of the league. On top of that, he will now take his game to Anaheim where he will get to hit in a lineup with Mike Trout and take a few days at DH. At 29, Rendon is firmly within his peak years. If he ends up on your team it will be wise to keep an eye on the lower recesses of the minors for his eventual replacement, but for the moment he remains an absolute fantasy stud.
It was a tale of two seasons for Jose Ramirez in 2019. Somehow displeased with his 39HR/34SB season in 2018, Ramirez changed his approach at the beginning of 2019 in an attempt to beat the defensive shifts laid down in front of him. Well, the experiment failed and Ramirez only managed to hit .218 in the first half of 2019. J-Ram ditched the new approach in the second half and went right back to obliterating the ball, smashing 14HR in an injury-shortened 43 games. Do not let the first half of 2019 scare you away from getting Jose Ramirez on your team as both his hard-hit rate (35.7%) and average exit velocity (89.7%) were both career highs despite the first-half failures. On top of that, even when he was slumping, Ramirez continued to steal bases and ended the year with a total of 24. In an era where stolen bases are harder and harder to find, the 27-year-old slugger is one of the only third basemen who can provide owners with a significant amount of steals. Another 30/30 season is on the table for 2020 and 2021.
Rounding out this tier is the fiery Yoan Moncada. Unfortunately for early buyers, the 30-40 stolen base potential Moncada showcased in his minor league career has turned into a more pedestrian 10-15 steals at the major league level. However, the raw power has started to show up in games and the rise from 17 HR in 2018 to 25 HR in 2019 is supported by a three-year increase in Moncada's exit velocity, from 88.5 MPH in 2017 to 92.8 MPH in 2019. Very few players in the major leagues can boast an average exit velocity higher than Moncada. Other managers might look at Moncada's .406 BABIP and cry "REGRESSION," but Statcast tells us a different story and reports an xBA of .291 for his .315 average. Simply put, when you hit the ball as hard as Moncada, a lot more of your batted balls go for hits. Moncada will be 24 when the 2020 season starts and saw a jump in his barrel rate from 9.6% in 2018 to 12.2% in 2019. With all those incredible underlying metrics it is safe to say that the real Moncada breakout is yet to come. If the White Sox ever let him run he is a threat to put up a few 30/30 seasons before he turns 30.
Tier Three
The crown jewel of this tier is Rafael Devers. The hard-hitting Dominican gave owners a true breakout season in 2019 and had underlying metrics that fully support the on-field results. Devers' average exit velocity was a jaw-dropping 92.1 MPH last season, putting him in the top six percent of the league. On top of that, he had a fantastic hard-hit rate of 47.5%. Those numbers are what we typically see from superstars in their prime seasons, but Rafael is already clocking that type of exit velocity at the tender age of 23. In short, Devers is dynasty gold. He has shown a three-year progression in average exit velocity and was able to pop 90 XBH in 2019. We will see a .300/40HR season from Rafael Devers in the next five years, possibly more than one. Devers even managed to steal eight bases last year! If Devers turns in a repeat of 2019 this season, he will cement his place in tier one of these rankings for many seasons to come.
Manny Machado is getting similiar treatment to what Nolan Arenado has experienced this offseason. The ever-present and reliable Machado, still just 27, is thought of as "boring." Well, if being boring means hitting 32+ HR for five straight seasons, sign me up. Machado's stolen base totals have always fluctuated, but he is eligible at both SS and 3B this season and his average exit velocity has not dipped below 90MPH for the entirety of the Statcast era. The eight percent barrel rate he posted last season was his lowest since 2015, but there is very little reason to think that his skills have started to diminish.
Matt Chapman built upon his breakout 2018 campaign by blasting 36 HR with career-best marks in both walk rate (10.9%) and strikeout rate (21.9%). Chapman's average fell all the way down to .240 in 2019, partly due to a career-low .270 BABIP, so he is likely due for some positive regression in that category. That said, Chapman's xBA has been ~.250 for the last two seasons so it seems unlikely that he will gain more than 10-15 points of batting average in the future. When he does connect with the ball, Chapman produces hard contact ~48% of the time. Chapman will always turn in full seasons when he is healthy as the A's can't keep his gold glove on the bench. Matt turns 27 this season and should be a mainstay in the top tiers of these rankings for several seasons to come, even if there isn't much reason to think that he can improve upon his 2019 numbers. Don't discount the value of consistency.
Without the nagging shoulder woes, we would likely be talking about Kris Bryant as a tier-one or tier-two player. Unfortunately, the shoulder will likely plague Bryant for the remainder of his career and continue to zap his power potential, making him a falling star when playing in dynasty leagues. His hard contact rates are well below league average, but what Bryant does do well is put up solid counting stats year in and year out. If the rumors of Bryant leading off this year come to fruition, he will put up some truly elite run totals and may even tack on a few more stolen bases. The nagging injuries are worrisome for the long-term value of the 28-year-old, but for now you can count on him for solid numbers across the board.
Did Eugenio Suarez sell out for power last year or what His strikeout rate jumped a full five percent, all the way up to 28.5%, but he managed to clobber a ridiculous 49 HR. Unfortunately, after increasing his HR output for five straight seasons, Eugenio needed surgery on his shoulder this spring after a bizarre swimming incident. The injury does cool the market a bit for Eugenio, but the underlying power is very real and he should recover quickly. His barrel rate shot up to 14% last season and those kinds of gains are hard to maintain, but it is safe to count on the 28-year-old Suarez for .270/35-40HR for at least a couple more seasons.
Tier Four
DJ LeMahieu did crazy things in 2019. First, he hit a career-high 26 HR (previous high of 15). Second, he racked up 211 combined runs and RBI. Third, he hit a blistering .327 with an xBA of .322. It might be hard to believe, but what DJ Lemahieu did last season is very real. Already a former batting champion (2016), DJ found out just how friendly the short porches at Yankee Stadium can be for a hitter who can make tons of hard contact (47.2% hard hit rate). LeMahieu possesses incredible barrel control, a fantastic eye (23.8% chase rate), and is eligible at every infield position save for shortstop. He is 31, so dynasty value will likely be limited to the 2020 and 2021, but don't be afraid to cash in on DJ's second coming. Who could have guessed that leaving Coors Field would be the key to unlocking his power?
Another multi-position hitter with a track record of production, Max Muncy is a late-blooming slugger hitting in the middle of his prime and a terrifying Dodgers lineup. In the last two seasons, Muncy has put 70 balls over the fence, with some even making it into the ocean. Muncy's combination of slugging prowess and elite on-base skills will provide owners with 30+ HR and close to 200 combined runs and RBI. The league seemed to adjust to Muncy in 2019 by throwing him fewer fastballs, a fact reflected in the steep drop in his barrel rate from 16.9% in 2018 to 12.6% in 2019. Forty-nine of his 70 HR hit in the last two seasons have come off fastballs, so it will be interesting to see if Muncy sees even fewer heaters going forward. Regardless, the consistent power and counting stats are more than enough reason to get him on your roster.
Josh Donaldson lost most of 2018 to a nagging calf injury, but he returned to prominence in 2019 by smashing 37 HR for the Braves before accepting a deal to play for the Twins in 2020. The ability to take a few days at DH in Minnesota will likely prolong his career and productivity, not to mention the fact that he will join a Twins lineup that broke the MLB home run record last season. Donaldson's barrel rate, hard-hit rate, and average exit velocity were all in the top five percent of the league or better last season. Simply put, he still has what it takes to do a lot of damage with the bat. At 34 years old, the only question left to answer is how long can he maintain his elite skill set.
Miguel Sano is a 26-year-old monster. His 21.2% barrel rate, 94.4 MPH average exit velocity, and 57.2% hard-hit rate were all in the top one percent of the league. Sano managed to hit a staggering 34 HR in just 105 games last season. With the addition of Donaldson, Sano will likely move across the diamond to first base, giving dynasty owners another powerful option with multi-position eligibility. The average will never be pretty, but Sano is one of the few players in the major leagues capable of hitting 50 HR.
Jeff McNeil silenced a lot of his detractors in 2019 by putting together a .318/.384/.531 season. The 27-year-old McNeil is a very peculiar hitter who measures his success solely by his batting average. Instead of finding pitches to hit through selectivity, Jeff prefers to put a swing on nearly 60% of pitches he sees. With that in mind, the generally weak contact numbers he produces should be taken with a grain of salt. With 23 HR and 38 doubles last season it is clear that McNeil makes enough hard contact to be a very effective hitter. After several MiLB seasons with high batting averages, McNeil turned on the power in 2018, hitting 22 HR in 151 games between AA, AAA, and the majors. If dynasty owners can count on one thing, it is Jeff McNeil hitting .300 and blasting 20+ HR for several more seasons.
Tier Five
Eduardo Escobar's 2019 just screams regression. At 31, it was the best season of his career and his Statcast page is more blue than red. Heck, he even barrelled one fewer ball in 2019 (36) compared to 2019 (37) despite seeing 227 more pitches. Don't pay the peak year price, but if you need an infielder with .250/20 HR production late in the draft, Escobar can be useful.
Justin Turner just keeps on ticking. He will likely play around 120-130 games at this point in his career, but in those games he will provide owners with a very good average and a healthy amount of counting stats. Despite the days off, .300/20 HR is nothing to sneeze at and his age (35) will drop his ADP for dynasty leagues. Turner can be a great stopgap until another third baseman is ready to be called up from your farm.
Hunter Dozier finally arrived in 2019, but he doesn't look like a safe bet to repeat his 2019 numbers this season. The multi-position eligibility is valuable, it just isn't enough to discount the 73-point difference between his SLG and xSLG. While Dozier is unlikely to revert back to his abysmal 2016, 2017, and 2018 numbers, he is another player we can toss on to the "don't pay for the breakout" pile and leave for other managers to gamble on.
Kingery ripped the MiLB apart in 2017 and it looked like the Phillies might have a stud in the making for the 2018 campaign. Unfortunately for Philidelphia, Kingery needed to struggle through all of 2018 before he was able to provide some value for owners in 2019. Scott will turn 26 during the 2020 season and is one of the few players out there still stealing bases. With elite speed (93rd percentile sprint speed) and above-average defense (80th percentile OAA), Kingery should be able to stay on the field long enough to learn how to get the most out of his average hitting ability and could rise up these ranks in the coming years.
J.D. Davis was great for the Mets in 2019 and helped to ease the sting from the Jarred Kelenic-Edwin Diaz/Robinson Cano trade. Davis produced elite contact numbers last year with an average exit velocity in the 90th percentile and a hard hit rate in the 91st. J.D. is entering his prime seasons and should get ample playing time for the Mets for the next several seasons, especially if he keeps smashing the cover off the ball.
Tier Six and lower
Tommy Edman can be a decent option for steals in 2020. That said, he did sort of come out of nowhere after several pedestrian minor league seasons and his main value going forward appears to be limited to average and steals.
If Ryan McMahon has the inside track to a starting job in Colorado he just might turn in a really valuable season in 2020. Bud Black seems to favor McMahon over Hampson at this point, and in a 5x5 format, McMahon's 30% strikeout rate doesn't count against you. With a full season, McMahon should blast 30 HR at Coors.
Alec Bohm is one of the most exciting third base prospects residing in the upper-levels of the minor leagues. Bohm blasted 14 HR with a walk rate of 10.4% in 63 games at AA Reading last season. If he starts off 2020 by torching AAA we could see him in the major leagues by the end of the year. There is big power potential with this kid and he is exactly the kind of prospect to get on your roster if your MLB third baseman is on the wrong side of 34.
Nolan Gorman was a first-round pick in 2018 because of his massive raw power. That said, he has been unable to find enough contact to really showcase the power in games so far in his minor league career. If Gorman can make more contact this season he will shoot up prospect lists and find his way into the major leagues by 2021. If he can't, then he and Mike Hessman will have a lot to talk about at the local watering hole.
Ke'Bryan Hayes should find his way to the majors this season on the strength of his incredible defense and passable bat. There is more room to grow when it comes to his hitting ability and he should provide some steals when he gets promoted. That said, Hayes is likely to be one of those players who is way more valuable in real life than in fantasy.
If you need some power potential in your farm system, then you'll want to keep an eye on Oneil Cruz. The 6'7" SS has been slapped with an 80-raw power grade by some scouts and has shown a knack for making contact so far in the minors. This kid could absolutely explode if it all comes together.
Nolan Jones likes to walk. He likes to walk a lot. In 107 games at A+ ball, Nolan Jones had a walk rate over 20%. Jones might need to get a little more aggressive to translate his 70-grade raw power into game-changing dingers, but players with elite OBP skills tend to have high floors and every dynasty team needs a couple of safe prospects on the farm.
More Dynasty Baseball Strategy