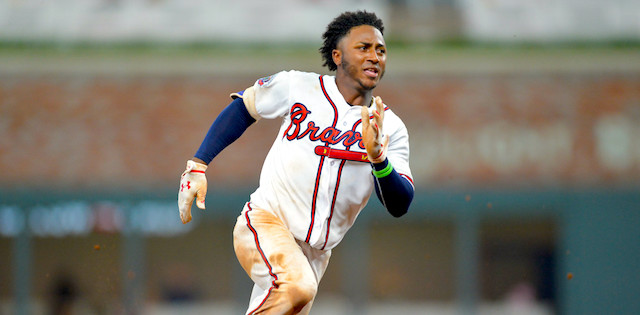 As the season draws near, we realize more and more that it's draft season. There is a large portion of fantasy baseball busy with mock drafts, rankings, sleepers, and more mock drafts. The Dynasty community, on the other hand, is looking to continue their dominance, rebuild, or in a worst-case scenario, stick their hands up in frustration. Regardless of the team's competitive situation, everyone wants to add value to their roster.
Second base is filled with a wide variety of talent, which provides every owner some flexibility when building their roster. There are a few aging players in the top tiers, but there is an influx of youth ready to drive them out in the coming years led by Ozzie Albies and Keston Hiura. Though there are promising players at the position, it still lacks significant depth. While some see it as a negative, use it as an opportunity to find hidden gems among the 55 players ranked.
All preseason long, RotoBaller has you covered with the latest rankings for all fantasy baseball league types. Here we present our dynasty rankings for the second base position, put together by analysts Nicklaus Gaut, Pierre Camus, and Ellis Canady. Check out our analysis of all other positions as well, coming soon!
Featured Promo: Get any full-season MLB and DFS Premium Pass for 50% off. Exclusive access to our Team Sync platform, Premium articles, daily Matchup Rating projections, 15 lineup tools, DFS cheat sheets, Research Stations, Lineup Optimizers and much more!
Sign Up Now!
Second Base Rankings - Dynasty Leagues (February)
In case you missed it, our very own "Big Pick Nick" Mariano was named the #1 overall most accurate industry expert ranker for the 2018 season!
Tier One
Gleyber Torres did his best to dispel any notion of a sophomore slump by hitting 38 homers with 186 R + RBI. He is likely the Yankees shortstop of the future, but Torres split time at both middle infield spots in 2019. His power is a significant advantage while he retains 2B-eligibility. It is too soon to expect 40 long balls annually, though. His barrel rate (7.1%) and exit velocity on LD/FB (92.8 mph) are great starting points considering his age. However, we must keep in mind that a majority of Torres' success occurred in two months (22 HR) and against the Orioles (13 HR). At 23 years old, he still plenty of years of excellence ahead of him. Enjoy his 35 homers and very good batting average, and don't be greedy. If you're set at the keystone on your dynasty team, test the waters while Torres' value is impressive.
Albies is an exciting young player that fits perfectly as part of a dynasty squad core. He may not have elite power (24 HR) or have displayed elite stolen bases (only 15 SB, despite 28.6 ft/sec speed), but his skills are still attractive. Albies also adds a .290 AVG to his power/speed combination. He also benefits from hitting near the top of a potent Braves lineup, between two top-20 players. Do not be surprised by a handful of 20/20 seasons, starting in 2020. Between these two Tier-one second basemen, Albies is the one to own. If you can acquire him in your league and haven't done so already, we've already identified priority number one.
Tier Two
Keston Hiura arrived with a thunder in 2019, probably earlier than the Brewers had intended. He performed exceptionally well at Triple-A to start the year, yet he still bettered those numbers upon his promotion to the big-league club. In 348 plate appearances, he hit 19 homers and 51 RBI with nine stolen bases. Hiura was also very aggressive at the plate chasing and swinging through pitches worse than league average. Despite these rookie-like tendencies, he still hit for a .303 AVG. It is not too often that you can find a second baseman who hits 30 homers with a .300 AVG and chips in double-digit steals. If you have to pay market value for Hiura in your league, do it.
It has been an offseason filled with controversy surrounding Jose Altuve and his teammates. That aside, we still need to assess him on his own merits. We're not going to list off Altuve's trophy collection. It doesn't help you, but to say he has been successful in the past. You're concerned about WHYDFML (What have you done for me lately). How does 31 long balls with a .298 batting average suit you? Before you even say it, let others concern themselves with the decline of his stolen bases. If others in your league have soured on 29-year-old Altuve, send an offer to acquire a hitter with excellent plate skills, power, and still possesses a 28.6 ft/sec speed. (Remember Albies above?)
Tier Three
If you're a Ketel Marte owner, you're ecstatic by his performance in 2019. However, are you happy for the right reasons? Let's find out. No one could have predicted this type of breakout for Marte. His 32 homers were more than all previous four seasons combined. Marte also tied for sixth in baseball in hits (187), fifth in triples (9), and nearly won the National League batting title with a batting average of .329, albeit buoyed by a .342 BABIP. He even utilized his speed to rack up 10 stolen bases, which isn't his peak number. It would be smart to consider taking advantage of his current value, but don't be offended if other owners are hesitant to pay for a career year.
Owners everywhere are let down by Merrifield's declining stolen base total. Unlike Altuve, Merrifield doesn't have the power numbers to offset a drop from 45 to 20 steals. However, he did lead baseball with 206 hits and finished 2019 with an excellent .302 batting average. Even at 31 years old, Merrifield has the speed (28.6 ft/sec; sound familiar?) to rack up stolen bases if he can improve his efficiency on the base paths (caught 10 times). Despite a desirable batting average, Merrifield is nearing his expiration date. If you are competing this year and next, he is a useful asset. Otherwise, don't get caught holding the bag.
There are always growing pains for rookies not only performance-wise but also due to playing time. Gavin Lux was a late-season call-up for the Dodgers and finished with two homers, two stolen bases, and a .240 AVG in 82 plate appearances. While it wasn't jaw-dropping, it doesn't overshadow his excellent minor-league showing to start the year. Lux hit 26 long balls with 10 steals and a .347/.421/.607 slash line across Double- and Triple-A. The Dodgers have enormous talent on the offensive side, but Lux should start the season at second base. Regardless of his performance this season, Lux is a great dynasty prospect with power, speed, and hit tool. If the owner in your league is nervous about his sample-sized performance or his 29.2% strikeout rate, see if you can acquire him with even the slightest of discount.
Tier Four
Still only 29 years old, Max Muncy still has plenty of life left in the dynasty tank. You know about the significant power, stacked lineup, and multi-positional eligibility. There is nothing left to know. The three-year contract extension (with an option) helps solidify his presence with the Dodgers and your team.
To start his major league career, Cavan Biggio mashed 16 homers and stole 14 bases in 430 plate appearances. Of course, his max exit velo (104.6 mph) wasn't indicative of someone crushing the ball. He will need to work on that if he maintains his 20.1 degree launch angle and a 47% fly-ball rate. Otherwise, Biggio will give away a bunch of outs when he does swing. As it is, he's been extremely patient at the plate with only a 35.9% Swing rate. It has led to a 16.5% walk rate, which makes Biggio a great asset in OBP leagues. His 28.6% strikeout rate is a concern, though, caused mostly by struggles against breaking balls and offspeed pitches. Biggio has the ability to reach 20-20 annually, but it will come with a mediocre batting average. He does benefit from hitting behind Bo Bichette and in front of Lourdes Gurriel and Vlad Gurruero Jr. There is likely no discount to buy or value to sell right now.
Jonathan Villar has speed. He even had pop when playing in Camden Yards; of course, who doesn't? What else does he have? Villar has a starting job for the offensively challenged Marlins. That should enable him to run until his heart's content. It could all change if the team trade him at mid-season. If you're able to parlay his recent success into a profit, jump on it.
Brandon Lowe had a phenomenal start to the 2019 season, showcasing his power with 16 homers in 307 plate appearances of the first half. His 96 mph exit velocity on FB/LD was impressive. The most significant troubling issues are his team context and (lack of) plate discipline. The Rays love to have depth. In doing so, there are only a couple of players who have secured playing time. Lowe will not be one of those if he can't fix his 53.9% strikeout rate versus southpaws or his terrible contact rate (64.8%), which was sixth-worst in baseball. Lowe can pitch in a few steals with his power; however, he isn't one to build a dynasty team around.
Mike Moustakas finds himself on the disrespected list yet again. For our purposes, he still has value, even at 32 years of age. Premium power in a shoebox-sized park with second-base eligibility is quite sexy. Look to obtain him if your squad is in contention for the next few years.
Tier Five
Lourdes Gurriel Jr. needed a demotion in 2019 to recalibrate and ultimately find success in the majors. His 20 homers and six stolen bases in 314 at-bats brings a smile to every owner, especially with a 95.6 mph exit velocity on LD/FB. However, but we need to be honest with ourselves; Gurriel has plate discipline and health issues. His chase (38.6%) and contact (69.1%) rates are wanting. Also, significant injuries have limited his playing time. He's still young and can overcome both of these issues. As of now, if you own him, stick with him. If you can obtain him cheaply, it doesn't hurt to do so.
Eduardo Escobar's breakout arrived at 31 years of age. I don't recommend an ageistic attitude, but it's time to capitalize. He is a prime 'Get Out While The Gettin's Good' candidate.
Owners are eager to get the White Sox' 2B of the future, Nick Madrigal, promoted. The lineup is already ripe for productivity. It will be exciting, but be mindful of what Madrigal brings to your roster. Madrigal excels at getting on base and is nearly immune to strikeouts with a 3.5% rate across his minor-league career. He also provides premium steals and an elite batting average. His profile is fantastic for a leadoff hitter, but do not expect the power to develop at any point. That isn't his style. There likely is no discount to be had in dynasty leagues. It doesn't hurt to inquire on the off chance you can add a valuable asset.
Can someone talk to the Rockies about their prospect hoarding? Garrett Hampson's routine in 2019 consisted of demotion, promotion, and platoon player. Rinse and repeat. An excellent September provided optimism. With a 30.1 ft/sec sprint speed, Hampson's potential stolen bases are worth keeping him on your roster. Brendan Rodgers suffered from a similar routine before a torn labrum ended his season. The injury notwithstanding, Rodgers usually takes a year to transition to a new level. There's still plenty of potential built into his bat. The delay in his success might offer a buying opportunity.
Vidal Brujan is here for the speed and the propensity to get on base with very little reliable power. It may sound a lot like Madrigal but with even more speed and a slightly lower batting average. The switch-hitter can get on base, though. Up until 2019, Brujan's strikeout and walk numbers nearly mirrored each other. Last year there was a small dip with an eight percent walk rate tied to an impressive 15% strikeout rate.
Tier Six and Lower
Nick Solak moved to the Rangers, where there is a better opportunity for consistent playing time. He isn't a superstar, but he'll be a valuable regular, especially with speed that rivals Christian Yelich (28.7 ft/sec) and a power stroke that generated Eugenio Suarez-like exit velo on FB/LD (93.2). Currently, he's UTIL only in most leagues, but playing time will find him, even if it is in the outfield. He's slotted on this list since second base has always been his ultimate destination. Of course, Rougned Odor muddies those waters with a power/speed combo of his own. If only his batting average were respectable. If I had an extra spot on my dynasty team labeled 'Stand By: Emerging Profit,' Solak would be occupying it.
Mauricio Dubon's circumstances changed for the better, yet it might not have a positive impact for fantasy. Dubon moved from Milwaukee to San Francisco, which results in near-stable job security and playing time. The question will be his production. Statistically, his 2019 season across Triple-A and the big leagues was a success with 24 homers and 13 stolen bases. A 91 mph exit velo on FB/LD with a 1.8% Barrel rate is not a recipe for sustained power, especially in Oracle Park. Additionally, Dubon's speed is only slightly above the league average, and his 56% success rate for stolen bases in Triple-A is a concern. For Dubon's sake, the regular playing time will provide more success than mere experience.
Some feel that if a player has an elite skill, they should be on a roster. Luis Arraez brings a .334 batting average, yet it still doesn't incite a call to action. He doesn't hit the ball that hard and has average sprint speed. This is not a marketable combination. It is more preferred to own a player that can actually improve their value.
More Dynasty Baseball Strategy