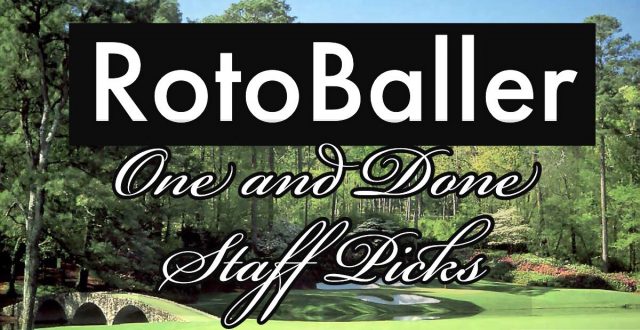 Here at RotoBaller, we are always searching for ways to give our readers the best fantasy sports content possible. With that goal in mind, we are very proud to announce the addition of a weekly PGA "One and Done" column. In this feature, our golf staff of Joe Nicely, Spencer Aguiar and Gianni Magliocco will provide their weekly golf picks every Wednesday. The purpose of this article is to present you with alternative options to consider and hopefully make your selection a much easier process weekly. With that plan in mind, let's get started!
Hi guys! It was a rough week at the Honda Classic for us as a group, but specifically for Gianni and I, as we picked up the dreaded 'Missed Cut' with Adam Scott. The door was certainly left wide open for Spencer, but his pick, Gary Woodland, could only manage a T36 worth $25k. Spencer's inability to capitalize definitely softens the blow a bit for Gianni and I, but it's never fun logging a M/C in a One and Done contest. From a season-long standpoint, I'm still a distant third behind Gianni and Spencer, who are neck and neck as we get into the heart of the PGA Tour's 'Florida Swing'.
This week's Arnold Palmer Invitational is a tremendous event with a juicy $9.1 million purse. Golf's elite still show up in full force for Arnie's tournament and we have a bevy of world-class players to choose from this week. Personally, I'm still trying to make up ground, while the other guys can be a bit more conservative if they so choose. I can't wait to see who the boys are putting in play at Bay Hill!
For an in-depth breakdown of the top DraftKings and Fanduel plays, check out Joe Nicely's weekly Horse For The Course that highlights the best fits for the week's course.
And you can also find out who the smart money is on by checking out Spencer Aguiar's PGA DFS: Vegas Report every week.
Editor's Note: Our friends at Fantasy National have built some incredible DFS Golf lineup tools including a Lineup Optimizer, Stat Engine, Ownership Projections and Course Breakdowns. They are by far the best daily fantasy Golf tools in the industry. Seriously. You can read all about them here and see screenshots. 
2019 Arnold Palmer Invitational - Bay Hill Club & Lodge
7,419 Yards - Par 72 - Greens: Bermuda
After a stiff test last week at PGA National, things don't get much easier at Bay Hill. Arnold Palmer's beloved layout is a long one, stretching the scorecard at almost 7,500 yards. Despite its length, Bay Hill doesn't lend itself to the modern 'Bomb and Gouge' style of play. Many tee shots require strategic placement with the emphasis being placed on approach shots. We will see this field tested in a facet of the game that is often overlooked in this era of the sport...the long irons, as players will face a huge number of shots from 200-plus yards this week.
We have seen great ball strikers continually succeed in this tournament over the years and the 2019 edition should be no different. We are once again on bermuda-grass greens, which should suit most of the players in the field. While the course is fairly difficult, it is possible to score, as Rory McIlroy fired a final-round 64 on his way to winning the 2018 API title at 18-under par.
One and Done Selections
Joe Nicely - Rory McIlroy
This week was strictly a two-horse race for me as I was between Tiger Woods and Rory McIlroy. With the hole I've dug for myself in our contest, I'm only looking for potential winners at this point, and in my opinion Tiger and Rory possess the most tournament-winning upside in this field, so Tiger's surprising withdrawal Monday afternoon pretty much made things easy for me this week.
Rory McIlroy heads to Bay Hill as the defending champion and in elite form. This is the best version of Rory we've seen in years. He's recorded top-five finishes in every one of his four 2019 starts and his game seems to be bulletproof right now. He leads the API field in Strokes Gained: Total, Tee to Green, Ball Striking, and Off the Tee over his last 12 rounds. For the first time in a long time, Rory seems hungry and I AM HERE FOR IT.
I'm sure there's a popular sentiment to 'save' McIlroy for what will basically be a home-game Open Championship for him at Royal Portrush in Northern Ireland. I had game-planned that strategy myself before this season kicked off, but the combination of his superhero form and my standings in our OAD contest have forced me to play my 'Rory card' a bit earlier than I anticipated. We know that form can be a fleeting thing, even for elite golfers, and with the Open over four months away, I'm willing to make a stand with a red-hot McIlroy this week.
- Joe Nicely
Yearly Earnings - $691,626

Yearly Cuts Made - 7/8
Spencer Aguiar - Justin Rose
The Arnold Palmer Invitational is an important event for a few reasons. Most 'One and Done' pools will be starting segment two, which means there is a brand new eight-tournament stretch for participants to try and compete for some of the other season-long prizes. The Players Championship and Masters will be included in this portion, and there are opportunities aplenty to get yourself back into contention if you didn't get off to the best start. I made a concerted effort during the first segment of trying to start quickly with Justin Thomas and Jon Rahm as my first two selections but had to rein back the aggression level after both top-10 players in the world provided mediocre results. Phil Mickelson eventually bailed me out with a victory at the Pebble Beach Pro-Am, and I feel like I am in a steady position entering the second segment with nearly 2.1 million in earnings.
With the Arnold Palmer Invitational having 9.1 million up for grabs, it feels like the right spot to put the pedal to the metal once again. My decision came down to Rory McIlroy, Justin Rose and Jason Day, but I decided to roll with the Englishman for a few reasons. I'd be lying if I said burning Rose in a non-major didn't worry me, but I believe he is the most likely player to win this event, and I mapped out replacement options for the Masters and Open Championship, two tournaments where Rose was on my shortlist of contenders.
The 38-year-old has been stellar during his career at Bay Hill. Two missed cuts in 2010 and 2014 might skew some of Rose's course history, but the 10-time PGA Tour winner has not finished outside the top-15 in his other six attempts since 2010. A third-place showing last season mixed with a second in 2013 and third in 2011 shows his affinity for the venue, and Rose has gotten to the point in his career where he is tired of being the bridesmaid in big events. In his previous 32 tournaments, the second-ranked golfer in the world has provided six victories, not to mention 16 additional top-10 showings. I think it is slightly risky from a long-term game-theory perspective, but I am going to try and get on the board early and hope to continue the momentum throughout the segment. -Spencer Aguiar
Yearly Earnings - $2,087,463
Yearly Cuts Made - 7/8
Gianni Magliocco - Jason Day
Jason Day returns to one of his happy hunting grounds this week, and recent form suggests that he could have a big say at Bay Hill. The Australian is trending nicely this year. Beginning 2019 with a T13 finish at the Sentry, Day has collected back-to-back top-five finishes in his last two starts. Most encouraging for Day is that after his recent change of irons, the Aussie recorded his best performance approaching the green in six months.
As well as recent form, Day has excellent course history to lean on. The 31-year-old won the Arnold Palmer Invitational back in 2016, and in his last four visits to Bay Hill, Day has finished no worse than T23. He is fourth in strokes gained total here over the past five years, and second, behind Rory McIlroy, for those who have played the tournament just four times in that period. I'm taking a risk by burning an elite player, but the trend and course history suggests that it is worth the risk this week. - Gianni Magliocco
Yearly Earnings - $2,384,118
Yearly Cuts Made - 7/8
Running Totals
Joe Nicely

Spencer Aguiar

Gianni Magliocco

Sony Open

Gary Woodland 

$11,520

Justin Thomas

$99,200

Kevin Kisner

$12,864

Desert Classic

Jon Rahm

$212,400

Jon Rahm

$212,400

Patrick Cantlay

$159,300

Farmers Insurance

Marc Leishman

$21,158

Patrick Cantlay

$0

Charles Howell III

$79,804

Waste Management

Hideki Matsuyama

$113,600

Webb Simpson

$76,917

Justin Thomas

$482,800

Pebble Beach

Chez Reavie

$31,160

Phil Mickelson

$1,368,000

Phil Mickelson

$1,368,000

Genesis Open

Xander Schauffele

$100,788

Hideki Matsuyama

$177,600

Dustin Johnson

$177,600

WGC Mexico Championship

Justin Thomas

$201,000

Xander Schauffele

$128,000

Tommy Fleetwood

$103,750

Honda Classic

Adam Scott

$0

Gary Woodland

$25,346

Adam Scott

$0
Golf DFS News and Player Outlooks
Premium DFS Golf Tools and Lineup Optimizer
Our friends at Fantasy National have created some game-changing DFS Golf tools, and you can read all about them here. They are hands-down the best daily fantasy Golf tools in the industry.
Premium DFS Golf Tools and Lineup Optimizer
Our friends at Fantasy National have created some game-changing DFS Golf tools, and you can 
read all about them here
. They are hands-down the best daily fantasy Golf tools in the industry.
Sign Up Now!