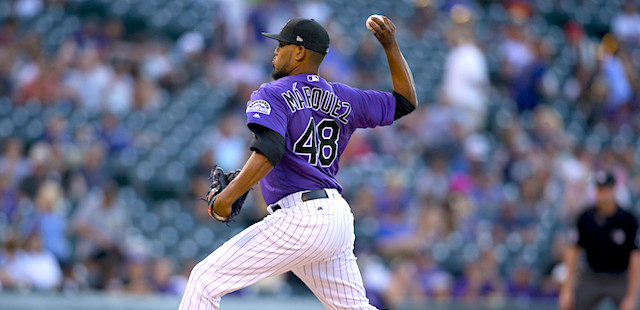 What do I, Nick Mariano, have in common with great minds such as Ken Jennings, Gary Kasparov, and Lee Sedot? Before, I wouldn't have had an answer, but now I can say that we've all had the honor of challenging incredible Artificial Intelligence minds! Nevermind that those other three guys got crushed in their "Man vs. Machine" rounds, this is no place for data and predictive analytics. Gosh! Wait.
We are gathered here today to stand up alongside John Connor and all of humanity against Skynet. In this case, Skynet is THE BAT projection system by fantasy stud Derek Carty. THE BAT was named the most accurate fantasy baseball projection system in 2018 out of non-aggregate systems. His standalone product was the best around, which means I, as the most accurate draft ranker of 2018, must fight it to the death...or something.
Derek and I put our ranks side-by-side and plucked out 10 players -- five that I like more and five that THE BAT likes more -- and here you can find my perspective on them all. For the other side of the story, Derek has posted his own article on RotoGrinders. Teamwork makes the dream work!
Editor's Note: Get our 2020 MLB Premium Pass for 50% off, with exclusive access to our draft kit, premium rankings, player projections and outlooks, our top sleepers, dynasty and prospect rankings, 20 preseason and in-season lineup tools, and over 200 days of expert DFS research and tools.
Sign Up Now!
Five Players Mariano Likes More
German Marquez - SP, COL
Nick's Rank: SP21
THE BAT's Rank: SP58
Marquez showed some promise prior to 2018 but no one could've predicted the elite second half that dominated Coors and opponents alike. His peak was that of a top-five arm, but he could have a Jon Gray-like regression. Marquez has a fastball, slider and curveball that have proven dynamic, but can he consistently beat Coors Field? Half a season of mediocrity with another half of brilliance still yielded 230 K's in 196 IP. Only six SPs topped Marquez's punchout totals in '18 and they, along with the six names that finished just below Marquez, are being drafted as top-20 SPs with little questions. I believe Marquez showed enough where I'm comfortable believing in his being a top-10 pitching talent in the bigs, if we were to strip away park factors. Nothing draws me in like a good strikeout rate.
Not only did he increase the whiffs in his insane second half, but his walk rate dropped to 5% -- a great way to limit the damage a mistake can make -- but he also put hitters on their heels more often. His rate of pitching ahead of batters with a 0-1, 0-2 or 1-2 count jumped from 27.1% to 34.9%, also known as the biggest jump of any pitcher (shouts to Nick Gerli for that one). Command of the zone and early aggression coupled with sinister stuff move his baseline's goalposts. Coors will always mean a lower floor but Marquez just turned 24 and showed a half season of Jose Fernandez-caliber stuff, so count me in.
Cole Hamels / Cubs SPs - SP, CHC

Nick's Rank: SP42
THE Bat's Rank: SP105
It's understandable to see a struggling pitcher rebound in their mid-30s and write them off as an easy regression candidate for the following year. Hamels is now 35 and had crawled to a 4.20 ERA in 2017 before posting a career-worst 1.37 HR/9 in 2018. But Arlington is not the place for an elder pitcher to age gracefully as his stuff declines. Hamels was then dealt to the Cubs and posted a 0.71 HR/9 in 12 starts there with a 2.36 ERA, 3.42 FIP and 3.59 xFIP alongside nearly a strikeout per inning.
There's no way that I, or anyone in their right mind, would sell you on Hamels being a sub-3.00 ERA pitcher. But there's no doubting that nearly anywhere is friendlier than Arlington and that Fangraphs' defensive value leaderboard had the Cubs as a top-five unit in each of the past two seasons. Jason Heyward may be a fantasy bust, but he works here with the slick-fielding Javier Baez and company. He may have also benefitted from a mental or mechanical boost too, as his fastball averaged 93.5 MPH in August compared to 91.5 MPH in April.
For what it's worth on the other Cubbies: I think Kyle Hendricks has shown that he can outperform his sabermetric profile by now. He won't overpower hitters but again, that defense is terrific and can handle balls put into play while Hendricks' low walk rates help minimize damage. He's the one I feel most strongly about. Jon Lester looks cooked and I'd be fine with this blurb reading "Cubs SPs minus Jon Lester," but as long as he can go five decent innings then 18-win seasons such as 2018 are possible on this team. He's pitched at least 180 innings for 11 consecutive years, so the volume's there.
Jose Quintana must rediscover his secondary pitches if he's to survive, but nine rather-clean frames this spring (6 H, 2 ER, 3 BB, 6 K) offer hope. I'm in on Yu Darvish, spring blister and all. The velocity flashed in March and I'm buying with this team environment until he can't take the hill anymore. At 32 years old, Darvish is one with true SP1-caliber stuff when on and may enjoy an Arlington-to-Wrigley HR benefit a la Hamels that we haven't really seen baked into his perception yet since he's been hurt.
Jonathan Villar - 2B, BAL
Nick's Rank: 2B8
THE Bat's Rank: 2B15
My studies in behavioral economics always told me that humans are more likely to let risk aversion drive them beyond most other factors, but Recency Bias is still one helluva drug. So many were burned in 2017 while chasing the dragon of Villar's 19-HR, 62-SB '16 campaign, but a trade to Baltimore led to eight homers and 21 stolen bases alongside a .258 average in 236 PAs -- nearly one-third of a full season's work.
No, don't take the numbers and multiply by three -- especially because hitting .774 isn't going to happen -- but we know and have seen the incredible ceiling, we've cried on the floor, and we've seen some middle ground. Camden Yards is friendly, though the AL East boasts some insane pitching, but Baltimore should play him everyday and they've shown a willingness to let him run. I can't envision dialing back his steals without an impetus, and I'm not going to inject one that I can't account for. I'm in for nearly 600 PAs and a real shot at 40 steals.
Carlos Santana - 1B, CLE
Nick's Rank: 1B13
THE Bat's Rank: 1B19
Let it be known that we organized this before the Indians signed Carlos Gonzalez, but that doesn't change that Cleveland's lineup is subpar. Dinging Santana's counting-stat upside is fair in this light, as is THE BAT (and most other systems) giving him 23 homers after he's slugged 23 and 24 in the past two seasons -- including one in Cleveland. You're buying volume here, not raw upside.
Santana has had three seasons in Cleveland with a HR/FB rate greater than 16%, and five below 12.5%. But it's worth noting that the Indians still have an absurd heart of the order and that Progressive Field was given the second-highest Runs Factor per Baseball Prospectus for left-handed hitters (out of 60). The HR factor was 16th, so still easily above-average.
Santana is about as regular as a regular guy gets, but 1B gets ugly rather quickly this year and you know he'll be there for you. He's tallied at least 600 PAs in every year (sans his shorter rookie season in 2010) with 660+ PAs in each of his last five campaigns. The complete lack of speed won't help his average, but his strikeout rate has declined in three straight years and he'll get his opportunities to make contact. To reiterate: Santana won't win you your league, but he should help you balance out some risk in the middle rounds.
Ramon Laureano - OF, OAK
Nick's Rank: OF56
THE Bat's Rank: OF77
From a hitter's park to a pitcher's park, Laureano must rely on muscle to overcome Oakland. Luckily, the 24-year-old is growing into his bat to complement his plus speed and outstanding defense. You've seen the rocket throw from the warning track -- this should give him near-everyday play in center. Sorry, Dustin Fowler. He'll strikeout nearly a quarter of the time, but he has walk rates above 10% in the Minors and posted a .288/.358/.474 line with five homers and seven steals in 176 MLB PAs last year. Don't get attached to those rates, but the tools are there.
He should eclipse 500 PAs with ease -- all projections agree on that -- and they seem to be on board with his 15-homer pop, but the speed is lacking. His 29.0 ft/sec sprint speed was 52nd out of 549 players in 2018 while his steal success rate across all levels is 81.2% (112-of-138), including seven-of-eight in the bigs. He may also bat leadoff sometimes -- he made 10 starts atop the order in '18, with 12 batting seventh and 13 at eighth (Note: He led off Game 2 of 2019's Japan series, so that works). Again, don't get attached to 2018, especially his batting average, though at least his great speed should help maintain a higher-than-usual BABIP, but the pop and speed are real.
Five Players THE BAT Likes More
Chris Paddack - SP, SD
Nick's Rank: SP111
THE Bat's Rank: SP18
Let's be clear: Paddack is going to be a stud with a strong heater, wicked change and solid command. My ranks for this exercise did come in before much of his work this spring and I completely understand the hype. The Padres also have a robust defense behind him, as Machado can surely fill Freddy Galvis' glove. But with only 37 ⅔ innings higher than Double-A, I'm also simply not there yet.
He's torn through people so far, including bigger fish in Spring Training, so maybe I'm just a scaredy-cat, but a HR/9 that's rarely topped 0.50 with a walk rate that lives below 3% means he's largely had his way. Can he adjust to big-league batters consistently seeing him two or three times through a game? Will San Diego really let him work that far? He looked iffy pushing his pitch count recently and never surpassed six innings in a game last season, dominant as he was. Perhaps he doesn't miss a beat and becomes the next great ace or simply is a solid top-30/40 arm as a rookie, but folks seem to be seeking salvation through his arm and I'm not on the punch line yet.
Matt Boyd / Tigers SPs - SP, DET
Nick's Rank: SP73
THE Bat's Rank: SP53
I swear this has nothing to do with being burned by Daniel Norris years ago, no sir. Boyd is enticing and was a regular in my SP waiver wire article last season, but the ownership needle simply wouldn't move higher than 30%. I get it, the 72/15 K/BB rate in the second half was fun but the 4.66 FIP and 4.54 xFIP give me pause. I love their park, and Detroit's defense came in 13th per Fangraphs DEF leaderboard and their 24 Defensive Runs Saved were tied for 16th, so an average unit in a pitcher-friendly park.
However, we must bake in the downgrade of Jose Iglesias, who Fangraphs rated as the fourth-best defensive shortstop in '18 (min. 700 innings), to the serviceable-but-not-great Jordy Mercer. Mercer was 18th on the same leaderboard. That defensive rating will also drop when Christin Stewart mans a corner outfield slot. Greyson Greiner will be friendlier to pitchers than past backstops but he doesn't move the needle for me in the face of everything else. I don't have anything major against Boyd, but I won't be bullish on them as a target for pitching.
Rougned Odor - 2B, TEX
Nick's Rank: 2B11
THE Bat's Rank: 2B4
This past week, someone on Twitter tried to shake down my love of Trevor Story. They said he was basically no different than Odor given the big strikeouts, power and speed. I said I would absolutely reassess Odor and move him up if he called Coors home and hit among Colorado's stacked lineup. That and the fact that Story showed marked improvement rather consistently throughout 2018, whereas Odor flopped hard early, has a history of disappearing at the plate, and then rose like a phoenix in the second half only to fade again in September.
Odor has ceiling and perhaps pick 100-120 is where owners start feeling comfortable building on the solid base of the early rounds, but the floor needs to be baked in and I don't feel anything above Pick No. 100 does it. The difference in my eyes between weighing halves, or any arbitrary slice of games, for someone like Odor versus Marquez is the amount of times we've seen someone yo-yo, oscillating between useful and dreadful, as well as the lengths of each high/low. Marquez hasn't really bombed out, while Odor has left us balding from stress more than once. Sometimes the average goes, or the plate discipline, the power, or his ability to time a stolen-base attempt. It all makes for a fragile, volatile show that I don't want a VIP pass to.
Michael Pineda - SP, MIN
Nick's Rank: SP123
THE Bat's Rank: SP36
I'm fine with some emotion coming into the equation here. Pineda burned me as a believer for years. He always has sabermetrics that paint him as an elite arm, yet he's a victim of being "too hittable" in attacking the strike zone. With two solid seasons in between injuries (2011 and 2014) in the books, Pineda then posted a 3.09 SIERA and 4.37 ERA, then a 3.40 SIERA and 4.82 ERA before 2017's 3.77 SIERA and 4.39 ERA. I know humans want to insert patterns wherever they can, but that looks reliable to me.
Those marks came during the "prime years", but now he's 30 and missed all of 2018. He should benefit from facing offenses such as CWS, DET and KC that have plenty of strikeouts and lesser plate discipline, but he's coming off of Tommy John surgery and meniscus surgery on his knee in September and might be babied to open '19. Too many question marks both looking back and forward have me shying away.
Caleb Smith - SP, MIA
Nick's Rank: SP91
THE Bat's Rank: SP70
Boy, when he went into Milwaukee and struck out 10 on April 22 last season, my ears perked up so fast that I probably looked like an elf. He flipped a switch and suddenly became much more aggressive en route to big whiff totals, but then a Grade 3 lat strain required season-ending surgery. Sad times. He posted some gems and some duds, but his aggression also meant higher pitch counts and handing over his work to Miami's uninspiring bullpen. Smith went six innings or more in only five of his 15 starts (discounting the injury-related one).
Despite Miami being a strong pitcher park, the 5x5 format means we need wins and Miami is still rebuilding. Their defense is subpar and the Braves, Mets, Nationals and Phillies all project as above-average offenses in '19. I can accept Smith and other rising Marlins such as Trevor Richards and Pablo Lopez being underrated, but I can't go as far as THE BAT wants me to. To be fair, we both agreed Smith and the Marlins deserved more love at Tout weekend.
Now, I encourage you to go over and read Derek Carty's piece on RotoGrinders stumping for THE BAT and explaining his side of the action. Ideally, you'll come to your own conclusions as a result of reading both of our takes, but hearing both sides is how the best-informed opinions come to be shaped. Good luck in 2019, y'all.
More Fantasy Baseball Analysis