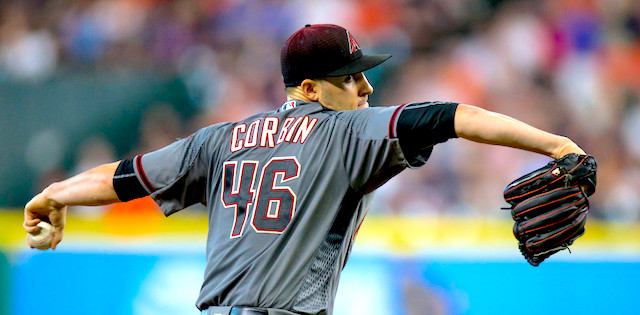 I'll openly acknowledge that I don't really do bold predictions.
I sit, read, think, and then watch the players play. If I see something, maybe I'll write an article.
But in the spirit of fun, I've put together my own version of 10 Bold Predictions that will definitely, almost probably come to pass.
Editor's Note: Get any full-season MLB Premium Pass for 50% off. Exclusive access to our Draft Kit, premium rankings, projections, player outlooks, top prospects, dynasty rankings, 15 in-season lineup tools, and over 200 days of expert DFS research.
Sign Up Now!
Paul DeJong is a top-ten shortstop and top-100 player
Here's my position: Your team would be better if you built your strategy around getting Paul DeJong at his current cost. Right now, no other player offers as much bankable profit as DeJong. Yes, there will be end-of-draft picks that return a greater profit, but none that you can count on as much as DeJong. DeJong is currently the 18th shortstop being drafted, but that's far below his actual value.
Last year, DeJong's season was derailed by a broken hand after being hit by a pitch. He returned a week ahead of his earliest predicted date, and he stunk for a month. Remove that month, and you have a player who should be drafted in the first 100 picks. Here are DeJong's career numbers without that month:
Now that DeJong has been elevated to either second or third in the lineup, he'll have Paul Goldschmidt either immediately ahead of him or immediately behind. That should give DeJong 180 R+RBI alongside his 30 home runs. Those numbers would have made DeJong a top-80 player in 2018, but he's currently being drafted at 180.
Andujar and Guerrero should be flipped on ADP charts everywhere. Even with Vlad's recent oblique injury, he's still being taken 25 spots ahead of Andujar, whose ADP is currently 79. Not only does Andujar start the season with the advantage of having a secure and full-time position in the majors, but he also has one of the league's best lineups to support his stat line.
Andujar already showed the ability to adjust mid-season, and he improved his strikeout rate in the second half. Even if Vlad gets healthy and is called up as soon as the Super-2 deadline passes, he'll still have the growing pains of a rookie season and the Blue Jays' lineup around him.
Patrick Corbin establishes himself as an elite starter
It's been almost nine months since I changed my mind about Patrick Corbin and recommended him as a trade target. All he's done since then is provide a 2.92 ERA, 2.09 FIP, 2.46 xFIP, an 11.1 K/9 rate, a 1.04 WHIP, and whopping 7.27 K/BB ratio, so you can say I'm feeling pretty good about jumping on that bandwagon. Despite his 2018 performance, he's still being ranked outside the top-20 starting pitchers. There's just no pleasing some people.
If you've read my elite-pitchers series, you know I'm not using the term "elite" casually. In 2018, Corbin led qualified starters in swing-rate outside the zone; he was second in swinging-strike rate; his ground-ball rate was top-10; and he was fifth in K-BB%.
All of his peers on those lists are being selected in the first 30 picks. Corbin's current ADP is 50. By the end of the season, the true believers will be singing Corbin's praises. The only thing that prevented Corbin from being a top-five pitcher last season was his win total. A season with the Nationals should rectify that.
The Dodgers' pitching staff is good enough to carry your fantasy team
Every few seasons or so, there's a pitching staff or an offense that is so good that a fantasy manager could win his league by only rostering those players. In this case, I'd probably swap out Clayton Kershaw for another top-10 pitcher.
After that, however, owners could draft the Dodgers' rotation (Stripling and Urias included) plus another reliever and one more top-40 pitcher, and you'd have a rotation that looked something like this: Clayton Kershaw (ADP 46), Walker Buehler (ADP 39), Kenley Jansen (ADP 73), Rich Hill (ADP 166), Hyun-Jin Ryu (ADP 180), Kenta Maeda (ADP 208), Ross Stripling (ADP 214), and Julio Urias (ADP 275). You put those collective arms together, and you get the following Steamer Projection:
Now, if it were me, I'd probably skip Kershaw in favor Patrick Corbin, Noah Syndergaard, James Paxton, or Patrick Corbin again. However, even if we stick with Kershaw, that's a promising stat line for pitchers going in the 4th, 5th, 6th, 14th, 16th, 18th, 22nd rounds. Obviously, a manager would still need to fill in around the edges with at least another two closers, but it's hard to ignore the value in the Dodgers' rotation.
Joey Gallo hits .235 and is unjustly ignored as part of the MVP discussion
Luke Voit and others might think that batting average isn't a thing anymore, but baseball's traditions die hard. Just ask an NL fan about adopting the DH (don't @ me). Even if Joey Gallo hits 45 home runs (he might), drives in 110 RBI (he could), and raises his OPS north of .900, Gallo still won't get MVP votes for two reasons. The Rangers aren't likely to make playoffs, and because batting average – like the $10 beer – is still a sacred thing in baseball.
I'm not suggesting Joey Gallo is going to rival Mike Trout and Mookie Betts for MVP production. However, the 25-year-old Gallo has some of the best batted-ball data in the league, and he showed inconsistent and modest approach changes last season. Gallo doesn't need to reinvent himself to enter the Khris Davis range of performance. He just needs to reduce his strikeouts by a few more percentage points, and he'll quickly become one of the game's best bats.
In private, I've been preaching the gospel of Jose LeClerc as the last elite closer on the draft board. LeClerc is available 30 picks after Aroldis Chapman and Kenley Jansen, and he doesn't come with the same baggage as either of those players.
The major knocks against LeClerc are his blown saves and control issues. However, from the day LeClerc took over as the Rangers full-time closer, he didn't blow a single save, and maintained a much stronger 3.00 B/99 and a 35.9 K-BB%. The only two pitchers with a better K-BB% were Edwin Diaz and Josh Hader.
The subtitle for this one should be: "I'm out on Yuli Gurriel." Tyler White should hold onto his job in Houston, but the Astros are competing right now, and adding Alvarez's power and on-base skills will add immediate wins for them.
Alvarez isn't necessarily an ultra-exciting prospect in the vein of Eloy Jimenez, Victor Robles, or the aforementioned Vlad Jr., but he is a strong candidate to provide an OPS over .800 in one of the league's best lineups. Once he's up Alvarez should become an immediate top-100 player.
Yasmani Grandal provides the best value at catcher
How many times does Yasmani Grandal have to tell you? He's not old. He's 30 years young and coming off the best offensive season in his career. He's joining a strong offense in Milwaukee and will take advantage of the friendly confines of Miller Park.
In the debate of whether J.T. Realmuto is worth a top-50 pick or whether Gary Sanchez will rebound, Grandal is going at pick 128 and will again be one of the three most valuable catchers in fantasy. Do you know what you want in your catcher? Reliable, low-cost production. Check and check.
Jesse Winker hits 15 home runs, maintains a .400 OBP, and scores 110 runs
Here are the facts: Jesse Winker should lead off for the Cincinnati Reds this season. Jesse Winker has both objectively and subjectively excellent plate discipline. Last season Jesse Winker got on base at a .405 clip. The Cincinnati Reds have a very good offense. From this we can calculate the following:
 650 PAs * .415 OBP * (Joey Votto + Yasiel Puig + Eugenio Suarez)GA Park Factor = X
Where X = you should stop being such a rube and just draft Jesse Winker already
Mondesi owners are going to be so invested in such a volatile asset that I'd compare the experience to owning Taijuan Walker or Francisco Liriano. Expect whiplash.
Unless Mondesi falls apart, he'll likely return solid value, but his game logs from last season show a player whose chase rate and approach leave him vulnerable to extreme swings in performance. Mondesi might play well enough to justify his draft spot and hold his value for next year, but there will be owners who pull the cord after a bad stretch when Mondesi triggers traumatic memories of owning Javier Baez in 2016.
More Fantasy Baseball Predictions