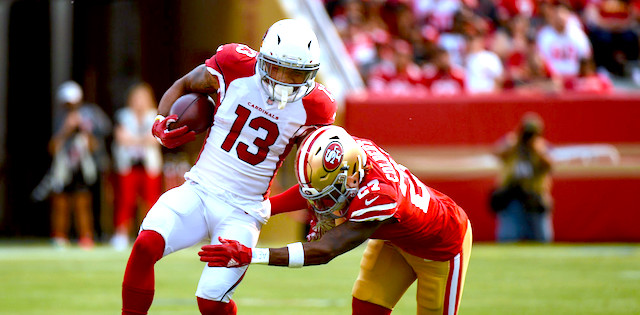 What Appears In This Article?
hide
Two second-year players. Two receivers with a lot of hype this offseason. So, which one should you want in your draft?
As with all decisions in life and fantasy football, the choice really depends on a lot of factors. Not just the players themselves, but the situations they find themselves in. Will Dante Pettis take over as the number one in San Francisco with Jimmy Garoppolo back? Will Christian Kirk take a step forward in an offense he is familiar with from college?
Neither of these teams, the 49ers or the Cardinals were good in 2018. Despite using high picks on new players both will probably find themselves at the bottom of the NFC West yet again. So, let us see which one of these two will provide you some good mid-round value for your fantasy team. Even if their teams stink, it doesn't mean they can't help you win a championship.
Editor's Note: Our incredible team of writers received 13 award nominations by the Fantasy Sports Writers Association including Baseball Writer of the Year, Football Writers of the Year, Golf Writer of the Year and many more! Be sure to follow their analysis, rankings and advice all year long, and win big with RotoBaller!
Read More!
Dante Pettis, San Francisco 49ers
ADP: WR31, Pick 7.04
The 6'1, 195-pound receiver from Washington had a solid rookie season for the 49ers. Not much more could have been expected from him in a season beset by injury. Both Pettis and all the quarterbacks on the roster seemed to suffer from setback after setback. After the torn ACL suffered by Jimmy Garoppolo, the San Francisco fans basically gave up on the season. This was probably a smart move considering the other players on the roster at the position were C.J. Beathard and Nick Mullins. Injuries to Pierre Garcon and Marquise Goodwin did nothing to help matters and the final blow came when Pettis himself suffered an injury to end his season early.
While he was playing, the rookie showed an ability to take over as the number one receiver for the team. Although not the prototypical number one, the 49ers want to be a run-first team, and this allows for a non-traditional player to be the number one guy. With George Kittle firmly implanted as a top-three tight end for the foreseeable future, it will also not fall on Pettis to be the dominant player the likes of Julio Jones or Antonio Brown are for their teams.
Starting only seven of the 10 games he played in 2018, Pettis still recorded 45 targets and 27 receptions. With five touchdowns and a 17.3 yards per catch average, Pettis showed to be the explosive big-play receiver Kyle Shanahan hoped he would be when drafting him to help the growth of Garoppolo into a franchise quarterback. If the run game remains healthy in 2019, with Jerick McKinnon and newly signed Tevin Coleman, this could add another dimension to the offense which should allow Dante Pettis to excel even further in year two.
The Defense has gotten better in recent years with additions of the likes of Richard Sherman. If rookie Nick Bosa can provide a pass rush like his brother Joey did in his rookie season when he had 10 sacks, the defense could be very good, very quickly. A good defense will allow the pressure to be removed from the offense and this in itself will lead to more comfortable drives, more precision and for our sakes, hopefully, more production all around.
This production should start with Pettis. Besides George Kittle, he is the most talented player on this roster, and he should become a favorite target of Jimmy Garoppolo and Kyle Shanahan. A number one receiver on an ascending offense is not a bad way to go in the seventh round of a fantasy draft. Especially when other choices are Jordan Howard or a mid-level tight end with far less upside.
Christian Kirk, Arizona Cardinals
ADP: WR32, Pick 7.06
The Arizona Cardinals. It is not a curse word this season as it was last. But we still don't know exactly what to expect from the new coach in Kliff Kingsbury or the new quarterback in Kyler Murray. One thing we can be sure of is the offense will be far more up paced. After running only 65 plays per game last season and scoring less than 14 points per game, the offense can't get worse. Can it? No, it can't.
These are all good for the development of Christian Kirk in this offense. He is a year older and coming into an offense he ran a bit in college, meaning he is also coming back into a friendly situation. His comfort level in the offense of Kingsbury, as well as his friendship with Murray from their shared time at Texas A&M, will help the Cardinals offense get better if not flourish in 2019.
One difference between Kirk and Pettis is a very important one. One which could make Christian Kirk a more dangerous play. He will not be the number-one weapon in the offense. He will not even be the number-two in the offense. These positions are firmly held by Larry Fitzgerald and David Johnson. Even in a disappointing season last year, David Johnson was still the RB10 for fantasy. That is a ranking almost certain to rise in 2019 as the fast-paced air raid offense comes to the desert.
Fitzgerald is nearing the end of his career, but in three of the past four seasons, he has still recorded at least 107 receptions. He is not dead yet and those who question if he is will be very angry when he beats them instead of helping them win. Kirk is therefore at best the WR2 on the roster and the number three option overall. His 68 targets and 43 catches in 2018, although better than the numbers of Pettis are likely to have less progression in year two. Despite the uptick in pace of play, the additional weapons procured by Arizona lend less room for upward mobility in the offense.
Andy Isabella, Hakeem Butler, and Keyshawn Johnson, although not first-round draft picks are going to see the field. It is likely the Cardinals use a lot of four and even five receiver sets. With this many options to choose from, Kirk could get lost in the mix.
While the Arizona Cardinals as a team and especially an offense will get better, the same may not be totally true for Christian Kirk. He is still a good player and after Fitzgerald retires may be the number one in the offense. Until this happens, he is not a safe pick this high in drafts. If he starts to fall a bit, into the ninth-round, he is worth a chance. Unless this happens, I like others going behind him far better. A player like Golden Tate has far more upside and a safer floor at a better price of the ninth-round at this point.
Conclusion
If you are swinging for the fences or trying to play it safe the same conclusion can be drawn. Dante Pettis has the bigger potential to break out this season. He is going to be the higher targeted weapon on his offense and his floor is far steadier than that of Kirk in Arizona.
Seasons are not won at the draft, but they can be lost. Players with far more potential should be the ones drafted to avoid the pitfall of losing it on day one. In this case, that player is Dante Pettis.
Check out all of RotoBaller's fantasy football rankings. Staff rankings are updated regularly for all positions and include standard formats, PPR scoring, tiered rankings and dynasty leagues.