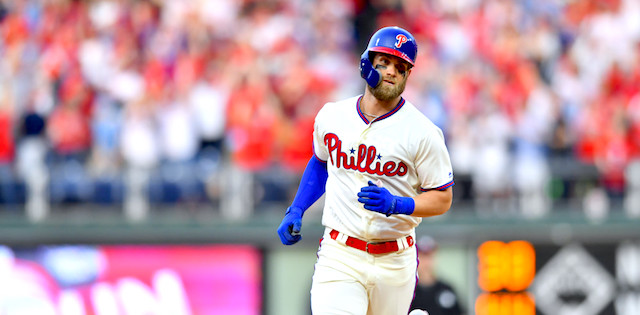 We continue to see a barrage of injuries in the majors, with an emphasis on soft tissue injuries. These injuries include oblique, groin, hamstring, and back injuries. Not all of the injuries are the same for each player and should be treated and evaluated on a case-by-case basis. They should not be lumped together. Key words to listen for while getting updates on these injuries include what grade the strain is to determine how severe it is. That is the best way to help evaluate how long that player will be out for.
Baseball has seen the rate of injury continue to rise over the past few years. In fantasy, if someone is not in the medical field, it is hard to gauge how long a player will be out and whether they need to be replaced in a lineup. Sometimes this could mean playing a dead roster spot and losing the opportunity to have a full week of stats. Watching a play and watching the mechanism of injury can say a lot about the type of injury that has been sustained.
I am a practicing physician's assistant in the state of New York in the fields of orthopedics and physical medicine/pain management. I have been treating patients with the same type of injuries that have been affecting athletes in a private practice setting for the past 16 years. Having this base of knowledge, it is easier to "predict" what the injury could be and how much time a player may miss. During the course of the season, I will continue to provide the latest injury updates with diagnoses and discuss the extent of injury and how long the player will be out. I will also be listing the "next man up" when it comes to playing time if the player will be out.
Featured Promo: Get any full-season MLB and DFS Premium Pass for 50% off. Exclusive access to our Team Sync platform, Premium articles, daily Matchup Rating projections, 15 lineup tools, DFS cheat sheets, Research Stations, Lineup Optimizers and much more!
Go Premium, Win More!
Average Days on IL
The best reference for how long players are out for certain injuries would be the last full season, 2019. Below is a listing of how long players (broken down by hitters and pitchers) spent on the IL based on the type of injury.
HITTERS
Hamstring 29
Hand/Finger 46
Neck/Back 50
Oblique 35
Knee 84
Shoulder 62
Concussion 30
Groin/Hip 57
Wrist 35
Calf 49
Ankle 29
Quad 37
Foot/Toe 68
Elbow 45
Biceps/Arm 51
PITCHERS
Shoulder 51
Elbow 92
Arm 71
Back/Neck 37
Knee 53
Oblique 35
Hamstring 28
Finger 25
Biceps 75
Hip 56
Groin 24
Wrist 98
Pectoral 46
Foot/Toe 41
Calf 28
Injured Players - New Listings
Tommy La Stella- (2B, SF)- Hamstring- La Stella was placed on the IL with a left hamstring strain. No word on severity. La Stella is likely to miss four to six weeks per Giants manager Gabe Kapler. Mauricio Dubon and Wilmer Flores could see increased at-bats until he returns.
Nico Hoerner- (2B/SS, CHC)- Forearm- Hoerner was placed on the IL with a left forearm strain. Hoerner said he expects to return from the IL by May 14, or the earliest available time.
Jordan Hicks- (RP, STL)- Elbow- The Cardinals placed Hicks on the IL with "right elbow inflammation." The term inflammation means swelling and it also suggests that the MRI he underwent did not reveal a strain or any structural damage to his forearm. No timeline was given for his return.
Kyle Freeland- (SP, COL)- Freeland is on the IL with a left shoulder strain. He pitched in a simulated game on Tuesday and should have another one over the weekend. Freeland has been sidelined since late in spring training and may return the end of May.
Luis Robert- (OF, CHW)- Hip- Robert was placed on the IL with a grade 3 strain (complete tear) of the hip flexor. He has opted to not have surgery and will do the or rest and rehab route. He will not participate in baseball activities for 12-16 weeks, regardless of the treatment plan. Update to come again in eight weeks. Billy Hamilton could see a boost in playing time because of this injury.
Bryce Harper- (OF, PHI)- Wrist- Harper injured his wrist after being hit by a pitch. He has started/played once in the last eight games and it's starting to look increasingly likely he may end up on the IL. He is currently in the lineup for Friday night, so far so good.
George Springer- (OF, TOR)- Quad- Springer was placed on the IL with a right quadriceps strain, retroactive to May 3. He had a similar injury while rehabbing his earlier oblique injury. Jonathan Davis was called up by the Blue Jays. The Blue Jays GM has already stated that Springer will need more than ten days on this new IL stint.
Alejandro Kirk- (C, TOR)- Kirk is on the IL with a left hip flexor strain. He will miss at least four weeks, maybe more, according to Blue Jays GM Atkins. He also says that the Blue Jays "are excited to see Reese McGuire play" in his absence.
Brandon Nimmo- (OF, NYM)- Finger- Nimmo was placed on the IL with a bone bruise on his left index finger which occurred during a swing. He is expected to miss only a short period of time. This rest will also benefit the hip issue he had in mid April. Kevin Pillar/Albert Almora should get more time in the outfield or the Mets until he returns.
Anthony Rendon- (3B, LAA)- Knee/leg- Rendon was placed on the IL with a left knee contusion after fouling a ball off his leg on Monday. MRI was normal. No word on return timetable. Jose Rojas and Phil Gosselin are options at third base for the Angels going forward.
Diego Castillo- (RP, TB)- Groin- Castillo was placed on the IL with groin tightness. No word on severity or when it happened. The recently activated Pete Fairbanks could close for the Rays until he returns.
Roberto Perez- (C, CLE)- Finger- Perez was placed on the IL with a non-displaced fracture in his right ring finger. Perez had said he was going to try to play through it but that did not seem to pan out. Finger fractures take three to five weeks to fully heal, however, he had surgery on it so the recovery time will be two months. Austin Hedges should get more playing time until Perez returns.
Rougned Odor- (2B, NYY)- Knee- Odor is on the IL with a left knee sprain. Odor injured the knee when he collided with Astros catcher Martin Maldonado at home plate. MRI showed no structural damage. No timetable for his return and DJ LeMahieu should play second for the Yankees and Mike Ford at first until Luke Voit is activated off of the IL.
Wilson Ramos- (C, DET)- Back- Wilson was placed on the IL with a lumbar strain. Severity is not yet fully known as he left Thursday's game with the injury. The move was done as a precaution. Grayson Greiner and Jake Rogers could fill in for the Tigers until Ramos is again available.
Ian Happ- (2B, CHC)- Rib- Happ was placed on the IL with a left rib contusion following a collision with Nico Hoerner on Tuesday. The move is backdated by three days as he has not been able to play since then. No word on severity. David Bote should see more playing time for the Cubs until Happ returns.
Joey Votto- (1B, CIN)- Thumb- Votto was placed on the IL with a fractured his left thumb. Expect him to be out about four to five weeks to allow for healing and rehab. Alex Blandino and Kyle Farmer could fill in at first base for the Reds for the time being.
Injured Players - Updates
Dustin May- (SP, LAD)- Elbow- May was placed on the IL with UCL damage in his pitching elbow. He will undergo right elbow UCL reconstruction surgery on May 11 and is done for the year. Tony Gonsolin, who is expected back in 2-3 weeks, should take his place.
Marco Gonzales (SP, SEA) - Forearm - Gonzales was placed on the IL with a mild forearm strain. Severity is not yet known. Mariners manager Scott Servais said Gonzales was able to throw off flat ground last week, only three days after being put on the IL, which is a good sign.
Cody Bellinger (1B/OF, LAD) - Calf - Bellinger was placed on the IL due to a left calf injury. He was diagnosed with a hairline fracture in his left fibula. Bellinger is expected to start to face live pitching at the Dodgers alternate training site on April 29. He is eligible to return off of the IL on May 3rd but he may need to get some simulated games under his belt before he returns.
Ke'Bryan Hayes (3B, PIT) - Wrist - Hayes has been out since April 4 due to left wrist inflammation. He had been making progress at the team's alternate training site, but he aggravated his left wrist injury during rehab. He continues to swing in the batting cage and could begin swinging on the field by the end of this week. Still no new timeline for his return yet.
Ketel Marte (2B/OF, ARI) - Hamstring - Marte is on the IL with a hamstring strain. He continues to get treatment and has been taking batting practice. Marte also had a recent follow-up MRI that "showed healing."
Johnny Cueto (SP, SF) - Lat - Cueto was placed on the IL with a grade one lat strain. It was considered to be a "low-level strain". However, Cueto was originally expected to miss two starts, his new timeline means he'll miss at least four. He's expected to advance to live batting practice next week.
Nomar Mazara (OF, DET) - Abdominal - Mazara was placed on the IL after suffering a left abdominal strain on a swing. He is currently rehabbing and is expected back this coming week.
Luke Voit (1B, NYY) - Knee - Voit is currently on the IL following knee surgery. Voit is in the midst of a rehab assignment and should be activated this coming week.
Stephen Strasburg (SP, WAS) - Shoulder - Strasburg is on the IL with a shoulder strain and inflammation. Strasburg threw two innings in a sim game this week but there is still no timetable for when he would return.
Starling Marte (OF, MIA) - Rib - Marte was placed on the IL with a non-displaced fracture in his 12th rib seen on MRI. Healing time is usually about four to six weeks (or early June). Marte is still not yet ready for any baseball activities yet.
Anthony Santander (OF, BAL) - Ankle - Santander was placed on the IL with a left ankle sprain. Manager Brandon Hyde said that Santander is improving but not to expect him back for another 1-2 weeks, beginning baseball activity soon.
Carlos Carrasco (SP, NYM) - Hamstring - Carrasco is on the IL due to a hamstring injury since the start of the season. He was stretched out to six innings in a sim game but was placed on the 60-day IL meaning he will not be activated sooner than May 31st.
Luis Severino- (SP, NYY)- Severino is on the IL after having Tommy John surgery. As per Yankees manager Aaron Boone, he is due to begin pitching to live hitters Tuesday or Wednesday next week.
Christian Yelich- (OF, MIL)- Back- Yelich returned to the IL this week with stiffness/soreness of his low back. No timetable for his return yet. Andy Haines, who managed Yelich in the minors, said the occasional back stiffness goes all the way back to that time, usually considered minor. This time it appears to be more serious. "He's hungry for answers," Haines said. Tyrone Taylor will see more time in the Brewers outfield as he was called back up when Yelich hit the IL.
Brett Anderson- (SP, MIL)- Hamstring- Anderson is on the IL with a right hamstring strain. He completed a bullpen session earlier this week but there is still no official timeline for his return until he is able to pass running tests.
Jake Odorizzi- (SP, HOU)- Forearm- Odorizzi is on the Il with a right pronator muscle strain. MRI showed no structural damage. Astros GM James Click said that Odorizzi is "trending toward maybe needing a rehab start or two" before being activated from the IL. He did throw a 25-pitch bullpen session on Thursday.
Download Our Free News & Alerts Mobile App
Like what you see? Download our updated fantasy baseball app for iPhone and Android with 24x7 player news, injury alerts, sleepers, prospects & more. All free!


More Fantasy Baseball Advice