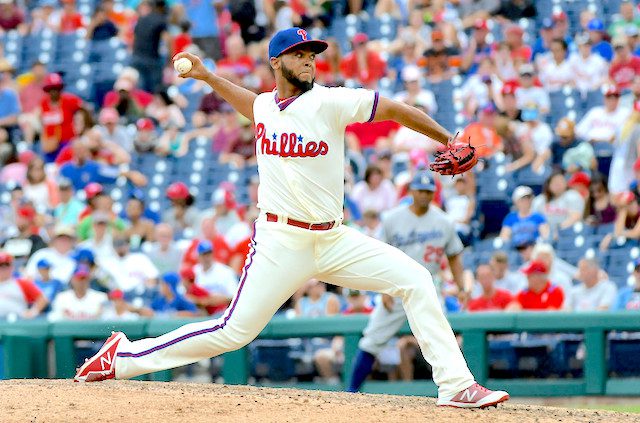 Welcome one and all, to a July update where we're out to make our opponents sweat with some bullpen bullying. I am back with an updated top-150 Saves+Holds (Solds) rankings with roughly three months of baseball in the ledger. We here at RotoBaller are here for y'all who play in and enjoy formats with SV+HLD/Solds or leagues where Saves and Holds are separate categories. Perhaps you're just a fantasy baseball bullpen fiend like me and can't help yourself from reading relief pitcher content!
While the closer's role is important, an increasing number of managers are moving their best arm into a flexible role while shuffling who gets the ninth. 2022 has been no exception as we see some more focus on Saves+Holds (or Solds, or SV+HLD) leagues, which allow for fantasy leagues to reward the best arms regardless of the inning, though it still favors closers in a vacuum. Be sure to also check out our constantly updated fantasy baseball closers and saves depth charts.
Reminder: A hold is recorded when a relief pitcher enters with a lead of three runs or less, or with the tying run on deck, at the plate, or on base, and maintains that lead while recording at least one out. While I look for pitchers used in high-leverage situations, this is also about how good the arm is and how efficient their K/9 works for many of you. I present you with my top-150 RP ranks, with tiers, their respective rank within the bullpen on their team, followed by a team-by-team breakdown with the approaching trade deadline in mind. Currently, injured players are left off for this edition.
Featured Promo: Get any full-season MLB and DFS Premium Pass for 50% off. Exclusive access to our Team Sync platform, Premium articles, daily Matchup Rating projections, 15 lineup tools, DFS cheat sheets, Research Stations, Lineup Optimizers and much more!
Sign Up Now!
Updated Saves+Holds Rankings - Mixed Leagues
Rankings updated on July 2nd
Saves+Holds Team Breakdown Analysis Notes
ARI: Mark Melancon hasn't been good but still has that veteran closer tag in his aura, which contenders could try to snag on the cheap from an Arizona team with little reason to hold Melancon tightly. Ian Kennedy could also move, which would leave an exciting opportunity for Joe Mantiply to step into the ninth inning.
ATL: Kenley Jansen is still throwing bullpens while on the IL with an irregular heartbeat and is expected to return in early July when eligible. He's dealt with this before, but one must be careful with the ol' ticker. Will Smith may not help your WHIP but has a sturdy ERA of around 2.50 in the last month and a share of the ninth with A.J. Minter, who is more effective at the moment and utilized in high-leverage slots. Jesse Chavez has been electric since returning to Atlanta as well, posting well over a strikeout per inning for those in deeper waters.
BAL: Felix Bautista is one of my favorite stashes ahead of the deadline, as Jorge Lopez has had a dynamite first half out of the bullpen and should generate several suitors. Baltimore has little reason to hold onto the 29-year-old on a one-year contract given their lot, but he should remain in the late-inning mix wherever he goes, while Bautista, Dillon Tate, and Cionel Perez have beefed up Baltimore's back-end.
BOS: Garrett Whitlock returning as a multi-inning, high-leverage reliever does muddy the waters a bit, but he becomes a dominant SV+HLD asset once again. Tanner Houck and his plus strikeouts should stick in the late innings as well, with John Schreiber rounding out a tremendous trio. The Red Sox could add another reliever, perhaps with old friend Daniel Bard from Colorado, but those three remain strong options for us. Outside of that, Matt Strahm has scooped seven solds though now has a 1.56 WHIP in the last month. I don't trust anyone else, as Jake Diekman only has three solds in the last month and isn't worth the risk.
CHC: Mychal Givens used to be the lean for the Cubs' closing job following a David Robertson trade, but both he and Rowan Wick have faltered of late while Chris Martin has been steady. Martin doesn't supply many strikeouts (though he struck out three in an inning on July 1) but utilizes his pinpoint control to keep ratios low. I realize Wick is a recognizable late-inning name for them, but he had a horrid 7.50 ERA/2.08 WHIP in June. Scott Effross paced the Cubbies with five holds and a 1.64 ERA/1.00 WHIP with 15 K's in 11 IP in June, making him a strong surger. It's likely a committee without D-Rob, so give me Martin or Effross out of the gate.
CIN: Hunter Strickland has brought a semblance of stability to this bullpen, but he still had a 1.71 WHIP in seven June innings and trust is thin, if existent at all. Until Alexis Diaz returns, I want little to do with any of them. No Lucas Sims this year makes me quite sad.
CLE: Emmanuel Clase has been a monster, posting 15 scoreless frames in June with 11 saves and a 0.47 WHIP to boot. And while Eli Morgan has stumbled in recent outings, he still contributed three relief wins and five holds while posting 25 strikeouts in 15 innings on the month. No one else contributed more than one sold on the month and can be largely ignored.
COL: Daniel Bard could be shipping out to Boston at the deadline, which would leave Alex Colome or Carlos Estevez in the ninth. I wouldn't want any part of Colome's low-strikeout approach at a BABIP haven such as Coors, but desperate times call for desperate RP stashes. Whether Bard would close in a place such as Boston would depend on how Tanner Houck performs, or whether they flex Garrett Whitlock back into that high-leverage role.
CWS: Liam Hendriks returns on Monday and should be a strong anchor once again for a beleaguered bullpen. Kendall Graveman performed admirably in his stead, allowing only one run in June (though he had a 1.40 WHIP) with 15 strikeouts in 10 frames. Joe Kelly came off of the injured list and notched a save and hold of his own, while no one else is getting consistent sold opportunities to note. They may make a deadline move considering Hendriks' health and not wanting to bank on Graveman/Kelly behind him.
DET: Gregory Soto posted a great 0.88 WHIP in June, recording six saves and building up his trade value ahead of the deadline. Michael Fulmer didn't allow a run in the month, racking up seven holds with a strikeout per inning to assuage any doubts from early struggles. Fulmer is an impending free agent so moving him and his plus slider makes sense. Andrew Chafin is another reliable southpaw who struck out the side on July 2, which gives him an 11.69 K/9 to help y'all out. Everyone else has slipped a bit, though Joe Jimenez had a WHIP of nearly 1.00 in June with 19 strikeouts in 10 ⅔ IP. That said, it came with only one hold. If Soto is dealt then Jimenez may get another crack around the ninth.
HOU: Ryan Pressly, Hector Neris, Rafael Montero, and Ryne Stanek have been a solid quartet of relievers in SV+HLD formats. Let's be real, targeting players on teams that win a lot feels like a pretty simple formula to take you 75% of the way there. The four of them combined for 28 solds, though only Stanek had a great ratio month. Some turbulence is to be expected and they have a stable footing in Houston's bullpen.
KC: Josh Staumont is currently on the injured list with a neck strain but may return in time for KC to capitalize on Scott Barlow's trade value before the deadline is up. Outside of Staumont, there's no one I'd speculate on/burn a roster spot for. Dylan Coleman would be the other guy I'd choose if I had to.
LAA: Raisel Iglesias is one of the best, so that's straightforward. Ryan Tepera has been a nice bridge, though he's currently serving a three-game suspension. Aaron Loup somehow worked around a 1.92 WHIP in June to post a 3.24 ERA on the month, while Jose Quijada had a clean 1.74 ERA/1.06 WHIP with 13 strikeouts in 10 ⅓ IP.
LAD: Craig Kimbrel is driving up blood pressure with a 1.42 WHIP on the season, akin to his 2019-20 days where we worried about tipping pitches. We must note he still has a stupendous 2.05 FIP underneath the 3.81 ERA and that his .387 BABIP is miles ahead of any previous career mark (.320 in '20 would be next, .267 career). Losing Daniel Hudson hurts and Blake Treinen still has no timeline, which all but guarantees the Dodgers will be RP buyers this month. Until then, Brusdar Graterol, Yency Almonte, and Evan Phillips all get nice bumps in late usage. It's nice to see Almonte get support following mismanagement in Colorado's altitude.
MIA: Tanner Scott has built up some nice trade value for the Marlins to shop around if they so choose, with Anthony Bass or Steven Okert my targets to eye behind Scott. Dylan Floro could work his way into the later mix but still has a lower strikeout rate than the others. Jimmy Yacabonis and his physics-defying breaking balls yielded 14 strikeouts in just 6 ⅓ IP for June, though he hasn't gotten a sold opportunity just yet.
MIL: Josh Hader. Devin Williams. Brad Boxberger. It's a very simple one-two-three formula that has worked wonders for Milwaukee and fantasy players alike. Hoby Milner only surrendered one run in 11 June innings, scoring a win and two holds. I really want him to get more of those so we can go with Holdy Milner.
MIN: Emilio Pagan was mercifully moved from the closer's role down to lower-leverage innings, only to pick up a late-inning win in a tie game on July 2. Go figure. Duran is a monster on the mound, but y'all knew that. Griffin Jax has been the real breakout here, posting a 1.38 ERA/0.38 WHIP with 18 strikeouts in 13 IP across June. Even Tyler Duffey has strung together six scoreless appearances (nine innings), so Minnesota may not feel as pressured to trade for another reliever. They should, but the desperation isn't at 11 anymore.
NYM: Edwin Diaz has a comical 48.8% strikeout rate on the year to pace all qualified relievers, besting Josh Hader's 45.1% for the current crown. He isn't doing it with big walks either, as the 40% K-BB rate also tops the majors. Seth Lugo hasn't been dominant but is solid behind him, supplying three solds in 10 June innings. Adam Ottavino is the real story, with four solds last month to go with his 0.84 ERA/0.66 WHIP. When he has control of that frisbee then hitters are toast.
NYY: I know Aaron Boone wants to use Clay Holmes as more of a high-leverage fireman, but Aroldis Chapman walking three hitters and leaving on July 2 means Holmes is "stuck" closing for now. We'll take it, as they aren't shy about deploying him in tie games either. Michael King and Wandy Peralta are a strong righty-lefty combo as well, each posting six solds in June. Those desperate to ride the NYY win wagon can chase Miguel Castro, Lucas Luetge, and Albert Abreu if need be.
OAK: Lou Trivino is Oakland's clear closer right now as he's strung together five straight scoreless appearances while other relievers have faltered. If he's dealt in the coming month then look for Dany Jimenez to reclaim his spot when healthy, or perhaps it'll be a mash-up of Zach Jackson, Domingo Acevedo, and A.J. Puk, in which case we're avoiding in SV-only leagues. Jackson's four solds led the pack in June, as did his strikeout rate, so I'll side with him in a vacuum.
PHI: With Corey Knebel removed from the closer's role, Seranthony Dominguez and Brad Hand have each performed well for Philly. Either is a good play at the moment, though Dominguez brings more strikeouts and upside with him. Knebel won't disappear here, as Philadelphia doesn't have the bullpen depth to force him completely down even after struggling. Andrew Bellatti had four solds in June and looks like their third-best option as of now.
PIT: David Bednar has been working through some back discomfort and ended June with two ugly outings, but at least rebounded with a clean save on July 2. He'll look to re-establish his trade value this month, though he still has an incredible 2.50 ERA/1.00 WHIP with 49 K's in 36 IP on the season. He'll work late wherever he goes, likely racking up way more solds versus what Pittsburgh can generate. Wil Crowe and Chris Stratton each had ERAs around 6.00 in June and are off most radars. Yerry De Los Santos had a strong month and would be the only one I'm eyeing from here.
SD: What a great preseason trade for Taylor Rogers, eh? Even with a small-sample 5.59 ERA for June, the southpaw posted a 0.93 WHIP with five saves. Luis Garcia is the only other arm generating consistent solds, though the 35-year-old's ratios took a beating with three runs surrendered in his final two June appearances. Given his overall 32/8 K/BB ratio and clean 2.42 FIP and 2.76 SIERA behind the 3.64 ERA, we'll keep him in the trust circle.
SEA: Gerard Peter Dipoto is known to be aggressive with trade markets and could move any of these relievers, with Paul Sewald being the A1 option. Sewald, Diego Castillo, Andres Munoz, Erik Swanson, Penn Murfee, and Ken Giles all have ERAs of 3.00 or lower and WHIPs of 1.00 or lower in the last 30 days. Matt Brash's last 14 Triple-A appearances have seen him allow three earned runs with a 20/5 K/BB ratio out of the 'pen.
SF: Camilo Doval is San Fran's preferred option in the ninth but we all knew Gabe Kapler could insert Jake McGee or Tyler Rogers in as well. While McGee has done well after early stumbles and notched four solds in June, Rogers only had two. It's been Dominic Leone and John Brebbia combining for 11 solds that has been bridging games to McGee and Doval. Leone can inflate the WHIP but remains in good graces. I don't expect a sizable deadline move here.
STL: Ryan Helsley spits hot fire and is the 1A, high-leverage arm for the Cards. Giovanny Gallegos nearly mirrored Helsley with a 1.59 ERA/0.97 WHIP in June, posting five solds and two relief wins. Now Jordan Hicks is back in the 'pen to throw his triple-digit gas as well, joining Zack Thompson and Genesis Cabrera (who is currently on COVID IL) to make a formidable five-arm stable. They're all solid plays in SV+HLD formats.
TB: Andrew Kittredge is out for the year, Nick Anderson is still out, J.P. Feyereisen and his 0.00 ERA is out, and Pete Fairbanks is just starting his rehab assignment. Naturally, the Rays still have a good five relievers that each recorded a save in June. Jason Adam leads the pack with six solds, yet he's seen his usual strikeout prowess take a step back. Colin Poche stepped up in short order following his return and had three saves in June to pace that category. This is the perfect team for SV+HLD formats, and perhaps the team that bumped up its popularity.
TEX: The Rangers are teetering between being buyers and sellers at the deadline, with Joe Barlow continuing his run as closer after early waffling from Texas on who to anoint. That said, Dennis Santana and Matt Moore have been the Rangers' most effective RPs of late, with Santana leading the team with five holds in June. Speculators can keep hoping Jose Leclerc knocks off the rust but he's not close to the Hold-worthy leverage scenarios yet.
TOR: Adam Cimber is a nice stash as Jordan Romano has seen his walk rate escalate and effectiveness slip, though I doubt anything beyond an IL stint truly shakes up the roles. Cimber collected his fourth save of 2022 on Thursday after Romano had worked two straight days. It shouldn't surprise anyone to see Toronto make a push for depth in acquiring a reliever, as nearly all of their arms posted a WHIP of 1.40 or higher in June. Toronto's 4.90 bullpen ERA in June was the fifth-worst in the league.
WAS: Tanner Rainey continues to avoid danger despite a 1.66 WHIP in June, though no one else is truly pushing him for the role. Kyle Finnegan has been better but still had a 3.97 ERA/1.32 WHIP himself on the month. The Nationals could deal either of them if the suitors come knocking given their horrible record. Carl Edwards Jr. is the next best arm after Rainey, logging three holds and two relief wins in June. He could step up down the stretch if Washington is aggressively shopping their marquee players.
Download Our Free News & Alerts Mobile App
Like what you see? Download our updated fantasy baseball app for
iPhone
and
Android
with 24x7 player news, injury alerts, sleepers, prospects & more. All free!
More Fantasy Baseball Analysis