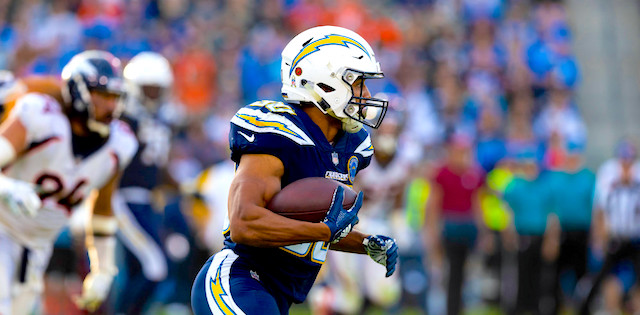 With the 2019 fantasy season over, it's time to start studying what happened this past year and what is ahead of us in order to plan accordingly for the 2020 drafts. Whether you won the championship or fell short, it's never too early to start thinking about how to tackle next year; that is why we are already here to give you the best possible statistical analysis and research insights to help you navigate your 2020 leagues.
In this series, I'll be tackling this year's biggest risers and fallers at each of the four skill positions. In order to do that, I'll look at both 2018 and 2019 statistical outcomes from every player, contrast their performances in each season, calculate the delta or difference in each of the categories analyzed, and come up with the most prominent names for the good and the bad going forward.
This article will examine the players at the running back position, which once more proved to be the most impactful in fantasy leagues only behind quarterbacks. Looking at PPR-format leagues, all of the top-25 players in total fantasy points were either QBs or RBs except for one wide receiver: Michael Thomas. Christian McCaffrey finished the 2019 season as the best fantasy football player of the year tallying a massive 471.1 FP and averaging 29.5 FP/G, while he was accompanied by Aaron Jones (318.8), Ezekiel Elliott (315.6), Austin Ekeler (313.0) Derrick Henry (300.5), and Dalvin Cook (296.4) inside the NFL's top-25. While that is the bright side of the story, there is also a dark one to it. Not every rusher finished atop the leaderboards and more than one saw terrible decreases in production during the 2019 year. Here is the breakdown of those with the biggest statistical surges this past season and those with the most crushing of downturns during the past few months.
Editor's Note: Get any rest-of-season NFL Premium Pass for 50% off. Our exclusive DFS Tools, Lineup Optimizer and Premium DFS Research through the Super Bowl.
Sign Up Now!
Running Back Risers
Austin Ekeler, Los Angeles Chargers
It is impossible to describe the 2019 fantasy football season without bringing Austin Ekeler into the conversation. The No. 2 rusher of the Chargers become the de facto No. 1 with Melvin Gordon holding out to start the year. Ekeler had a good 2018 season in which he rushed the ball 106 times for 554 yards and added 404 extra yards on 39 receptions. All in all, a combined five touchdowns on the year and an average of 11.8 FP/G. Not bad for a second-fiddle, indeed, but entering 2019 as a potential lead-back everybody still had doubts about how his numbers would translate to his new role.
It turned out Ekeler was seemingly born to lead a backfield. Ekeler was targeted 55 more times and logged 26 more carries in 2019 than he did in 2018, scoring eight more touchdowns on the ground and receiving combined. He finished the year with 1,550 yards from scrimmage on 224 touches, led every running back in receiving touchdowns with eight on the season and added three more on the ground. Only seven RBs racked up more yards than Ekeler did, and all of them needed between 61 and 179 more touches to do so. Melvin Gordon is a free agent and the Chargers know they have a very capable rusher in Ekeler, so expect him to be the RB1 in LA come 2020.
Leonard Fournette, Jacksonville Jaguars
Although you might not think of Fournette as a true "riser" in 2019, he solidified himself as one of the best RBs in the league after already having a good 2018 campaign. Fournette's 15.1 FP/G in 2018 made him the RB13 on the year, which is to say the best of the second-tier RBs. His low total fantasy points of 120.4 came down, mostly, to health -- or lack of it. Fournette could only play eight games in 2018 but even with that, he was able to rack up 624 yards from scrimmage and score six TDs. It was frustrating to see his playing time cut, but it's been the issue with Fournette since he entered the league.
Moving onto his 2019, not only did Fournette keep up (and improve) his numbers but also stayed healthy all year long, finishing with 15 games played under his belt. That translated to 261.4 FP on the season and an average of 17.4 FP/G, both marks improving on his 2018 ones. The counting stats jump off the page: 1,152 rushing yards on 265 carries and 522 receiving yards on 76 receptions. While McCaffrey was otherworldly on that latter department (116 receptions for 1,005 yards), Fournette was the best receiving back other than him and Ekeler and finished with the fourth-most yards from scrimmage (1,674) only behind CMC (2,392), Ezekiel Elliott (1,776), and Nick Chubb (1,772). Fournette only lacked in scoring with just three TDs on the year, but some positive regression in another healthy season in 2020 should make him one of the best players next year.
Dalvin Cook, Minnesota Vikings
I could have put Cook and Fournette together in the same section, as their stories are pretty much the same. Cook only played 11 games in 2018 and one of the biggest fears of fantasy owners when deciding when to risk a draft pick on him was his fragile health. In 11 games played in 2018, Cook amassed 920 yards from scrimmage on 173 touches while scoring two touchdowns on the ground and two receiving. Not a bad season, but definitely not a league-winning one considering the games he missed and the fantasy points lost due to injury.
Then 2019 came and with it, the best version of Cook to date arrived. He could only make it to 14 regular-season games after being shut down for the remaining two due to precaution, but the production was staggering. Cook raised his average to 21.2 FP/G (!) good for second-best in the league and 7.0 points higher than his 2018 mark. Overall, he rewarded his owners with 140.4 fantasy points more than he did in 2018. All of that came from a season in which Cook jumped all the way up to 1,135 rushing yards on 250 attempts and got himself an extra 519 yards receiving 53 passes. He couldn't enter the paint through the air but he did so 13 times on the ground, finishing fourth in rushing touchdowns. If this is the Cook we will see going forward and he can keep the injuries at bay, then he's a lock to not make it past any draft's first round.
Mark Ingram, Baltimore Ravens
Ingram's fantasy production hasn't changed much between 2018 and 2019 (only 2.2 FP/G more this season) but his role and usage in the revolutionary Ravens offense did wonders for him. Ingram rushed the ball 63 more times and was able to score four more touchdowns both on the ground and receiving than he did in 2018. With the regular season finished and Ingram having played in 15 games, the (leading? Lamar Jackson, anyone?) rusher of the Ravens caught 26 passes (on 30 targets) for 247 yards and five TDs while adding a massive 1,013 yards on 201 rushing attempts for 10 more scores. Baltimore will hardly reach its 2019 heights again next season but getting closer to them would be enough to make Ingram one of the most valuable fantasy players.
Derrick Henry, Tennessee Titans
While Henry played every single game in 2018 he could only finish the year as the 66th-best player overall and RB15 with 203.5 FP on the season. He rushed the ball for 1,059 yards and scored 12 TDs, but his receiving game didn't amount to much with just 99 yards on 15 receptions. In one fewer game in 2019 Henry became a machine: 300.0 FP, an average of 20.0 FP/G, rushing king to the tune of a league-leading 1,539 yards on 303 (!) attempts (most), 16 TDs on the ground (tied-most), and an extra 206 yards on 18 receptions (from 6.6 yards per reception in 2018 to 11.4 in 2019). Henry gamed the game in 2019 and I wouldn't be surprised seeing him go off the board inside the first round next summer.
Nick Chubb, Cleveland Browns
Even with the more than notable presence of Kareem Hunt in Cleveland for eight weeks, Chubb has been incredible in 2019 and he should keep the clear No. 1 role in the Browns offense in 2020. Chubb raised the bar this past season finishing the year with the eight-most FP (261.2) among running backs. He reached 1,494 yards on 298 rushing attempts and scored 13 touchdowns (compare that to his 192/996/8 line and the bump in volume is clear). Another case in which the production hasn't improved incredibly but a heavier role has provided Chubb with all of the opportunities he could handle and then some, and a situation in which he has thrived.
Running Back Fallers
Todd Gurley, Los Angeles Rams
Same city, completely different seasons for Ekeler and Gurley. One of the greatest rushers of 2018, Gurley entered 2019 not as a top-five pick in most drafts but definitely a round one or two (at most) pick in the worst-case scenario. It made sense, considering Gurley finished 2018 averaging an impossible 26.7 FP/G and only trailed McCaffrey and Saquon Barkley because he played two fewer games than those two. Gurley racked up 1,251 yards rushing and 580 receiving while scoring an incredible 21 combined TDs on the year.
This season, Gurley has dropped the ball literally and figuratively all across the board. We're still talking about the RB14 on the season, but 2019 Gurley has been far from his 2018 version. Gurley played 15 games this year and only rushed for 857 yards on 223 attempts (from 4.88 yards per carry in 2018 to 3.84), and he added an extra 207 yards on 31 receptions (again, from 9.83 yards per reception to 6.68). Truth be told, I'm of the opinion that the touchdowns have been the only thing saving Gurley's season a bit, as he's still been able to cross the goal line 14 times on the year. Other than that, the production was mediocre given what he did in 2018.
Saquon Barkley, New York Giants
You might think Barkley missed a lot of time this year, but look at the data again and you'll see he only played in three fewer games than he did last season. As a rookie in 2018 Barkley logged a full 16 starts and he thrived as part of the Giants offense. He finished the year breaking the 2,000-yard mark in yards from scrimmage (2,028) and he did so on 352 touches, almost leading the league in both categories (Elliott finished first with 381 touches). Barkley's 15 TDs from scrimmage were only bested by Todd Gurley's 21 and Alvin Kamara's 18. With a fresh pair of legs, Barkley was reasonably one of the best bets for the 2019 season and a top-three pick in most drafts along with CMC and Kamara.
Sadly for Barkley owners, the rusher has been way below the level he showed just a year ago. His fantasy tallies per game dropped from an average of 24.1 FP/G to 18.8 and he finished the year with 244.1 total points in comparison to 2018's 385.8. That is some gap right there. Barkley barely broke the thousand-yard mark rushing this season with 1,003 yards on 217 rushing attempts (his yards per carry dropped 0.4) and almost divided by two his contributions receiving with only 438 yards on 52 catches. His eight touchdowns were far from the 15 he scored a year ago and although he had to adapt to a new quarterback in Daniel Jones the jury is still out on him and his true talent level.
David Johnson, Arizona Cardinals
If there was a "cheap" do-it-all running back in 2018 that was David Johnson. Sure, he didn't bring the explosiveness others did at the position, but his 15.7 FP/G were good enough to make him the RB11 on the year and his total 250.6 fantasy points made him the ninth-best rusher of 2018. Johnson led the Cardinals backfield with 308 touches that went for a combined 1,386 yards from scrimmage and 10 touchdowns. Again, not gaudy numbers but definitely good enough as to consider DJ a true RB1 on the whole season, even more, considering he played the full 16-game schedule with Arizona.
What a turn of events 2019 brought, though. Johnson's season-end numbers are way far from those he logged a year ago: 13 games played and 715 yards from scrimmage (more receiving than rushing, just imagine) and six TDs on 130 touches. Basically, Johnson lowered his performance levels and became a much less productive running back at both rushing and catching while also losing playing time and opportunities to others, mainly Kenyan Drake once Arizona traded for the now ex-Dolphin. We might have seen the best of Johnson already as he made for one of the biggest letdowns of 2019 at the position.
James Conner, Pittsburgh Steelers
With Le'Veon Bell holding out for the 2018 season Pittsburgh didn't expect to have anyone performing to his level or close it. The Steelers couldn't be more wrong, as Conner leveled up and took on the No. 1 RB role incredibly. Conner finished 2018 with an average of 21.9 FP/G, a massive 1,470 yards from scrimmage, and 13 TDs combined on a healthy 270 touches. With the ultimate departure of Bell for New York and Antonio Brown also leaving, the chances seemed to be there for Conner to have another monster year in 2019. Far from reality, though. Between injuries and a drop in production (from 21.9 FP/G to 14.8 in 2019), Conner became a little bit of an afterthought this past season. The running back could only play in 10 games and in those he did he could only total 715 yards on 150 touches (that constituted a drop from 5.4 yards per touch to 4.7). He still scored seven touchdowns to save face a bit, but his tally of 147.5 fantasy points in the whole 2019 season was good just for an RB34 finish that let down more than one or two fantasy owners that drafted him early last summer.
Melvin Gordon, Los Angeles Chargers
Gordon supposedly did the right thing and bet on himself after having a massive 2018 year: Back then, amid having some health concerns (limiting him to just 12 games), Gordon was an all-around performer reaching 885 yards on the ground and 490 yards receiving. He logged 175 carries and 50 receptions and his 14 touchdowns on the year ranked fourth in the league. Remember, Gordon just played 12 games. That is why he finished 2018 averaging an incredible 23.0 FP/G thanks to his really high efficiency. After missing the first four games of 2019 holding out, Gordon came back and played the remaining 12 (same number as he did in 2018) but he could only finish with 612 rushing yards, 296 receiving yards, and nine touchdowns from scrimmage. His usage suffered a bit thanks to Ekeler's prowess and he faces a summer full of doubts as a free agent, most probably getting kicked out of L.A.
More Fantasy Football Analysis