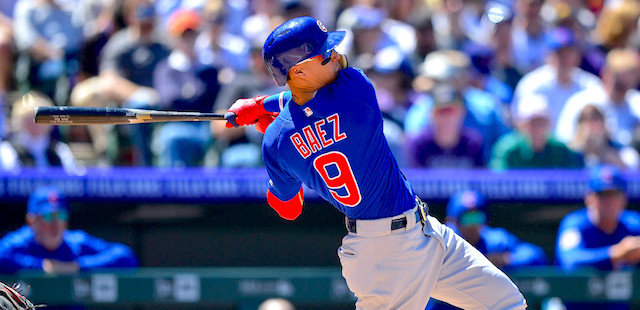 As you get ready for last-minute drafts or reflect on recent results, we wanted to give our staff the chance to share their least favorite preseason ADP values.
We recently polled some of our fantasy baseball writers to get their take on which hitters and pitchers they are likely to avoid in the early rounds of fantasy drafts. While you've likely heard some of these names already in our MLB Preseason articles, it's now all wrapped up for you in one convenient location.
Let's find out who our experts have pegged for a decline or who may return a negative value based on preseason ADP in 2019. Here are the RotoBaller staff's preseason busts.
Editor's Note: Our incredible team of writers received 13 award nominations by the Fantasy Sports Writers Association including Baseball Writer of the Year, Football Writers of the Year, Golf Writer of the Year and many more! Be sure to follow their analysis, rankings and advice all year long, and win big with RotoBaller!
Read More!
Which hitter ranked inside the top 100 overall is the biggest potential bust and why?
Following his MVP season, Christian Yelich is being selected as the seventh overall player in most fantasy drafts this season. That price scares the hell out of me given the ungodly increases over his career that we saw last year. He had 36 homers, 22 steals, 118 runs, 100 RBI and a .326 batting average. He also had a .373 BABIP and a ridiculous .272 ISO. So let's see--doubled his homer total from the previous year, 18 more runs, 29 more RBI, 44 points higher in the batting average...do you see what I'm getting at? Christian Yelich is a beast no doubt, but to make such significant strides in a single season that aren't even CLOSE to his career averages just seems so implausible to me. He will absolutely be a top-50 player, but taking him over Acuna, Bregman, Goldschmidt or Machado feels like a disappointment waiting to happen.
-Bill Dubiel
Gary Sanchez (ADP 88). How many batters can hit .186 over a half season and still end up ranked in the Top-100 the following season? Positional scarcity, a powerful swing and a dominant lineup are what allow Sanchez to sit so high in the rankings, but I'm absolutely not buying. Sure, some of his struggles last year were bad luck, but I think at best we have a .270 hitter with 30ish home runs - which barely returns top-100 value. Worst case is a repeat of last year, which is atrocious. I'd much rather gamble on some catching options way later, like Danny Jansen, Francisco Mejia and Omar Narvaez.
-Andy Patton
Javier Baez -- He's an electric player with raw talent that few possess, but Baez's complete and utter lack of plate discipline is cause for concern. He was very lucky to hit for such a high average in 2018 while walking less than 5% of the time and striking out more than a quarter of the time. Unless he suddenly becomes more patient and selective at the dish, Baez is a volatile early-round pick.
-Keith Hernandez
Based on draft cost, Javier Baez will be the biggest bust this season. He's currently getting selected as a top-15 player in drafts, and we're paying full price on numbers that may only be 80% of what he had in 2018. Everything went right for Baez a season ago, and it would be a phenomenon if he were to repeat his production in any of the 5x5 categories. Baez will still be a fantasy asset in 2019, but overpaying for last year's numbers is foolish.
-Riley Mrack
Vladimir Guerrero Jr. obviously has a big-league pedigree and dynamite MiLB numbers, but a ranking of 63 is too rich for my blood. He hasn't posted eye-popping power numbers yet and might need to few years to grow into his power projection. Worse, he's hurt, and the Blue Jays have every incentive to keep him on the farm to rehab, work on his defense, or any other plausible excuse to play service time games. If he comes up in June or after, there's no way he can live up to being a top-100 draft pick. Obviously, this doesn't apply to dynasty and keeper leagues.
-Rick Lucks
Yes, this is probably a cop out seeing as Vlad Guerrero Jr. has yet to play a major league game. However, something tells me his current oblique injury won't be the last time we see him injured this season. Even when he does get the call-up, the Blue Jays are a mess and won't give the budding star much production around him. The kid is obviously a stud so I'm not saying you shouldn't draft him but at his current price + situation, he's not worth it just yet.
-Steve Janik
Corey Seager hasn't shown much yet in his career and durability is a concern. Steamer projects a bounce-back season but I'm not sure you need to spend a sixth-round pick paying for the potential that we've been waiting to blossom since his rookie season.
-Kyle Ringstad
Ozzie Albies hit .261/.305/.452 last year in his breakout season at 21 years old. His xBA on Statcast was even lower at .247. He only barreled up 25 baseballs all year, so 24 home runs was higher than you'd expect. Fourteen steals in 17 tries is good efficiency, but a true speed demon might want to make more attempts. There is a real risk of something like a .250 average with 15 home runs and 12 steals, and even at second base you would be disappointed with that in the fifth round.
-Nate Green
Josh Donaldson. I'm worried about the injuries, and the Braves have a promising prospect in Austin Riley who I think could be called up as soon as anything happens to Donaldson. I could be wrong and Donaldson could be just fine, but he's the one guy in the top 100 I'm least likely to own this year.
-Michael Grennell
Adalberto Mondesi has as much helium as anyone right now. And if his 2018 second half is representative of his true value then it's probably warranted. But even the quickest glance under the hood raises a lot of red flags. The first thing that slaps me in the face is his strikeout to walk ratio. Last year in 288 ABs Mondesi struck out 77 times and walked 11 times. To provide some context, that is a .14 BB/K ratio. (Bad) To provide more context - Since 2000, there have only been three seasons where a player provided above average production (in terms of wRC+) with a BB/K ratio of .14 or worse. (Alfonso Soriano in 2002 - 131, Adam Jones in 2014, 117 and Rougned Odor in 2016, 103) Throw in the fact that in the 200 PA across 2016 and 2017 Mondesi walked 9 times and struck out 70, you start to see an unsettling clarity. I want no part of that ride.
-Jason Nichols
Which pitcher ranked inside the top 100 overall is the biggest potential bust and why?
Clayton Kershaw -- The future Hall of Fame left-hander has struggled with injuries the last two seasons and is already hurt this spring. Kershaw is now 30 years old and saw his velocity and strikeout rates dip last season. When he's on, he's one of the best, but how confident are you that Kershaw will be fully healthy for the majority of the season, and are you willing to invest an early-round selection for that?
-Keith Hernandez
Walker Buehler. It's all going to depend on how he can handle the increased workload. He's been in the Dodgers' organization for three seasons, and last year he threw more innings in the majors than the rest of his career combined. I think he'll still put up good numbers this year, but I don't see him as the 12th best pitcher which is where we have him ranked.
-Michael Grennell
James Paxton was traded from the pitcher-friendly T-Mobile Park to the homer haven of Yankee Stadium, which is going to be a significant problem for a guy coming off the worst HR/9 ratio of his career (1.29). He posted a 14.5% HR/FB rate, which is literally cringe-worthy for any pitcher--but especially so for a guy pitching half his games in the sixth-ranked MLB park for home runs. Paxton has major strikeout upside, which can help offset some of the damage from the long balls, but when you also consider that he's never thrown more than 160 innings it becomes difficult to justify taking him at his current ADP (54th overall, SP17).
-Bill Dubiel
Blake Snell had an amazing 2018 and was rewarded with the Cy Young award for it. But there was a good bit of luck that went into that success. First off, he outperformed his expected stats across the board. He was 1st, 3rd and 4th in terms of hitters' AVG, SLG and wOBA in 2018, but their "x-stat" counterparts reflect that he could easily closer to 10-15 in any of these stats. In terms of quality of contact - Snell ranked 58th in barrels per plate appearance - right next to Sonny Gray. His 88% strand rate is entirely unique in that no starting pitcher has ever gone north of 150 innings while stranding that many batters within the Fangraphs recordable universe (which admittedly only goes back to ~2000). Snell had a phenomenal season but he's being drafted as an ace while there is ample data to support the idea that he will take a decent step back in 2019.
-Jason Nichols
Jack Flaherty. His fastball velocity per Statcast was perfectly average, and its spin rate only rated in the 27th percentile. His curveball also featured a slightly below average spin rate at the 46th percentile, yet it got him whiffs 49% of the time. Flaherty's K% ranked in the 87th percentile despite the average fastball. That still earned him just a 3.86 FIP, albeit with a 3.58 xFIP, due to a 9.6 BB% and 20 home runs allowed. As with Albies, the fact that we haven't seen Flaherty duplicate his performance yet makes his floor riskier.
-Nate Green
It might be the beginning of the end for Corey Kluber in 2019. He saw his lowest Whiff% (27.0%) of his career thanks to his devastating curveball plunging down over 11% to a 37.7% Whiff% in 2018. Kluber also set new career-worsts in HR/9 (1.05), Barrel% (6.4%), and Hard Hit% (33.5%). While these numbers still aren't terrible, it's starting to show that he is becoming more hittable entering his age-33 season. With five-straight years of 200 IP, things are trending the wrong way making him far from a lock as a top-five SP.
-Riley Mrack
Madison Bumgarner has shown decline for the past few years now. In 2018, he went 6-7 with just 7.57 K/9 and gave up 2.98 BB/9. He will probably hover around a 4.00 ERA with an unfavorable offense leading to lower win probability. Don't bet on a comeback.
-Kyle Ringstad
Mike Foltynewicz. I don't think a healthy Folty at around pick 100 is terrible, but I am worried about his status and could see the Braves giving him a wide berth to keep him healthy this season. A 160ish innings Folty is significantly less valuable, especially since his 2.85 ERA last year was held up by a 3.77 SIERA. He is still a solid arm, but his flimsy changeup and curveball were a tad lucky last year, and I think we are looking more at a 3.30 ERA arm. Over 160 innings, that's a pitcher I think many will regret taking too early next season.
-Andy Patton
German Marquez finished 2018 on absolute fire, posting a 2.61 ERA, with 124 K to just 20 BB, while allowing just seven home runs in the second half of the season. With a 34 K% and a 5 BB%, Marquez could do little wrong, putting his name in the fantasy bright lights. The cause for concern here is the difference between his first-half numbers of a 4.81 ERA, 106 K, 37 BB, 17 homers allowed, and a 23 K% and 8 BB%. His improvements were impressive but it's likely unsustainable. That and the fact that his home park is Coors Field, I'll pass on Marquez.
-Steve Janik
Roberto Osuna (ranked 92) is often drafted as an elite closer, but his peripherals suggest that he's an average closer at best. His 21.3% K% last season was extremely pedestrian, so you're only getting saves and ratio help. His 3.72 xFIP was considerably higher than his 2.37 ERA, so even ratio help isn't guaranteed. The primary discrepancy is his 2.7% HR/FB, a number too low to expect anyone to repeat. Considering Osuna's fly ball bent (41.4% career FB%), regression could hurt a lot. It wouldn't be surprising to see Ryan Pressly earn more saves than Osuna simply by virtue of being a better pitcher.
-Rick Lucks
More Fantasy Baseball Busts and Avoids