We'll be doing this roundup of points leagues every week here at RotoBaller, with waiver wire targets and streaming pitchers being evaluated in terms of the different scoring systems of ESPN, Yahoo!, CBS, and Fantrax.
Player values can vary wildly from platform to platform, so we'll make sure to highlight where players are the best and worst fits. We know points league players get neglected and we're here to help.
These fantasy baseball waiver wire pickups are for the week of May 16th - May 22nd, looking at players below 50% rostered for ESPN, Yahoo!, or Fantrax. Position eligibility is taken from Fantrax and players are grouped by their most valuable fantasy position, using a hierarchy of: C > 2B > OF > 3B > 1B > SS. Stats and rankings for charts are calculated using games through Thursday, May 12.
Editor's Note: Our incredible team of writers received five total writing awards and 13 award nominations by the Fantasy Sports Writers Association, tops in the industry! Congrats to all the award winners and nominees including Best MLB Series, NFL Series, NBA Writer, PGA Writer and Player Notes writer of the year. Be sure to follow their analysis, rankings and advice all year long, and win big with RotoBaller!
Read More!
Know Your Scoring System
You know what I'm going to say, right?  You must account for, as precisely as possible, how a player performs under your particular scoring system. Don't be fooled into believing you can just make rough adjustments in your head, bumping up guys with high on-base percentages and low strikeout rates. Every point, in every category, counts.
For example, ESPN and Fantrax are virtually identical in their scoring for hitters and roster size. The only difference is that stolen bases are worth one more point on Fantrax and ESPN subtracts one point per strikeout. That's the difference between Trea Turner being a top-five hitter versus a top-25 hitter.
If your league uses standard settings, then great! Turn to page 94 and you can skip ahead to the leaderboards. If you play with custom settings, it'll still be fine. Go back to page 43 and look below at the scoring systems of the four major platforms. I bet there's a chance that you'll find that your league's scoring is very similar to one of the four (well, not Yahoo!'s), even if it's not the platform you actually play on.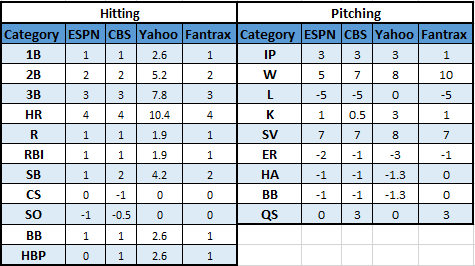 If you look above, you'll likely find a suitable mirror to your own system. While every point counts, as long as they aren't seismic changes you can get away with some "close enough" calls. IE. If everything is the same except for HBP (or something similar), you're probably fine.
Week 6: Waiver Wire Leaderboards
All charts are updated prior to Friday's games, on stats and ownerships, and clicking on a chart will open a new page with a magnified version. Players on overall leaderboards are ordered according to their current Roster% on Yahoo.
*APR = Average Platform Ranking - the average platform ranking between ESPN, CBS, Yahoo, and Fantrax (standard point settings)
The 14-Day Leaderboard, Presented by Hansel
These players are so hot right now. Here are the players on the wire who are running inside the top-100 of APR over the past two weeks:
Overall Leaderboards
Before we crack on to the positions, a quick word on xwOBA and expected stats, in general. We're still including xwOBA (and xwOBA - wOBA) but do be aware of their currently severe limitations in this new dead-ball world. Remember that expected stats use launch angle and exit velocities to approximate what the typical result has been for balls hit with similar metrics. But right now, the offensive environment is so drastically different that it's hard to make those comparisons by using data from recent seasons, thus rendering the expected stats far too high until Savant has enough data to update their equations, they're hard to rely on.
IE. Until they're updated, x-stats are going to be much higher than they probably should be. That's not to say they're worthless but be aware that a 100-pt gap between wOBA and xwOBA ain't what it used to be. This might lead me to start using percentile ranks in the future but stay tuned.
Oh, the chart numbers are for games prior to entering the weekend but some player notes are written on Saturday mornings. IE. There may be some small discrepancies afoot.
On to the positions!
First Base Waiver Wire Pickups
Best Choices
Juan Yepez, STL - The Cardinals rookie has started every game since being called up (including four games in the outfield) and is slashing .382/.432/.647 over his first 37 PA, with 2 HR, 5 R, and 4 RBI. While this first cup of coffee is likely to eventually cool off some, there are few reasons to let Yepez stay on the wire.
Luke Voit, SD - He may have struggled during a rehab stint in the minors but Voit wasted no time upon returning to the majors, hitting two home runs in his second game back.
Next Choices
Jesús Aguilar, MIA - Aguilar has started heating up and now has a top-50 APR following his fourth home run of the year on Friday. He's slashing .266/.341/.404 on the season and has collected at least one hit in 12 of his last 14 games.
Christian Walker, ARI - Another week passes, and Walker's unsexy profile continues to keep him a top-100 hitter while remaining ~5 % rostered on Yahoo and ESPN. The early extra power wasn't likely to stick but while Walker hasn't gone yard in eight games he has collected multiple hits in four of his past six.
Colin Moran, CIN - Moran is likely to remain a starter only while Joey Votto is out but we can't just ignore the heater he's been on, hitting four home runs in his past six games.
Desperate Choices
Daniel Vogelbach, PIT - The Vogel-train is slowing down but the league's biggest leadoff hitter still has a top-150 APR over the past two weeks and is near the top-100 for the season.
Miguel Cabrera, DET
On the IL
Carlos Santana, KC (ankle)
Second Base Waiver Wire Pickups
Best Choices
Andrés Giménez, CLE - Another home run on Friday night made it two in the past three games for Giménez, who has a top-50 APR over the past two weeks and is creeping towards the top-100 for the year. He's still batting in the lower third of Cleveland's order but the Guardians will have to eventually acknowledge that a line of .329/.348/.565 might deserve a higher spot. I expect this will be the last time he qualifies for this article. If so, we wish thee well, Andrés!
César Hernández, WSH - He's so boring but the sheer amount of PAs (and runs) that he collects will continue to make him a solid points asset.
Next Choices
Jorge Mateo, BAL - He's hit two home runs in the past eight games but Mateos biggest value-add remains stolen bases. Between that and a near-30% K%, his value in points will be highly dependent on your particular league settings.
Santiago Espinal, TOR - Like a low-budget Cesar Hernandez, Espinal compiles a little bit of everything and rarely strikes out. Depending on your league size, that may be enough for a claim.
Brendan Rodgers, COL - Rodgers has struggled all season but had himself a night on Friday, going 3-for-5, with a home run and a double. But even with that burst, he's probably best as a Coors-only streamer.
Desperate Choices
Ha-Seong Kim, SD - Like a low-budget Santiago Espinal, Kim compiles a little bit of everything and rarely strikes out.
Jonathan Schoop, DET - The desperation lies in hoping that Schoop suddenly flips the switch to the production we've gotten used to the past few seasons. Because it ain't that, right now - Schoop is slashing .150/.190/.225, with a .190 wOBA.
On the IL
Third Base Waiver Wire Pickups
Best Choices
Mike Moustakas, CIN - Shh-hhhhh...Don't say it too loudly, or he might collapse in on himself like a dying star but...(checking to make sure the coast is clear)...Mike Moustakas has been really, really good since returning from the IL. After hitting two home runs on Friday night, Moustakas is slashing .347/.439/.633 over 57 PA since his return on April 28th, with a 1.072 OPS and .465 wOBA. Don't say anything to anyone...He'll know.
Yandy Díaz, TB - Díaz still has a 100 APR for the year, with a spot locked down in the middle of Tampa's lineup. But he's been ice-cold lately, going 1-for-19 in his last four games.
Next Choices
Evan Longoria, SF - When he wasn't on the IL, Longoria was probably better than you remember in 2021 (particularly in point leagues), slashing .261/.351/.482, with 13 HR, 45 R, and 46 RBI in just 81 games. He finally made his 2022 debut but is coming back to a Giants team that is stuffed with even more platoon options than last season. The bat will be interesting but I'm not yet convinced he'll be starting more than 3-4 games a week.
Maikel Franco, WSH - After a hot start, Franco seems to slowly be turning back into Maikel Franco. He slashed .279/.308/.407 in April but is at .244/.273/.341 in May, with just a .614 OPS and .271 wOBA.
Desperate Choices
Gio Urshela, MIN
On the IL
Shortstop Waiver Wire Pickups
Best Choices
You can surely find a better choice with one of the players that are eligible at different positions.
Next Choices
Miguel Rojas, MIA - Rojas has heated up some, collecting a hit in five of his last six games but they've been empty hits on a Marlins team that struggles to score runs. As I said, you're likely much better off shopping for eligible shortstops at other positions.
Desperate Choices
Taylor Walls, TB
Isiah Kiner-Falefa, NYY
On the IL
Outfielder Waiver Wire Pickups
Best Choices
Ramón Laureano, OAK - Just based on the upside, Laureano should be your first stop on the waiver wire if he's available after returning from suspension. In just 88 games in 2021, Laureano had 14 HR and 12 SB, just be aware that the strikeout rate may hold down his value depending on your score settings.
Tommy Pham, CIN - Your team better be stacked if you can afford to leave Pham on the wire, who has a 50 APR for the year and a 42 APR over the last two weeks. The Reds are a hot mess but Pham is batting third for them every game and compiling more than enough PAs, counting stats, and walks to keep him a points star.
Harrison Bader, STL - Bader is still batting near the bottom of the Cardinals lineup but has a 51 APR over the last two weeks.
Yadiel Hernandez, WSH - Listen, don't be mad at me, take it up with Yadiel. All I did was put him here, he's the one who is slashing .333/.374/.500 for the season and over his last 10 starts is at .395/.452/.605, with a .462 wOBA and 1.057 OPS.
Ben Gamel, PIT - Apparently no one has told Ben Gamel that he's Ben Gamel because he just won't stop hitting in 2022, slashing .307/.381/.475 over 113 PA, with a 10.6% BB% and just an 18.6% K%. That 'der is points gold, I tell 'ya. Gamel has a 21 APR over the last two weeks and since the start of May is slashing .419/.468/.698, with a .504 wOBA and a 1.166 OPS.
Alek Thomas, ARI - Thomas is the latest prospect hotness to hit the bigs and has gone 5-for-13 in his first taste of the majors.
Next Choices
Robbie Grossman, DET - Grossman only has a 175 APR on the year and won't again be an excellent points profile until he gets the whiffs under control, running a 30% K% that's a far cry from a 21.6% K% for his career.
Brandon Marsh, LAA - The power has come in fits and starts but a 33.6% K% stays true.
Alex Kirilloff, MIN - They've all been singles but Kirilloff has collected a hit in four of his five games since returning from the IL. The question remains, though, is the wrist actually healed this time?
AJ Pollock, CHW - Pollock has come out of his slumber a bit but still only a 137 APR over the last two weeks. Until we start to see some of the power from last season, you're better off hitting snooze.
Desperate Choices
Darin Ruf, SF - In platoon land.
LaMonte Wade Jr., SF - In platoon land.
Garrett Cooper, MIA - In Miami offense land.
On the IL
Catcher Waiver Wire Pickups
Best Choices
Elias Díaz, COL - Díaz has done a whole lot of nothing so far in 2022 but has a week of home games in Week 6. That might be enough in this dumpster fire we call a position.
Gary Sanchez, MIN
Alejandro Kirk, TOR
Next Choices
Mike Zunino, TB
Omar Narvaez, MIL
Desperate Choices
All catcher adds are desperate adds. Now and forever.
On the IL
Download Our Free News & Alerts Mobile App
Like what you see? Download our updated fantasy baseball app for iPhone and Android with 24x7 player news, injury alerts, sleepers, prospects & more. All free!


More Fantasy Baseball Waiver Wire Advice