We'll be doing this roundup of points leagues every week here at RotoBaller, with waiver wire targets and streaming pitchers being evaluated in terms of the different scoring systems of ESPN, Yahoo!, CBS, and Fantrax.
Player values can vary wildly from platform to platform, so we'll make sure to highlight where players are the best and worst fits. We know points league players get neglected and we're here to help.
These fantasy baseball waiver wire pickups are for the week of May 30th - June 6th, looking at players below 50% rostered for ESPN, Yahoo!, or Fantrax. Position eligibility is taken from Fantrax and players are grouped by their most valuable fantasy position, using a hierarchy of: C > 2B > OF > 3B > 1B > SS. Stats and rankings for charts are calculated using games through Friday, May 27.
Know Your Scoring System
You know what I'm going to say, right?  You must account for, as precisely as possible, how a player performs under your particular scoring system. Don't be fooled into believing you can just make rough adjustments in your head, bumping up guys with high on-base percentages and low strikeout rates. Every point, in every category, counts.
For example, ESPN and Fantrax are virtually identical in their scoring for hitters and roster size. The only difference is that stolen bases are worth one more point on Fantrax and ESPN subtracts one point per strikeout. That's the difference between Trea Turner being a top-five hitter versus a top-25 hitter.
If your league uses standard settings, then great! Turn to page 94 and you can skip ahead to the leaderboards. If you play with custom settings, it'll still be fine. Go back to page 43 and look below at the scoring systems of the four major platforms. I bet there's a chance that you'll find that your league's scoring is very similar to one of the four (well, not Yahoo!'s), even if it's not the platform you actually play on.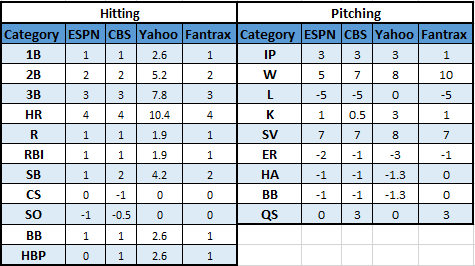 You'll likely find a suitable mirror to your own system if you look above. While every point counts, as long as they aren't seismic changes you can get away with some "close enough" calls. IE. You're probably fine if everything is the same except for HBP (or something similar).
Week 8: Waiver Wire Leaderboards
All charts are updated prior to Friday's games, on stats and ownerships, and clicking on a chart will open a new page with a magnified version. Players on overall leaderboards are ordered according to their current Roster% on Yahoo.
*APR = Average Platform Ranking - the average platform ranking between ESPN, CBS, Yahoo, and Fantrax (standard point settings)
The 14-Day Leaderboard, Presented by Hansel
These players are so hot right now. Here are the players on the wire who are running inside the top-100 of APR over the past two weeks:
Overall Leaderboards
Before we crack on to the positions, a quick word on xwOBA and expected stats, in general. We're still including xwOBA (and xwOBA - wOBA) but do be aware of their currently severe limitations in this new dead-ball world. Remember that expected stats use launch angle and exit velocities to approximate what the typical result has been for balls hit with similar metrics. But right now, the offensive environment is so drastically different that it's hard to make those comparisons by using data from recent seasons, thus rendering the expected stats far too high until Savant has enough data to update their equations, they're hard to rely on.
IE. Until they're updated, x-stats are going to be much higher than they probably should be. That's not to say they're worthless but be aware that a 100-pt gap between wOBA and xwOBA ain't what it used to be.
On to the positions!
First Base Waiver Wire Pickups
Best Choices
Christian Walker, ARI - He's going to be the one for 2022, right? Joey Votto, Bryan Reynolds, Brandon Nimmo, Brandon Belt, etc...Every season I've done these articles, there is always one or two guys that I spend every week of the first months of the season begging the small sliver of the fantasy kingdom that I reach, to not allow to sit on the wire too long. Because too often solid fantasy production is ignored because it comes from players without a "name brand," or from someone who has changed their skill set.
Not you, of course, my dear readers, but those nefarious others, who sit around for the first few months and don't adjust to the landscape of the current season, opting instead for lesser production from bigger names. But by the time they do adjust, the wire has been thoroughly picked clean. And you won't have much longer with Walker, whose Roster% has finally jumped over 30% after spending the past seven weeks below 10%.
Even before this season, Walker's basic plate-discipline skill-set made him very points-friendly, particularly in leagues with a strikeout penalty. But the power has arrived in 2022, with nearly 200 PA of top-end exit velocities that are saying it's Walker's new normal, at least for the time being. Because everywhere you look, the EVs are living in the clouds. His 15.9% Brl% is in the 95th percentile, a 96 mph average EV on Air% is in the 88th, and his Air% (100+ mph) is in the 90th.
Walker's 12 HR is tied with Pete Alonso and C.J. Cron (and others) but a 17.2% K% and 10.3% BB% makes it so his value in points can weather a dip in power, more so than it would in Roto. He has a 37 APR overall and the only reason his positional ranking isn't higher than sixth is that Alonso, Cron, Paul Goldschmidt, Freddie Freeman, and Anthony Rizzo are all currently in the top-15. Unless your offense (and bench) is absolutely stacked, Walker is almost guaranteed to give you an upgrade.
Next Choices
Jesus Aguilar, MIA - Aguilar remains thoroughly unexciting and right now is really only worth picking up as a temporary fill-in. His .035 HR per PA rate is back to what it was in 2019-2020 (.043 HR/PA in 2021) and his most important exit velocities have also dropped back to the rates of two seasons ago, continuing the slide that he had the second half of 2021. His strikeout and walk rates are too middling to give him much extra value and the Miami offense will continue to make collecting R+RBI difficult.
Edwin Rios, LAD - After a Reddit reader reminded me, I just had to add in Rios, whose top-end exit velocities prior to a shoulder injury had made him one of my favorite stashes in dynasty. The EVs are back in 2022 - his 15.0% Brl% and 96.8 mph Air% EV are both in the top-7% - and Rios has now started the LA's last seven games, including one against a left-hander. With Max Muncy hitting the IL, Rios should have a continued path to playing time, as his main competition comes from the likes of Hanser Alberto.
Luke Voit, SD - Voit returned from the IL with a bang (and a sweet double-dong) but has done very little since, slashing .231/.302/.359, with a .297 wOBA over 43 PA. He's worth keeping an eye on for the stretches when he gets homer-happy (and he did hit one on Friday night) but a 35.8% K% (46.5% K% since returning from the IL) makes him non-viable in leagues with a strikeout penalty.
Desperate Choices
Nathaniel Lowe, TEX - Lowe has picked it up over the past two weeks but is still rocking a middling scoring profile, with decreasing exit velocities that have been dropping for multiple seasons. His 7.3% Brl% is the 43rd percentile (down from 70th in the first half of 2021 and 55th in the second half) and his average EV on balls in the air has gotten even worse. It currently sits at 89.2 mph ((19th percentile), which is down 2.4 mph from 2021 and 5.1 mph from 2020.
I've never really been a big fan but it has become even more clear that much of Lowe's power hype was being driven by living in the happy-fun ball era of the past. In today's spongeball world, and at the new Globe Life Stadium that is a far cry from the launching pad of the past, Lowe is a replacement player, at best.
Carlos Santana, KC - Santana's elite plate discipline will almost always give him a points-friendly profile because he collects so many plate appearances. But outside of that, there's next to nothing here, with Santana having very little power and very few counting stats on a bad Royals offense.
Miguel Cabrera, DET - We can just keep running back what we've said all year; if you're desperate, Miggy can be your band-aid, just don't expect too much.
On the IL
Brandon Belt, SF (knee inflammation)
Daniel Vogelbach, PIT (strained hamstring)
Second Base Waiver Wire Pickups
Best Choices
Jonathan Schoop, DET - He's been thoroughly disappointing in 2022 but there are few hitters in baseball that can streak as hot as Schoop can. And his recent results are pointing toward a Schoopening (™ Paul Sporer) possibly looming on the horizon.
Schoop was a disaster in April (1 HR, .158/.175/.184, .161 wOBA) and for the first part of May but has hit three home runs in his past 15 games, slashing .237/.292/.458 over that period, with a .326 wOBA. He's not there yet but keep an eye on him because you absolutely do not want to miss out if he goes nuclear.
Rougned Odor, BAL - Speaking of not ignoring a hot streak, our resident Jose Bautista face-puncher, Rougned Odor, has hit his way into an everyday role, even starting Baltimore's last two matchups against LHP. He's still batting down in the Orioles order but is currently riding an 11-game hit streak, over which he's slashing .318/.333/.591, with a .397 wOBA and 165 wRC+.
Even more importantly for point-league purposes, the >30% K% that has made him unrosterable the past few seasons has dropped back down to the rates he ran earlier in his career. Odor has a 24.5% K% in 2022, with an 11.9% SwStr% that makes it seem more sustainable. He still rarely walks (3.6% BB% in 2022) but as long as he's playing (and hitting) every day, it's worth taking a ride on Odor.
Cesar Hernandez, WSH - Hernandez is kind of the perfect points player, as he's usually on the wire and is PA-compiler royalty. The per-PA rates will never be impressive but add up eventually over so many appearances and make even the slightest of hot streaks that much more valuable. And when he cools off, just send him right back to the wire.
Hernandez has a hit in nine of his last 10 games, collecting multiple in four of those while slashing .325/.372/.475, with a .371 wOBA and 137 wRC+. History tells us he'll slow down after too long but until he does we shouldn't ignore his current top-100 APR.
Next Choices
Tommy La Stella, SF - La Stella has such a stellar points profile but won't give you everyday value as long as he's stuck in San Francisco's platoon circus. Since debuting on May 16, he's slashing .296/.321/.630, with a .408 wOBA and 7.1% K%, while mostly batting leadoff but has only started one of San Francisco's five matchups vs LHP. Mind you, while he is better vs RHP, he's never been terrible vs LHP, slashing .259/.332/.356 against them for his career. But the Giants are not screwing around trying to leverage their matchups and that's leaving La Stella out in the cold.
However, La Stella might be your guy for this week, as the Giants are scheduled to only face a lefty in one of their seven games. If needed, use him while you can.
Josh Rojas, ARI - Rojas has crazy numbers since making his season debut on May 6 (.321/.406/.509 on the year, 36 APR over the last two weeks) but his streakiness makes him hard to run out every day. If you remove the three-HR game he had last week (at Wrigley with the wind blowing out) and a three-hit night this past Friday, Rojas has a matching .250 AVG and .250 SLG for the season. But batting second every day with a new-and-improved 17.2% K% and 6.9% SwStr% makes Rojas viable in many leagues.
Andres Gimenez, CLE - I'm still high on Gimenez but his struggles against LHP have gotten worse and Cleveland has started passing on giving him chances to figure it out, benching him the last three times they've faced a lefty. He's still slashing .288/.310/.486 for the season but a 2.6% BB% (along with not playing every day) will make it difficult to use him in points.
Desperate Choices
Jed Lowrie, OAK - Lowrie's plate discipline (20.0% K%, 11.3% BB%) keeps him a viable band-aid in many point leagues but be aware that he's as streaky as they come and really, really struggles vs LHP, slashing .207/.258/.241 against them this season, with a 32.3% K% that is over double his rate vs RHP. But that hasn't stopped Oakland from batting him at the two-spot for their past eight games, including four vs left-handed starters. Lowrie has a chance to get a little fat this week, though, with Oakland set to face RHP in five of their seven games. But, unfortunately, there are some tough righties on the docket, Justin Verlander and Nathan Eovaldi, looming ahead.
Ramon Urias, BAL - Good lord, are we really putting two down-lineup Orioles on the list? Granted, this generally isn't a good idea but Urias is playing every day and currently running a heater, posting a 61 APR over the past two weeks and collecting multiple hits in three of his past five games.
Santiago Espinal, TOR - Espinal's biggest value-add in points remains his plate discipline (18.1% K%/8.4% BB%) and an everyday role at the bottom of Toronto's offense. But as long as the Blue Jays stay stalled out of their top gear, Espinal is a band-aid, at best.
Sheldon Neuse, OAK - Neuse has yet to find his groove again since missing a few games with a groin injury, slashing .063/.091/.063 since returning on May 18. Even worse than those basement-level numbers is that he's no long batting at near the top of Oakland's order and might be the short-side of a platoon with Tony Kemp. Not great.
Brad Miller, TEX - Miller absolutely will not start vs LHP, making this not the week to use him, as the Ranger will face lefties in three of their seven games.
Kyle Farmer, CIN - Farmer is as streaky as they come but is on the upswing right now, slashing .400/.450/.686 over his past 10 games, including a double-dong night vs the Cubs last Thursday.
But use him while you can because this wOBA-coaster will start going down again soon:
On the IL
Third Base Waiver Wire Pickups
Woof. Things are still dire at the hot corner. You're probably better off looking for a 3B-eligible player listed at another position (Rougned Odor, Josh Rojas, etc).
Best Choices
Gio Urshela, MIN - Urshela has come alive as of late, running a 37 APR over the past two weeks, slashing .356/.423/.511 over 52 PA, with a .409 wOBA and 175 wRC+. There won't be much power but his glove will keep in in the lineup every day even when he's not hitting (albeit near the bottom) and he'll have plenty of ducks on the pound when he is, with the Minnesota offense getting that much better with the return of Carlos Correa. That, plus elite plate discipline (13.0% K%, 9.7% BB%), will keep him viable if you're lacking at third base.
Evan Longoria, SF - Longoria has gotten back to mashing (finally) after coming off of the IL ice-cold. He has a modest five-game hit streak but with three home runs and is one of the few Giants that doesn't seem at risk for any platooning.
Next Choices
Emmanuel Rivera, KC - Rivera doesn't profile as a star but can punish mistakes and is making the most of his most recent call-up to the bigs. He's posted a 44 APR over the past two weeks and has started eight of Kansas City's past nine games, missing the other one with an illness.
Brian Anderson, MIA - Eligible at OF as well, Anderson has moved up in the lineup with the Marlins beset on every side with injuries. But the bat has also been waking up, with Anderson posting a 98 APR over the past two weeks and slashing .274/.346/.452 in his past 20 games, with a .348 wOBA and 128 wRC+.
Brendan Donovan, STL - Donovan has hit his way into playing time (.310/.444/.466 over 72 PA) but still quite earned an everyday role in a St. Louis offense that's lousy with left-handed bats, still sitting vs LHP and sporadically vs RHP. But this might be a good week to use him, as the Cardinals have eight games on the docket and are currently scheduled to face LHP in only three of them.
Desperate Choices
Yandy Diaz, TB - Diaz is still batting in the top-third of Tampa Bay's lineup, but unfortunately, still loves to pound the ball into the ground, with a 55.8% GB% and 3.9-degree average launch angle. Top-level plate discipline (8.6% K%, 15.2% BB%) will keep his value afloat in most scoring formats but you probably don't want him near your starting lineup if you can avoid it.
On the IL
Shortstop Waiver Wire Pickups
From the makers of "Woof." Things are getting dire at the hot corner. You're probably better off looking for a 3B-eligible player listed at another position," comes "Woof." Things are even direr at shortstop. You're probably better off looking for an SS-eligible player listed at another position.
Best Choices
Christopher Morel, CHC - Since getting called up on May 17, Morel is slashing .313/.405/.563, with a .422 wOBA and 171 wRC+ over 37 PA, with two HR and two SB. And the Cubs have rewarded the rookie's hot start, batting him leadoff in their past three games. Ride the streak.
Next Choices
Much like America has done, it's probably best to eliminate the middle class for now.
Desperate Choices
Isiah Kiner-Falefa, NYY - Lots of plate appearances and not much else. Gross.
Andrew Velazquez, LAA - Lots of plate appearances and even less else than IKF. Double gross.
On the IL
Catcher Waiver Wire Pickups
Best Choices
William Contreras, ATL - All Willson's younger brother does is hit bombs, now with seven HR on the season after hitting three more (including his second double-dong game of the year) in his past six games. Atlanta is using him at catcher and DH but has even given him a start in the outfield in order to keep his bat in the lineup.
MJ Melendez, KC - Melendez was Kansas City's everyday catcher while Salvador Perez was on the IL but with Perez returning on Saturday, we'll have to wait and see whether Kansas City continues to give him regular playing time at DH. I mean, they probably should, considering Melendez posted a .291 wOBA and 161 wRC+ while Perez was out, with just a 21.1% K% but keep in mind we're dealing with a Royals manager not known for always making rational decisions. If Melendez does stay locked into the lineup, he's a must-add in all formats but we'll just have to keep our fingers crossed.
Next Choices
Danny Jansen, TOR - Jansen has been mashing since returning from the IL on May 14, hitting four home runs (including three in his past three games) and posting a 1.014 OPS, .432 wOBA, and 188 wRC+. But yet, he's still splitting time with Alejandro Kirk, who has a .711 OPS and .319 wOBA for the year. Jansen could be a monster (but be aware that I've been totally biased about him for a while) but that won't happen until he's grabbed the lion's share of playing time.
Christian Vazquez, BOS - Vazquez has finally started to wake up, running a 67 APR over the last two weeks, with a .406 wOBA over 43 PA. And while I don't necessarily believe in a power surge, he does currently have a career-high 8.0% Brl% that is in the 49th percentile, up from the 10th and 23rd percentiles that he resided in for the past two seasons.
Desperate Choices
All catcher adds are desperate adds. Now and forever.
On the IL
Outfielder Waiver Wire Pickups
Remember when, as recently as last week, good options were plenty in the outfield? Well, we're entering that time of year when the wire starts getting picked clean, as fantasy managers deal with mounting injuries and realizations that some of the name-value players they drafted just aren't worth a roster spot anymore (see Choices, Desperate). Hopefully, you, my dear readers, have stayed ahead of the curve.
Best Choices
Kole Calhoun, TEX - Sweet lord, Calhoun is (still!) on a heater. He has a seven (yes, seven) APR over the past two weeks and is now slashing .264/.314/.473 over 140 PA, with a .344 wOBA and 130 wRC+. Those numbers are impressive enough but Calhoun has absolutely lit parks on fire in May, slashing .338/.398/.689 for the month, with a video game-esque .461 wOBA and 213 wRC+, while hitting seven HR.
Calhoun's Brl% is in the top-10%, while his average EV on balls in the air and Air% (100+ mph) are both in the top-5%. Spongeball, be damned because Kole just refuses to stop smashing.
David Peralta, ARI - Kole Calhoun's former Arizona running mate also keeps hitting, with Peralta posting a 45 APR over the past two weeks but his value is held down by limited action vs LHP. However, this is a great week to use him, as Arizona isn't scheduled to face a left-hander in any of their six games.
Tyler Naquin, CIN - Naquin has impressive numbers for the season and has a 74 APR over the past two weeks. However, his platoon leash has gotten even shorter as of late, grabbing pine against the past four LHP that Cincinnati has faced. But much like Peralta, this is a great week to roll him out, as the Reds aren't scheduled to face a lefty in any of their six games.
Hunter Dozier, KC - Dozier is putting together a solid campaign in 2022 and has turned things up in May, slashing .282/.358/.435 over 95 PA, with a .352 wOBA and 133 wRC+. He's playing every day, though in the middle of a bad KC offense, and has posted a top-75 APR for the past two weeks.
Tyrone Taylor, MIL - Taylor seems to have cemented himself in the Brewers outfield and the bat is justifying the decision. A slash line of .248/.291/.431 doesn't look overly impressive but Taylor has turned things up in May, posting a .810 OPS and .352 wOBA, while hitting three HR in his past seven games.
Alek Thomas, ARI - There will always be ups and downs with rookie hitters but Thomas continues to hold his own, slashing .283/.328/.517 over his first 64 PA, with a .368 wOBA and 135 wRC+. Profiles that have a high average, few strikeouts, and a little bit of pop tends to work out really well in points, so even if you don't have room for him now, it'd be wise to keep an eye out on him for the future.
Tommy Pham, CIN - Is there any bigger "likes to fight guy" in baseball than Pham? Okay, obviously Amir Garrett but still...You even look crossways at Tommy and you better be ready for some fisticuffs. Pham has slowed down as late but still plays every day and in a crackerjack box home stadium. At least when he's not suspended for slapping Joc Pederson over a 2021 fantasy football disagreement. No, seriously.
Kyle Lewis, SEA - I've just never been on high as the crowd on Lewis, whose propensity to strike out and get injured has never really endeared itself to most point systems. But you can't deny the light-tower power, and for the moment, he is healthy.
Next Choices
Darin Ruf, SF - With Brandon Belt back on the IL, Ruf has slid out of platoon land and back into a full-time role. And he has not disappointed, running a 32 APR over the past two weeks, with a .932 OPS and .408 wOBA. Do be aware, however, that he's been able to do some extra feasting with the Giants facing a glut of LHP recently, a trend that isn't set to continue in the upcoming week, as San Francisco is only set to face a lefty in one of their seven games.
Seth Brown, OAK - Another strict platoon-er (18 PA vs LHP in 2022), Brown has turned it up over the last two weeks, slashing .297/.333/.622 over 39 PA, with a .408 wOBA and 179 wRC+. He's usable this week, with the A's set to face two LHP in their six games.
Ben Gamel, PIT - Much like Dan Vogelbach and Maikel Franco before him, it looks like Ben Gamel has started turning backing into Ben Gamel after a hot few weeks. In the 12 games since hitting his last home run, Gamel is slashing .139/.279/.167, with a .226 wOBA, 43 wRC+, and 35% K%.
Desperate Choices
Ramon Laureano, OAK
Robbie Grossman, DET
Adam Duvall, ATL
Trent Grisham, SD
AJ Pollock, CHW
Remember when the five guys above were really good options in fantasy? Well, not so much anymore. Until we see some serious turnarounds, you're probably better served using an actual burger from Five Guys in your lineup.
On the IL
Download Our Free News & Alerts Mobile App
Like what you see? Download our updated fantasy baseball app for iPhone and Android with 24x7 player news, injury alerts, sleepers, prospects & more. All free!


More Fantasy Baseball Waiver Wire Advice